Welcome to my Savage Affiliates Review! 
I'm sure you're wondering whether the affiliate marketing course that Franklin Hatchett has to offer is worth you getting your credit card out or not, right?
Is the training any good? Will you be able to make money online if you follow Savage Affiliate's strategy?  And much more besides…
If you've been spending time researching how to make money with affiliate marketing, then I'm sure Franklin Hatchett has come up a few times.  But does his training course live up to the hype?
Surprisingly, a couple of years ago there was a lot of interest in his Savage Affiliate's training course.  Many marketers were promoting it, and a lot of beginners were paying their money for a membership.
So, what's changed?  Well, for starters it's great to see you're doing your research before jumping in with both feet.
Savage Affiliates is a legitimate training course that will teach you affiliate marketing, but there are a few reasons why interest in this course has dwindled…
First off, the strategies aren't as ideal for beginners as you first might think.  Secondly, there is a real lack of social proof to show whether students are making money as a result of following the strategies set out in the training.
Whilst the course will teach you the basics of affiliate marketing, there are a few hidden costs that you may also have to take into consideration.
So, our in-depth Savage Affiliate's review will help get you all of the details you need to make an informed decision about whether Savage Affiliate's is the right affiliate marketing training for you…
Disclaimer: This Savage Affiliates review has been thoroughly researched with information and testimonials that are available online to anyone in the public.  Any conclusions drawn from that information are my own opinions.
Savage Affiliates Overview
Product Name: Savage Affiliates
Founder: Franklin Hatchett
Product Type: Affiliate Marketing Training
Price: $197 or $297 one-time fee
Best For: Read My Review…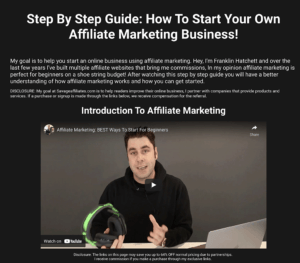 Step-by-Step Training for Affiliate Marketing
Reasonable Price
Focuses on Free Traffic Methods (SEO)
Franklin Hatchett is a Legitimate Marketer
Some Strategies are Unsuitable for Beginners
The Refund Policy
A Lack of Credible Savage Affiliate Reviews from Students Taking the Course
Will Require Additional Budget For Tools
Savage Affiliates is a training course that teaches you how to make money with affiliate marketing.  It was created by a well-known figure called Franklin Hatchett.   If you're not too familiar with the term affiliate marketing, click here.
It has been a popular affiliate marketing course over the last few years, mainly down to its low price tag.  However, a lack of social proof from students, some hidden costs that are required to follow the strategies, and some of the training being too high-level for beginners have led to a decline in interest in it.
Franklin is a very successful affiliate marketer and does have some value to share in this course.  But as to whether I would recommend it to someone just getting started… I would say no, there is a much better alternative…
Recommended? There is Some Benefit for Beginners, But Really Its For More Intermediate Level Marketers
Best Alternative: My #1 Recommendation is the leader in affiliate marketing training!  This platform has enabled me to go from earning $0 to $100's per day with affiliate marketing and blogging!  It includes all of the tools and training you require… Learn more here…