Welcome to The Affiliate Lab Review!
You want to learn more about affiliate marketing and you've seen what looks like a great course, but you want to learn more about the Affiliate Lab before diving in with both feet.  Who is this Matt Diggity and is his course worth all of that money?
Let's dive into our Affiliate Lab review and I'll share everything you need to know to make an informed decision.  I know you're probably in a rush and want to know quick, whether Affiliate Lab is a scam or not.  So, let me put your mind at ease.
Affiliate Lab isn't a scam.  It's a legitimate training program teaching affiliate marketing.  But there is a lot you need to think about before deciding whether it's the right fit you for.
This review is going to answer all of the questions you have, and a few that you probably haven't thought of yet.
But first, who am I to give you an opinion?
Hi, I'm John!  I'm an affiliate marketer and I started making a passive income online as a full-time safety and compliance manager with no experience or marketing skills…
I've started reviewing internet marketing schemes and outing known scams to help find the best way to make money online!  I want to help others do the same and avoid the pitfalls I encountered along the way.
So, can you make money with the Affiliate Lab course?
In a nutshell, the Affiliate Lab is all about building a website, ranking it in the search engines, monetising that site and then selling it for profit.  This process is known as flipping sites and (if done correctly) is a profitable business model.
As to whether this course is right for you, there is more to think about.  So, my Affiliate Lab review will share all of the information you need, including what's within the course, how it works, who is it ideal for, and the costs.
Let's get started, shall we?
Disclaimer: This Authority Lab review has been thoroughly researched with information and testimonials that are available online to anyone in the public.  Any conclusions drawn from that information are my own opinions.
The Affiliate Lab Review Overview
Product Name: The Affiliate Lab Review
Founder: Matt Diggity
Product Type: Affiliate Marketing & Website Flipping Training Course
Price: $997 or 2 x $597
Best For: People looking to learn affiliate marketing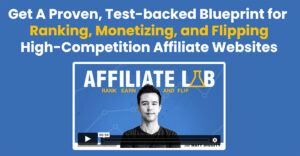 Comprehensive training program
Teaches evergreen marketing methods
Matt Diggity is an SEO/Affiliate expert
Positive reviews from real users
High-Quality Bonuses
Includes access to a private Facebook group
It is expensive for beginners
Has no free trial or money-back guarantee
There will be additional costs to consider, i.e. outsourcing content creation, tools, etc.
No real tech support
Not for beginners
The Affiliate Lab is a training course created by Matt Diggity.  Diggity is an expert in both SEO and Affiliate Marketing.  Which is good, as that is what the training is based on.  It goes after a different angle than most affiliate marketing courses. 
The training is all about how to create an affiliate marketing website but then goes on to teach you how to "flip it" to make more money.  This is where you build a money-making website and then sell it on for 40x its monthly income value.
It is pitched at beginners, but looking at some of the things it teaches, I would say this is ideal for an intermediate marketer.  There are elements that a beginner would find quite overwhelming and considering the price, it would be better to wait until you know some of the basics of affiliate marketing, etc. 
When a lot of this information is already available for free, the price is a little too high.  Especially when there is no money-back guarantee or refund policy.
If you are ready to put a lot of time and effort into doing everything Matt lays out in the course, then you might find the price is ok.  But there are also some additional costs that you will need to budget for and that is why it's off the table for most beginners.
Recommended? Yes, for those a little more advanced and have a budget
Best Alternative: My #1 Recommendation is the leader in affiliate marketing training!  This platform has enabled me to go from earning $0 to $100's per day with affiliate marketing and blogging!  It includes all of the tools and training you require… Learn more here…