Welcome to my Commission Academy Review!  
So, you're probably thinking about signing up for Commission Academy, but you still aren't 100% sure that it's the right move for you and you want to know more about it, right?
I'm so glad you decided to do your research as that is how you avoid online scams and find only legit ways to make money online!
First off, know that Commission Academy is legit so hopefully, you can relax and tick that one worry off of your list.  But as to whether it's worth your time, that can sometimes not be answered as quickly.
I've gone through the Fast Track training within Commission Academy to see whether it is worth you getting involved in and I'll share what I found in the Commission Academy Review.
Is Commission Academy a good option for a beginner looking to learn more about affiliate marketing?  Let's share what I found inside…
Disclaimer: This Commission Academy review has been thoroughly researched with information and testimonials that are available online to anyone in the public.  Any conclusions drawn from that information are my own opinions.
Affiliate Disclosure: This review for Commission Academy does include an affiliate link, from which I may benefit if you were to sign up at no extra charge to you.  This still doesn't affect my opinion that is given in the review as I only include links to products that I would use myself.  For more details, here's my disclosure statement.
Commission Academy Review Overview
Product Name: Commission Academy
Founder: Dale & Simon
Product Type: Affiliate Marketing Training Platform
Price: Free to join
Best For: People wanting to learn the basics of affiliate marketing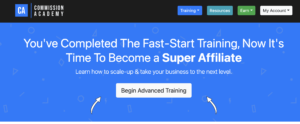 Training is easy to follow
The founders are experienced marketers
It's free to sign up
Recommend top tools
Only video training
No tools included
There are some hidden costs in following their methods
They don't really talk about the timescales
Commission Academy is a free video training guide that teaches you how to get started with affiliate marketing.    The training is easy to follow, although they don't give you any written guides to go with the video, which would give it a higher score.  The owners are both successful affiliate marketers and share their knowledge freely.
But they also do miss out on the important bits, like how long this will take you to see success.  Or, that you will need to pay for the software they introduce you to in the videos.  Not a big thing, as trying to do this for free forever is never a successful strategy.
But if you were to follow their lead in the videos, then you would end up having to pay a lot…  But considering they do introduce you to Wealthy Affiliate (which has a free test run) which includes most of the tools in their package, they do give you some solid tips along the way.
Overall, I think Commission Academy is a good choice for someone wanting to learn more for free…  But it's not our #1 recommendation as even Dale and Simon introduce you to Wealthy Affiliate as part of the video series.
Recommended? Yes, As It's Free But You Could Cut The Middle Man Out & Go Straight To Wealthy Affiliate...
Best Alternative: My #1 Recommendation is the leader in affiliate marketing training!  This platform has enabled me to go from earning $0 to $100's per day with affiliate marketing and blogging!  It includes all of the tools and training you require… Learn more here…
What is Commission Academy?
Commission Academy is an online training platform that aims to teach you affiliate marketing.  It's a video series with both a fast track training (aims to give you the basics) and an advanced course to continue the training as you go…  I'll give you more details as we continue the review, but first let's be clear on what affiliate marketing is, as not everyone is sure.
What is Affiliate Marketing?
There are so many scams out on the web giving out misleading or outdated information about affiliate marketing, that I like to make sure you know what it is.  It's an awesome way of making money online, but it does require a lot of time and effort to get there first.
Affiliate Marketing is where you can earn a commission in return for introducing a customer to a product that they want or need.  The affiliate marketer usually creates content that helps solve a problem that the user might have and recommends a product that would help, and if the user goes and buys it.  They get a reward from the merchant with a commission.
An example would be…
Someone is looking for a vacuum cleaner.  But they also have dogs that shed a lot of hair.  So they are looking for a good one that will cope with that.  They will often go straight to Google and type  "Vacuum cleaners for pet owners".
The affiliate marketer would have created just the blog post that helped answer that exact question and also included a few recommendations, with extensive reviews on them too.
If the reader clicks on that results and finds what they are looking for, and trust the blogger.  They will follow the recommendation to go to Amazon (or another retailer) and make a purchase.  If they do go and buy the vacuum cleaner from Amazon, then they will reward the blogger with a percentage of the sale price.
There is huge potential with affiliate marketing and Dale and Simon (the founders of Commission Academy) want to show you how you can get started with their training course.
If we go back to talking about Commission Academy, they have created this video course to go through the steps you can take to replicate the success they have both seen with affiliate marketing.  Let's learn a little more about the guys behind it…
Related Post: Making Sense of Affiliate Marketing Review
Who's Behind Commission Academy?
The guys behind Commission Academy are both super affiliates at the same online business platform I'm a member of, which is Wealthy Affiliate.
They are both very successful affiliate marketers…
They have both been very successful at affiliate marketing, thanks to the training at Wealthy Affiliate.  They are both full-time affiliate marketers.  But when you compare them to some of the other marketers you will find online, they both seem humble.  They also spend a lot of time coaching newbies on WA too.
Commission Academy is a joint venture between them which teaches the basics of affiliate marketing, by showing you how they went about it.  They introduce you to the concepts and tools they use to launch an affiliate marketing business.
Related Post:  The Affiliate Lab Review
How Does Commission Academy Work?
Commission Academy is just training, so you will watch a series of videos where Dale or Simon will talk you through and show you how to follow the steps in the training.
Along the way they will introduce you to some 3rd party tools to facilitate the steps.  An example would be is they firstly introduce you to signing up with Wealthy Affiliate, which will allow you to get a free website and some additional training.
But there are other tools along the way.  All of them have a free trial, but you should be aware that if you signed up with them all, there will be a requirement to start paying for them after the trial ends.  Something I don't think is made clear in Commission Academy.
But on the whole the training is clear, and they do show you what you will be doing as they progress through the training.
Inside Commission Academy
There are two levels of training within Commission Academy.  You have to complete the first to unlock the second lot.
The Fast-Start training is aimed at getting you up and running, the Advanced level is aimed at growing your business.
For this review, I have gone through the Fast-Start training to see what it has to offer…
There are 16 video tutorials within the Fast-Start training and this is aimed at teaching you the basics of affiliate marketing, how to choose the topic for your website, launching your website and then finding some affiliate products, etc.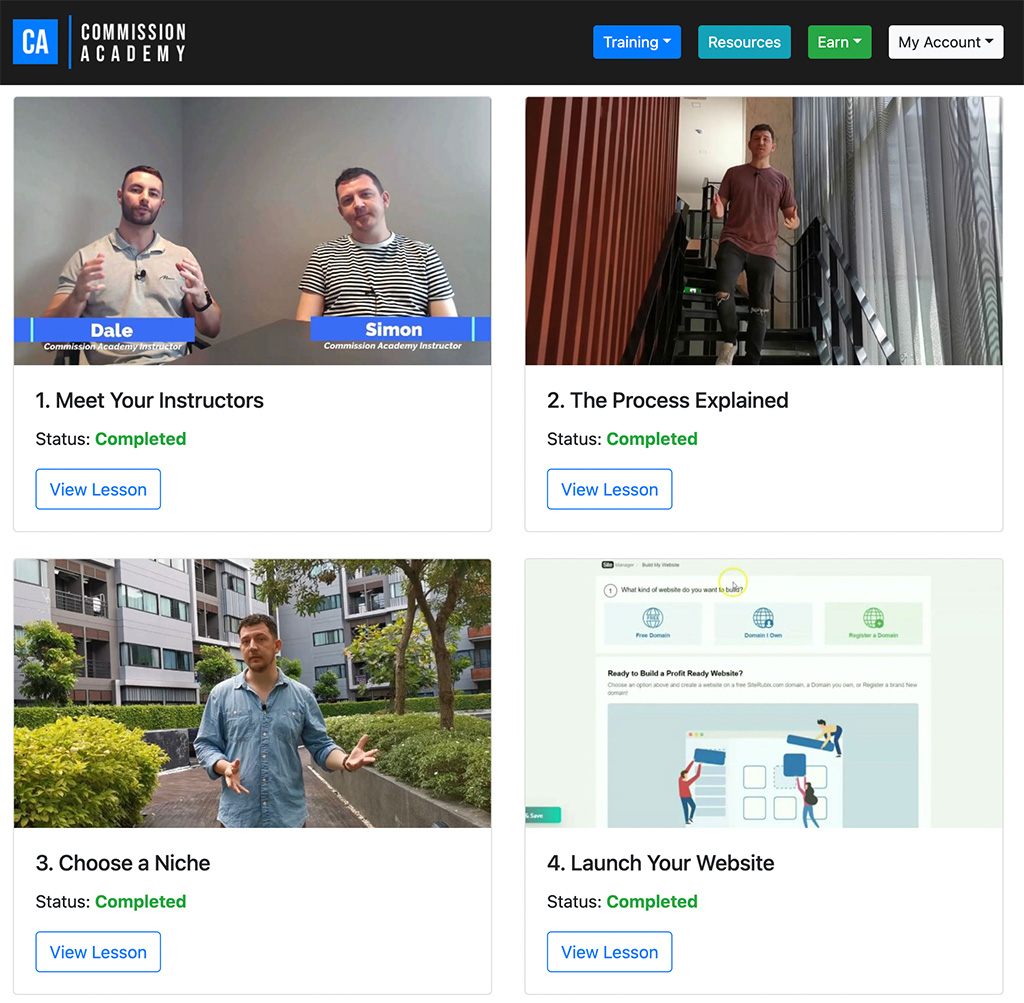 The classes are:
Meet your Instructors
The Process Explained
Choose a Niche
Launch Your Website
Laying the Foundation for Success
Customising Your Website
Creating Your Initial Content
Leveraging an Email List
Preparing to Make Money
Finding Profitable Keywords
Creating Content That Ranks
Adding Affiliate Links
Leveraging Product Reviews
Creating Income on Demand
Scaling with Videos
Congratulations & Next Steps
For a beginner, there is a lot of value in the training.  They explain the concepts very clearly and in a way that someone who has no idea about online marketing would understand.   
My only issue is that it only includes video tutorials.  Don't get me wrong, videos are great to show you the steps you need to take.  But it would have been nice to include a few written notes under each of the videos to help you tick off if you have completed all of the steps before moving on to the next one.
As you progress through the videos they also introduce several other products they use.  I've already mentioned Wealthy Affiliate, but they also include a few others like a keyword research tool (Mangools), an email marketing tool (Aweber), and a freelancer site (Fiverr).
You don't have to sign up for them, but like with many of these training programs, you cannot follow the steps they are showing you if you don't sign up for them.  Which will add costs that you might not have factored into your plans.
Once you have completed the 16 classes in the Fast-Start training, it will unlock the advanced training and the affiliate program.
There are twelve video modules within the advanced training.  All are aimed at taking your affiliate marketing business to the next level.
The modules are:
Introduction to Google Search Console
How to View & Track Your Website Visitors
Ranking in Google in 48 Hours (Or Less)
Monitoring Your Search Engine Positions
Outsourcing Content Production
Boosting Your Pages with Internal Links
Multiplying Your Revenue with Display Ads
Building Backlinks to Rank Even Higher
Growing Your Email List 10x Faster
Realising You Own a Digital Asset
Leveraging Automated Chatbots
Using Paid Ads for Rapid Results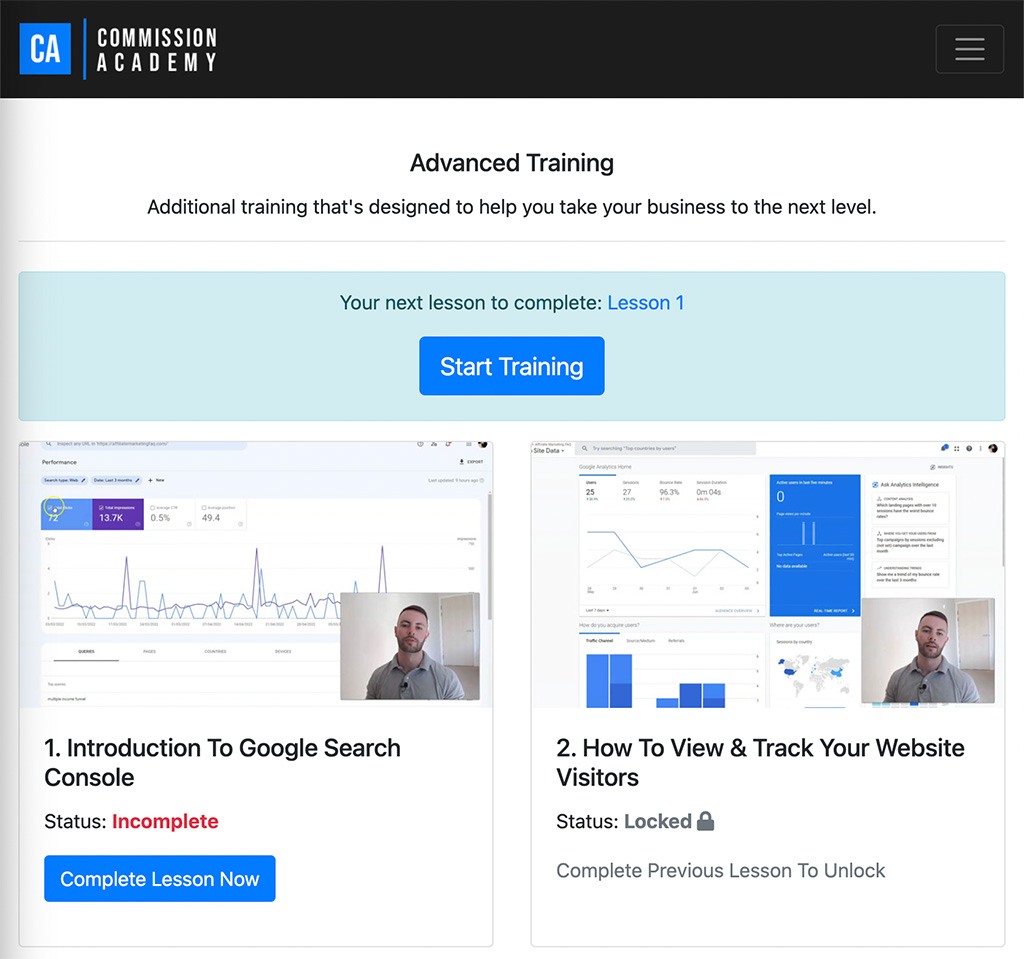 I haven't gone through these videos yet, but again they do appear to be a lot of value within this training.  It's also free!
So, why have I only given it 4 stars…?
At the moment, I think it has a lot of value to offer a newbie.  But as I watched the initial videos I got the sense that they were avoiding certain issues that a newbie would need to know.  Like the fact that this will not be something that you start this week and will be turning over a profit by next week.
It's too easy to watch the 16 initial videos and get a website up and running.  Then think that you can watch these advanced videos and see the success they have seen.  But it took Dale and Simon years to see that kind of success.
So, I think they could have included more training, especially about the right mindset to have for this business model.
It's much harder for you to start earning money from an affiliate marketing website than you might initially believe.
I'm not saying this training isn't any good…  I'm saying they miss out on some of the important stuff you need to know, in the hope of getting you to sign up for some of these additional programs for them to benefit from an affiliate sale.
But it would be wrong to say that you won't learn anything from it.  You will learn a lot of good stuff here…
But like I put in the summary, you could miss out on the middleman.  Sign up for a free Wealthy Affiliate account and get all of the tools and training that led Dale and Simon to their success anyway…
How Much Does Commission Academy Cost?
Commission Academy is free to sign up too.   You can sign up with your email address and access the training for free.  The videos are locked, so you have to watch them in order.
But they do mention that it is free a lot, including the additional tools they recommend.  But they aren't really clear on the fact that most of them are only free to get started.  As in they have free trials.
Mangools offers a free trial, but then you will need to start paying if you want to keep using it.  If you build a website with Wealthy Affiliate, there will be a point where you need to become a premium member, if you want to take this seriously.
Aweber is an email marketing tool, and once you reach so many subscribers you need to start paying.
It's not the end of the world and anyone who wants to make a living from affiliate marketing needs to understand there are costs to running an online business.  But I do get that they are not being very clear about that within the training.
Related Post: Savage Affiliates Review
Online Commission Academy Reviews
Finding online reviews about products can give you a great insight into what others are thinking about a product.  Sadly, there aren't that many to find about Commission Academy.  I did find a few on YouTube, and I've included one below.  He has the same kind of opinion as I do.  It's good, but not really worth it as you might as well go with a platform that offers you everything all-in-one, like Wealthy Affiliate.
Is Commission Academy a Scam?
This is the easiest question to answer… No, Commission Academy is not a scam.  It's a video series from some very experienced affiliate marketers showing you how to get started with affiliate marketing.
There is nothing in this platform that makes me worry about anyone signing up for it.  I've received no junk in my email and the training will give you a solid foundation in what this business model is all about.
It also introduces you to some very legit programs like Wealthy Affiliate, Aweber, and Mangools.  All of which are worthwhile.  There are alternatives for them all, but still, they are all solid options.  I use WA and Aweber in my campaigns.  But I use Jaaxy for keyword research.
Most of the time, it's a personal preference that ends up counting the most.
But you can definitely relax, you won't lose anything as it's free to sign up for.
Here's what I felt was good about Commission Academy:
#1 Training is easy to follow
The training is really easy to follow.  They talk you through how the process works, and what you will be doing.  They also show you the steps they talk about by demonstrating them within the videos.
They don't use loads of complicated terms or jargon, so it is ideal for beginners.
#2 The founders are experienced marketers
The founders are both experienced internet marketers who have found a lot of success with affiliate marketing.  They are showing you the methods that have worked for them, which means that you are getting a lot of value here.
They are both classed as "Super Affiliates" on Wealthy Affiliate.  This shows they have the credentials to show they know what they're on about.
There's no risk, as it's a free sign-up.  They don't fill your inbox either.  I only got one email which was a reminder that I hadn't finished the course (standard stuff really).   
There are some suggestions for other programs along the way, which might lead to you spending money.  But you don't have to. The benefit is that you get this training series for free.
#4 It Recommends Top Tools
Although it does recommend you other tools and programs, they are good ones.  With it being only training, you will need some additional tools to make it all work.  Dale and Simon are recommending high-quality programs that they use themselves.
Examples include Wealthy Affiliate – an excellent all-in-one affiliate marketing training and tools platform, and Aweber – an excellent email autoresponder tool.  These are both programs I recommend and use myself.
There are others, along the way and the good thing is, that they are all legit and a solid choice for you.
Here's the stuff I didn't like about Commission Academy:
#1 Only Video Training...
Look, the training videos are good.  But I would have liked some written notes or even a list of tasks to tick off as I went through the videos.
This will be subjective, as some people will be perfectly content with watching some videos.  But I think there is an opportunity here to improve it a little and give you some notes to ensure you get all of the bits from the videos down to complete.
You can't knock it really, as it's free.  However, to complete the steps laid out in the videos, you will require some additional bits of software.
Examples include:
website builder
website hosting
keyword research tool
email marketing software
link tracking tools
So, what Commission Academy does is introduce you to them along the way.  This means you need to follow their suggestions too.  
To complete the keyword research they talk about, the same as they are, you will need to purchase Mangools.  It starts free but then has an additional cost.  Same with Aweber and most website hosting.
The only reason I say it is because they do emphasise a lot that this training is free when they are then leading you to paid products without really pointing that out.
This leads on from my last point.  All of the additional tools are free to try, but then will require you to hand over some money to follow the steps.
This is great if you start earning money straightaway, but that isn't always the case – hence my last concern.
#4 Avoids talking about timescales
They are very good at pointing out the great stuff about affiliate marketing.  Which it is.  But the main reason why so many people fail is down to the fact that they have ridiculous expectations about how long it will take.  They also misunderstand how long it can take to become something that earns money.
I would tend to tell a newbie that you have to give it a year to start seeing results.  That is also based on you putting time and effort every day into it.
This is something that is not talked about in the videos.  Not enough to make you think "I need to take this seriously".  
Considering they recommend Wealthy Affiliate, which is very clear on ensuring newbies get a good grounding on this, it isn't enough for me not to recommend them.  But it is something you should consider, and why I suggest skipping this and going directly to them.
Do I Recommend Commission Academy?
Is Commission Academy Free?  Yes. Does Commission Academy offer you some valuable training?  Yes. Would I recommend it… I'm not 100% sure you need it.
The reason I say this is down to how it leads you to Wealthy Affiliate.  WA is the top option in my opinion for anyone wanting to get started online and earn some money with affiliate marketing.  They offer you training, tools, and support all in one place.  Ironically, it's the first additional tool you will be introduced to at Commission Academy.
Commission Academy is only training – you won't really get any support unless you join WA.  You will have to pay for additional tools and software, which are included in a Wealthy Affiliate membership.
But as you can try Wealthy Affiliate for free anyway, my recommendation is to skip this and go direct.  Having said that, you won't lose anything by joining Commission Academy as it is free.  
The training is clear, concise and does give you a solid foundation on affiliate marketing.  So I do recommend it, and on the same hand not.
I leave that decision up to you…  If you want to check it out, go for it – the link is here.
But if you want to go direct to the exact same training platform that made Dale & Simon Super Affiliates, then click here to try Wealthy Affiliate out.
Commission Academy Review: Conclusion
Overall, I think that Dale/Simon has done a great job of putting an introductory video series together.  It clearly explains what affiliate marketing is, the benefits of this business model, and how you can get started yourself.
When you consider it's free to sign up and teaches you up-to-date affiliate marketing strategies, it is a good option against the sea of scams that are out there.
Someone with no experience will get a good grounding on the topic.  They do introduce some additional tools that will lead you to need a budget.  But that can be said of any business model, and this is no different.
You need to treat it like a business if you want to see success.  They are a solid option, but not my #1 recommendation.  It also looks like Commission Academy agrees, as they introduce it as part of their series too.
A good choice for someone looking to learn a little more about this business model and how it works, but not the best out there…
How Do I Make Money Online?
My #1 recommendation is a platform that offers everything a budding affiliate marketer would need.  It offers a step-by-step beginner-friendly training course that will take you through all the steps you need to build your own profitable online business.  It has helped me go from $0 to earning $100's a day with affiliate marketing.
The reason why I recommend it over all of the other courses is that they are the leader in the affiliate marketing training industry.
Not only do they offer world-class training, but they also offer all of the tools you need too.  Including web hosting, website builder, keyword research tool, etc.
The success rate speaks for itself, with thousands of users earning good incomes from following their methods.
Then there is the fact that my top-rated course is the largest online community of marketers you will find, of all levels.
This means that you can get help 24/7 and get answers from thousands of expert coaches, including me!
Best of all, I used this exact system to go from $0 to $1000's per month in passive income!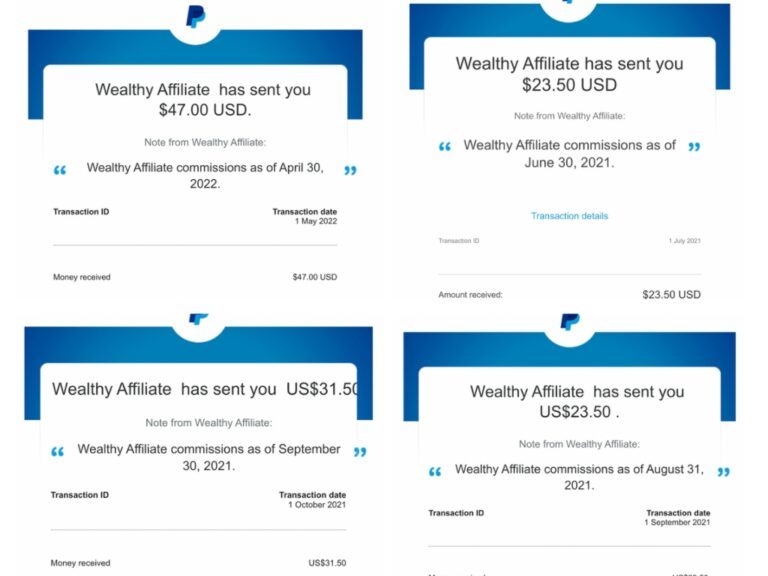 Amongst the best features of my #1 ranked course is that you can take it for a test drive (just a $49 Premium subscription).
You will get one complimentary site and access to the very first ten lessons from the course to try things out.
Wealthy Affiliate is the best course online for learning effective strategies to make money online with affiliate marketing!
If you're looking to do the same, then click the button below:
Thanks for reading my Commission Academy Review!  If you have any questions, or any experiences to share then please write them in the comments below. ;).