Hey!!  Welcome to my Wealthy Affiliate Review!
I've read many different reviews giving an opinion on what Wealthy Affiliate has to offer…  Some are saying it's an "Awesome Training Platform".  Then there are those that claim it doesn't deliver on what it offers…
So, what's the truth?  Well, this review will give you my personal opinion and share with you my personal journey I've had with Wealthy Affiliate since I joined in 2016. 
With that being said, I am an active member of Wealthy Affiliate.  This means I am an affiliate of Wealthy Affiliate (you'll see my disclosure shortly).  But that doesn't mean I'm going to just sell you what an amazing platform is.  I want to share with you the reality.
I do personally feel it is a great place for beginners, but that doesn't mean it is the right fit for everyone.  You need to determine whether it is the right training platform for you.
Wealthy Affiliate does offer a lot of value within their membership, with honest and hardworking people behind the scene helping you achieve your goals.
But the main reason why people fail in the online world (regardless of what they go with) is because they cannot stick it out to achieving their goals.  Any method of making money online is not a get-rich-quick scheme.  Any platform that claims to make you rich over night is not your friend and is typically a scam.
Or a half-baked, incomplete platform that brings you in cheap and then hits you with enough upsells to take every last penny on your credit card and still leave you asking for more.
If you are able to put the time and effort into making money online, then Wealthy Affiliate is a legitimate and very viable option to help you.  We would also recommend it, as they have helped us build an income using affiliate marketing.
I even build websites for clients from what I've learned from their platform.  But it has taken a lot of hard work on my part to achieve it.  Anyone blaming Wealthy Affiliate for not achieving their goals is usually because they didn't apply the training properly, or at all.
Before we get into our Wealthy Affiliate review, here's that disclosure statement I was talking about…
Affiliate Disclosure: I am an active affiliate for Wealthy Affiliate.  Wealthy Affiliate compensates Smart Passive Income Success if you were to join Wealthy Affiliate through any of my affiliate links at no extra charge to you!  In fact, if you were to join via any of my links, you would get my personal help and support to help you achieve your goals!!    For more details, here's my disclosure statement.
Wealthy Affiliate Overview
Product Name: Wealthy Affiliate
Owner: Kyle Loudon & Carson Lim, 2005
Product Type: Affiliate Marketing & Online Business Training & Tools Platform
Price: Free starter membership, $49/month for Premium Membership, $99/month for Premium Plus Membership
Best For: Affiliate Marketing Beginners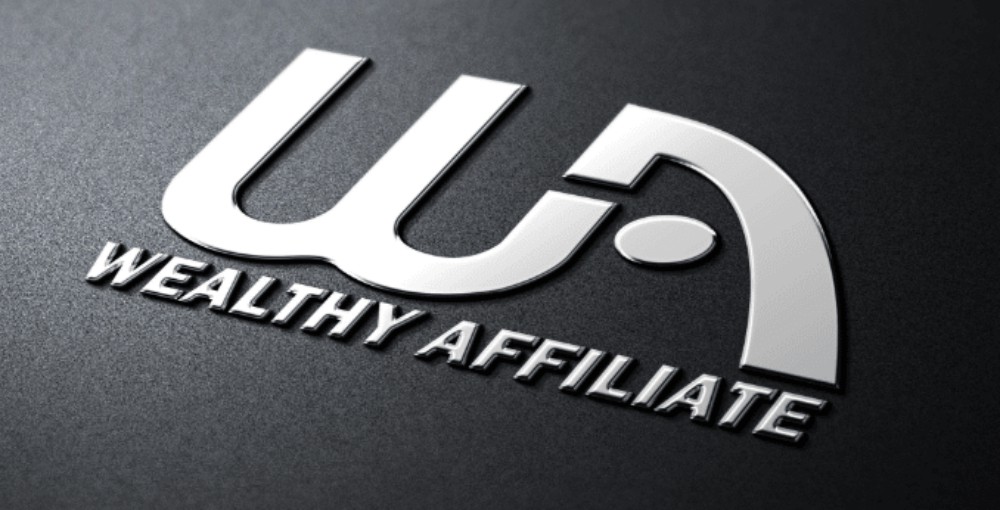 Beginner friendly – easy to use and lessons are easy to follow
All in One platform -training, websites, research tools, etc.
Online community – help and support at your finger tips
Success stories – proof that their methods work…
Methods take time to work
Wealthy Affiliate is an online platform that includes everything for a would-be online marketer would need.  Their focus is on teaching newbies how to get started with affiliate marketing.  But with the advances they have made over the years, they have made it a platform that would tailor to anyone who is looking to have an online presence.
They have easy-to-follow training, include website hosting into their membership, have online research tools included too.  The only thing that does knock their rating down is that they focus more on free methods of traffic generation, which does take longer to take affect.  But as most beginners are looking to not spend money on this, it only takes a little off their marks.
I personally feel it is a great training platform for anyone looking to make money online…
No credit card info needed and I'll guide you personally 😉
What is Wealthy Affiliate?
Wealthy Affiliate is an online training platform that teaches people how to get started with affiliate marketing.  But as you get more in-depth about their training platform.  You can see that actually the training they teach will benefit anyone looking to get started online. 
Whether that be an online business owner or a normal business owner who wants to get a wider reach of people to buy their products.   The main theme to their training is about getting started with an affiliate marketing business, as a way of earning a passive income online.
Kyle and Carson, the owners have expanded their platform over the years from just a keyword generation platform to a top leading platform that offers much more than just training, which we will share with you all of the additions they have made in our review.
Today, the Wealthy Affiliate platform offers:
Training on all aspects of an online business
A premium website builder and web hosting platform
An integrated keyword and niche research tool called Jaaxy
An affiliate program search tool
Live Classes from Industry experts
A Mentoring service
Wealthy Affiliate aims to help beginners who are willing to invest their time and effort into building their own affiliate marketing business through creating a blog and using content creation to generate traffic. 
They focus on free traffic generation methods, which is ideal for those who don't have a budget.  But it can also mean that it takes longer for you to earn money from affiliate marketing.  It does make it a safer route for beginners, as there are many different scams out there and anything that expects you to pay without knowing what you're getting into, is typically not a good idea.
How Makes Wealthy Affiliate Stand Out?
There are many platforms on the market showing you how to get started with affiliate marketing, so what (if anything) makes Wealthy Affiliate stand out from the crowd…
You Get Access to The Owners
Any program will have the people behind it all.  In most examples, you get to see them in training videos or maybe in an introductory email.  But at Wealthy Affiliate you get to personally message the owners themselves.  Kyle and Carson are fully involved in the day-to-day of running WA.  But they still make time to personally respond to your questions or comments.
Kyle recently touched base with me to see how my campaigns are going and to give me some advice as to the right direction.
Kyle runs online classes where you will be able to ask him any questions related to the course.
I haven't seen this in any of the other programs I've seen over the years.
Aside from the owners, the support from the community is immense.  Most platforms saying they have a community have a few people that might be able to help.  WA actively promotes "Pay-it-forward" which means helping everyone and anyone on the platform that needs it.
Then there is the technical support that is there for any website issues.  They respond very quickly, regardless of the time zone and get you back on track super fast…
What's Included - Training & Tools!
It's totally wrong to think of Wealthy Affiliate as only a training platform.  They offer you everything you need to get up and running.
That includes:
The training you need to both understand Wealthy Affiliate and Affiliate Marketing
The ability to build a website that is hosted on Wealthy Affiliate
A keyword research tool called Jaaxy is included in the membership
Website engagement tools and SEO training
This is all included in the membership fee.  Most training platforms that teach you affiliate marketing only show you the training.  They then expect you to follow their lead (usually through an affiliate link) to other 3rd party programs to follow their example.
This can mean you are spending a lot more on a monthly basis than you would with a Wealthy Affiliate membership.
The Success Stories Prove WA WOrks
I will show you some examples of proven success stories that show WA works.  But it is the number of success stories that make Wealthy Affiliate stand out.  There are examples of people making their dreams of earning money from home a reality thanks to the training and tools that are included at Wealthy Affiliate.
How Does Wealthy Affiliate Work?
At its core, Wealthy Affiliate is a training platform.  Offering training on how to start an online business revolving around affiliate marketing.
The training is aimed at those who know nothing about affiliate marketing, an online business, building a website, etc.
We'll get into the training in a moment.  But there are many different aspects to Wealthy Affiliate that both make it an ideal starting place for a beginner, but also something that will keep you up-to-date with all the latest trends with the online marketing world and stay with you when your business is established.
What's Affiliate Marketing?
Before I get any further into Wealthy Affiliate, as they teach affiliate marketing.  If you've never heard of it before (and I hadn't before I found Wealthy Affiliate), it can seem like a really complicated thing, or even a scam.  Let's get you in the know about what it is, so you can understand how WA can help you.
Affiliate Marketing is an online business model, where you can promote products and services owned by others for a commission.  The best bit is it's free to do!  It is a great way for beginners to get started online and it also means you get to choose what you promote, meaning you can choose a hobby or passion to make money.
Who wouldn't want to make money from a hobby?  It means you can do more of what you love and as you grow your business, you can do it more and more.
That is why so many people travel the world and do affiliate marketing as they can make money to afford to travel the world and see the sites.
Here's the basics of how it works…
An affiliate marketer will sign up with an affiliate program, like the Amazon associates program.  This gives you the ability to share products and services related to your niche from that program.  If you think about how many different products Amazon sells.  You can see how affiliates will find plenty of items to promote.
Someone who is interested in products related to your niche, but aren't too sure which one is the right one for them do a search for it… (that's step 1).
With the training that WA offers, you will get your website to the top of the search engines (Google, Bing, etc.) and that is how this unsure person will find your site. (step 2).  
You will need to ensure your site is offering loads of help and advice related to your niche, so that it builds trust with that reader.  If they trust your opinion enough, they will follow your recommendations and click through to the affiliate merchant, which is Amazon for our example.  (step 3).
When they decide to buy something, you will earn a commission for the sale (step 4).
That is basically how affiliate marketing works.
It sounds too simple in some ways, but that is because the sale bit is the easy part…  Getting people to your website is not as simple, or as quick as many other programs will have you believe.
Wealthy Affiliate offers you comprehensive training on all the different elements that it takes to get those people coming and clicking on your site.  If you can stick with the training and follow all of the steps, you will soon have hundreds and thousands of people coming to your website.  That is when you know you are making the big money…
There are loads of different training platforms out there teaching you affiliate marketing.  But you really need to be careful as many of them are offering outdated training.  There are also those that don't teach you the correct way, i.e. black hat SEO techniques…
There are also others that have a bunch of hidden extras that cost you a fortune.  But the worst are those that only teach you paid traffic methods.  This requires you to spend thousands of dollars if you want to follow their methods.
We prefer Wealthy Affiliate as it is free to get started.  If you decide it is the right choice for you, it is a standard monthly or annual fee, which they are really open and honest about.  You have to also remember that
training is only the beginning, and these other platforms have you paying for the training and then you need to go elsewhere and pay for a website, pay for keyword research tools, etc.
Wealthy Affiliate brings it all together into one platform… Let's start with the training within…
Wealthy Affiliate Training
Training is the key element that benefits you, when you sign up to their platform.  There are many different training modules within their platform, including 13 classrooms based on different topics that you'll need to become successful with online marketing.
But when you're getting started, the Online Entrepreneur Certification is what you need…
Online Entrepreneur Certification
This training is 5 levels that is the ideal step-by-step training program for beginners to get started with affiliate marketing.  It will take you through:
Researching a niche to base your website online
Building a website and generating free traffic to it
Finding and signing up to affiliate programs
Mastering the social engagement for your business
Mastering content creation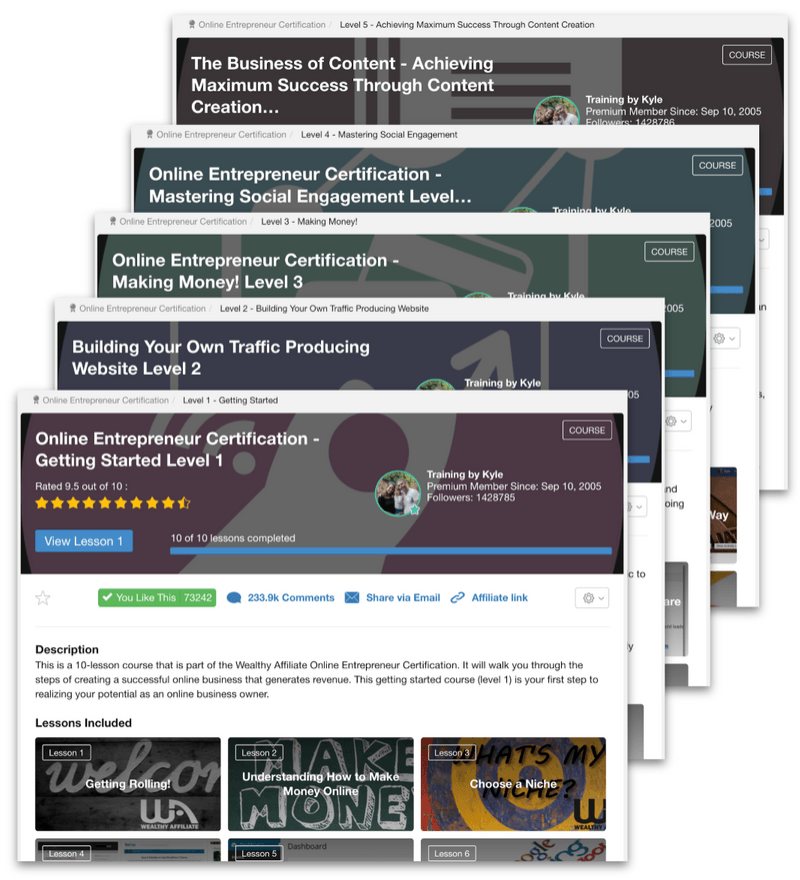 The first level of ten lessons is free to anyone on the starter membership.  This also grants you a free lesson.  The other 4 levels (40 lessons) are included in the premium membership.
To give you an idea, here's the content of the first ten lessons:
Getting rolling – introduces you to the WA platform and how the training works
Understanding how to make money online
Choose a niche
Building your own website
Setting up your website
Getting your web site ready for the search engines
Creating your initial website content
Website navigation
Understanding keywords – keyword research
How to proceed next…
The free starter membership is free, so the best way to know if the training platform, affiliate marketing, and the online world is for you is to sign up for free and give it a go…
The OEC is designed for those looking to get started with their own niche website based on something that you have an interest in, like a hobby or something you're really knowledgable in.
For those that are looking to get started with a niche website in the MMO or Make Money Online world, there is also the Affiliate Bootcamp.  This is a 7-level training program, designed to teach those interested in promoting WA.
The first ten lessons are free to those on the starter membership too.  I personally feel this is something that you should wait to do, until you have learned enough from doing a niche website.
Another great feature for keeping your knowledge as fresh as it can be, is the live classes.  It is a premium feature, but makes the membership fee worthwhile, regardless of the other features within WA.
These live classes are presented by experts in their respective field.  Below is an example of a recent class with Kyle, one of the owners of WA…  It talks about the endless possibilities with affiliate marketing.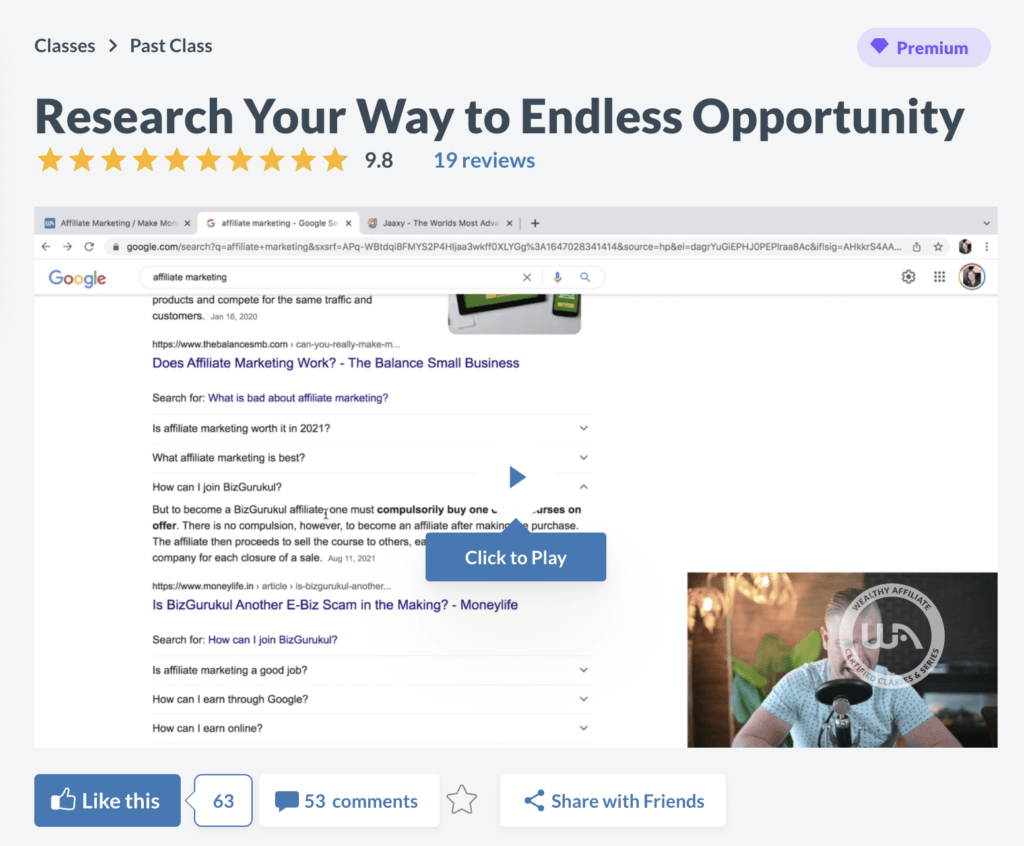 There are two levels of class access – premium and premium plus.  Jay (Magistudios) runs classes every Friday.   These are included in the premium membership.
The premium plus membership offers a huge array of live videos on all different subjects, including keyword research, YouTube, Website Creation, Content Creation, etc.
You'll have the ability to rewatch any of the videos if you didn't catch the live class too.
Kyle and Carson are constantly looking at ways to make the platform more beneficial to those who are new, but more importantly to keep up with their members.  Once you start getting into affiliate marketing, wanting to expand into different avenues.  You don't want a platform that can't keep up.
That is why, you'll find that members have been there for years and still use WA even though they are experts in their respective field.
The training speaks for itself and with a free starter membership you get to take it for a test drive…
Another great thing about Wealthy Affiliate is that they don't just offer you training and expect you to go elsewhere to find the tools you need to actually get started.  They include the tools within the platform.
So, you get training that teaches you how to use relevant tools that are on the same dashboard.  I'll go through them all, but let's start with a keyword and niche research tool called Jaaxy.
Jaaxy Keyword & Niche Research Tool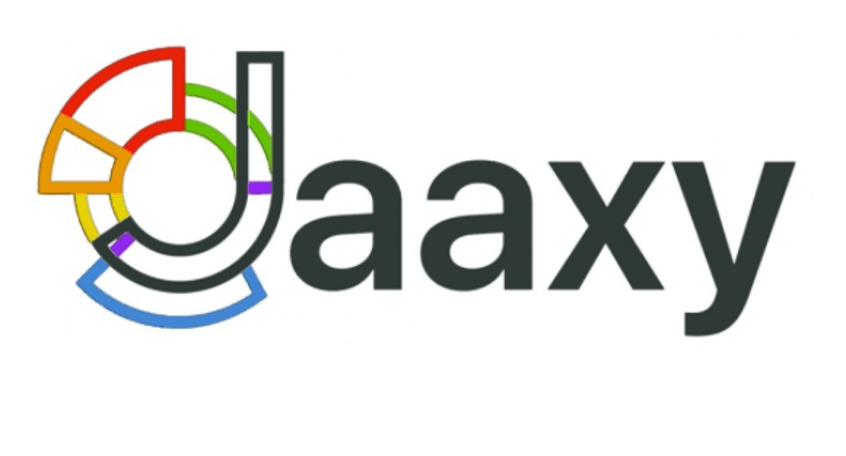 Keywords are so important when it comes to your content creation for your niche.  Without keyword research, it would be like searching for a needle in a haystack, in the dark.
Targeting the right keyword within your niche will help bring tons of free traffic to your blog.  Which is how you are going to make money.  There are many different keyword research tools, but as Jaaxy is made by the guys at Wealthy Affiliate, it is easy to use and accessible from the same platform.
A free starter member will get 30 free searches to get started.  A Premium WA member gets unlimited searches, included in their membership (with a few limits, but it works perfectly fine and we use this level).
A Premium Plus member gets the full enterprise version which is great when you have a lot of research today and fast.
Keyword Research with Jaaxy
Let's start with what keyword research is…  A keyword is a search term online.  We all do it everyday when we type in something into Google.  Usually asking for the answer to a question.
As an affiliate marketer, we're going to try and answer that question effectively enough to get ranked at the top of the search engines.  So, that when someone in your target audience types in that question – you're website appears at the top.
But how do you know what people are asking within your niche?  Which are the most popular search results?  What keywords to I target?
That is where a tool like Jaaxy comes in.  It can also tell you which keywords carries the most competition from other blogs too.
Take a look at the screenshot below… This is an image of the results of "How to Create a Blog Post with WordPress"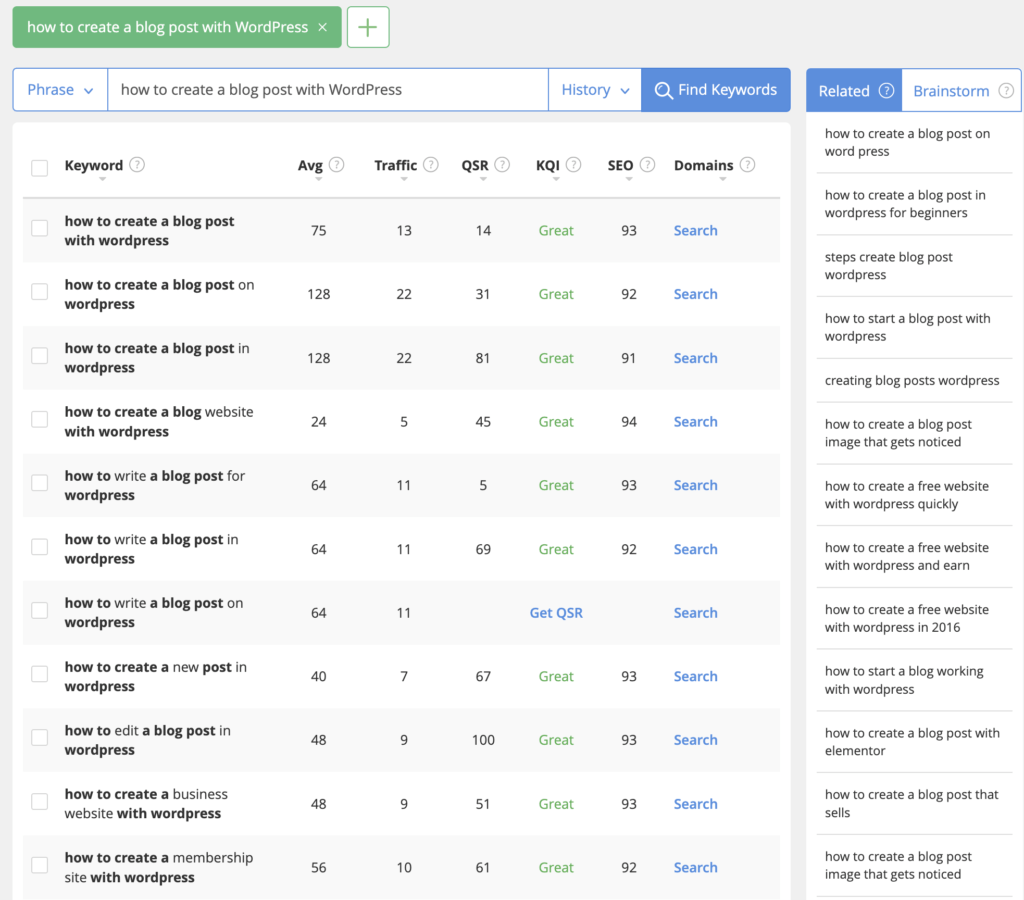 Jaaxy gives you a number of different aspects to take into account for when you are picking topics to write about:
AVG – Average number of searches a month
Traffic – Expected number of visits a month if you can achieve position 1 in Google
QSR (Quoted Search Results) – The number of other blogs competing for that same keyword
KQI (Keyword Quality Indicator) – Let's you know how good the keyword is to target
SEO (1-100) – The higher the number, the better the keyword
By analysing these numbers you can choose a nice low hanging fruit keyword which helps a new blog get itself off the ground.
Choosing a keyword with too much competition will only slow your progress down.
That is why you need a keyword research tool, to help you choose the best keywords to go after.
There is also extensive training within WA to help you get the most out of Jaaxy, without having to pay another fee elsewhere…
SiteRubix Website Builder & Web Hosting
There are those that claim you can do affiliate marketing without a website.  But there are some serious considerations to that, including if you rely on a social platform that then bans you (which can happen to affiliate marketers) you lose any income potential and have to start over again.
Having a website, and then utilising social channels as an additional route of traffic, is a much better strategy.  Which is a good thing, as WA provides you with a free website in their starter membership.
You can have ten websites for a Premium Member and 50 if you were a Premium Plus member.   Great if you were considering starting your own Digital Agency…
Their in-house website builder is easy to use, it takes a couple of minutes to build a free website, as you can see in this short video…
Their WordPress web hosting comes with a bundle of premium features, which with other companies can easily run into the hundreds of dollars mark a month.  Yet, it is all included within the relevant membership levels.
Features like…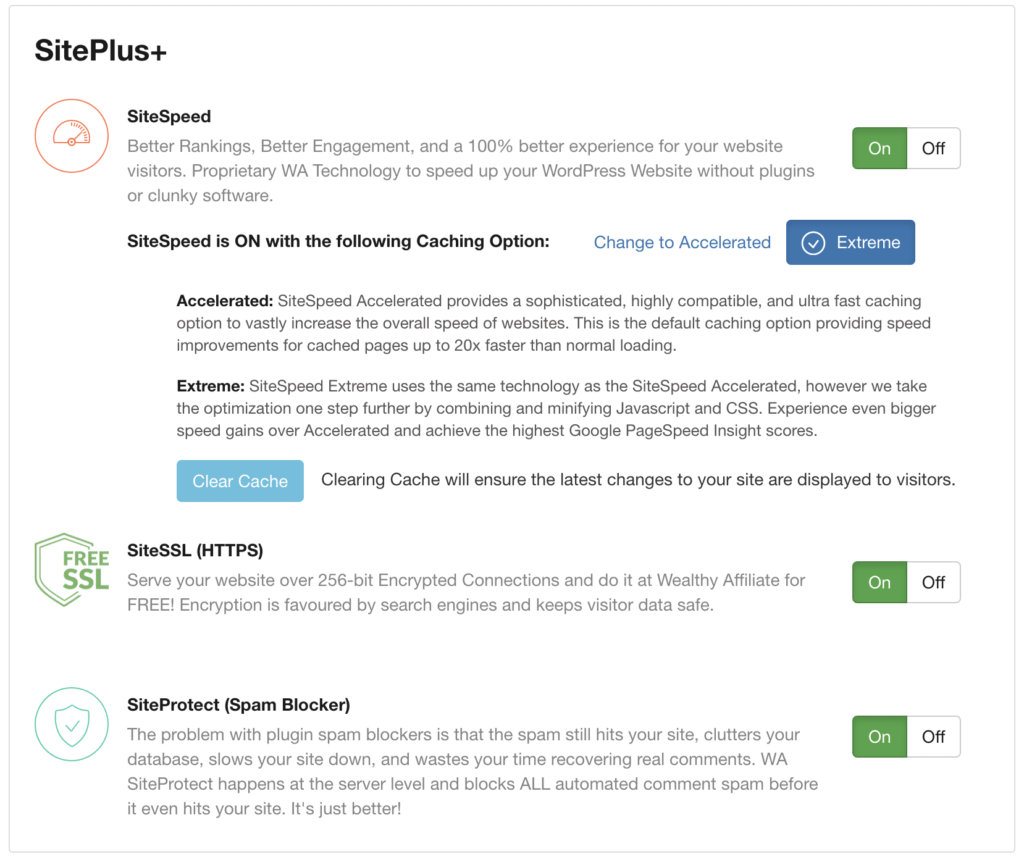 Choosing a keyword is only the start of the process, and having a really slow website is only going to hamper your efforts.  That is why WA web hosting is a premium product in an affordable packaging.
Affiliate Program Search Platform
Wealthy Affiliate also helps you find independent affiliate programs for you to use to help monetise your blog, again from the platform.  Amazon is an ok starting point, but they have recently changed their commission rates meaning more people are now looking for alternatives that pay a better rate for a sale.
By using the handy search features you can find and go direct to the application page direct from Wealthy Affiliate.
This is a great feature, as it also means you will only find legitimate options rather than just a blind search on Google.
Wealthy Affiliate Support
The support from Wealthy Affiliate comes in a variety of different ways.  For example, if you have any technical issues with your website, you'll get instant support from the tech team in the background.
I've only ever had to contact them a couple of times, but when I have, my website or issue has been resolved within a matter of minutes.  Which is a great thing as any website downtime means a loss of potential income.
But that is only the beginning of the support you will get, as Wealthy Affiliate is a global platform.  So, regardless of where you are in the world, you'll get help and support from the other members straightaway.  
The live chat is a great way of connecting with others, but there are also members who are there to point you in the right direction.
It might be pointing out a great training module that will help you get the answers you need.  Or, you need help with something and a class covered that topic recently, so they let you know about it.
Or, it might be you want someone to have a look at your blog and give you some honest feedback.  The members will come out and help in abundance.
But the uniqueness of Wealthy Affiliate to any other platform I've tried out is that you will get access to the owners…  Kyle regular drops into live chat and so you can ask him questions from the expert on there.
Jay, who does the live classes, will also drop by and we can ask him stuff.
But here's my promise to you…  If you join Wealthy Affiliate through any of the links of this review, you will get my personal help and support.  If you go premium, you'll get to use the Private Message function and ask me anything and I'll get you the answer you need.
One of WA's prime messages is to "Pay It Forward".  It has been proven that helping people is a much better strategy that selling to people. 
How Much Does Wealthy Affiliate Cost?
Right, let's get into how much Wealthy Affiliate costs…  There is no getting away from paying something by the way.  You can find a lot of resources for free online.  But I've found it makes the whole process take twice as long.  
Constantly looking for things that make it go quicker, also tend to make you take longer as they are usually not a great quality.
But here is what you need to know about WA and their prices…
Starter Membership - Free
The free starter membership is exactly what it is… a chance to take WA for a ride for 7 days and see if their platform, affiliate marketing, and having an online business is the right method for you.  Without any risk…
It is limited, as you can imagine.  But you still get premium features for 7 days like live chat and 10 free lessons, plus a free website.
Premium Membership - $49/month
This is the membership that unlocks all of the features you need to make a serious attempt at building a passive income stream through affiliate marketing.  Too many people fail due to giving up too soon.
But WA will provide all of the training, tools and support you need.  But they cannot do the work for you.  
Here's the difference between the starter membership and the premium membership…
If you're serious about wanting to make this work and give yourself more time back, this is the right membership to get started with…
Premium Plus Membership - $99/month
This membership is relatively new, but it is still a bargain compared to others out there.
This unlocks a new level of live classes, which dive into detail on the different aspects related to online marketing.
You'll also be able to host 50 websites on it.  As you are learning valuable skills that are integral to any business with an online business, or who wants an online business, you can start looking at potentially become a digital agency.  
We have clients that we manage their website for them…  Another way of making money!
You also get access to the Jaaxy enterprise account, which is $99/month on it's own.
Can You Make Money with Wealthy Affiliate?
The simple answer is that, yes you can make money with the methods that Wealthy Affiliate teaches you…  But if you expand into why so many people then fail is down to how much effort they are willing to put in.
There is no legit get-rich-quick scheme online and yet many people are always looking for one.  You can make money with affiliate marketing.  You can also make big money with affiliate marketing.
But not straightaway.  You are going to have to commit to putting time and effort in everyday if you want to see any benefits from your pursuits.
We can show you success stories from other members at Wealthy Affiliate.  But they will also tell you that it takes time and effort to achieve your goals.  If you only put in a month of effort and then want to see returns, you are in the wrong game.
Wealthy Affiliate Success Stories
Do people find success with Wealthy Affiliate…?  Yes, there are many examples of those who are earning a full-time income from affiliate marketing thanks to Wealthy Affiliate.  Below are some examples…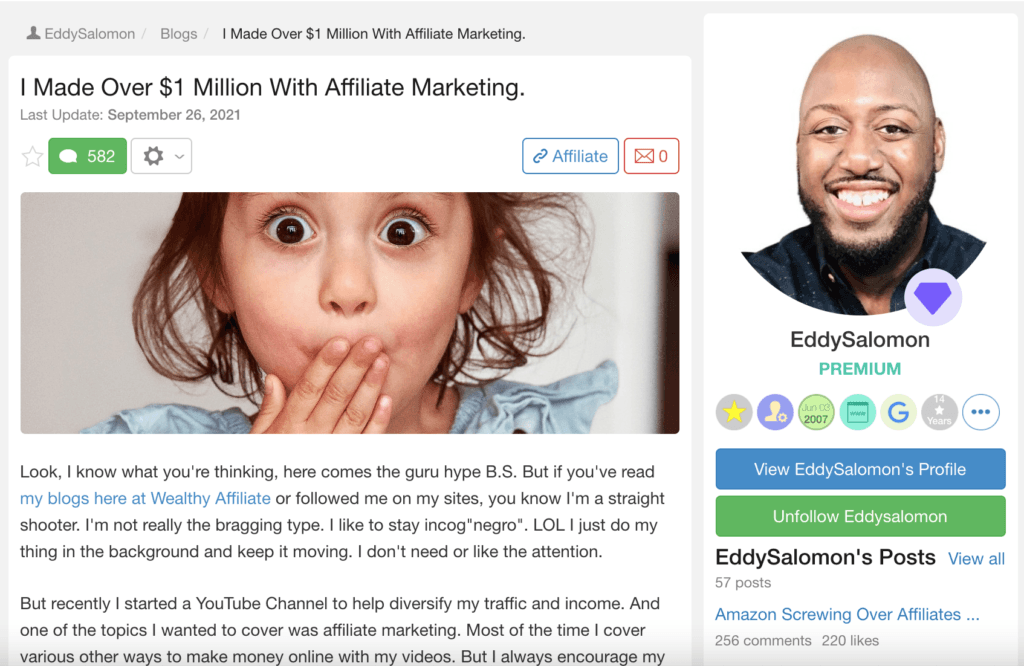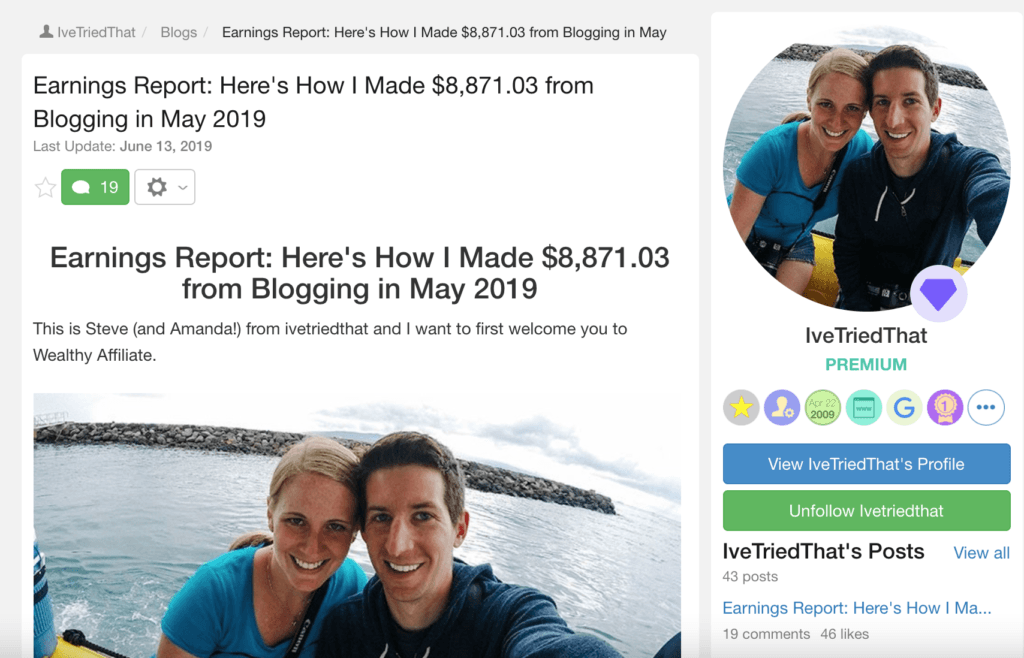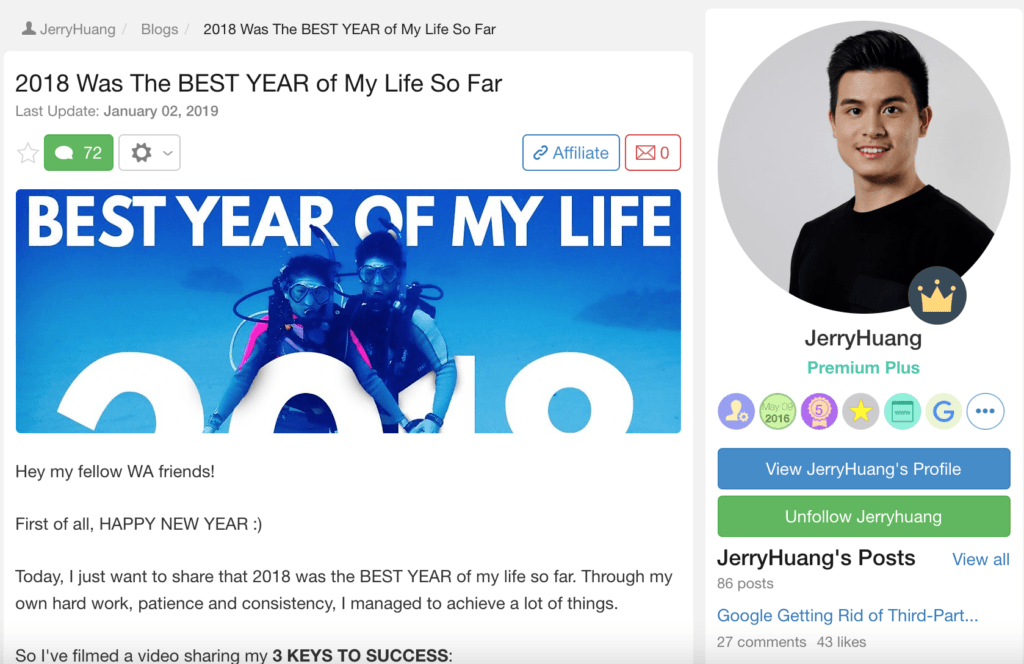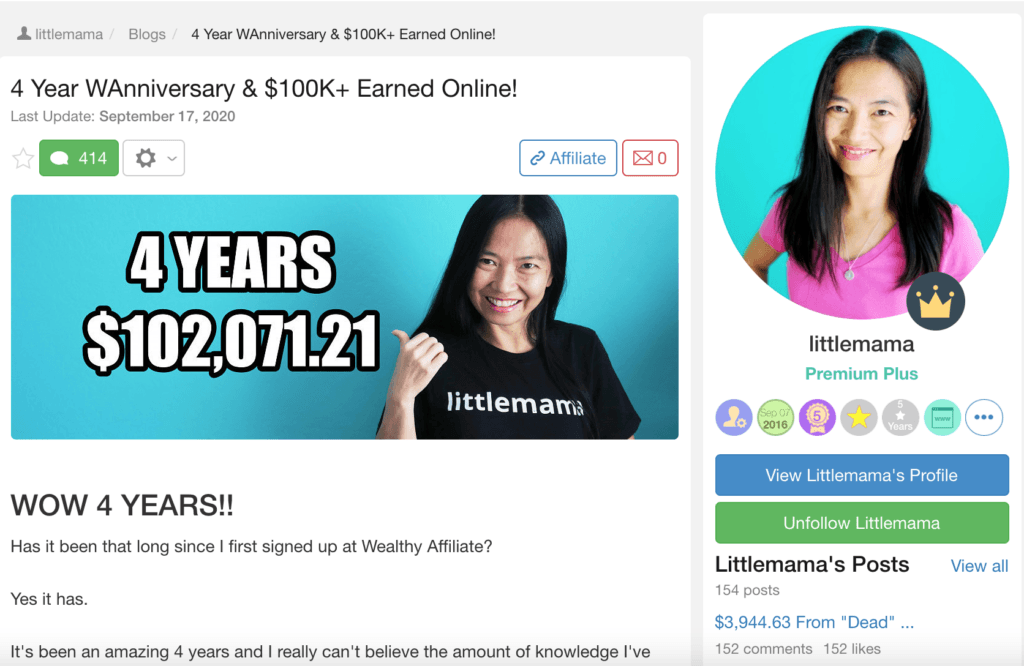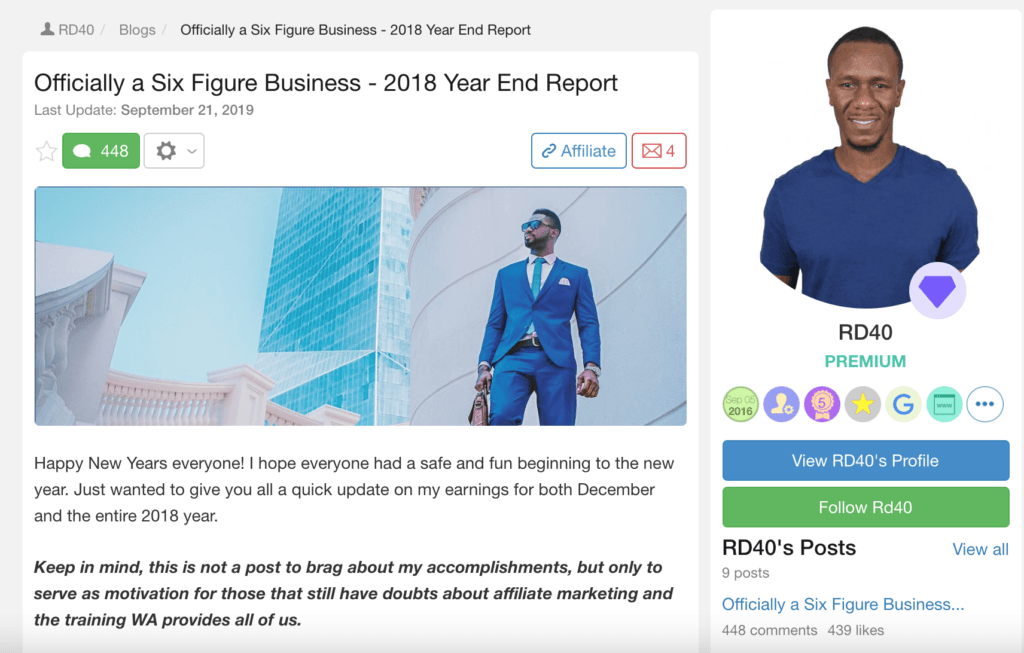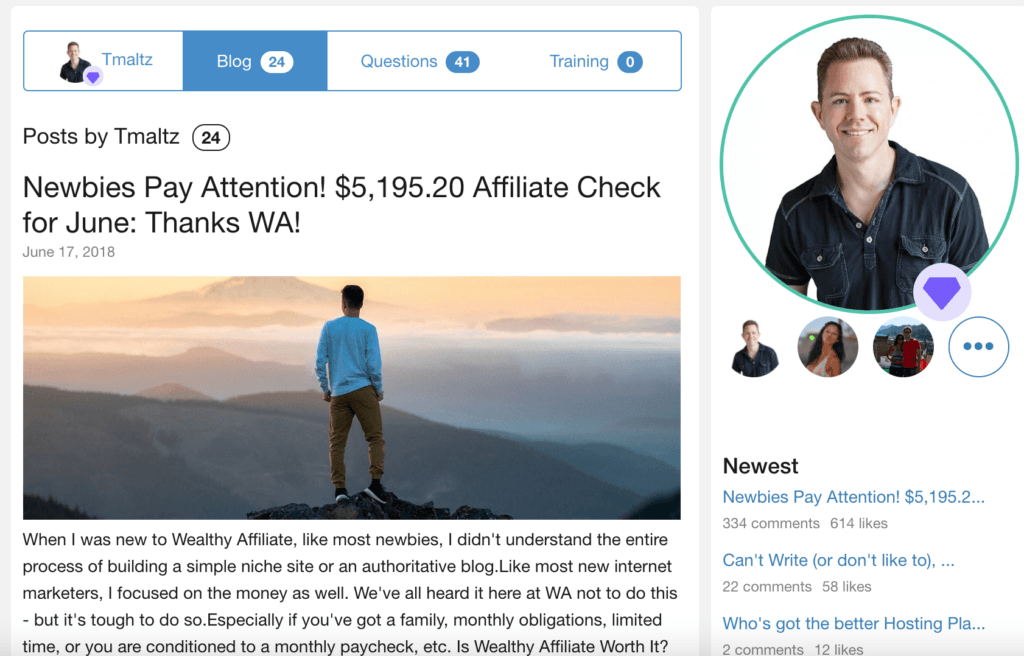 These are just a handful of success stories due to the training at Wealthy Affiliate.  If you can persevere through the beginning stages, you'll soon find that you're well on your way to earning an income online.
Here are the key elements we loved about Wealthy Affiliate:
The platform is truly aimed at beginners.  Even if you don't know a thing about online marketing or website, or anything.  It doesn't matter as they cover it off in an easy-to-follow guide.  Through text tutorials, videos and images, you'll soon feel like an expert once you've gone through the training.
In reality, it's no more difficult than using a social media account like Facebook and typing a word document.  But their training ensures you know exactly what you've got to do, and when to do it.
Like I've said, there are many different training platforms that teach you affiliate marketing.  But with those alternatives, you then have to go elsewhere to host your website and then somewhere else to do your keyword research, etc.
Wealthy Affiliate keeps it simple by including it all in the one platform.  The only thing they don't include, as it stands, is an Email Autoresponder.  Which isn't a necessity for a newbie…
Training is a good feature, especially the training at WA.  But I think it's the community that has your back all of the time that makes WA special.
It also says something else when you have over 2 million members on their platform, which says a lot for the belief and support you get at WA.
The success stories speak for themselves, but I listed them again as it also shows that WA is legit.  Their training has an effective track record and it doesn't matter what niche you decide to go with.
Wealthy Affiliate has a great affiliate program, which leads itself to some members becoming Super Affiliates due to them making sales from promoting WA.  Using the methods WA teaches with a normal niche, they can choose to take the MMO route and promote WA.  
Get 300 sales in a year and you get to hang out with Kyle and Carson, and the other super affiliates in Las Vegas.  Learn from industry experts in the flesh and get a 1-on-1 meeting with Kyle and Carson to see how to improve your business.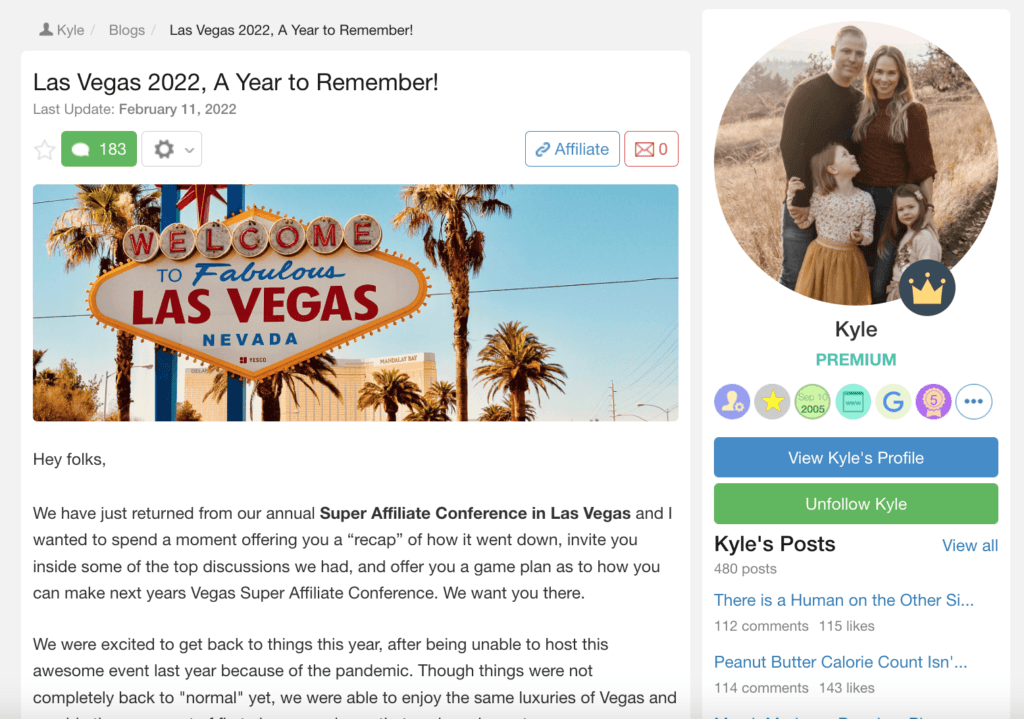 I must make it clear, that isn't not necessary to promote WA.  That is a common misconception.  It's something to consider.  But you really need to be interested in doing it, as it's a really competitive niche to go for.  But I think everyone at WA strives to meet Kyle and Carson and learn from them.
But you can still do that from the platform…
Nothing's perfect, so here is what we found wanting with Wealthy Affiliate:
Their Methods Take Time to Work...
Wealthy Affiliate offers a fantastic comprehensive platform that will definitely help a beginner learn effective methods to building a passive income stream online.
But this also means they focus on free methods of traffic generation.  This does take a lot longer than if you were to go for paid traffic routes.  Having said that, this does require a budget to do this and it requires a clear strategy.
So, whilst it is something that means it will take time to make money with the methods that WA teaches you, it does mean you will not need to waste money on ads, not knowing if they are going to work.
Final Thoughts on Wealthy Affiliate
I have found that Wealthy Affiliate offers the best solution to those looking to make money online through affiliate marketing, especially for beginners.  Their training, tools and support are ideal and designed to take someone who lacks any knowledge about the online world to becoming a true authority in your chosen niche.
Their methods will take you longer than others.  But these other methods require a huge budget to do effectively, which is why WA is our top recommended training program.
If you are someone who can put in the time and effort into turning your hobby into an income, then I highly recommend you give the free starter membership a try and see what Wealthy Affiliate has to offer you…
If you still have any questions about Wealthy Affiliate, then please write them in the comments section below.  I'd also love to hear from you if you have had any experience with WA yourself, please share your accounts in the comments section below. 😉