Are you looking for a keyword research tool that will make your job of ranking in Google easier?  Wondering if Jaaxy is the right fit for you?  Well, Let's get you the details you need to know in our Jaaxy Review!
Getting the right keywords to target for your marketing campaigns is integral to any online strategy, and I use Jaaxy for my own keyword research.
It also has the added benefit of being a tool that was built by the guys behind the Wealthy Affiliate training platform.  It's been designed by affiliate marketing and blogging experts, with marketers or new marketers in mind.  
I'm going to honest with you from the start, I am an affiliate of Jaaxy (and Wealthy Affiliate), but only recommend products that I would personally use myself.  But whether Jaaxy is right for you, that is a personal choice and my review will reflect the good, and the bad, so you can make an objective decision about whether to give it a try or not.
Let's get into our Jaaxy review!
Affiliate Disclosure: I am an active affiliate for Wealthy Affiliate and Jaaxy.  Wealthy Affiliate  compensates Smart Passive Income Success if you were to join Wealthy Affiliate through any of my affiliate links at no extra charge to you!  In fact, if you were to join via any of my links, you would get my personal help and support to help you achieve your goals!!    For more details, here's my disclosure statement.
Product Name: Jaaxy
Owner: Kyle Loudoun & Carson Lim
Product Type: Keyword research and Niche research tool
Price: Free for Starter, $49/month for Pro, $99/month for Enterprise, Included within WA membership
Best For: Affiliate Marketers, Bloggers, Content Creators, etc.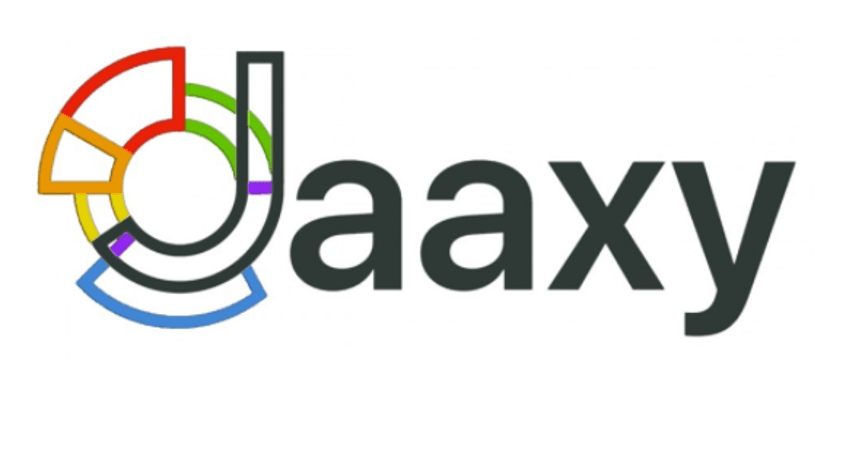 Great for Beginners – Easy to Use
Linked to Wealthy Affiliate – Online Business Training for all
Still Has Advanced Features For Experienced Marketers
Manual Loading of Results for Starter & Pro Membership
Only Good for Searches in English
Jaaxy is a keyword and niche research tool that was designed by the team behind Wealthy Affiliate.  This brings with it several benefits, including Jaaxy being included in the WA memberships.  It provides a great insight into the search engines, as any marketer, business, or blogger would need to ensure their online campaigns are on track.  It's really easy to use, with clear and concise information. 
Although, the brainstorm feature doesn't seem the have been updated in a while and you have to manually load the results unless you are in the Enterprise membership.  But with all that said, it's still a great tool and the one we have used for the last few years.
Jaaxy is a web-based keyword and niche research tool.  Keyword research is so important, as it is the key that unlocks your ability to rank within the search engines.  If you don't rank on page one of Google, you have no chance of getting any traffic to your website.  So, getting the right keyword tool for you is a must.
Whether you are an affiliate marketer, blogger, content creator, or even a Youtuber, you need a keyword tool.  If you're looking at becoming anyone of these, you would need a keyword tool and Jaaxy is a great option…
The founders of Jaaxy are Kyle and Carson.  They are expert marketers who wanted a tool that was both powerful and easy to use.  This is how Jaaxy was born.  But it also led them to a different path, of becoming expert trainers at all things online marketing.
Which is how they came up with the Wealthy Affiliate platform.  Originally, back in 2005, it was a subscription service that provided members with highly profitable keywords to use with both SEO (free) and PPC (paid) traffic routes.  But since then it has morphed into a complete program, that offers training, website hosting, niche research tools, affiliate marketing tools, and Jaaxy.
Wealthy Affiliate is our top recommended training program for anyone looking to earn a passive income, start a blog, affiliate marketing, or anything online to be honest.  Due to the ever-growing list of benefits, and the monthly fee hasn't changed since 2005 either.  ($49/month – which includes Jaaxy lite, more about that later).
Here's a good walkthrough video and an opinion from another marketer about Jaaxy, if you want to see it for yourself…
If you don't have a keyword research tool, you will have to work blind online.  As you will only be guessing as to what your target audience are searching for, and how you can get them to visit your blog.
Doing manual searches online, will take you so much more time than just using a tool like Jaaxy, to check out the same results.  But a lot quicker…
Jaaxy provides all aspects of keyword, competition, average monthly traffic, and related affiliate programs.  All of these features save me so much time each week as I build up my blog.
What Does Jaaxy Have to Offer?
Jaaxy has several features that would benefit you…  Let's start with keyword research (of course)
Keyword research is really easy with Jaaxy.  You log into the dashboard, and then type in the keyword you want to learn more about.  It will show you details about that specific keyword, but it will also suggest a ton of relevant keywords for you too.  It'll also show you a few key metrics, to help you pick the right one.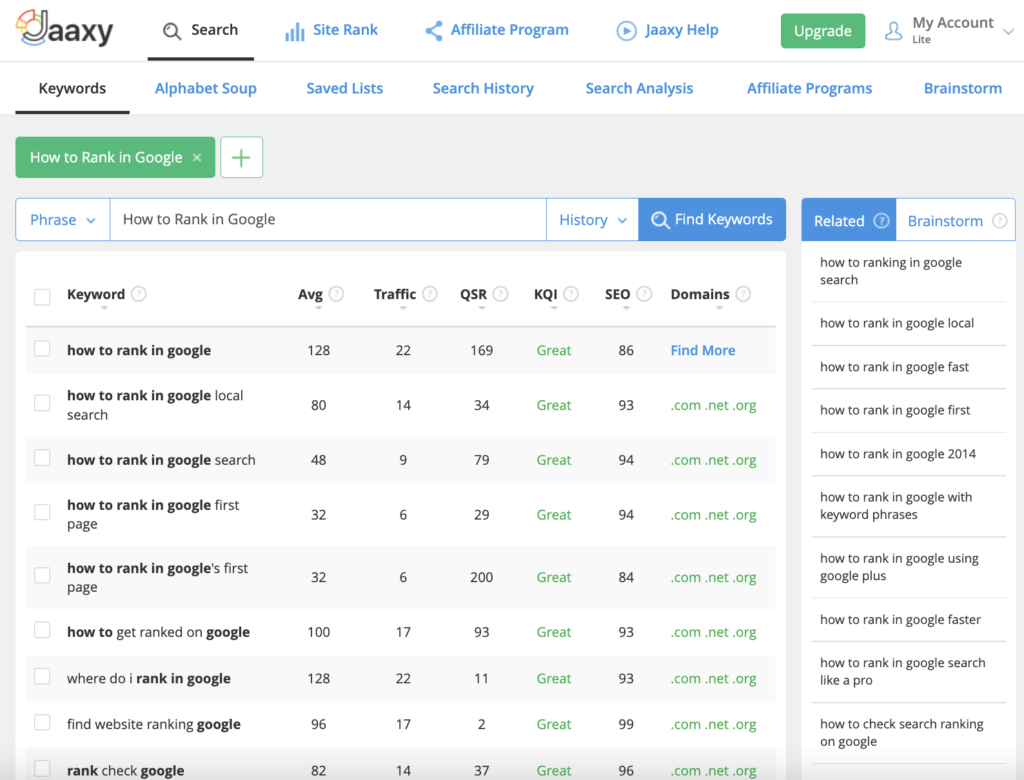 So, the screenshot above shows you an example of a keyword I was checking out "How to Rank in Google" on Jaaxy.  These are the results it came up with, each metric gives you insight into whether it's a great keyword to use or one to avoid.
Let's break down each of the metrics:
Avg: This is the number of monthly searches this keyword gets in Google
Traffic: This is the number of monthly visitors you can expect if you rank #1 in Google
QSR: This is a key metric.  It shows you how many other websites are currently ranking for that exact same keyword in Google.  The higher the number, the more competition you have to contend with
KQI: Keyword Quality Indicator – Great, Good, OK, Poor
SEO: This is a score based on traffic and competition.  The higher the number, the better!
A quality keyword would be one that has an AVG of at least 100 and a QSR of less than 100 – AVG>100>QSR.
There is little point wasting time on a keyword that isn't going to get you any traffic, even if you did rank in top spot. 
So, you want to go after keywords that are definitely get some searches on a monthly basis, yet have less competition to avoid being lost in the crowd.  
That is what a tool like Jaaxy can help you spot.  It's also got to be relevant though.
So, if you take "Where do I rank in google".  It's a good keyword to go after, which is 128 AVG and a QSR of 11.
But it is not relevant to my initial search.  It would be a good post idea to help tell people how to find out where they are ranking.  Which you could use Jaaxy to do, using the Site Rank feature.  We'll talk about that in a minute.
But for my initial thoughts about actually getting your content to rank in Google, a better option would be "How to Get Ranked on Google".  It has an AVG of 100 and a QSR of 93.
It depends on the term, but sometimes you will need to deal with some competition, which just means you need to create better content.  But if you are going too low with the AVG, it isn't worth it really…
Check out the video below, to see it in action…
Struggling for ideas for your content creation?  This is a great way of brainstorming tons of ideas, without having to manually do it in Google.  If you've never heard of the alphabet soup technique, there is a great video by Kyle who explains it exactly.
But in short, if you were to do it manually, you would use Google Search.  You would then type your given subject (i.e. affiliate marketing) and type a, then b, then c against the alphabet and see what Google instant would produce.
You would need to manually do that for each letter, before and after your keyword to come up with what people are searching for in Google.  See the screenshot below for an example of what comes up for "affiliate marketing + f"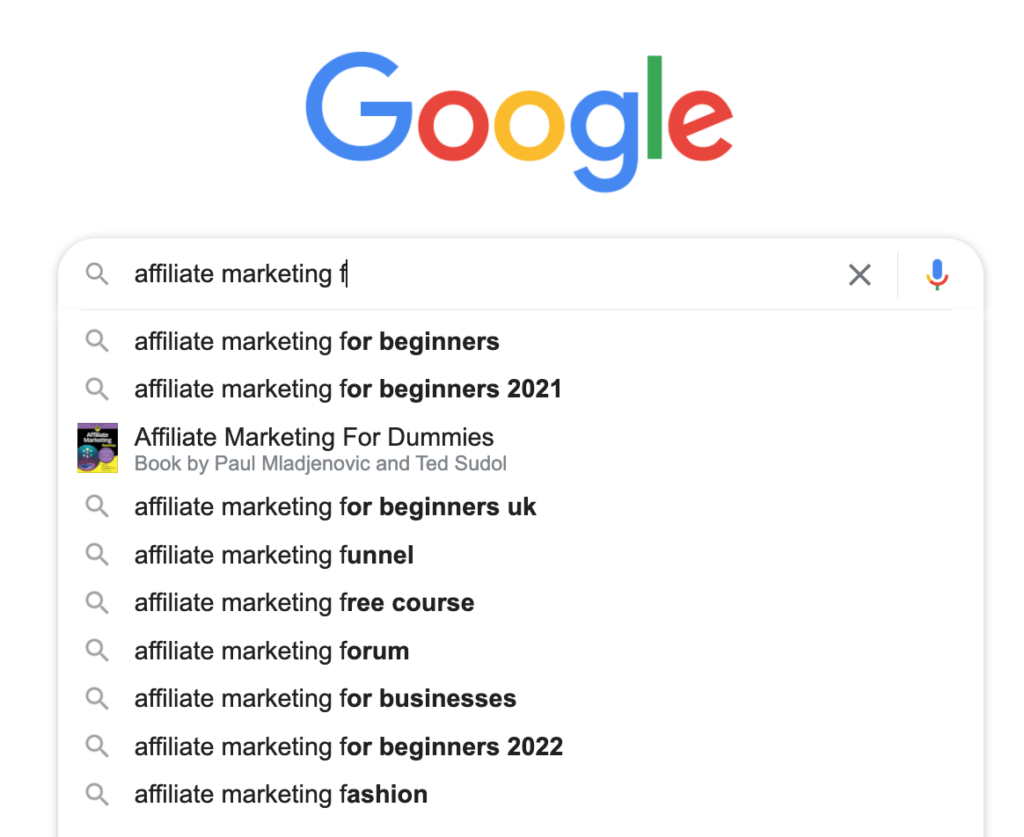 By doing that for every letter, you come up with a ton of ideas.  But it takes you a lot of time.  So, what Jaaxy does for you is do this for you.  Type in your keyword idea at the top and it will give you results for all of the letters of the alphabet for you…
Use the scroller at the top and you can go through all of the search terms and find the ones you want to save for later, or want to drill down to find out whether it's a term worth investing a blog post in.
This is a great feature for when you do start getting rankings for your keywords, as when you start getting them.  You want to keep them.  By using this feature you can automatically look for where you are ranking.  When you start ranking on page one, you can see where you are ranking.  Because then, you can start to see how you can move up to number 1.
Or if you were at number 1, then you see you drop down.  What was it about the other blog post that has knocked you off, top spot.  That way, you can go and check out the competition and maybe see what you need to update about your post.
This is how you check out the competition for the keyword you want to target…  Use the keyword you are wanting to target, and see who you need to go and check out to do a better job with your post.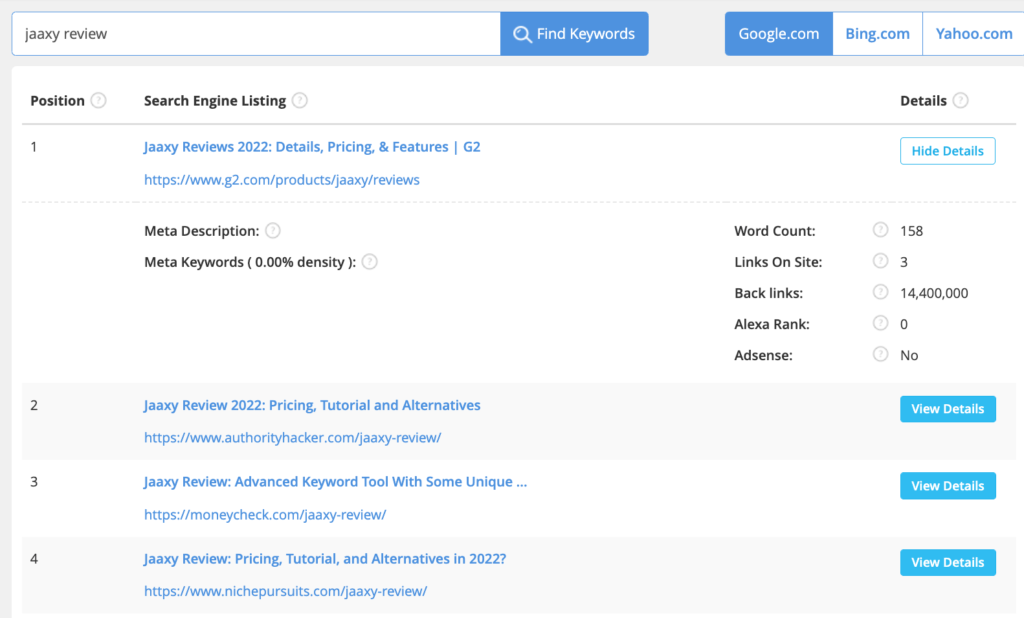 So, for the example of "Jaaxy Review".  I have these results I need to check out and compete with.  There is some interesting data.  It's also a good idea to check out their blog posts.  Not to copy, but to see how you could improve it.
Google is always looking for fresh content that helps the reader get what they want.  You need to look for the fresh angle and see what is missing to fill in the blanks.  Offer this, and rankings should follow.
The date you will see from the search analysis tool is:
Meta description
Meta keywords
Word count
Links on site
Back links
Alexa rank
Google Adsense
Affiliate Marketers need to know what they can promote, in order to make money.  Jaaxy helps you out with providing you a list of relevant affiliate programs related to your target niche.  Below are examples related to passive income.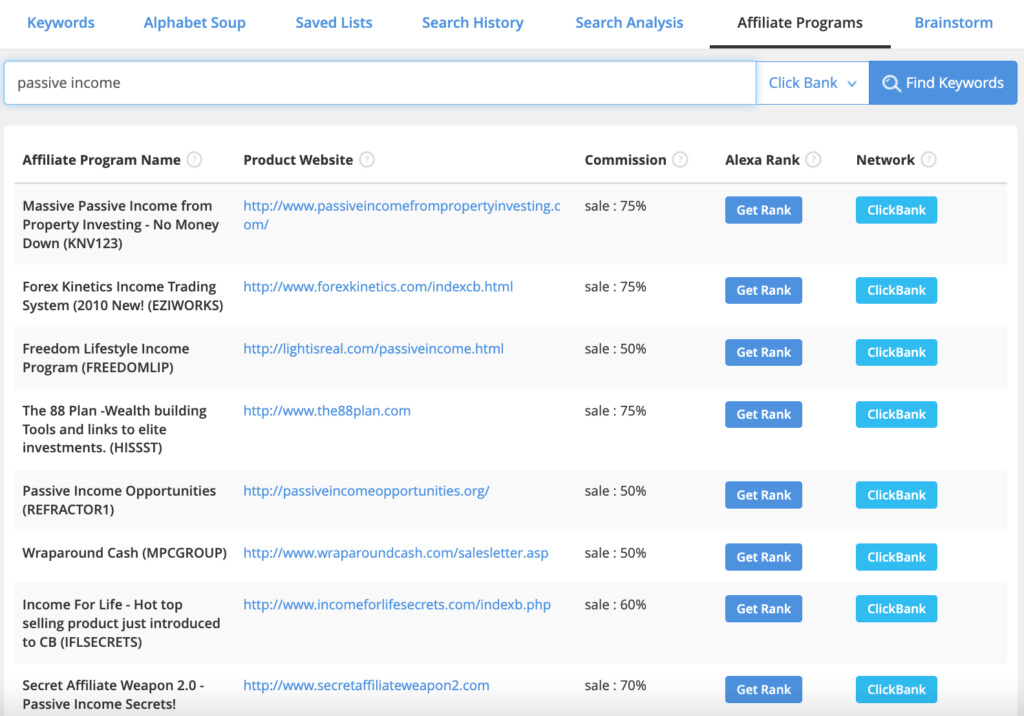 These results are pulled from 4 main affiliate networks, including Commission Junction, Link Share, Digital River, and ClickBank.
Turn Your Passion into Profits
Want Help Getting Started? Sign Up For Our 7-Day Online Passive Income Bootcamp & Learn The Skills You Need!
How Much Does Jaaxy Cost?
Currently, I'm using the lite version of Jaaxy, which is included within my Wealthy Affiliate premium membership.  So I don't actually pay for Jaaxy, as it is included in the price.  When you factor in the amount of time Jaaxy saves me in my keyword research and all of the other awesome features, the monthly membership for for Wealthy Affiliate is totally worth it.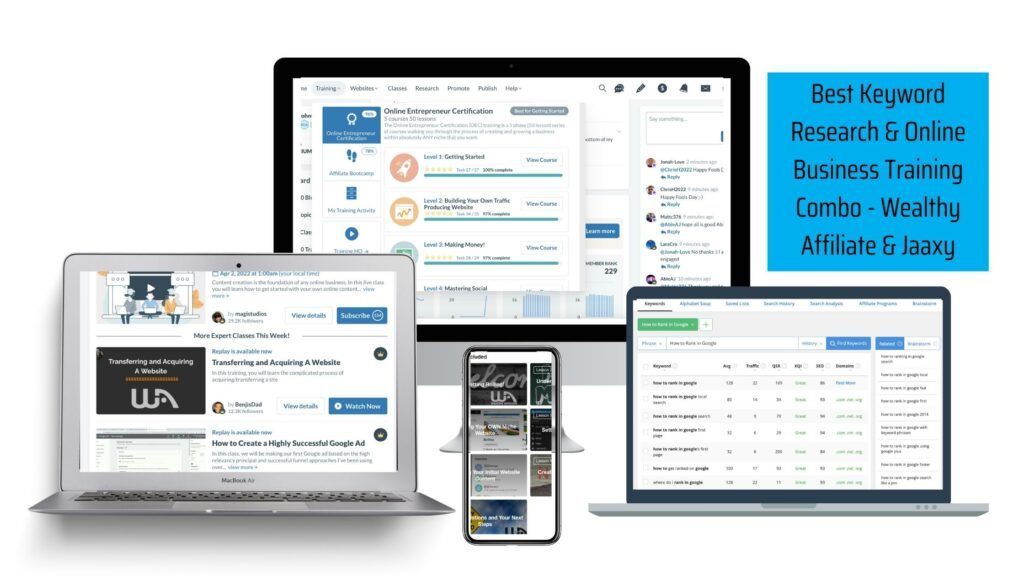 If you want to give Jaaxy a go for free, then you can click HERE to start your first keyword research project.  You will find it really easy to use…
There are 4 memberships within Jaaxy, if you include the Jaaxy lite that comes with a WA premium membership.  Let's start with the Starter Trial…
This is the starter trial membership.  It's designed to let you get the feel for whether Jaaxy is the right keyword research platform for you.  It includes the ability to still search for keywords, but on a limited level. 
Here's what you get with this membership:
30 Keyword Searches
20 Keyword Results
20 Keyword Lists
30 SiteRank Scans
Jaaxy Lite - Included with Wealthy Affiliate Premium Membership
This is the membership level I use, as I said, it is included within the WA premium membership at no extra cost.
I use it every time I need to write a blog post, or want to research some more information on my target niche.  By getting the best keywords to use for my blog post titles, it will help bring quality (and free) traffic to my site.
Here's what you get with this membership:
Unlimited Keyword Searches
20 Keyword Results
25 Keyword Lists
100 SiteRank Scans
Advanced Features included:
Manual Domain Availability (Use Jaaxy to find high quality domains to acquire)
Affiliate Program Search
Alphabet Soup Technique Tool
Sort Keyword Data
The Pro version is another step up from the Jaaxy lite membership.  It gives you more results and quicker…
Here's what you get with this membership:
Unlimited Keyword Searches
30 Keyword Results
Unlimited Keyword Lists
2,000 SiteRank Scans
Advanced Features include:
Brainstorm Platform
SiteRank Tracking
Alphabet Soup Tool (more results available)
Jaaxy Enterprise - $99/month or Included within Wealthy Affiliate Premium Plus Membership
The enterprise membership takes everything up a few levels, to increase efficiency and speed.  The other memberships require you to manually load results.  The enterprise does not.  You get tons more of everything.
But you should really be n a good place with your current blog/website before considering this one.  My recommendation for now is try the starter membership and see if it's right for you.  Then you can decide whether you go for the lite version and get everything Wealthy Affiliate has to offer (for $49/month) or go for the pro membership if it's just a keyword tool you're after (again $49/month).
Here's a breakdown of the 3 memberships from Jaaxy (the lite version is subject to a WA membership).
Let's show you what I liked about Jaaxy:
#1 Great for Beginners - Easy to Use
Jaaxy is really easy to use, even for those that have never done any keyword research before in their life.  I had never had any experience when I first got started with WA, and now I don't know how I would cope without having it readily available on a daily basis.
It's no more difficult than completing a google search, only with much better information to base your decision on.
#2 Linked to Wealthy Affiliate - Online Business Training for All
I think one of the main benefits of Jaaxy is that it was designed and built by people who know what they are doing.  Which is clearly evident by the success that many members have had from following the training at Wealthy Affiliate.
By linking the two, with some other features, a newbie doesn't need to worry about learning several different platforms to learn what it takes to be successful online.  They just need to use one platform, where they get led by the hand in how to achieve their goals.  The platforms are seamlessly integrated and it just makes everything easier and quicker…
#3 Still Has Advanced Features For Experienced Marketers
When you think about something that is simple, some will think that it is a platform that doesn't grow with your business.  But this is not true with Jaaxy.  New marketers are using Jaaxy, and experience marketers like Kyle, Carson, and Jay (WA Live video coach) are all using Jaaxy.  Jay runs a digital marketing agency and still uses Jaaxy, due to the powerful results it can achieve.
This is a tool that is fit for all skill and experience levels.
Ok, Here's what we didn't like about Jaaxy:
#1 Manual Loading of Results
You do get used to doing it, but only the Jaaxy Enterprise membership eliminates the need to manually click on each result to get the details.  For the Pro, and even the lite version you have to click to get the results to then base your decision on.
It doesn't take long for the results to show (only a couple of seconds).  But it is still a little irritation.  But when you compare that to manually searching through google for results, it still saves you tons of time.
#2 Only Good for Searches in English
Not an issue, if you plan on launching your blog in English.  But not so good if you were thinking of using a different language, as Jaaxy won't be able to help you there.
Jaaxy Review - Final Thoughts
Jaaxy is a tool that I use most days as I try to look for ideas for my blog, and to target the right keywords to get them up the rankings.  I personally feel it is one of the best SEO tools, especially for beginners that you'll find as it is so easy to use.
I strongly recommend Jaaxy if you're a blogger, an affiliate marketer, a content creator, or even an aspiring digital marketing agency, etc.  There's no harm in giving it a go, as it's completely free to try.
Click HERE to go and do some keyword research with Jaaxy today, and you'll see how easy it is…
Thanks for checking out my Jaaxy review, I hope you found it useful?  Feel free to leave me a comment letting me know, or if you want to share your own keyword hunting stories, please let me know… 😉