Welcome to my ShareASale Review!
ShareASale is an affiliate network with a lot going for it, especially being part of the Awin network.  But there are still those that aren't convinced?  Can you still make money with ShareASale?
The short answer is yes!  ShareASale has many benefits to it, especially if you are new to affiliate marketing.  They work with some lesser known brands, which gives you a higher chance of being accepted by the merchant.
Our ShareASale review will not only give you all the details about this network, but it will also show you how you can make money with it.  I'll also give you an insight into how it compares to some others on the market.
Ready to see if ShareASale is the affiliate network for you?
Let's get started.
Product Name: ShareASale
Founder: Brian Littleton
Product Type: Affiliate Network
Price: Free to Join
Best For: Ideal for affiliate marketing beginners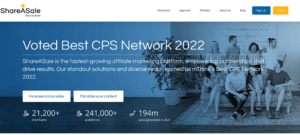 Sign-up & Approval is easy, much easier than other networks
Now part of Awin, the extra investment means longevity
Very diverse portfolio, with lots of under-the-radar programs
Finding affiliate programs is easy
Great additional tools for publishers
Outdated website design
Special characters in affiliate links that cause coding issues
Payout threshold is higher than other networks
Eliminated merchant programs without warning or notification
No PayPal option
ShareASale is an affiliate network that offers a great range of products to promote.  They might not have some of the big brand's other networks house, but they have much better options for newer affiliate marketers.  This means they are less likely to get rejected for individual affiliate programs.
Their platform does look like it's outdated, but you can still find what you need with relative ease.  They do have a higher-than-usual payout threshold.  But on the whole, are a solid option to try out…
If you're brand new to affiliate marketing, you might want to check out our #1 recommended training program to learn everything you need to get started with affiliate marketing. 😉
ShareASale is one of the largest affiliate marketing networks online.  It has been around since 2000 and has become quite popular with some smaller, less obvious brands giving a great opportunity for an affiliate marketer.  They partner with over 16,500 merchants in a wide variety of markets and niches.
ShareASale was acquired by Awin (Affiliate Window) in 2017 for US$35 Million.  But they both operate separately as far as their networks are concerned.
What is Affiliate Marketing?
Just in case, you're a complete newbie when it comes to affiliate marketing.  I'll give you a brief overview…
Affiliate Marketing is a popular method of monetisation for bloggers and online marketers.  It's where merchants reward you as a publisher with a commission for referring sales to them through their affiliate links.
An example would be you write a blog post teaching your readers how to create a blog.
In the post, you include a few different blog-building tools, but this "one" is ideal because…
You include a link to your favourite and the company pays you a small commission for each person who visits your site and makes a purchase (through your link).
It is a simple process, but there is a little more to it if you want to make it a full-time income.  But you can check out my complete guide here.
Affiliate Networks like ShareASale are really useful as they give you a wide range of affiliate programs to use on your website, rather than having to individually sign up for hundreds of them.
Free Bonus: Click Here to get our 7-Day Bootcamp to get you started with affiliate marketing direct to your inbox (for free)
How Does ShareASale Work?
Consider the time it would take to apply for individual affiliate programs?  Affiliate Networks take some of the hassles out of this process, but provide you with easy access to hundreds from one dashboard.
With such an extensive selection of different affiliate programs, ShareASale makes it super easy to find the right products or services to fit your readers' needs and interests.
One way to start is by searching ShareASale for products you already use and love. Or you can research new products you think will appeal to your audience.
ShareASale has over 16,500 businesses in a multitude of markets and niches.  As they are on the network, they are also primed to work with affiliates too.
How Do You Earn Money with ShareASale?
You earn money through the ShareASale affiliate network by referring your readers and site visitors to any of the high-quality businesses that partner with ShareASale.
There are two ways for you to make money:
Pay Per Lead:

Each time a reader clicks your affiliate link and visits the vendor's page and fills out a form, you get paid.

Pay Per Sale:

You earn a commission when a reader follows your custom link to a product and makes a purchase.
Before we get into any more details about how ShareASale works and what brands they promote, let's talk you through signing up with ShareASale.
Signing Up with ShareASale
Let's look at the ease of signing up as a publisher for ShareASale.  This often gives a great insight into whether this is a good network for affiliate marketers.
A network that makes it too difficult is only going to put marketers off, right?  Unfortunately, there are a few that do, but ShareASale isn't one of them.
Step One - Username and password
Once you press the signup and select publisher.  You'll be taken to a screen looking like the image below.  You'll need to choose a username and create a password.  Choosing your country is also required here too.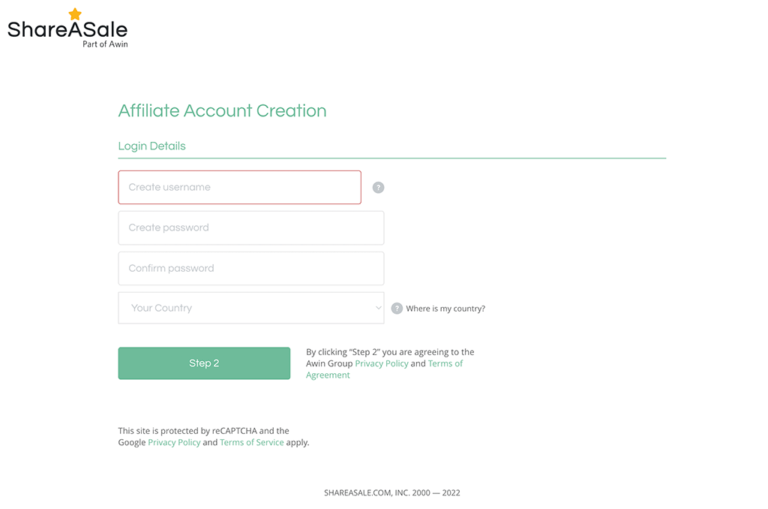 Step Two - Website Information
The second stage requires you to add your website details (if you don't have a website yet, here's a useful guide to help you create one).  You'll be required to verify your ShareASale account later, so make sure you use a live site.
Then you'll be required to confirm your primary language on the website and confirm your promotional strategies.
Please Note – They're stringent about the types of affiliate marketing websites they allow on their network.  This includes confirming your site doesn't contain or link to adult content.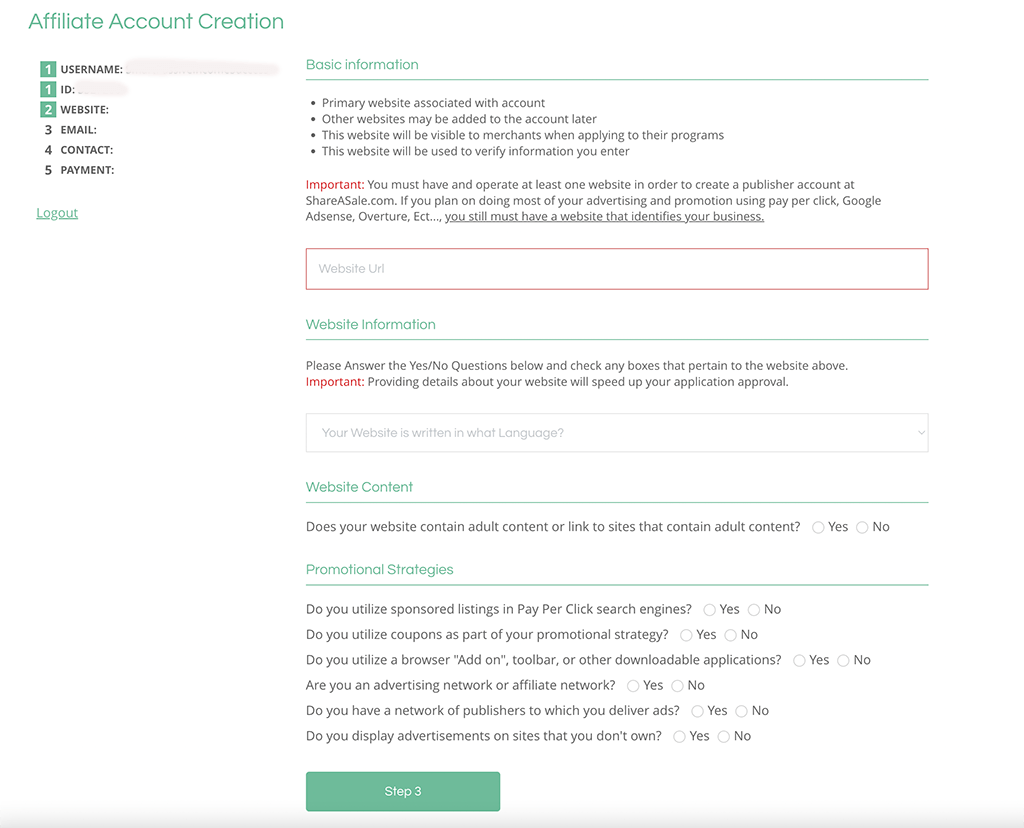 Step Four - Email Address
Now it's time for your email address.  You'll need to verify this link, which confirms you can accept mail from ShareASale.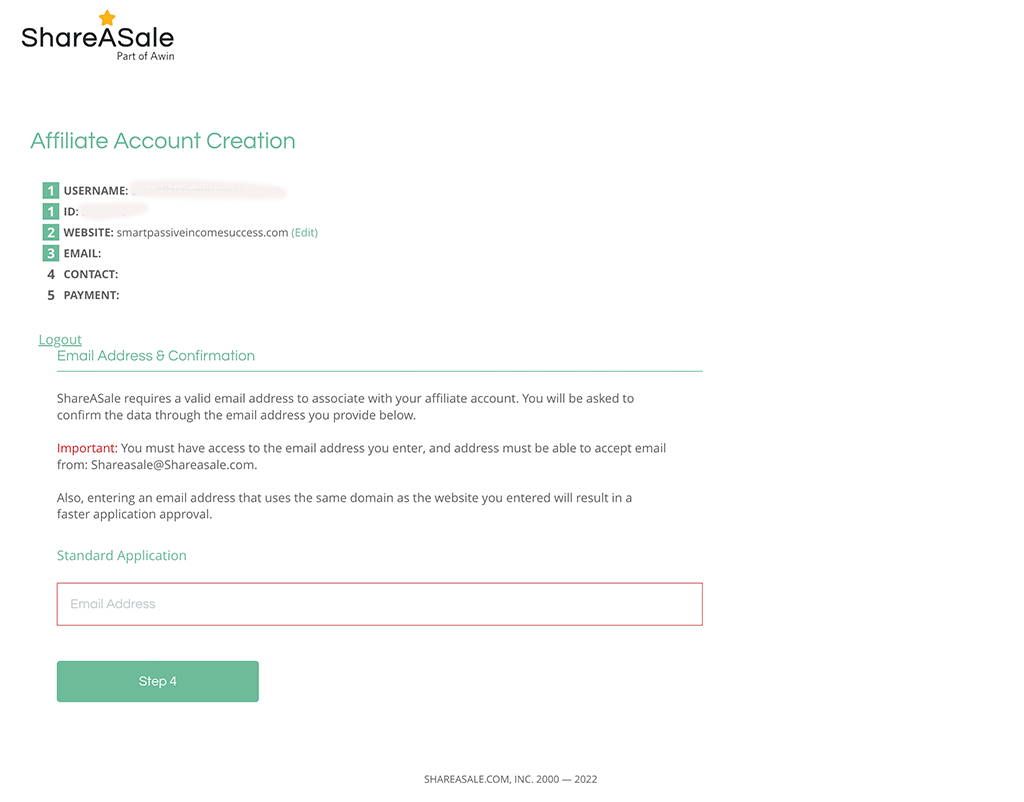 Top Tip – It states that if you use an email address that matches your website, it will speed up the application process.
Step Five - Contact Details
Fill in your contact details in this step.  It's also an opportunity for you to tell ShareASale why you should be accepted in the program description box.  How do you plan on promoting your affiliate programs?
This will be reviewed as part of the application process.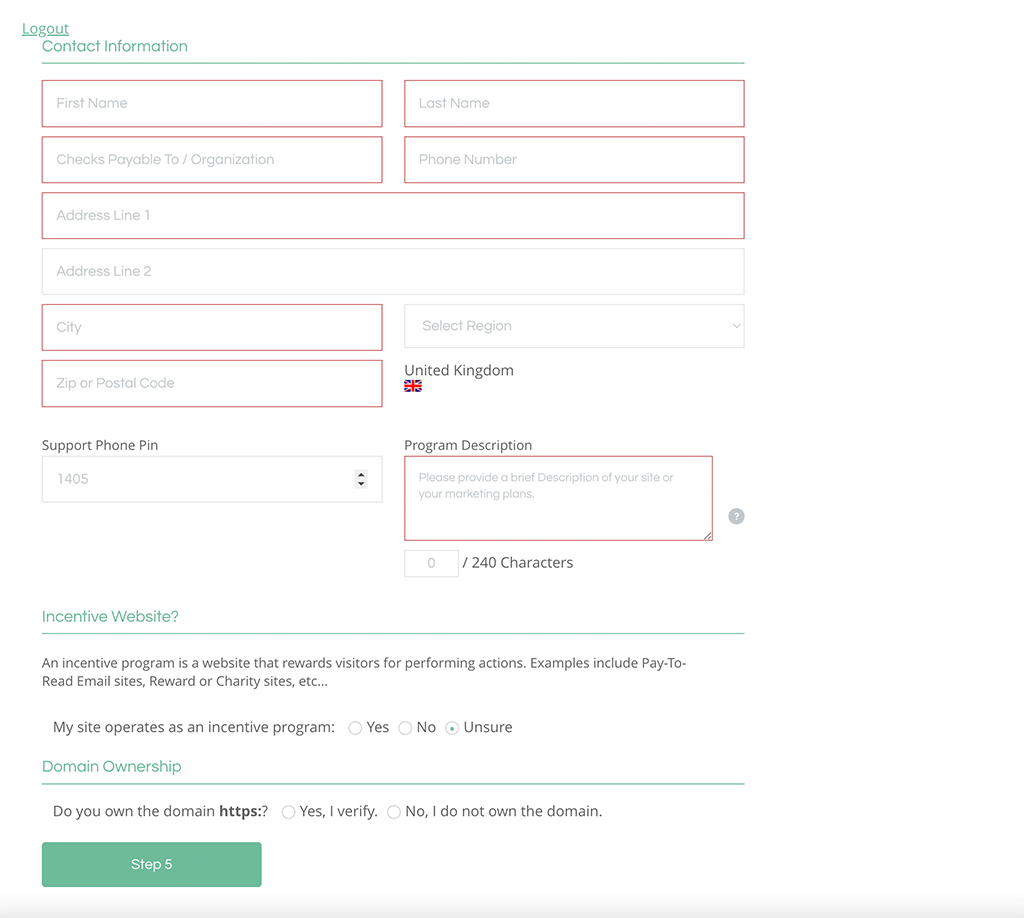 Step Six - Payment Methods
ShareASale offers three options for pay-outs.  This is your chance to choose which one suits you.  They are:
Direct Bank Deposit
Check via Postal Service
Check via Federal Express ($20 surcharge per check)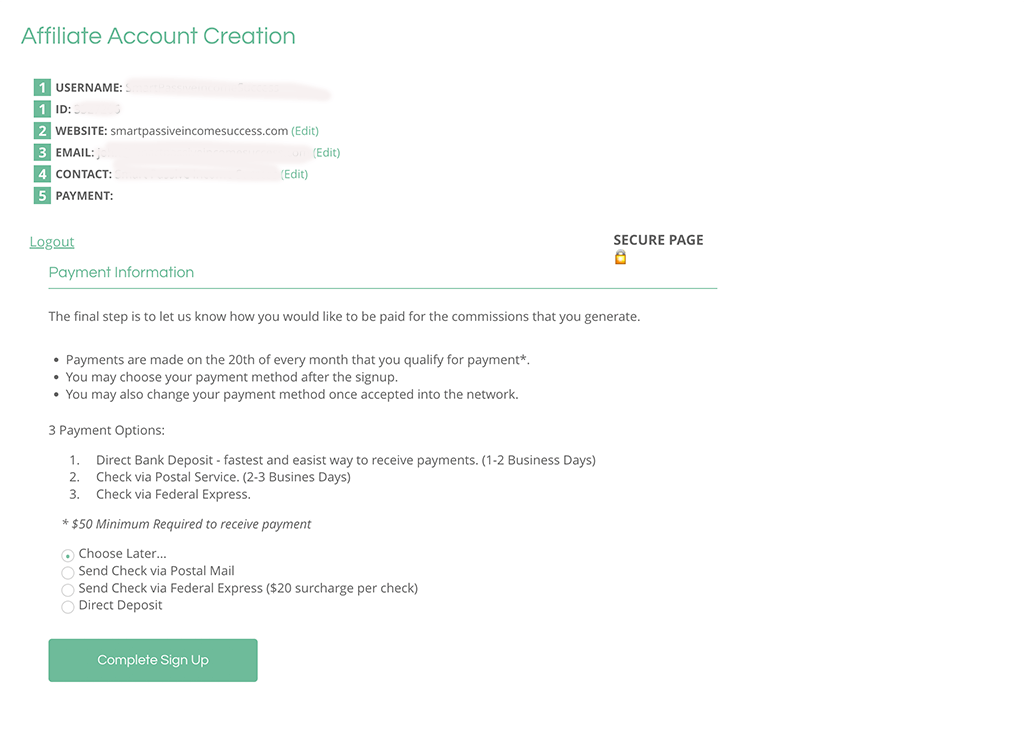 The final step to complete your sign-up is to read and confirm the terms and conditions.  You are also verifying that your signup information is accurate.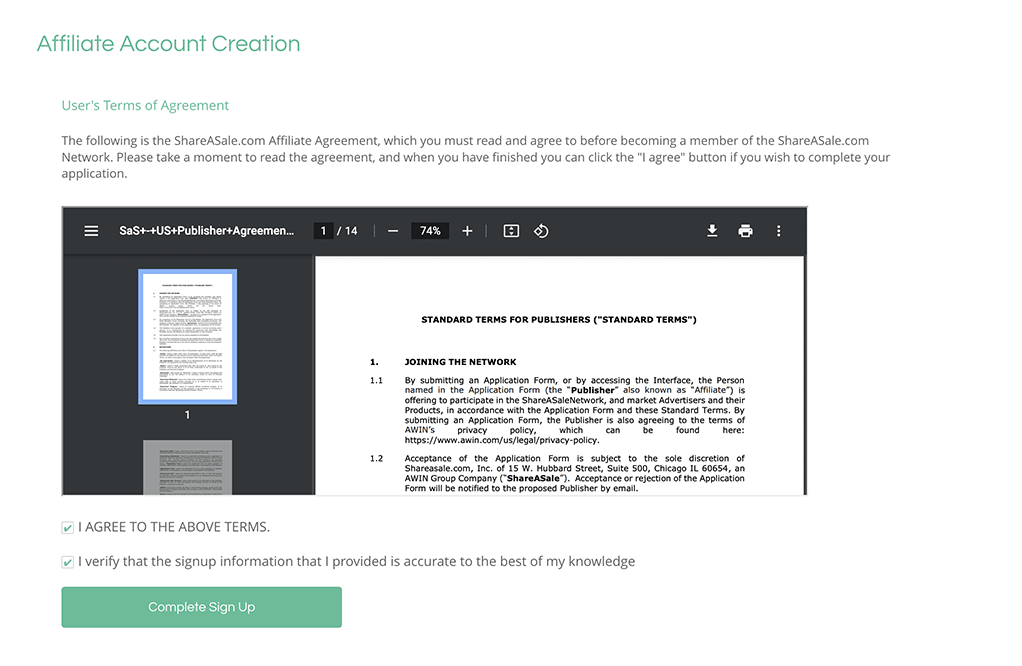 Once you've confirmed the email that would have been sent to your account, you will need to wait a while before being let in…
They claim it can take up to 2-3 days, but that does exclude weekends and holidays.
What Brands Can You Promote?
Once you've been approved (hopefully it won't be too long), you'll then be able to find affiliate programs that suit your audience.
Something I like about ShareASale is their knack for finding merchants that bigger networks would have no interest in, but make perfect sense for affiliate marketers like you and me.
In total, almost 4,500 merchants currently use ShareASale as their affiliate marketing network of choice.
They've never really been the "big brand" affiliate network, and this is a good thing.
Some of the big name brands are really picky about who they select to promote their brands, and this almost certainly means newbies don't have a chance of being selected.
Smaller enterprises are much more likely to accept small-time affiliates as they want to get more eyes on their offers.
But ShareASale does promote brand names that at least some of you will recognise:

You see, some networks, like CJ Affiliate (Commission Junction), showcase bigger brands. But the requirements for those brands are often out of reach for bloggers and content marketers with less traffic.
And to sweeten the deal, ShareASale's advanced search and filtering features are miles ahead of what other affiliate networking programs offer, making it easier to find the best brands for your niche.
A word of caution though…  It's not necessarily about the commission rate of the program, but the value it will offer your readers.
Promoting a product that doesn't suit your reader will end up with no sales.  So, ensure you are only trying to find products or services that offer value to your readers.
So, here's how to find relevant products to promote to your audience.
Finding Affiliate Programs on ShareASale
ShareASale gives you a lot of filters and tools to help find affiliate programs for you to promote on your blog.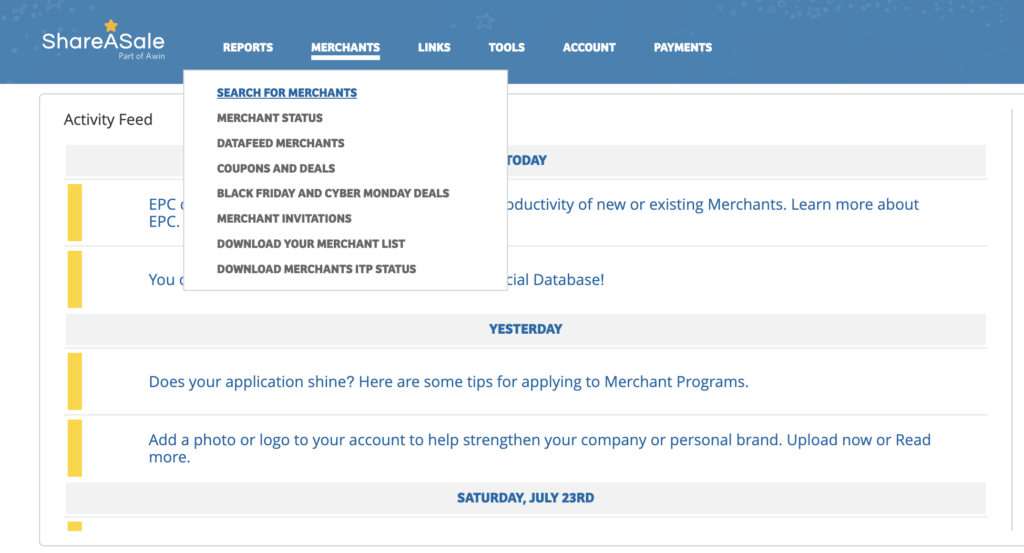 From the top menu, you can select merchant and then there are several ways for you to find what you're looking for.
You can Search for Merchants or go by Merchant Status.  There are also opportunities to go for Coupons And Deals and prepare for Black Friday.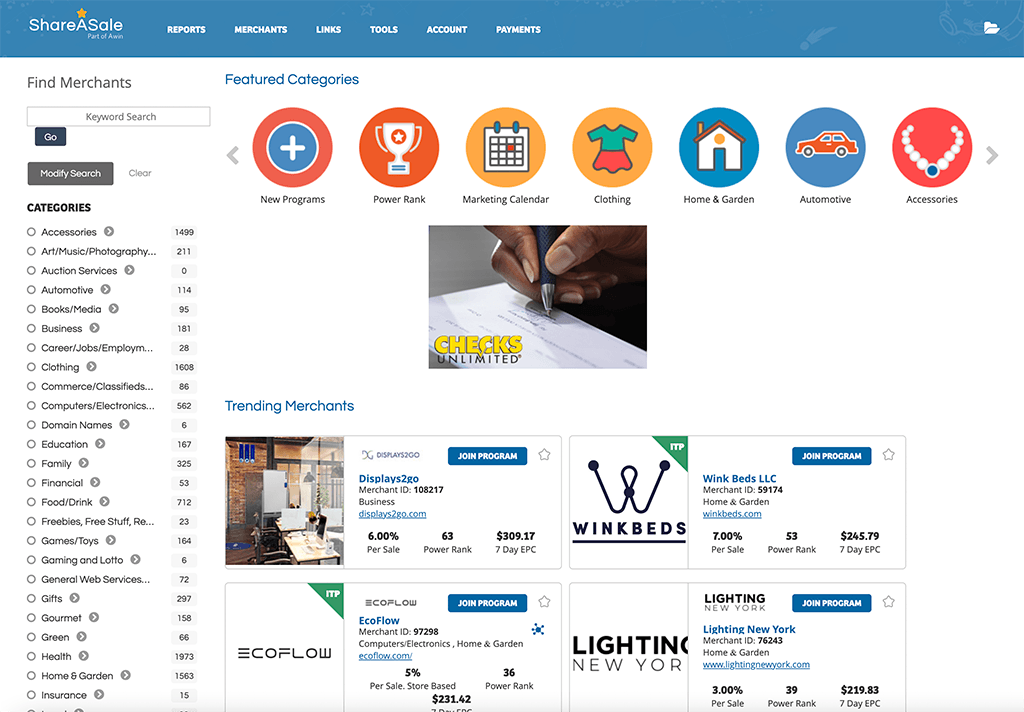 You can also search by category on the left sidebar menu. You can find products in:
Accessories

Art/Music/Photography

Auction Services

Automotive

Books and Media

Business

Career/Jobs/Employment

Clothing

Commerce/Classifieds

Computers/Electronics

Domain Names

Education

Family

Financial

Food/Drink

Freebies/Free Stuff/Rewards Programs

Games/Toys

Gaming/Lotto

General Web Services

Gifts

Gourmet

Green

Health

Home and Garden

Insurance

Legal

Marketing

Military

Moving/Moving Supplies

Online Dating Services

Real Estate

Recreation

Search Engine Submission

Shopping Malls

Sports and Fitness

Travel

Web Hosting

Webmaster Tools

Weddings

There is also the option to search via featured categories, like New Programs or Power Ranking Vendors.
To find seasonal offers, you can use the Marketing Calendar too.
Finding Products to Promote
The ability to find specific products to promote is really easy, too…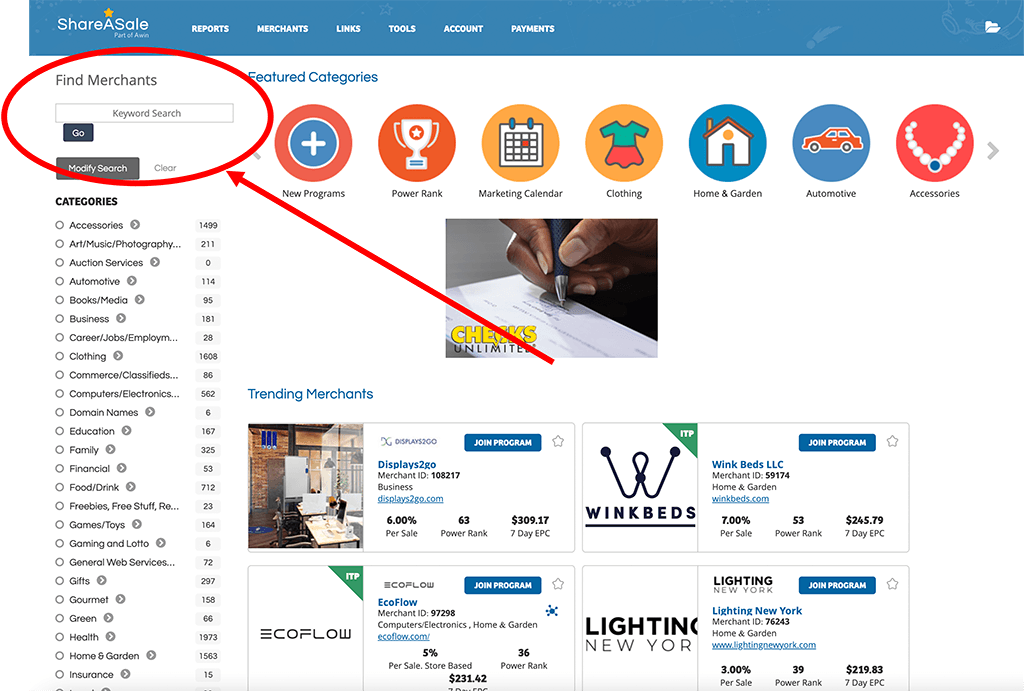 You can search for a keyword, like standing desk…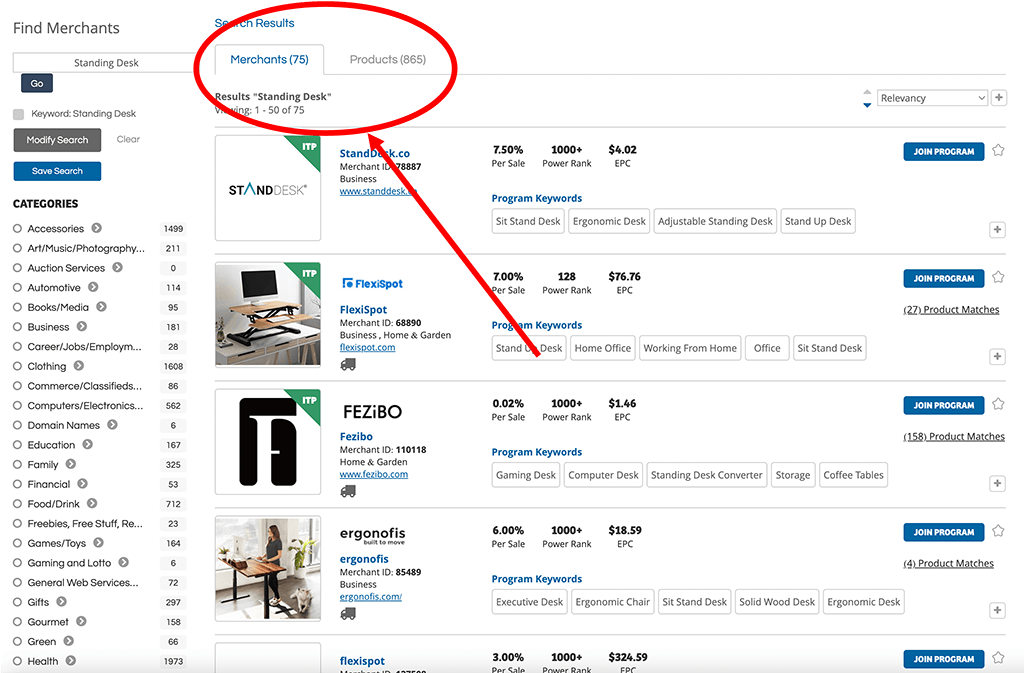 You'll then be presented with the search results by merchants. These are the companies that sell the standing desks, or you can filter by the products themselves.  As you can see there are 75 merchants and 865 products to browse through.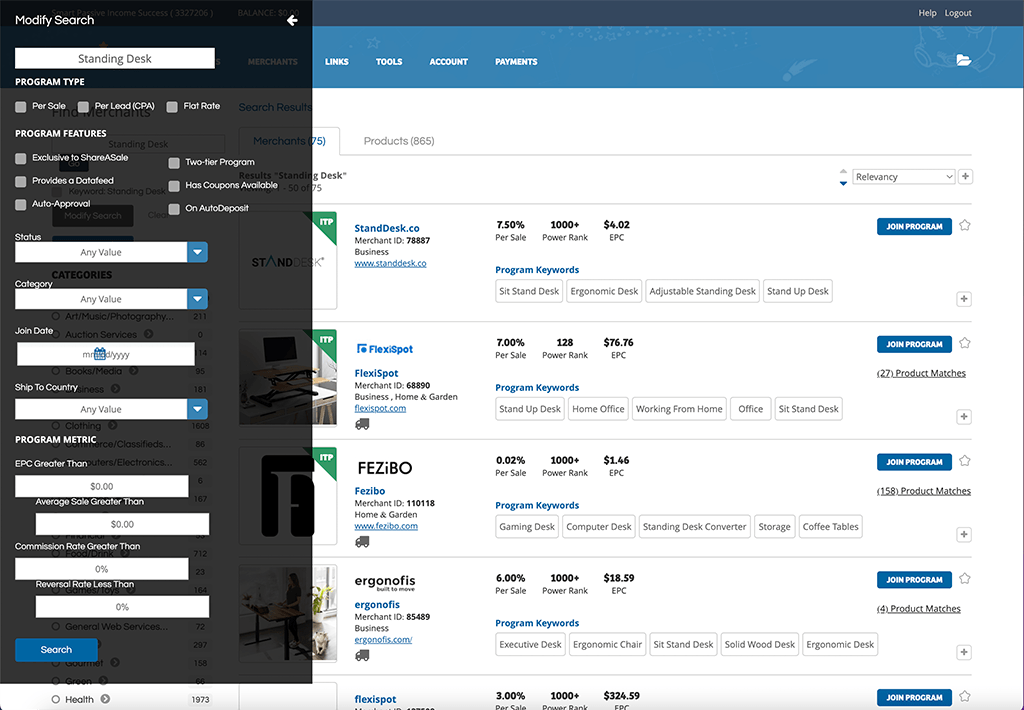 Depending on the search and the product you are searching for, they might be hundreds or even thousands of products to promote.
That makes it really hard to find the right one to promote to your audience.
That is where you need to narrow down on those searches, by using the modify search option.
One of the advantages of using this Modify Search option is that you can also find affiliate programs are Auto-Approval, Exclusive to ShareASale, etc.
A note on Auto-Approval: Auto-Approval is a great feature, as it means you don't need the merchant to approve you before becoming an affiliate for the program – Great for Newbies!!
You can also use the usual filtering options, like in the screenshot below…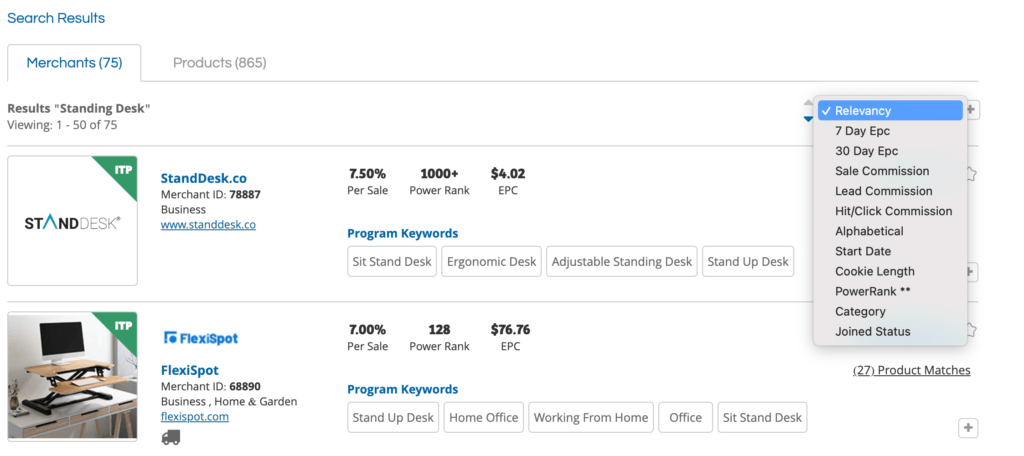 Here, you sort the results by:
7-Day EPC (earnings per click)

30-Day EPC

Sale Commission

Lead Commission

Hit/Click Commission

Cookie Length

Power/Rank
Category
How to Create Affiliate Links on ShareASale
ShareASale makes it really easy for you to get affiliate links to share in your content.

Start by using the drop-down menu under Links to select the kind of hyperlink you want (banner, coupon, page link, etc.)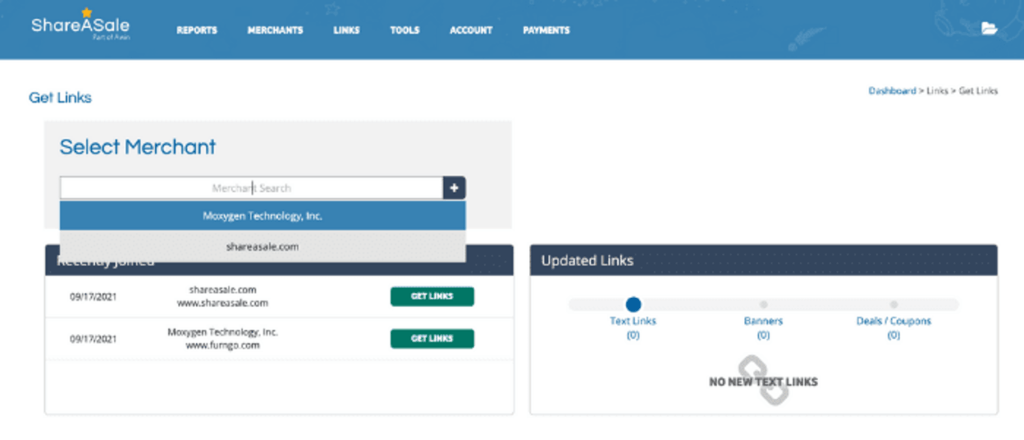 The alternative, once you've been approved by some merchants, is to select from your list of approved merchant programs.
Start by typing in the merchant name in the search bar or simply select from the list of vendors you're working with.
Click on the vendor's name and the options for sharing your links will be shown.  If you want to see how it's done, check out the video below…
What Are ShareASale's Payment Methods?
ShareASale currently offers you the option of receiving your commissions via…
*I have seen some reviews stating that you can get paid via Payoneer.  But that wasn't an option when I signed up, but I am based in the UK, so this might be a factor in the reason I only saw direct deposit or a posted check.
If you do decide to change you mind, you can do this by changing your payment settings.
As for when you will get paid your commissions, ShareASale pays out on the 20th of each month.  These payouts are for the previous month.
So if you would expect to get your July/Aug payments (July 21st – Aug 20th) in September.
ShareASale has a minimum payout policy (when you reach a balance of $50). However, waiting for a larger amount is possible. Simply make the changes under Payment Trigger.
When checking out anything online, looking at what online review sites tell you can sometimes make for some interesting reading.
The first screenshot is from SiteJabber showing the most recent positive reviews…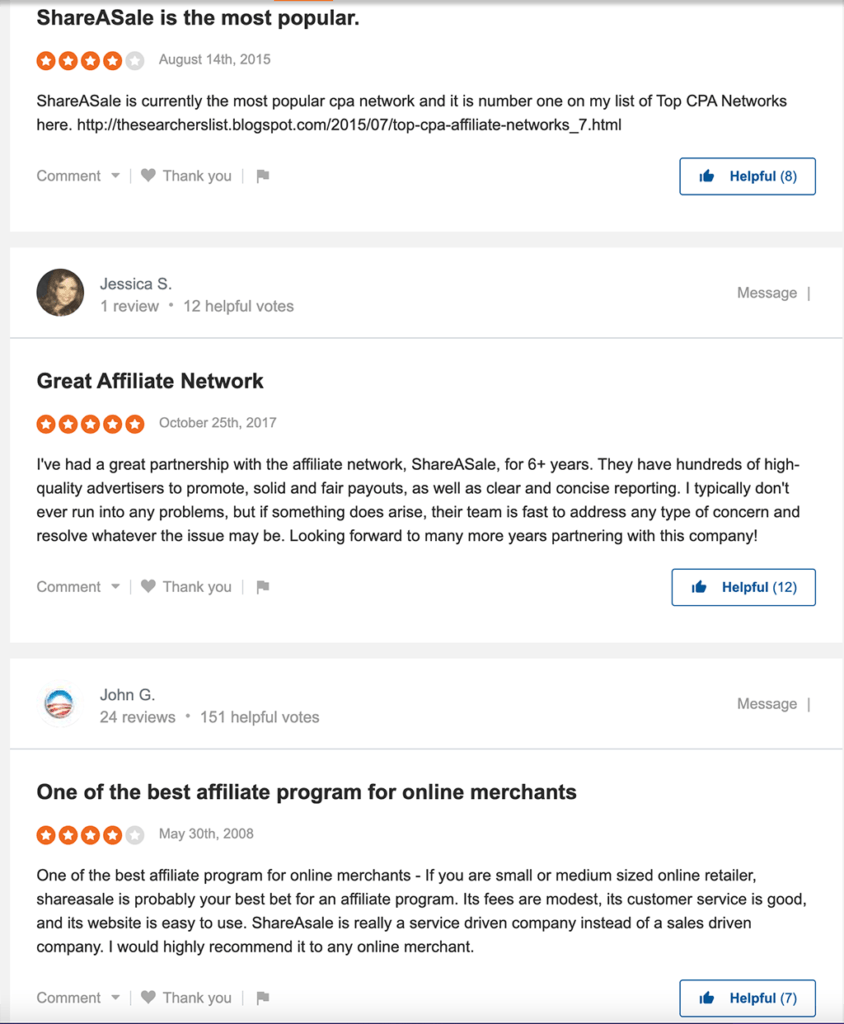 Although, you'll notice they are not recent reviews…
Even the negative reviews are not recent and tend to be more about a bad merchant, rather than ShareASale themselves…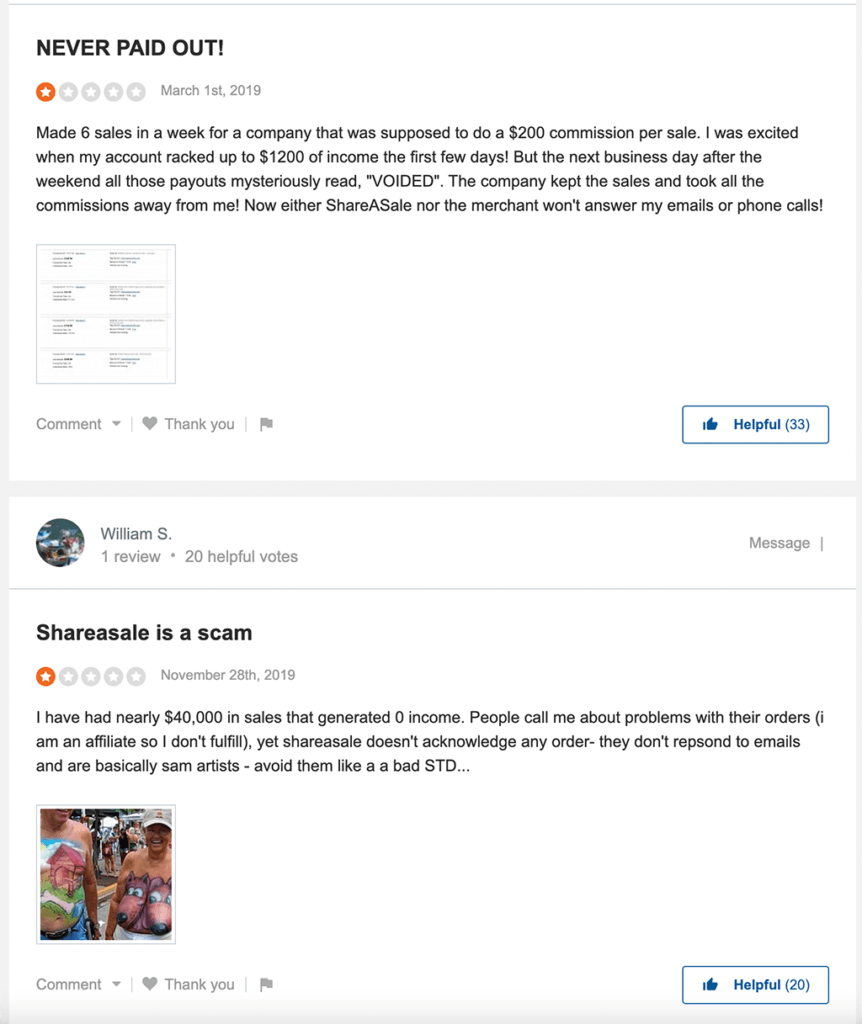 This is the only recent review about ShareASale and it is all around customer service…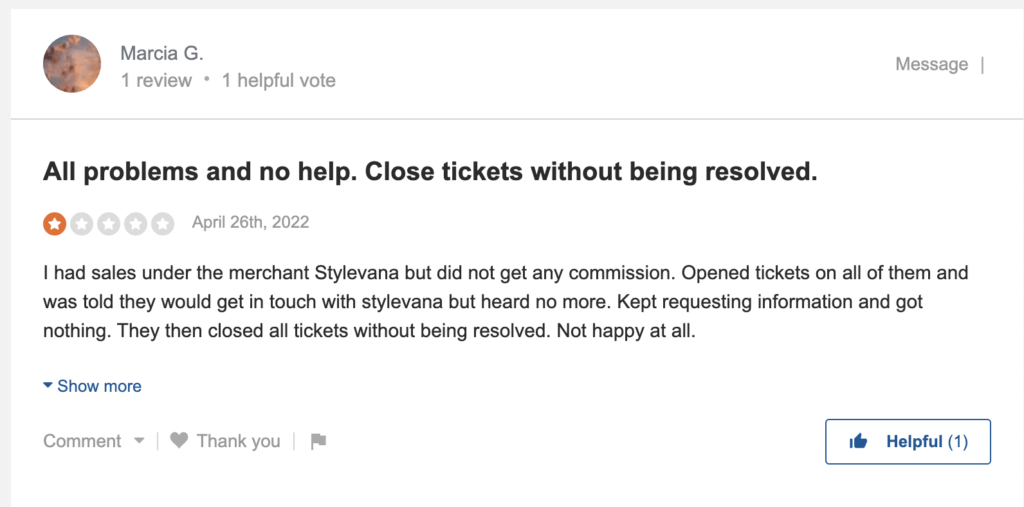 Overall, I wasn't surprised with anything I saw.  Most of the other comments were about their application being declined.  But if you are a new site lacking any traffic, then you have got to expect to be rejected.
They have a service to offer their merchants of valuable publishers, so accepting new blogs with no content will surely be the right thing for them to do.
In most cases, it just means go and create more content and try again later.
There are always going to be the good and the bad about any affiliate program, but we've listed the most common of each below…
Easy sign-up process

Excellent search & filtering options

Customisable affiliate links

Transaction fee paid by the ShareASale merchant

Reporting and tracking features

Reliable payout of affiliate commission

Excellent reputation with their affiliates

Easy to use with multiple websites

Wide variety of merchants

Efficient customer support

High acceptance rate

Speedy approval
Outdated website design.

Special characters in affiliate links that cause coding problems.

The payout threshold is higher than many other affiliate networks.

Eliminated merchant programs without warning or notification.

No Paypal option.
Still wondering about ShareASale and what alternatives there are?  Here's some to get the brainstorming going…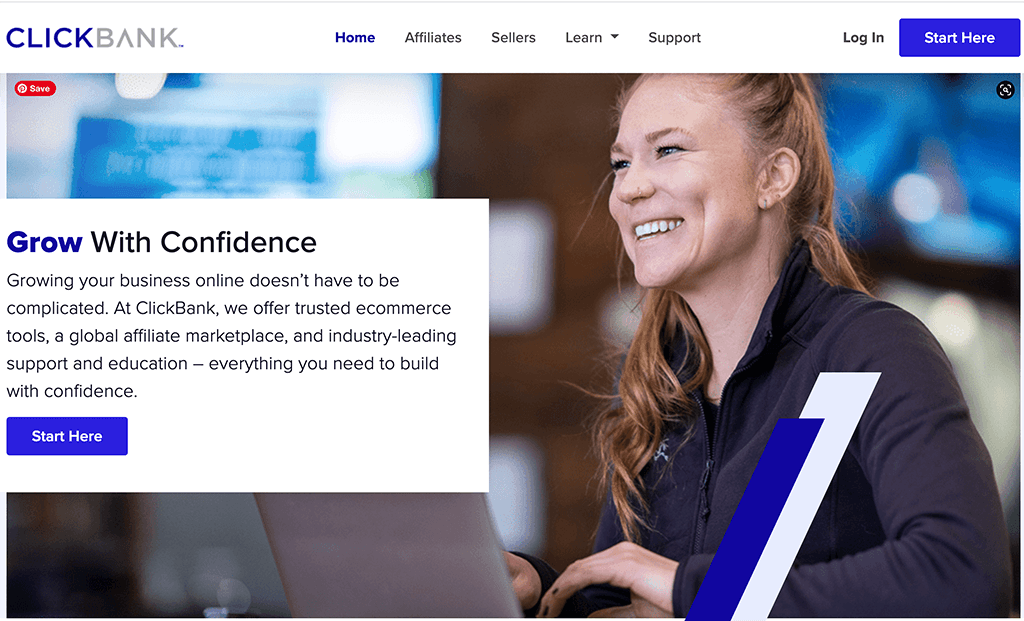 ClickBank is one of the original affiliate networks, getting started back in 1998.  They house thousands of (mainly) digital products, so have lots to offer.
They are easy to work with, especially for newbies.  You just need to spend a little more time researching the products on their marketplace, owing to the number of junk products on there.
Seriously, there are many programs that are scams in disguise…  But with the right checks, you can also find some awesome affiliate programs too…
A word of warning:  If you join and don't make any sales, ClickBank will charge you for a dormant account.
Charges are $1—$50 a day, depending on how long it's been since your last sale. So be sure your site has a steady stream of traffic before you register.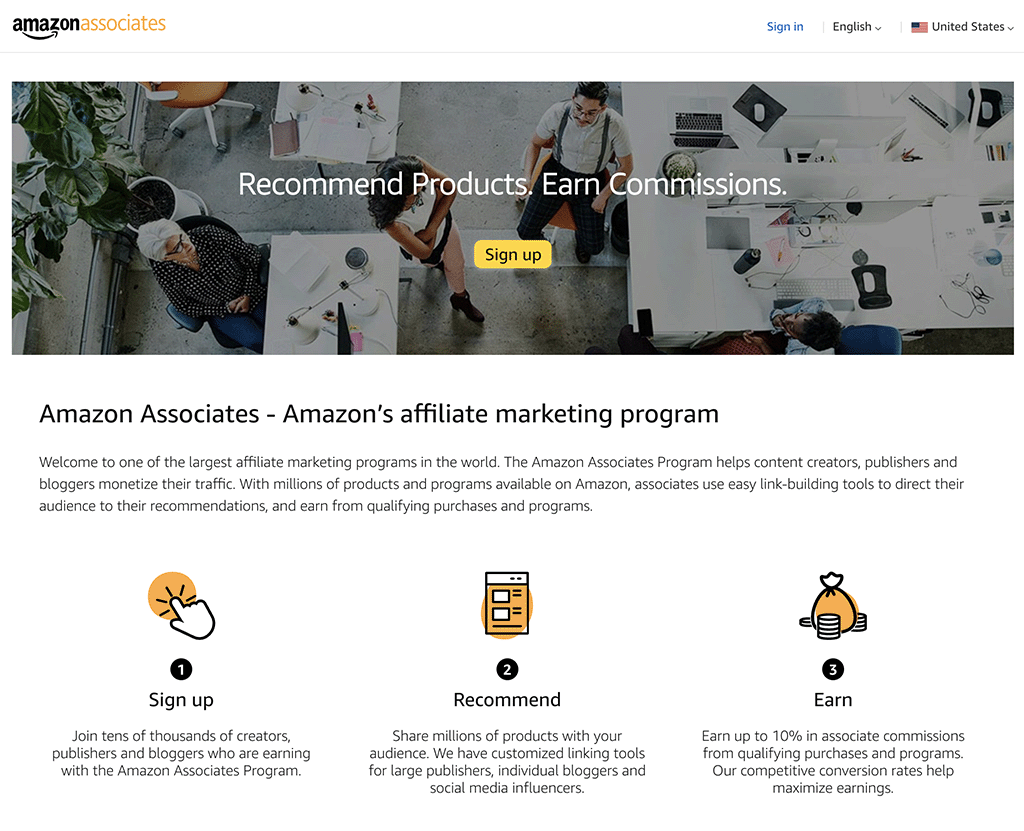 Amazon Associates is the main route most new affiliate marketers take.  They offer practically any product you can think of, and their affiliate program is pretty easy to get going with.  It's really easy to find a relatable product for your niche and target audience, and people already trust Amazon.  This helps massively when first getting started…
However…
There are a few things you also need to take into account with the Amazon affiliate program.  Firstly, you need to consider how likely you are to make a sale, which will be based on the level of traffic your website has.  You will get accepted easily into the program, but you need to make at least 3 sales in the first six months, otherwise, you get rejected.
That is Amazon's way of checking to see how serious you are.
The second point is that they have lower commission rates than many other affiliate programs.  But they do also know how to sell their products better.  They also gain more trust with readers, so you might do well through the volume of sales here, rather than the number of sales…
CJ Affiliate (Commission Junction)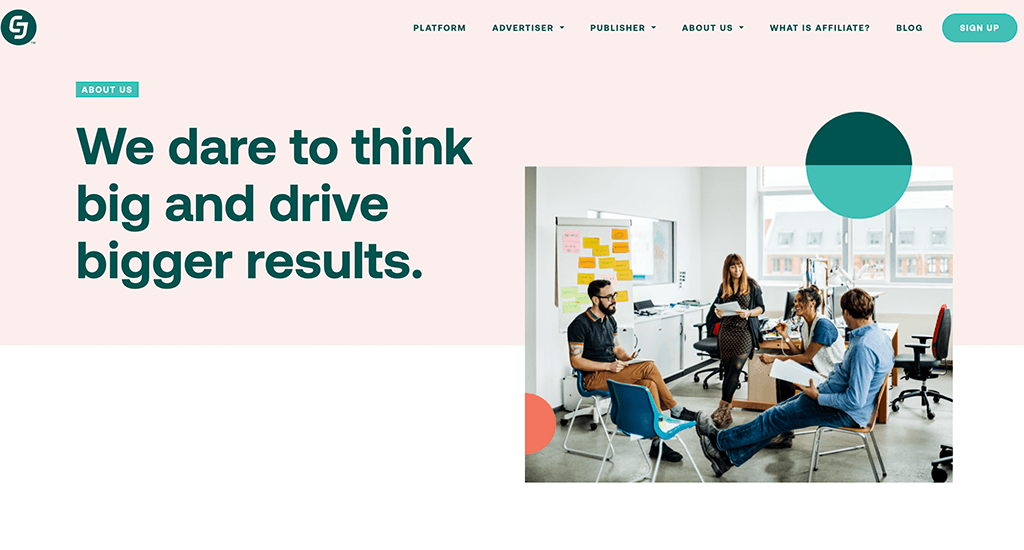 CJ Affiliate, which used to be called Commission Junction before being bought by Conversant and being rebranded, is another affiliate network you could consider.
It started about the same time as ClickBank, in 1998, and is renowned for its reporting and analytics suites.  To make the most of your affiliate campaigns, you need to get the most of the analytics, and CJ Affiliate has top-notch info to share with you…
Another benefit is that they work with some of the biggest brands out there, like Overstock.com and IHG Hotels & Resorts…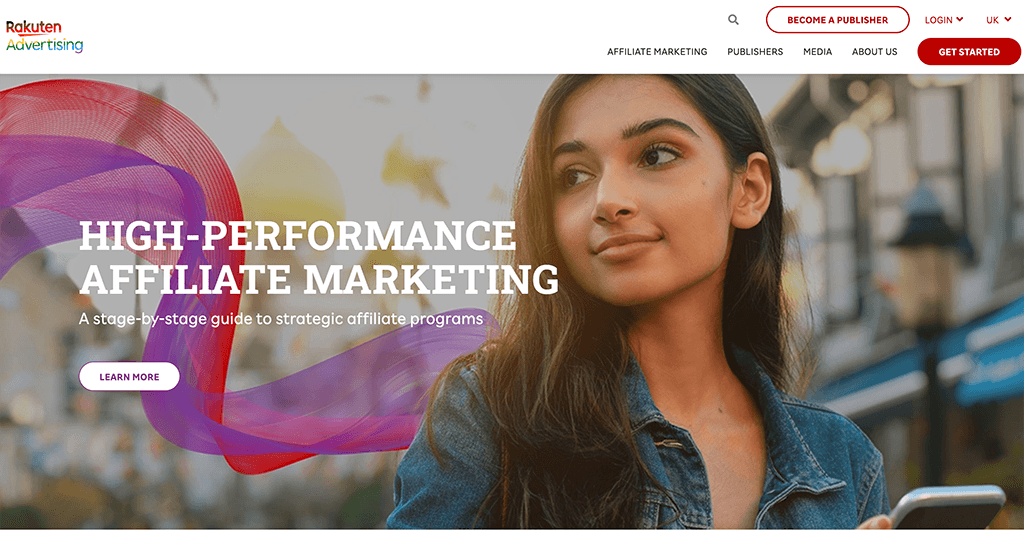 Rakuten Advertising is another well-established affiliate network.  It's been around for over 25 years and has over 150,000 publishers using its network.
It's really easy to sign up with them and they offer 24/7 support via live chat or by phone if you ever have any issues.
It can be said that they have a reputation for delayed payments.  But that might be more down to the fact they operate a 60-net payout plan.  Most run 30-days, so people wrongly assume Rakuten do the same thing.
Final Verdict on ShareASale
I find many marketers seem to dwell on the fact that ShareASale's platform is a little dated.  I mean, ClickBank has only just updated its platform since it first launched.  But I think it matters more about whether it works for you or not.
ShareASale offers a platform that allows you to find what you want easily.  They also work with some great partners for you to find affiliate products to promote on your blog.
For more, it's a great option for bloggers, content creators, and anyone else in the online marketing world who wants to make some extra money from promoting these products.
The key to making money with any of the high-paying affiliate programs is having the patience to build the necessary traffic or email list. Your ShareASale links won't make you any money if no one sees them.
ShareASale Review: Is It The Right Affiliate Network For You?
There will be those that claim ShareASale isn't worth your time,  but I would go against that point.
Sure, they have an outdated platform.  But it's the brands you can work with that count.  There are many diamonds in the rough here for you to work with.
Another consideration is that they are backed by Awin.  Which opens up a few doors of opportunity down the road.
But their platform is very easy to use, some of the merchants offer payouts of up to $300 per sale (legit offers – no adult stuff), and there are over 4,000 programs to choose from.
For me, they're a solid, established affiliate network that is well suited to new affiliate marketers.
However, if you have a blog with very little traffic or haven't even got yourself a blog, then you are wasting your time with affiliate networks at this point.
You will do well to learn the necessary skills you need to create some solid content to then go back and show these affiliate networks exactly what you're about.  With a solid foundation (a website) with quality content, you'll be unlikely to get rejected by any of the affiliate networks there are.
Want help learning the required skills, then you might find out 7-Day Passive Income Bootcamp is exactly what you need…
Thanks for checking out my ShareASale review!  If you have any further questions or comments to add, then please write them in the comments section below. ;). Any experience with ShareASale?  We would love to hear about it here…