In your research, has CJ Affiliate (Commission Junction) kept coming up and you're wondering if you should sign up as a publisher?
But you also have a ton of questions about them that have held you back a little, right?
That's good, as it shows you want to do research rather than blindly joining another affiliate network.
Relax, our beginners guide to CJ Affiliate (Commission Junction) will help you understand everything you need to know.  Including which is it… CJ Affiliate or Commission Junction.
I'll show you how it works, how to sign up, and how to make the most of it.  That way, you'll know how to partner with some of the biggest brands in the world.
CJ Affiliate (Commission Junction) Overview
Product Name: CJ Affiliate (Commission Junction)
Founder: Mayuresh Kshetramade (CEO) 1998
Product Type: Affiliate Network
Price: Free to Join
Best For: Affiliates who already have established traffic
Several Big Brands To Choose From
Easy-to-use Interface
Wide Selection of Link Creation Tools
They Pay Like Clockwork Every Month
One of the Oldest Affiliate Networks Out There
Their Affiliate Program Filtering System Is Backwards
Can Be Difficult To Find Programs In Certain Niches
No Longer The Dominant Force They Used To Be
CJ Affiliate, formerly known as Commission Junction, is a solid option when it comes to choosing an Affiliate Network.  Their easy-to-use interface makes it a good fit for beginners.   They provide you with a solid set of tools, on a stable platform with plenty of support.
Although, if you are just starting out as an affiliate marketer and lack consistent traffic levels, you might find that it will be harder to get accepted for promoting some of the brands on the platform.
If you're brand new to affiliate marketing, you might want to check out our #1 recommended training program to learn everything you need to get started with affiliate marketing. 😉
CJ Affiliate was actually launched as Commission Junction in 1998.  It was acquired by ValueClick in 2003.  Around 2014, they decided a rebrand was needed and that is when it became CJ Affiliate by Conversant.
But most affiliate marketers still refer to is as CJ or Commission Junction.
CJ is one of the largest and oldest affiliate networks around.   It specialises in pay-for-performance programs and is part of a Fortune 500 company called Alliance Data Systems.
Free Bonus: Click Here to get our 7-Day Bootcamp to get you started with affiliate marketing direct to your inbox (for free)
CJ Affiliate has had an amazing track record since 1998 and houses over 3,000 merchants.  They have some big brand names like J. Crew, Barnes and Noble, and Go Pro on their books.
How Does CJ Affiliate Differ From Other Affiliate Networks?
#1 Top Notch Real-Time Reporting
CJ Affiliate (Commission Junction) has some fantastic up-to-the-minute analytic dashboards to help their affiliates.  Their reports are real-time, meaning there is no need for you to keep refreshing the page to get the latest details.
Admittedly, when getting started with them, it can take you a while to get your head around the reports.
But as you spend more time exploring this affiliate software, everything becomes intuitive. You'll also come to realise how invaluable these features are.
By having this information available, you will soon know what types of affiliate products work best for your blog and your readers too.  This will help you create the kind of content your readers love.
Most display advertising networks bunch up dozens of products in one ad code — that isn't the case at CJ Affiliate.
As an affiliate marketer, you choose exactly which advertisers' individual products you want to display and where.
#3 VIP Treatment for Star Publishers
There are added bonuses for blogs that are creating high-quality content.  If your blog has over 10K+ page views a month, then you can look into CJ Affiliate's Content Certified program.

As a Content Certified publisher, you automatically connect with over 600 brands — brands that are the best of the best.
Thanks to this attractive perk, you enjoy pre-approved access to advertisers for premium rates while maintaining editorial control over your blog's content.
Am I Eligible for CJ Affiliate (Sign Up Requirements)
CJ Affiliate is free to join as a publisher (affiliate).  But you're required to be at least 18 years of age and you must have a website to sign up as a merchant.
What if you own multiple websites? Does this mean you have to set up multiple accounts?
Not at all. Simply go to Account > Websites > Add Website.
Something to consider as a publisher.  If you have a website that doesn't have much traffic, then you may find your account gets deactivated.  Especially if you don't get any results within the first 6 months.  Merchants might also be wary of accepting you.
With traffic, you are unlikely to get accepted. If you want to understand how you can get more traffic, check out this post.
What Affiliate Programs Are Available With CJ Affiliate
CJ Affiliate boasts a huge variety of programs.
From automotive and electronics to gardening and recycling, there is something for every blogger or entrepreneur.
When you're on Links > Search, you'll notice the special filters on the left, like:
Events:

Mother's Day, Christmas, Cyber Monday

Promotion Type:

Sales, Hot sweeps, Hot product

Link Types:

Banner, Text Link, Content Link
Let's show you how this works…
Let's say you run a health blog and your aim is to promote health equipment in a blog post you've just written with discounts in mind… I.e. 7 Best Equipment Types for Health Fanatics (Up to X % Discount)…
With that goal in mind, you could select…
Category: Health > Equipment
Promotion Types: Sale/Discount
Link Types: Banner, Text Link
You would then be able to scroll through what comes up and see which offers fit your content.
The majority of offers on CJ Affiliate are CPA or Cost Per Acquisition.  Examples include pay-per-sale, pay-per-lead, and pay-per-call.
You may find a few advertisers who offer pay-per-view or pay-per-click too.
Placements and flat spend opportunities are also available.
Depending on which affiliate marketing program you choose, you can promote products on social media.
Top Tip: Ensure you review the policies of both the advertiser and the social media platform before you continue.
What Are CJ Affiliate's Payment Methods?
As a publisher, you get paid via direct deposit, check, or Payoneer (for non-US residents).
CJ Affiliate pays out within 20 days of the end of the month, as long as you have a minimum payment threshold of US$50 (Direct Deposit) or US$100 (Check).
Affiliate revenue from multiple programs will be put together in one account.
For international folks, Payoneer offers over 150 local currencies with zero clearing fees. Commissions are processed according to CJ Affiliate's standard schedule.
As of this writing, CJ Affiliate doesn't offer payment via PayPal or credit cards.
This is one question that is easy to answer…  It's legitimate.  Its name may have changed over the years.  But the value it provides to both its merchants and publishers is well known…
Which Is It? CJ Affiliate or Commission Junction?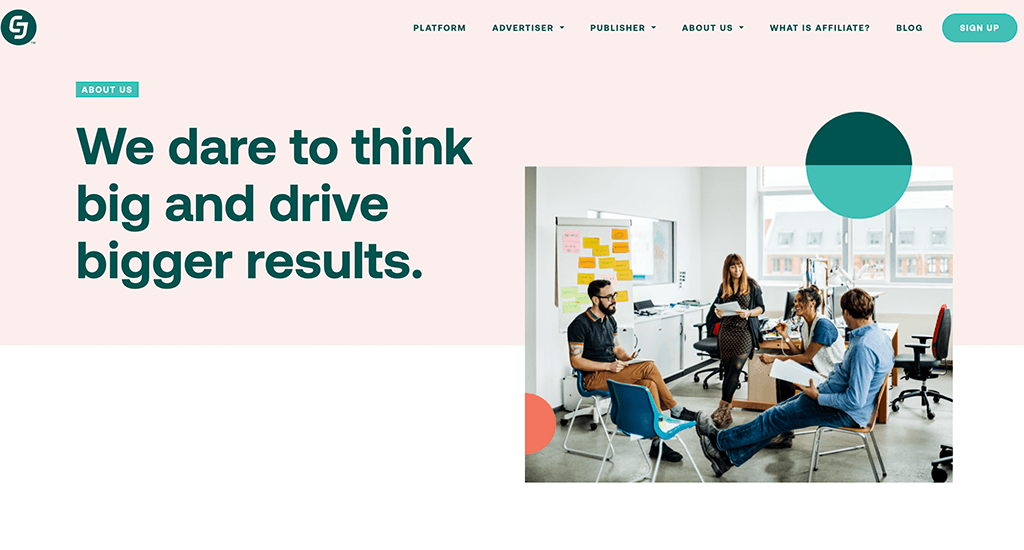 In 2014, Commission Junction's parent company, ValueClick, was rebranded to Conversant.
Conversant then rebranded Commission Junction to CJ Affiliate.
As a result, people refer to the network by both names: CJ Affiliate (its official name) and Commission Junction (its name for 16 years).
So there isn't one right answer.  You will see it referred to as both names.
Right, that covers the most frequently asked questions, let's get rolling with everything else you need to know about CJ Affiliate (Commission Junction).
How to Sign Up With CJ Affiliate
Signing up with CJ Affiliate is really simple.  You're either an "Advertiser" or a "Publisher".  As an affiliate, you're going to want to select a publisher.  Click sign up on the CJ.com website…

Then you'll need to provide some basic detail about yourself and confirm you are not a robot… This then triggers a confirmation email.
You will then be directed to the Publisher Sign Up Form. Fill in your details and click 'Accept Terms' to complete registration.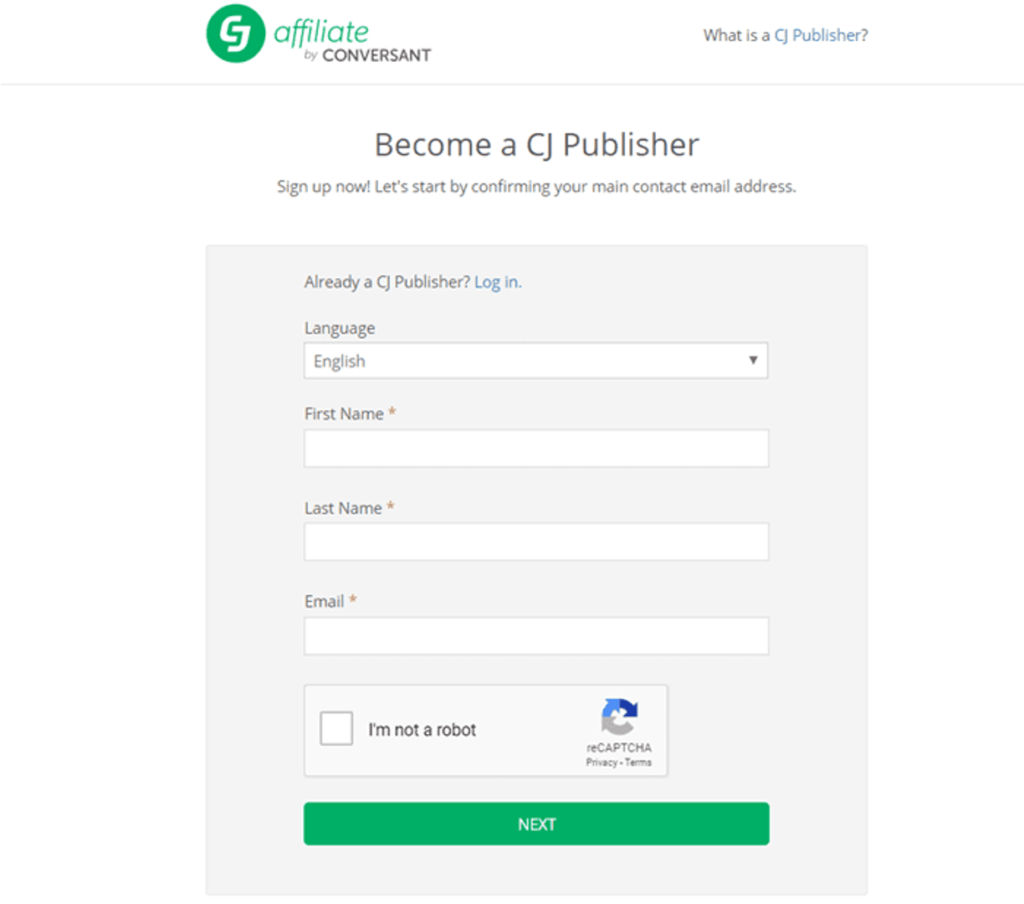 After signing up, you'll be immediately directed to your CJ Account Manager, a dashboard that housed important details like your network stats, performance summary, and messages.
First, Go through Onboarding Checklist. (Note: you need to complete this profile to join affiliate programs.)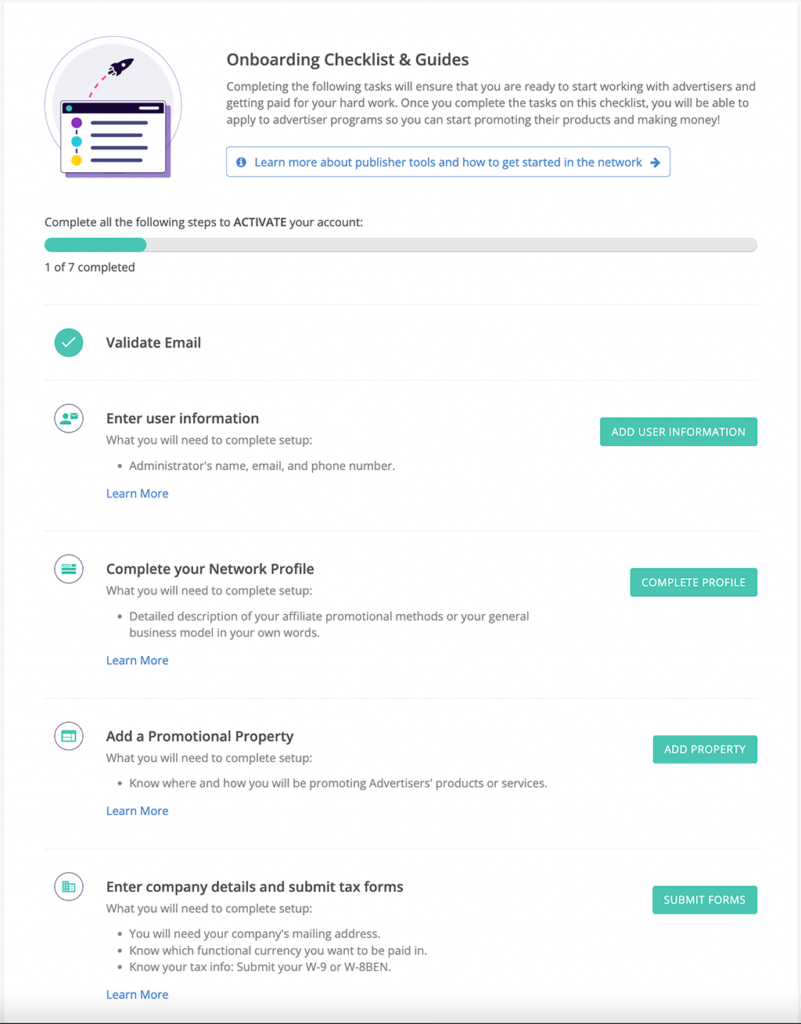 User Information is just the section where you complete your name, email and phone number, etc.
Then you'll complete your Network Profile:
You'll see these 3 sections in the Network Profile:
Website description

(e.g. Share your website's strengths and relevant statistics)

Promotion methods

(e.g. What affiliate channels do you use to promote advertisers? blog posts, email, social media, or other digital marketing platforms?)

Documents

(e.g. Do you have a media kit? Optional but raises your chance of being selected)
This is your chance to promote yourself to advertisers and show them what value you are going to bring.  You need an advertiser to want to work with you, so here's your chance to tell them why they should.
They will be many different publishers on there, so how are you going to stand out from the crowd?
Adding a Promotional Property is where you tell the advertisers where you are going to promote your offers.  For example, adding a blog website…
Next, click Account > Administrative Settings to edit your payment and tax information.
Edit Payment Information and select if you want to receive money via direct deposit, check, or Payoneer.
Then, edit your Tax Information. CJ Affiliate requires all publishers to submit their tax forms for payout.
US:
W-9 Request for Taxpayer Identification and Certification
Non-US:
W-8BEN Certificate of Foreign Status of Beneficial Owner for the United States Tax Withholding

Certificate of No United States Activities
Contact your tax advisor or visit your country's IRS website if you have questions.
Top Tip: Remember to submit a new tax certification if you ever change your country or business type in order to receive continued payment
CJ does ask how many unique visitors your site gets per month, but they also have a "Not Launched Yet" option.
I wouldn't recommend applying to an affiliate network without an active website though – it's just best practice to have at least some web presence.
All told, the CJ Affiliate by Conversant application process is painless and far less complicated than other some other networks.
Turn Your Passion into Profits
Want Help Getting Started? Sign Up For Our 7-Day Online Passive Income Bootcamp & Learn The Skills You Need!
How Does CJ Affiliate Work?
You'll require the skill of inserting a tracking code into your website using HTML.  But if you aren't quite there yet, the video at the bottom of this section will walk you through how to do it…
To find advertisers within your niche, click Advertisers > Category…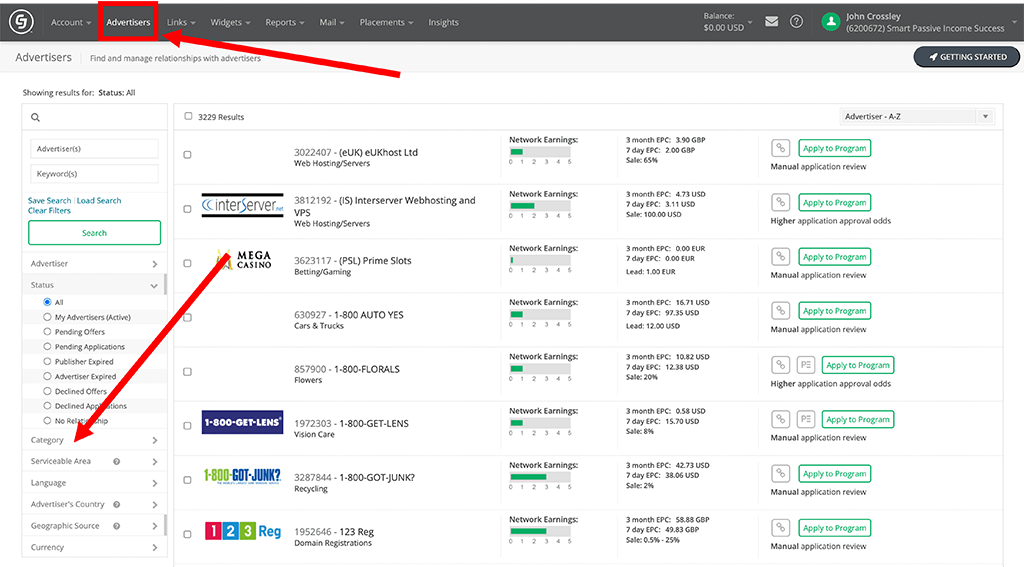 Before you start applying for affiliate programs, it's important you understand what the three columns are, and what they mean…

Let's break it down for you…
Network earnings show you the performance of the advertiser on CJ Affiliate.  The green bar is an indicator of the volume of commissions that have been paid out to publishers (like you).
The longer the green bar, the better it is.  This shows that they are regularly paying commissions.
New accounts are labelled "New" for the first three months.
This
measures how many visitors you can drive through your site that will generate sales for advertisers.
During this 3-month and 7-day period, if there are less than 1000 and 100 clicks respectively, N/A will be displayed.
To view more details about the program, click on the advertiser. It tells you important information such as the affiliate commission rates, policies, and referral period.
Green 'Join Program' Button
This is where you can apply to advertise the program…
You may be required to accept the terms and conditions during this stage.
Many advertisers use automatic rules to accept or decline applications, whereas some review manually.
Responses can take a day to a few weeks, so you may need patience.
Now… advertisers on CJ Affiliate are notorious for being picky.
If your site is relatively new, then don't be surprised if you get rejected.  If you do get rejected, try another advertiser.  You might be a better match for them.
Upon approval, click Get Links.
Top Tip: If you choose a banner, flash, or text link.  hover over the icon to see what the ad would look like.  This will show you how the ad will appear on your website.
Next, click the Get Code (</>) button…
There are 4 choices to choose from:
HTML

JavaScript

Click URL (for search engine promotion, aka Google and Bing)

Image URL (for products)
If you want to customise your code (e.g. open in a new tab), only customise it via the Get Code interface on CJ Affiliate. Remember to update it. If you don't, your changes will not take effect.
You'll notice several advertisers' codes include different click domains or additional parameters. Do not change them.
CJ Affiliate will not take any responsibility if publishers modify and make a mistake with the codes.
If you want to modify them or have questions about the code, contact the relevant advertiser (not CJ Affiliate). You can do this in your dashboard: Mail > Messages > Compose.
After you finish customising, copy the entire code and place it on your web page.
If you select HTML, remember to make sure you're on Text editor mode before you paste it.
That's it, you're done…
To check that your tracking code is working, go to Reports > Performance Reports
Adjust the filters as you see fit.  Then let it run for a while.  If your affiliate link is reporting clicks (or at least) impressions), it's working.
Top Tip: It's worthwhile to regularly check for invalid links.  Offers will expire or advertisers may get deactivated.  A link that doesn't work could affect the trust level with your readers, or frustration that an offer isn't working.
On your Tasks list, look for a "Review __ click(s) from invalid links".
And check your notifications. You will be notified if a link or ad isn't working.  But if you don't log in regularly, you won't see them…
If you've been reading CJ Affiliate reviews in forums, you'll notice there have been numerous cases where publishers are promoting links even when advertisers have already left the program.
This will lead to a waste of your time and effort and also affect your income potential too.
If you want a full run-through of how to make it to most of CJ Affiliates, then the video below is worthwhile…
How to Make Money With CJ Affiliate: Top Tips
I'm going to be honest if your blog is brand new and lacking any traffic.  Then CJ Affiliate probably isn't a good fit for you.
I mean, you can apply to become a publisher, and it's really easy.  But you will need to be accepted individually for any program on there by the advertiser.
An advertiser is going to want a publisher who can bring high levels of relevant traffic to their offers.  But a brand new blog won't have this yet.
You can get disheartened when nobody accepts you as a publisher.  But it's because you are probably applying for affiliate programs too early in the cycle.
My advice would be to concentrate on focusing on a target audience and creating loads of content that helps them, without a focus on selling.
Get them coming to you for help, and then grab them with an email list.
Once you have a good level of traffic, you can then start tweaking your content more toward who is coming to your blog.
This will then be the time to start placing relevant affiliate links into your content.
Too many affiliate marketers do this in reverse and they wonder why it doesn't end up working.  People don't want to be sold too.  They want help.  Keep this in mind and you will do better than most of the competition.
Mix up the types of content you have on your blog to grab a bigger slice of the traffic pie and only promote affiliate products or services that are relevant to them.
You don't need a huge level of traffic, you want a traffic base that is interested in what you have to say.  These people are more inclined to follow your recommendations.
With traffic and then affiliate links on your blog.  It's important you then monitor what is working and what isn't.
If one campaign is working well and another is doing nothing.  Try to root cause why.  Is there something you can take from one to the other?
Is CJ Affiliate Worth Your Time?
For an established blog with steady traffic levels and great content, then yes CJ Affiliate is definitely worth your time.  Many advertisers may fit well with your readers, and with their easy-to-use dashboard and reporting tools, it's a great fit.
But if your blog is just getting started, then CJ Affiliate is probably not the right option for you yet.  You might want to test the water with another platform like Amazon Associates or ClickBank.
CJ Affiliate Review: Conclusion
CJ Affiliate is an ideal platform for an established affiliate marketer looking to work with some of the world's most recognised brands.  There are many opportunities with other advertisers on here too.
Their reporting is second to none and gives you up-to-the-minute details on how your campaigns are going.
Like I've said, CJ Affiliate is not quite right for someone just getting started with affiliate marketing.  If you're struggling to get your affiliate business off the ground and want some help or guidance, you can click here to learn more about my 7-day Affiliate Marketing Bootcamp which will take you through everything you need to kickstart your affiliate business.
Thanks for checking out my guide on CJ Affiliate.  Have you got any experience with CJ Affiliate that you can share here? Then please write them in the comments section below.  If you have any questions or comments to add, then please write them in the comment section below. 😉