ClickBank has been around for decades, but does that mean it's a good affiliate network or not?  If you're asking how to make money with ClickBank, you may have found many reviews with differing views on it.
There are many good things about ClickBank, but there are just as many bad things.  So what is the true value of choosing ClickBank?  Well, this review will hopefully help you get all of the answers you need when considering signing up with them.
Can you make money with ClickBank?  How can you ensure you don't get caught out with the scammy IM programs on their marketplace?
That's what this step-by-step guide is all about…
We'll give you all the details you need to know about ClickBank, plus we will tell you how to make money with ClickBank whilst avoiding the pitfalls too…
Let's get started with a quick product overview…
Product Name: ClickBank
Founder: Tim and Eileen Barber (1998)
Product Type: Affiliate Network/Marketplace
Price: Free to Join
Best For: Affiliate Marketers looking to promote digital products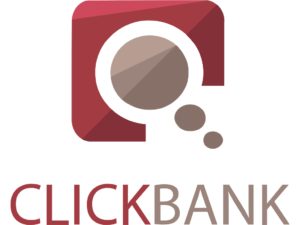 Easy to Use Sign Up & Interface
Anyone Can Sign Up
The Ability to Be Both a Vendor & Affiliate
Large Selection of Products
Good Commission Rates
Slow Customer Service
The Number of Junk Products
Tough Competition for Quality Programs
No Longer Only Place for Digital Product Marketplace
ClickBank is a digital marketplace, providing affiliates a wide range of digital, and some physical, products to promote.  They have been in the business since 1998, so a long time.  But they do have some issues, specifically the lack of checks against vendors.
This leads to a higher than average number of low-quality or scam products.  At first glance, it looks like these are the only products available.  But that isn't the case.  After some digging, you can still find some decent programs on there.
There is still the opportunity to make money with ClickBank, and this guide will help you unearth them…
If you're brand new to affiliate marketing, you might want to check out our #1 recommended training program to learn everything you need to get started with affiliate marketing. 😉
ClickBank actually got started in 1998 in a garage in San Diego, California.   Considering when the internet became mainstream, this makes ClickBank one of the granddaddies of affiliate marketing networks.
You have the opportunity to make money with ClickBank as either a digital/physical product vendor (create your own and sell it via their marketplace) or as an affiliate marketer (where you promote other people's products that are sold on their marketplace).
Here are some interesting stats about the ClickBank marketplace:
200 million customers spread across 190 countries

87th largest Internet retailer in North America

276 categories and 21562 product listings

6 million entrepreneurs on the platform

Over 200 million dollars in annual sales
In theory, you could make a great living from this leading affiliate network, with the right training.
ClickBank is a good option for bloggers, entrepreneurs, and digital content creators who wish to promote digital and lifestyle products on their niche website/platform.
ClickBank can also be a great option for those who don't want to be "just another Amazon Associate".
How Does ClickBank Differ To Other Affiliate Networks?
ClickBank isn't your typical traditional affiliate network.  Here are some key takeaways you need to know about ClickBank.
First, let's talk about 5 good things you should know about ClickBank…
5 Good Things About ClickBank
#1 Easy to Use Sign Up & Interface
The sign up process for ClickBank is really easy, with no real restrictions like other affiliate networks.  Their interface is also really easy for you to find relevant products and then check out the affiliate pages and sign up for the affiliate programs.
#2 Anyone Can Sign Up
Unlike many other affiliate networks, ClickBank don't require you to have a website or any real level of traffic.  It's also free to sign up.  Making it a great platform for beginners.
#3 The Ability to be Both Vendor & Affiliate
The usual affiliate networks out there, you have to be either a vendor or an affiliate.  ClickBank allows you to do both from the one account.  This gives you the ability to maximise your earnings.
#4 Large Selection of Products (Both Digital & Physical)
ClickBank has a huge selection of products for you to go through, in the majority of niches too.
#5 Good Commission Rates
ClickBank pays high commissions of up to 75% or even 100%. Plus, they pay fast so you won't have to wait long to splurge on that you-know-what you've had your eye on.
Now, let's talk about the few concerns that need to be considered…
5 Noteworthy Concerns About ClickBank
#1 Slow Customer Service
This will affect both you as an affiliate and any customer who has bought something via their marketplace.  But there are reports on the BBB website that they can take over 7 days to respond to any issues. 
#2 The Number of Junk Products
I'll include some tips, later on, to help you avoid this.  but you should know that the number of crappy products on their marketplace is staggering.  There is no real check on what can be put on their marketplace, so it can be easy to assume that ClickBank only has junk products.  But that isn't the case, but the number is still really high.
Some of the mistakes affiliate marketers make are around the products they choose to promote, and these junk products are a problem.
#3 The Dashboard Looks Like It's From The '90s [Update]
ClickBank has had a huge overhaul, which is a good thing.  It has finally stopped looking like it's from the 90's
#4 Tough Competition For Quality Programs
Don't think that ClickBank only has junk programs.  They do also have a lot of great affiliate programs too.  But this does mean there will be a lot of marketers trying to promote them.  But it does mean it's a good program to promote.
#5 Better Alternatives…?
ClickBank is no longer the only platform you have as a place to find good digital affiliate programs to promote.  Udemy is a good example, as are some of the other affiliate networks.  ClickBank is considered a grandfather in the affiliate marketing world due to the length of time, but that is no longer the case and there may be other networks you should consider too…
Am I Eligible for ClickBank? (Sign-up Requirements)
ClickBank charges no fee for an affiliate to sign up.  They also don't require you to prove you have an active website with x amount of traffic, or any other grilling on how you plan on promoting affiliate products (like some other networks do).
All you require to get started is…
Live in an eligible country (United States, Canada, UK, etc.)
Enable cookies in your browser
Have a Tax ID or Social Security Number (if you live in the US)
If you plan to register as a ClickBank vendor, you must pay a one-time activation fee of $49.95. You pay only $29.95 for any additional accounts.
What Affiliate Programs Are Available with ClickBank
ClickBank has affiliate programs to suit anyone.  From a complete newbie who wants to test the water, to a seasoned affiliate marketer, ClickBank has you covered.
There are many affiliate programs and multiple products and categories to choose from:
Arts & Entertainment

As Seen on TV

Betting Systems

Business/Investing

Computers/Internet

Cooking, Food, & Wine

E-Business & E-Marketing (Internet Marketing)

Education

Employment & Jobs

Fiction

Games

Green Products

Health & Fitness

Home & Garden

Languages

Mobile

Parenting & Families

Politics/Current Events

Reference

Self-Help

Software & Services

New Age & Alternative Beliefs

Sports

Travel
Free Bonus: Click Here to get our 7-Day Bootcamp to get you started with affiliate marketing direct to your inbox (for free)
What Are ClickBank's Payment Methods?
ClickBank provides an array of different ways of getting paid, including:
Check – is the default payment option.  Get a check mailed to your address
Direct Deposit – ClickBank offers this option if you live in the US and other selected countries at no extra cost.  Direct deposit takes 1-2 business days
Wire Transfer – This option is for those countries that aren't covered by direct deposit.  Payments can take up to 5 days (dependent on location)
Payoneer – You can also get paid using the Payoneer Mastercard, an international money transfer service that is free to use.  Payoneer allows you to open a US bank account where the money is deposited
These options give you the flexibility to pick which one suits you.  But they also give you the advantage of not sticking to just one option.
You can change the payment method you want at any time.  Just note that it might take up to seven days for your new payment method to work.
Another thing to consider is that if you change your email address or password, you won't be permitted to change your payment method for 7 days.  
This is to protect your account from fraudsters.
The payment threshold with ClickBank can be set as low as $10.
This is a common question when it comes to ClickBank.  Is ClickBank a scam? Or is ClickBank full of scammy programs?
If ClickBank is Legit, why are there so many low-quality programs on there?
The list does go on a bit.  ClickBank indeed has a higher level of low-quality affiliate programs on its marketplace.  Overhyped junk products are everywhere when you take the time to look for them.  
This makes it easy to assume that every program on ClickBank is junk.  But there are some excellent affiliate programs on their marketplace too.
ClickBank is like a huge supermarket with shelves full of products for you to choose from.  You just need to ensure you're on the right aisle to make sure you find the right programs to promote.
With a seemingly infinite number of digital products from entrepreneurs all over the world to choose from, your perfect product awaits.
That's why millions of entrepreneurs are on the platform. Some ClickBank affiliates and vendors have been with them for decades.
But, ultimately, it's your reputation on the line. You owe it to yourself and your audience to double-check other people's products before you promote them.
If you want to know how to find the diamonds in the rough, read on to learn how…
5 Clever Ways To Not Get Burned with ClickBank
To ensure you find the right products or services to promote for your niche website, then here are 5 tips for you to consider…
To be successful at affiliate marketing, you are going to want to ensure you are helping your readers, right?  Well, if you're not willing to buy the product, then how can you expect your readers to buy it.
If you want to truly understand if the product is worthwhile, then give it a go.  This will help you weed out the junk products from the genuinely good stuff to promote.
With Google's recent Product Review updates, it'll also help you give a good insight into the product which will help your SEO rankings.
#2 Read The Product Reviews
Take a look at the online reviews for the product.  Check out the feedback from real users on the product you intend to promote.  
This will also mean you need to check out sites like TrustPilot, SiteJabber, or BBB.  You will naturally find biased reviews that aren't really genuine.  So, checking out these sites will help you get the real feel for how the product is perceived.
#3 Check Out The Product's Gravity Score
Gravity is the number of affiliates who have sold a vendor's product in the last 12 weeks.
Each gravity point is an endorsement of the product, and the higher the gravity, the higher the product's trustworthiness.
#4 Watch Out For Overhyped Claims
For every great program, there are hundred junk programs too.  If a program is promising the world and then some, it's probably a good idea to avoid it.
Too many MMO programs promise you that you'll wake up tomorrow rich.  But guess what?  They don't
If a ClickBank offer is promising you untold riches by doing nothing, whilst you sleep, then stay away.
It'll be a fraudster trying to convince people to "pay-to-play".
#5 Look Out For The Shady Vendors
Cheats lurk in the shadows. They don't want to show their faces.
Google vendors that interest you.   Can't find them? Think twice.
Good vendors have a traceable online history.
Please Note: This advice not only works for ClickBank…  Affiliate Marketers are using them for CJ Affiliate, ShareASale, Amazon Associates, eBay Partner Network, and every other affiliate platform.
It doesn't matter how much experience you have with affiliate marketing, or how established the affiliate network is, you need to do your homework.
How to Sign Up For ClickBank
Let's describe the step-by-step process for ClickBank.
To sign up for an account, first, go to the ClickBank website and click "Start Here" on the top right-hand side of the menu.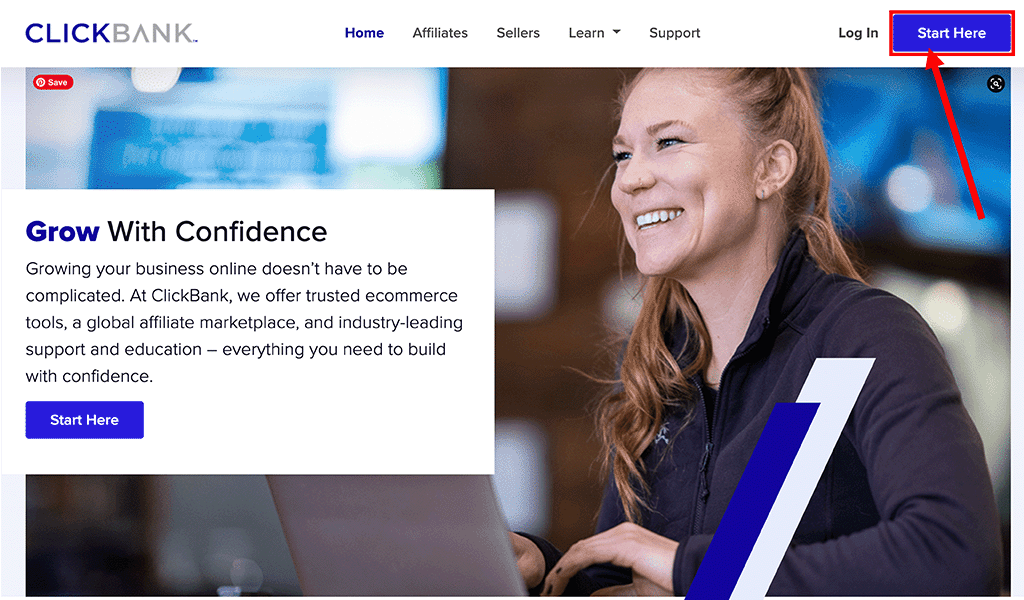 Step #1 Questionnaire
This will bring up a popup screen and ask you some relevant questions to get to know what your goals are.  Below is an example of the first question.  There are about ten, before you get to enter the email address you want to use.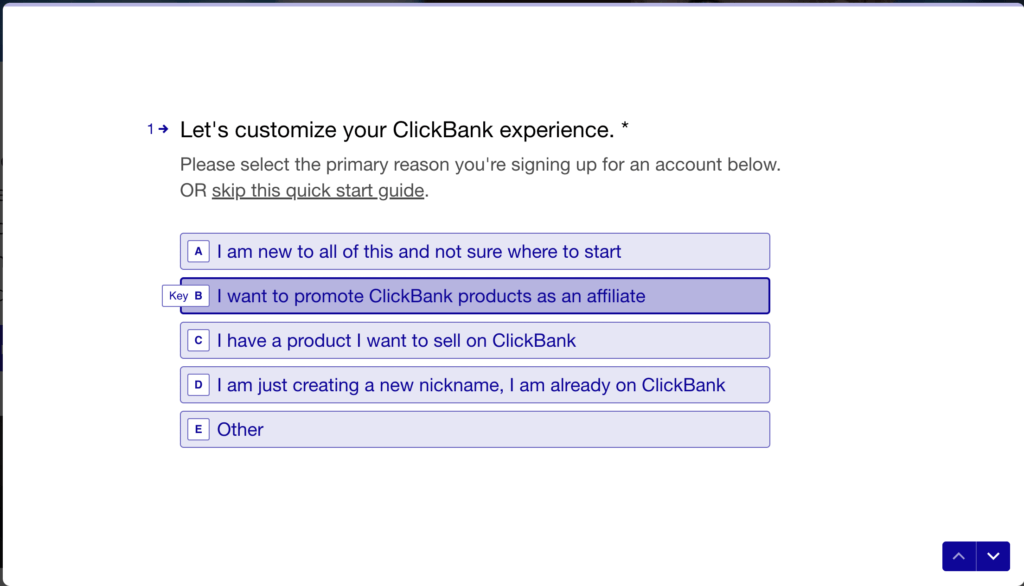 Step #2 Fill in your personal information
You will be asked to then complete a form asking for some personal details.  Please note you'll need to complete all fields to proceed to the next step.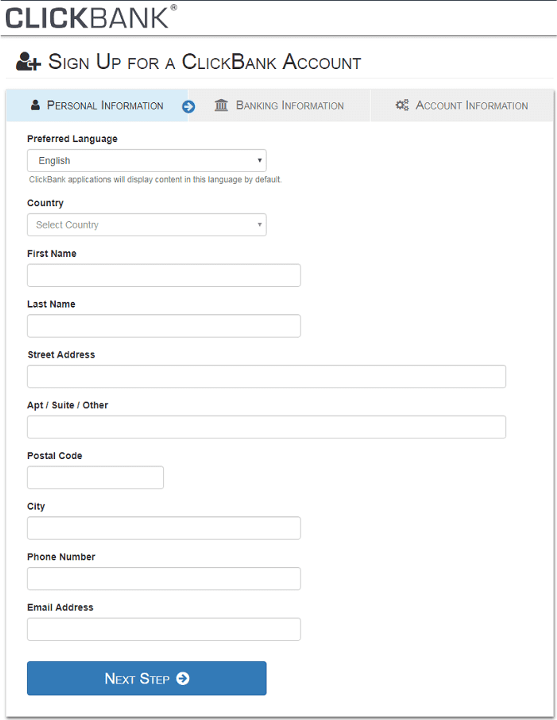 Step #3 Provide your bank details
You'll also be required to check the small box to acknowledge that you've read their terms and conditions.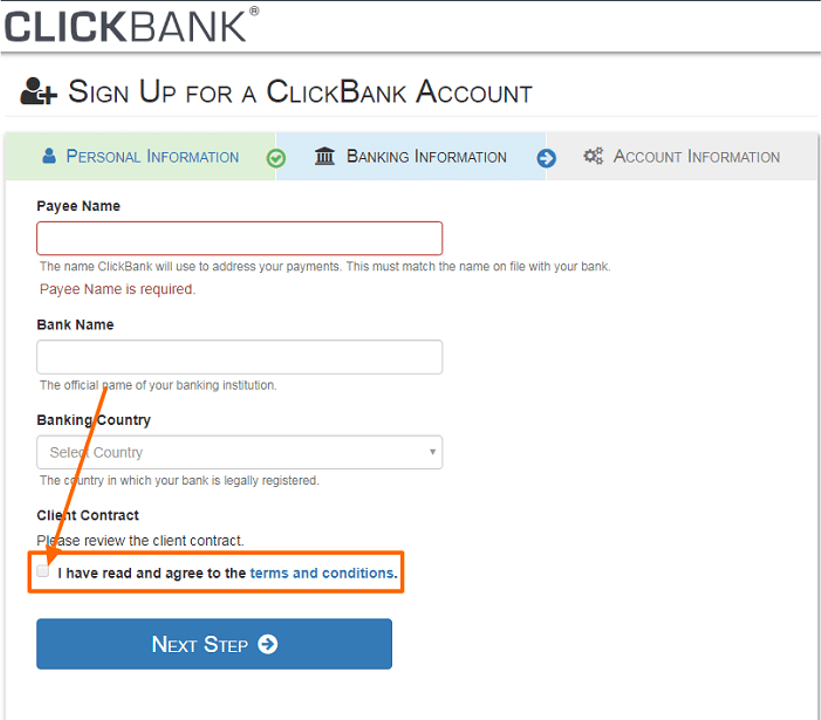 If you want to be paid through your company enter your business name in the Payee field instead of your personal name.
Your bank info is not used to send payments. That's why they don't ask for your account number, just the name of your primary bank.
You pick a payment method after your account is created.
Click on 'next step' to move on to the last step.
Step #4 Create your account
The final step will require you to choose a nickname and then choose a password too.  Your nickname will become your User ID.  It's visible to all customers, so it might be a good idea to not make it too personal.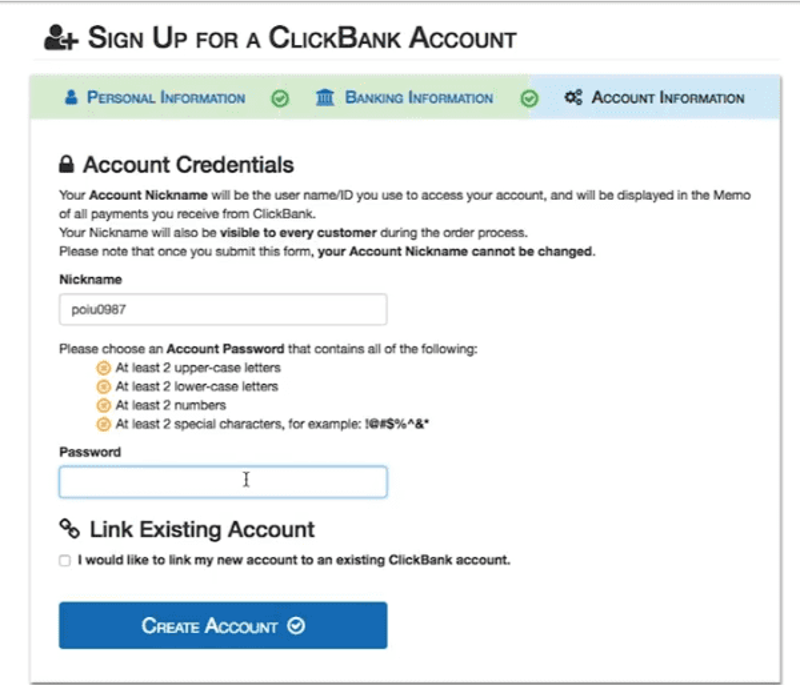 Affiliate marketing strategy expert Warren Wheeler shares a little-known but powerful secret you can use when creating your ClickBank user ID.
As for your password, the usual advice applies.  Pick a strong password that isn't easy to guess.
Once you've completed that process, you're in!
You're now ready to do business on one of the biggest affiliate marketplaces there is.
How Does ClickBank Work? Jargon Busting
Now what?
Well, before you start choosing any affiliate programs to promote, you will need to understand some of the terminology ClickBank uses.  This will help you understand what to look for in a product.
Here are some of the key terms you should know when checking out ClickBank:
Gravity –

This figure tells you how many affiliates have successfully sold the product in the past 12 weeks. The higher the gravity score  the greater your chances of succeeding with that program. It's updated daily and can go up to 600+. A product with a gravity score of at least 50 is a safe bet.

Initial $/Sale –

This number portrays the average dollar value of an initial sale, excluding rebills, credited to the affiliate.

Avg %/Sale –

Represents the average affiliate commission percentage for a sale, including both initial and rebill commissions.

Avg %/Rebill –

Represents the average total affiliate commission percentage for a sale, including only rebill commission, for a recurring billing product.

 
If I was going to suggest one metric you should focus on, then it would be the Gravity rating.  The reason is that this will show you what is selling now.
If something isn't selling, then the other metrics don't matter.  You want to know what is selling well, so you can use them in your promotions…
Most affiliate marketers rush headlong, looking for the product with the biggest commission rate and highest gravity.
That's the wrong way to go about it.
Here's how to do it right…
How to Make Money with ClickBank - Finding Great Programs
Since the recent updates to ClickBank, it has become much easier to spot top offers and new offers, direct from your marketplace dashboard.
But for the example of how to spot a good program to promote, we are going to choose from the categories list and choose "men's health".
When you first log in, you will need to select "marketplace" from the top menu.  You will then see the screen below.  As I said, we are going to look for a program in health and fitness.  This will give you an additional drop-down menu, and I choose men's health.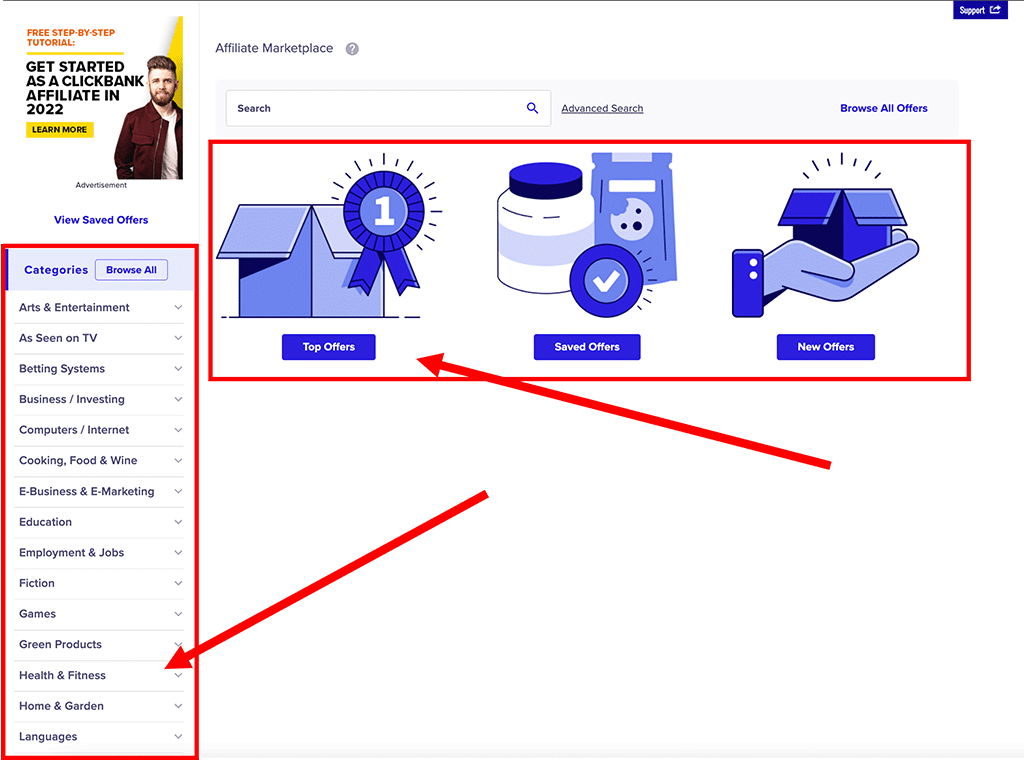 Once you have chosen your category, you will see a list of products displayed.  You can choose how the results are sorted: popularity, Avg $/Sale, Initial $/Sale, Avg %/Sale, Gravity, etc.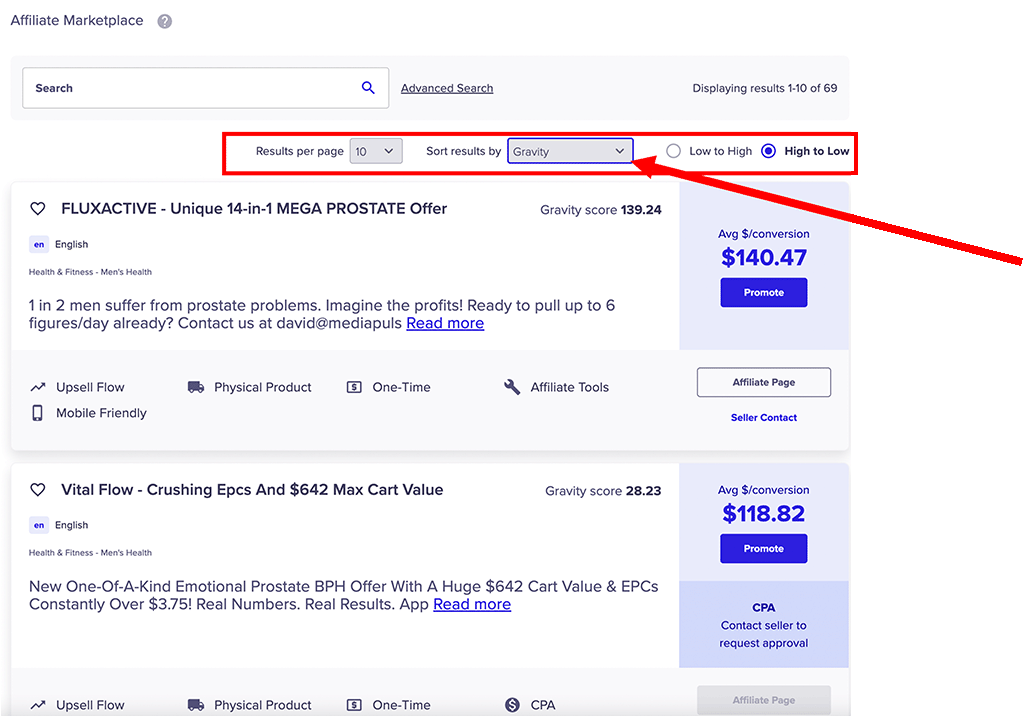 Results are sorted according to a program's popularity by default. Zoom into the product that meets your predetermined metrics. Two crucial metrics to consider are gravity and Average $/Sale aka your cut.
Here's a product with potential: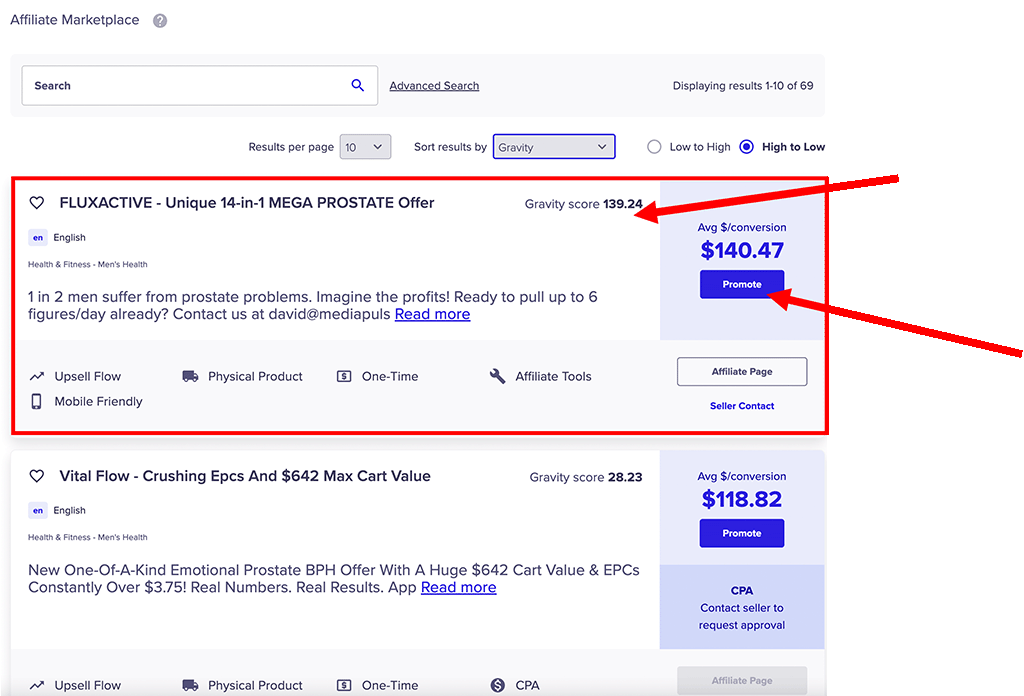 With a high gravity of 139 and a fine commission of $140.47, this program can be a moneymaker for the right affiliate site! Now that you've found a good product. it's time to click promote and enjoy the delight of endless sales, right?
I wish it was that simple, but it's still worth some digging.
Go to the program's affiliate page to find out more about the product and what the affiliate tools are like…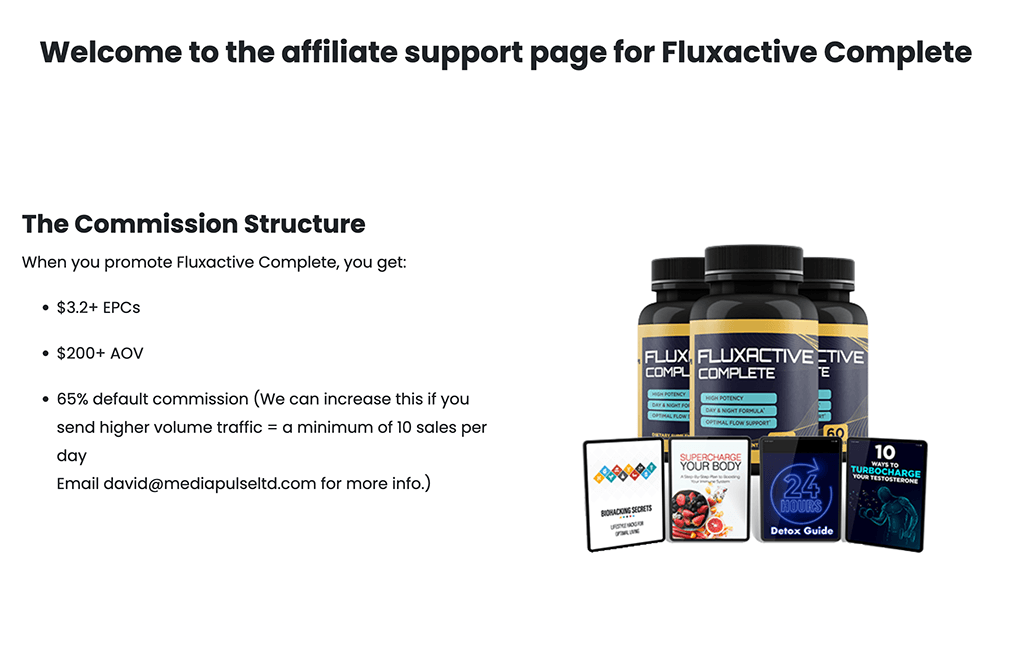 Always be on the lookout for vendors with affiliate promotion tools pages. These are serious vendors who have done the heavy lifting for you to make your work easier.
Typical tools you'll find include:
Banners

Product images

Videos

Pre-sell content

Swipes for email marketing campaigns

Keywords

Press releases

Sales/Landing page examples

Opt-in rates

Customer demographics
Another tip is to search for discounts on the affiliate program page so you get a bigger cut.
When you're done, click promote, fill in your account details, and grab the affiliate link you'll use to promote the product: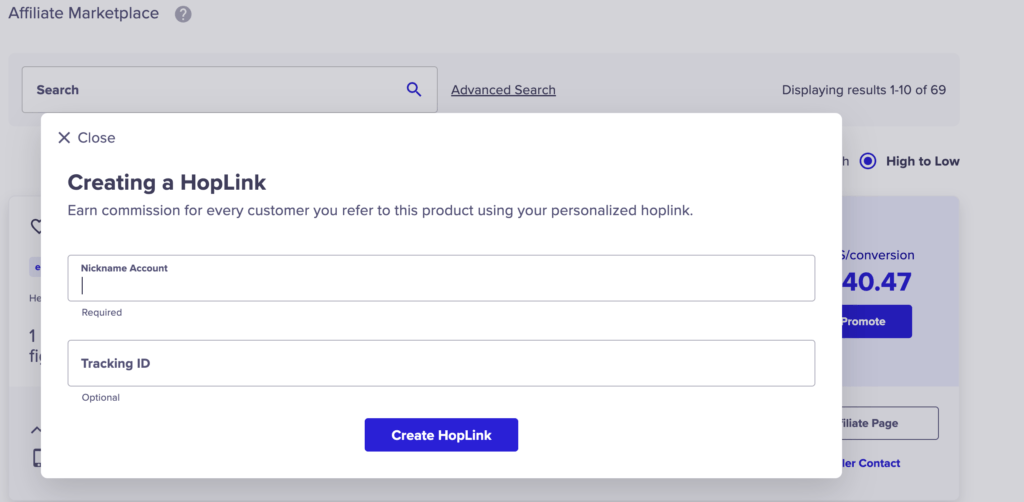 That is how you join a solid program.  Just make sure you are picking the right programs for your audience.
How to Make Money with ClickBank: 4 Top Tips
ClickBank has some awesome affiliate products to promote.  But that doesn't automatically guarantee that you'll start seeing the money roll in quickly.  But there are some tips to help with how to make money with ClickBank.
Like anything with affiliate marketing, you will need to put in the time and effort.  You'll also need to focus on helping people, which means picking the right products for the right audience.
Here are some tips to help you get started…
#1 Don't Get Obsessed with High Gravity & $/Sale
Whilst they are good metrics to consider, they are not the be-all and end-all.  Programs with a higher average $/sale will have a lot more competition to deal with.  They also tend to have a lower conversion rate.
You will need to find the right balance when starting.
#2 Promote Your Offer With Relevant Content
Relevancy is such an important factor in online marketing.  Ensuring you are promoting relevant products to the relevant audience will be key.  Just because a product has a high conversion rate, doesn't mean it will work for everyone.  
Especially if your readers aren't going to be interested in buying it.
Your promotions need to be natural and not appear forced.  People don't want to be sold to.  They want help, and if it's natural, they will be more inclined in following your advice (ergo your affiliate links).
#3 Ensure Your Product Fits Your Audience
With thousands of flashy products on show, the temptation to promote any top-selling program to your audience is strong.
Resist this temptation!
Two reasons:
If your offers aren't a good fit for your audience, you won't make money, period. Eventually, you'll get discouraged and curse the ClickBank gurus for 'misleading' you.

Offers that don't resonate with your audience will wear them down. They'll develop 'offer blindness'. They won't respond to future offers. Ultimately, they'll stop trusting you.
Bottom line – you should only be joining programs that are going to benefit your audience.
If it doesn't fit, they aren't going to click on your affiliate links anyway.  So what is the point?
#4 Create an Evergreen YouTube Funnel
Most ClickBank affiliate marketing strategies focus on email marketing (sending emails to your list), social media promotion (tweeting or sharing your affiliate link), or SEO (creating top-quality content around your affiliate product and getting it to rank on Google).
But this leaves a huge opportunity with a traffic source most are not using…  This is YouTube.
It's the second largest search engine, so should be something you consider to set up a high-converting ClickBank funnel.
Here's how:
Find the right product to promote

Search for popular content related to the product on YouTube

Dissect the content to see why it's popular

Produce similar content on your own YouTube channel
Link to the product in your video. Watch the money come in like clockwork.
Need a real-life example? Check out this review of a popular ClickBank product, The Flat Belly Fix.
I also found the following video useful when doing my research.  Definitely worth a watch, if you want to get the most out of the ClickBank affiliate network.
You can find several locations to get some reviews from users about ClickBank.  The first place I tend to look is the BBB.org website.
From this, you can get some details like that BBB actually holds an A+ rating.  This is great from a business point of view.
But when you check out their customer reviews, they only score 1.63 out of 5.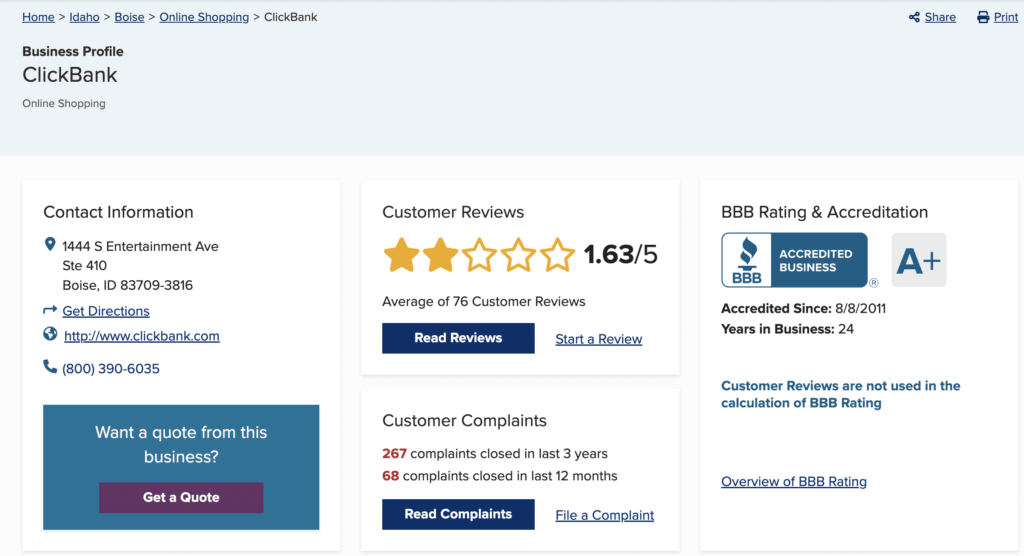 I don't believe that this is representative of ClickBank.  But they don't help themselves as they don't restrict who can add products to it.  Many people who are writing reviews are complaining about the product they ordered and as they pay for it through ClickBank.  Naturally, they are the ones who have to deal with the complaints, especially when it turns out to be a scam.
Below you will find the top positive review and the top negative review from another feedback platform called SiteJabber.  There aren't as many reviews on there, but still worthwhile when checking out a product.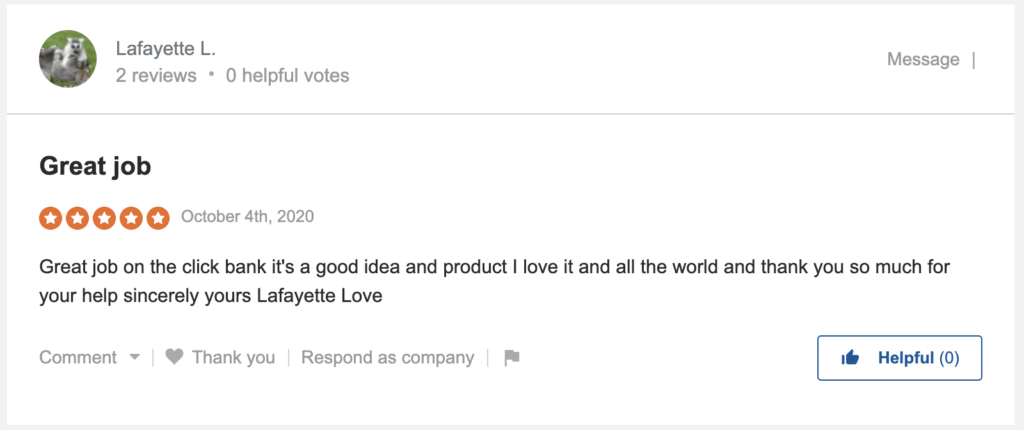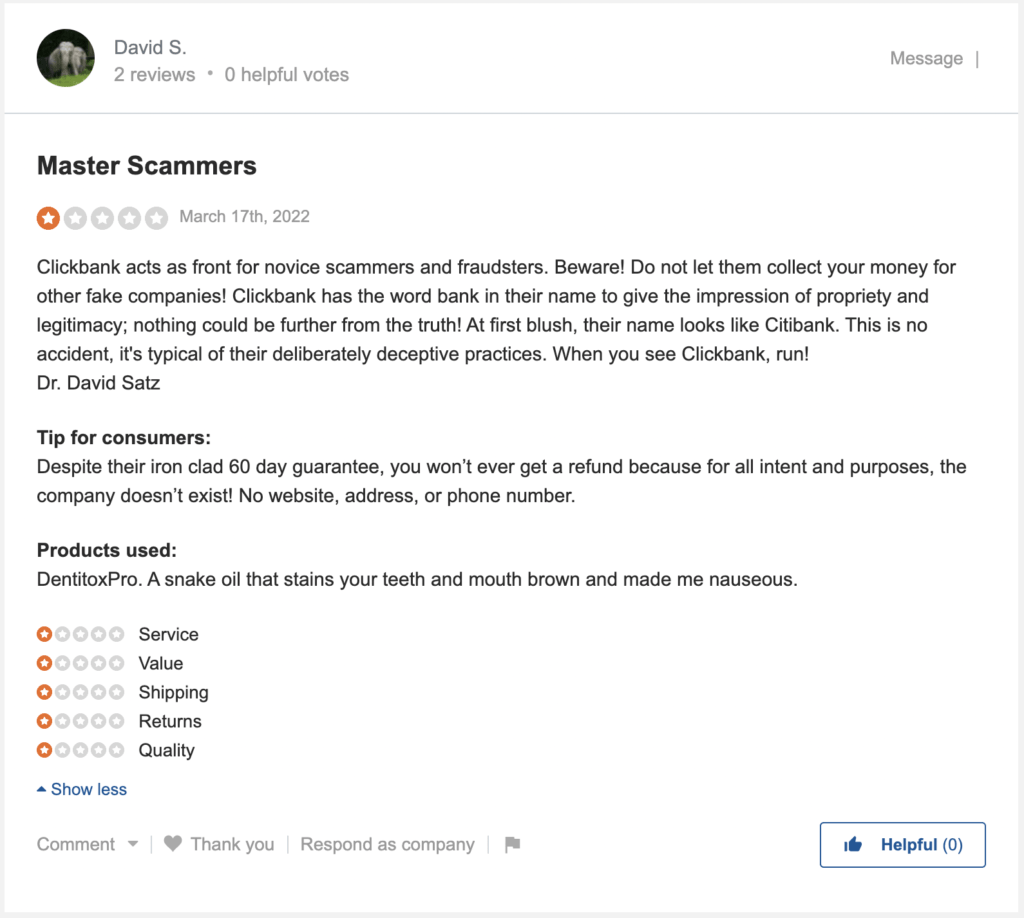 If we go back to the BBB website, you will see a recent complaint all about a product that never arrived.  But ClickBank do actually refund the customer.  But I still think if they vetted their vendors a little better, they wouldn't have so many complaints to deal with.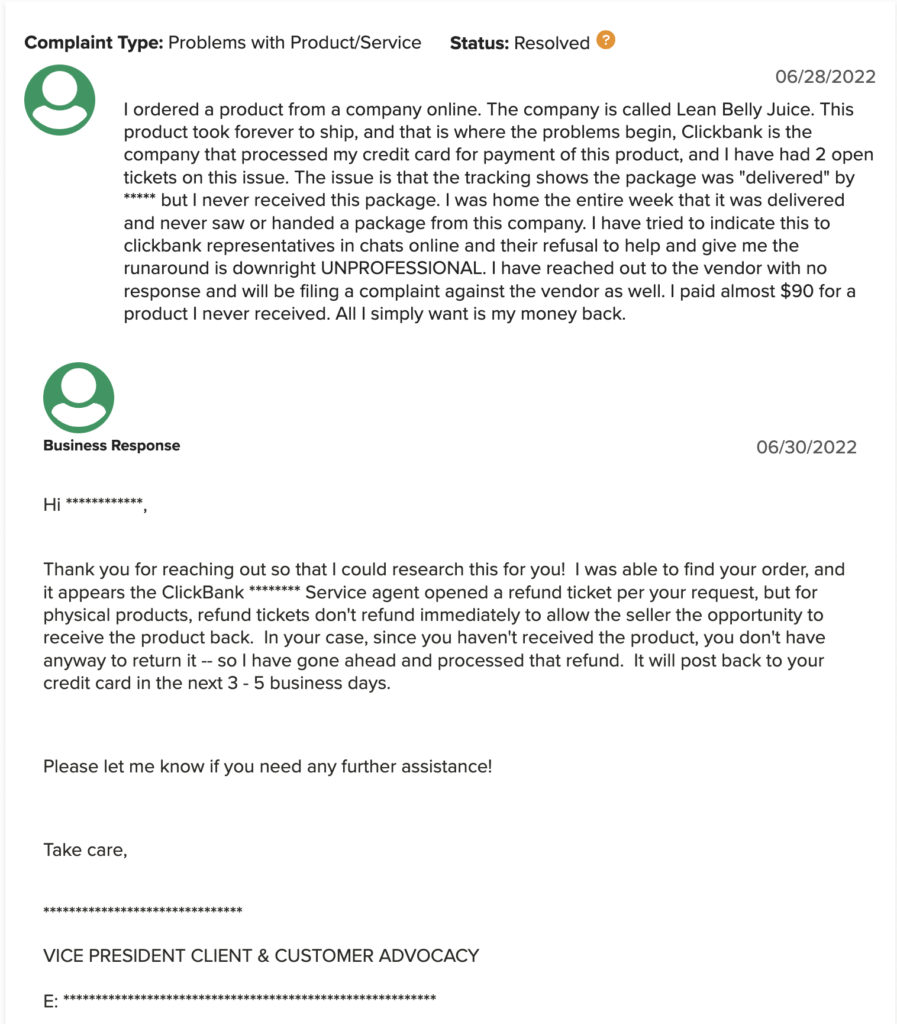 This just highlights the number of crappy IM or fitness-related products that are on their marketplace.
Is ClickBank Worth Your Time?
ClickBank is a legit affiliate network.  It gets a bit of bad rap due to the number of low-quality programs.  But if you're doing the right research on the programs and focusing on offering value, you will find that ClickBank is a huge asset in your locker.
So, is ClickBank worth your time?  In my opinion, yes.  It has a huge collection of products for you to promote and as long as you follow the advice in this blog post, then you will know what products are worth your time.
People are making money with ClickBank every day, and they wouldn't still be about if the authorities thought all of their products were junk.
ClickBank Review: Conclusion
Can you make money with ClickBank?  Definitely!
But you need to do the legwork and ensure you are finding the right products.  Don't just go with the first one you find, as it might be one of the junk programs that get lots of sales, but ends up with high refunds due to it being crap.
If you do all of the relevant research and follow the right advice, you can easily see a passive income from promoting products on ClickBank.
Thanks for checking out my ClickBank review!  I'd love to know what you think?  Have you ever had any experience with ClickBank?  The good, the bad, the ugly…  It would be good to know what your experiences have been like?
If you have any questions or comments to add, then please write them in the comments below. ;)