Are you passionate about travelling and sharing your experiences with the world? 
Have you ever considered starting a travel blog to document your journeys and inspire others to explore the world? 
Well, look no further! In this ultimate blueprint, we will guide you through the process of building and monetising your travel blog from scratch. 
Whether you're a beginner or a seasoned traveller, this comprehensive guide will provide you with all the tools and strategies you need to turn your love for travel into a successful and profitable blog. 
So, fasten your seatbelts and get ready to embark on an exciting journey towards building and monetising your dream travel blog!
Disclosure: This post may contain affiliate links, which means we may receive a commission if you click a link and purchase something that we have recommended. While clicking these links won't cost you any extra money, they will help us keep this site up and running. Thank you for your support!
Building Your Travel Blog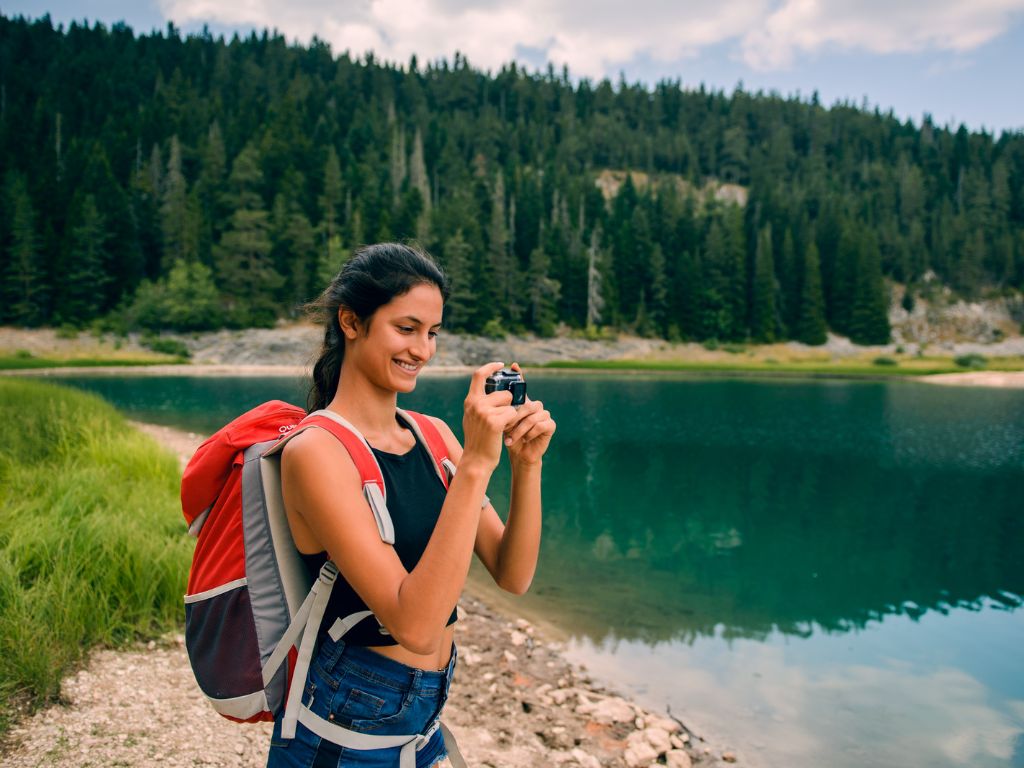 There are a few steps you need to research before you can jump in and start building your travel blog.  The first thing to do is consider what type of travel blog you want to do, and who your target audience will be…
This is all about choosing a niche and target audience for your travel blog.
Choosing a Niche & Target Audience
Walking blindly into building a blog without any thought and consideration can have huge implications for whether you will be able to make money or not.
There are lots of travel blogs out there, so if you don't dig down and target a specific niche and audience, you will find that your blog will get lost in the mire.
So, choosing a niche, and a target audience and creating a persona for your blog will help you get your blog found by that audience.  You create a content ideal for that target audience, you will get the rankings you need to be able to monetise your blog.
To give you an idea of the type of travel blog you could start, I've suggested 5 examples below…
Adventure Travel
Luxury Travel
Cultural Travel
Budget Travel
Family Travel
There will be more, I'm sure. But these are the 5 most popular types of niche for a travel blog.  Meaning there is an active audience of people seeking information about them.  Here's a little more info about them…
Adventure travel blogs focus on thrilling and exciting experiences such as hiking, skiing, rock climbing, and other outdoor activities.  These blogs often provide in-depth guides and tips for travellers who are seeking adrenaline-filled adventures and want to explore off-the-beaten-path destinations.
Luxury travel blogs cater to travellers who seek high-end accommodations, gourmet dining experiences, and luxurious amenities.  These blogs often feature reviews of luxury hotels, resorts, and spas, as well as tips on how to travel in style and comfort.
Cultural travel blogs focus on exploring different cultures, customs, and traditions. These blogs often feature stories about local festivals, cuisine, music, and art, as well as tips on how to interact with locals and learn about their way of life. Cultural travel blogs can be a great resource for travelers who want to experience new cultures and gain a deeper understanding of the world.
Budget travel blogs focus on providing tips and advice for travellers who want to explore the world without breaking the bank.  These blogs often feature budget-friendly destinations, affordable accommodation options, and tips on how to save money on transportation, food, and activities.
Family travel blogs cater to families who want to travel with their children and provide tips on how to plan a successful family trip.   These blogs often feature family-friendly destinations, reviews of family-friendly hotels and resorts, and advice on how to keep children entertained during long journeys. 
Family travel blogs can be a great resource for parents who want to create memorable travel experiences with their children.
Once you've decided on the type of travel niche you will be starting and the target audience you will have.  It's time to get going with deciding on a name for your blog…
Naming Your Blog & Selecting a Domain Name
When brainstorming names for your niche, there are a few things you want to consider…
First, there is the niche you chose.  Does the brand name fit in with people who would be seeking advice about that type of travel?  
You could use descriptive names that help describe the blog's focus or your personality.  For example, if you're all about exploring off-the-beaten-path destinations, you could use words like "adventure", "explorer," or "offbeat" in your name.
Try to keep your brand name short and memorable.  Something that would be easy for someone to remember or spell.  This makes it easier for people to find your blog next time and also makes it easier for them to share your blog with others.
Don't use numbers or hyphens.  This can make it confusing or difficult to remember.
Consider who your target audience is and what kind of name would appeal to them. For example, if you're targeting budget-conscious travellers, you might want to use words like "frugal," "savings," or "budget" in your name.
Once you've come up with a list of possible brand names, it's time to check whether that domain name has been used already.  You will need a domain name for your new blog and you might also want to check social media.
There are places like GoDaddy or BlueHost that can let you purchase a domain and using their tools, they can let you know if the domain name for your blog is available.  However, you are looking to monetise your blog and so I have a better alternative for you if you're willing to listen.
Buying a domain name is inevitable.  In the grand scheme of things, buying a domain name doesn't cost a lot of money.  But the money you will spend on hosting is what you need to take into account.
A domain is cheap.  But it has to be housed on a hosting if you want people to find your blog.
Our Recommended Web Hosting for Building Your Travel Blog
However, there are certain aspects to having the right web host for your website.  Things like speed, security, and support are all things that you need to take into account.  
If you are going to be travelling whilst you do your blog, you don't want a web host that has poor customer support.
The web hosting we use is SiteRubix, which is hosted by the team at Wealthy Affiliate.  They offer top-quality web hosting at a fraction of the cost of other web host providers.
The added benefit is that they also offer comprehensive training that helps people get started with blogging and also offers training for those looking to monetise their blog.  Many travel bloggers on there share their stories…
So, if you are going to consider searching for an available domain name.  I would check them out.  They are by far the best provider of websites, training, and support, and you also become part of a huge community of like-minded entrepreneurs.
As I use them myself, the rest of my guide will be talking about using their tools.  Which include a Niche Finder, Keyword Research Tool (Jaaxy), Website Builder, etc.
Setting Up Your Travel Blog
The first tool I want to share with you is the Niche Finder.  If you take any of the examples we saw above, they are still a little broad.  But with Wealthy Affiliate's Niche Finder Tool, we can check out any niches that might be a good fit…  Here's what it came up with for "Adventure Travel"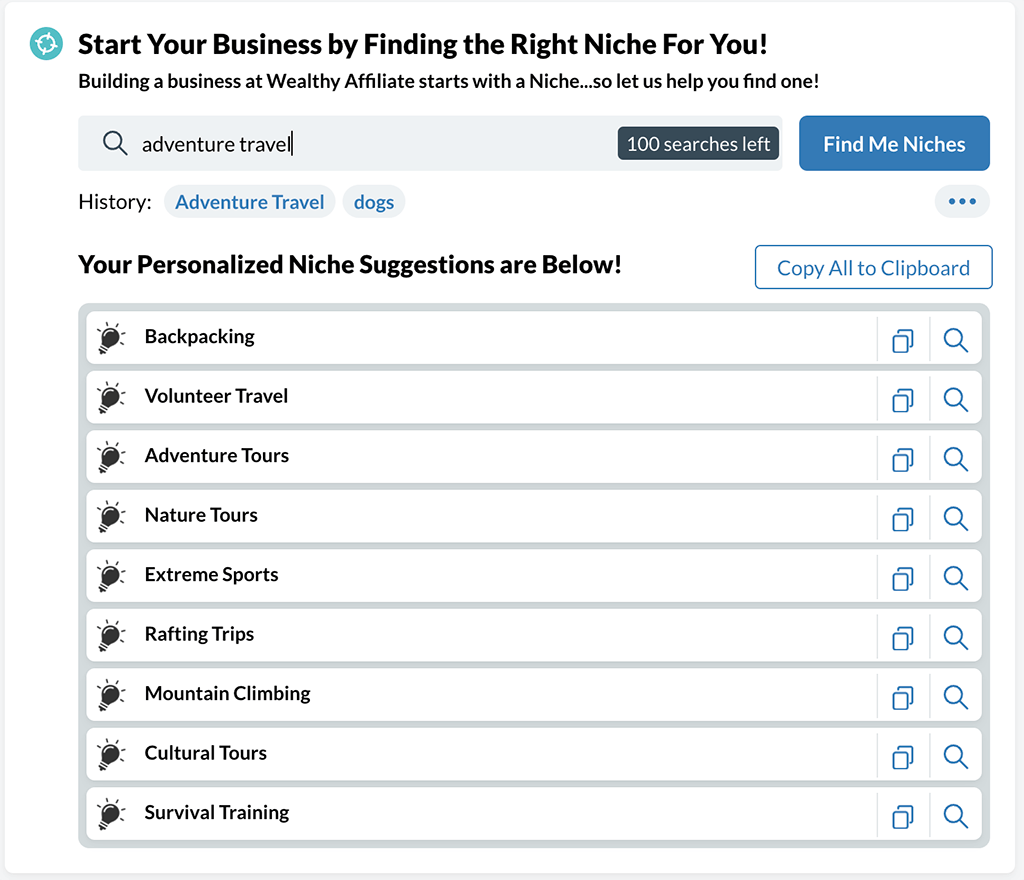 Now I have a better understanding of some niches you could get started with for our category "Adventure Travel". 
This allows us to think whether any of these a good fit for us, or whether we need to keep looks.  For the purpose of this example, I am just going to go with "Backpacking".
This allows me to consider several things…
My Target Audience:
Here are three examples of target audiences for the niche of backpacking within adventure travel:
Budget-conscious travellers: Backpacking is often associated with budget travel since it involves carrying all your belongings in a backpack and staying in hostels or camping. Therefore, backpacking blogs that cater to budget-conscious travellers may provide tips on finding the cheapest accommodations, packing light, and saving money on food and activities.

Solo travellers: Backpacking is also a popular activity for solo travellers, as it allows them to explore new destinations independently and connect with other travellers along the way. Backpacking blogs that cater to solo travellers may provide tips on staying safe while travelling alone, finding like-minded travellers, and avoiding loneliness on the road.

Outdoor enthusiasts: Backpacking is often associated with outdoor activities such as hiking, camping, and exploring remote wilderness areas. Therefore, backpacking blogs that cater to outdoor enthusiasts may provide tips on gear selection, outdoor skills, and planning backpacking trips in scenic and challenging locations.
So, now we can narrow down the niche again, so I'm going to continue with "Backpacking" but now am going to be targeting "Budget-conscious travellers.
Now I can start thinking about what I could eventually start promoting as part of my blog content…
The Products or Services I Could Promote:
Here are three examples of products or services you could promote for backpackers who are also budget-conscious travellers:
Lightweight backpacks: Backpackers need a reliable and sturdy backpack to carry all their gear, but they also need it to be lightweight and easy to carry. You could promote backpacks that are specifically designed for backpackers, which are lightweight, durable, and have plenty of compartments to keep gear organised.

Hostel accommodations: Hostels are a popular accommodation option for backpackers since they are usually much cheaper than hotels. You could promote affordable and safe hostels in popular backpacking destinations around the world. You could also provide tips on how to find the best hostel deals and how to stay safe in a hostel environment.

Portable camping gear: Backpackers who plan to camp during their travels need portable and lightweight camping gear, such as tents, sleeping bags, and cooking equipment. You could promote affordable and compact camping gear that is specifically designed for backpackers, and provide tips on how to choose the best camping gear for a backpacking trip. You could also suggest camping options that allow for free or low-cost camping, such as public lands or national forests.
With all of this information, we can now start really consider what our blog will be about.  Who we will be targeting with our content.  It also allows you to start thinking about creating a persona for your audience.  So that when you are creating your content you have a "Backpacker who is budget-conscious" in mind.
Now it's time to think about the type of name your want for your travel blog.
There are many domain name checkers and tools that suggest domain names to you.  This usally mean that you have to go with their hosting.  But they can still give you a good idea.
For this post, I used AI to generate examples that we could use for "Backpacking for a budget-conscious traveller".  I stress, I don't know if any of these are available.  But I hope it gives you some inspiration for when you do get to build your travel blog… Here's the list:
BudgetBackpacker.com
ThriftyWanderlust.com
BackpackingOnABudget.net
FrugalExplorer.com
PennyPinchingAdventures.com
BudgetTravelBackpacker.com
CheapThrillsBackpacking.com
BackpackingForLess.com
TheSavvyBackpacker.com
FrugalBackpackerGuide.com
Remember to choose a domain name that is easy to remember, easy to spell, and reflects the niche of your blog.
Building Your Travel Blog
As I mentioned, I am a member of the Wealthy Affiliate community.  They are the ones who taught me to be able to build and monetise this blog.  So, naturally I am going to suggest that you do the same.  But I'll let you make that decision.  But to get our travel blog built for this example, I will be using screenshots from their website builder.
Here are the couple of steps you need to get your own website with Wealthy Affiliate.
After signing up, you go to their website builder from the main menu.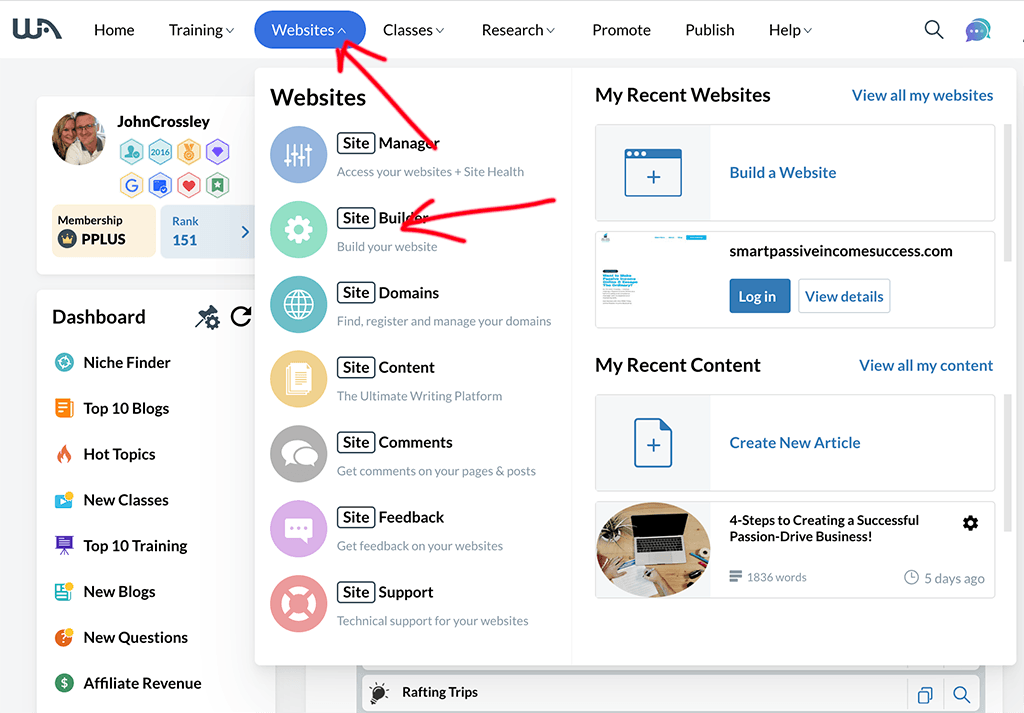 If you decide to take Wealthy Affiliate for a free test drive, then the free website is the one you would choose.  You can register and pay for domains at Wealthy Affiliate, but you need to be a premium member.  You can learn more in my Wealthy Affiliate Review.
For today, we will be going down the free website route…
The WA website builder tool allows you to see if your URL is available.  Then you have a couple of steps to complete…
Check if the URL is available
Type the title for your website
Choose a theme – GeneratePress is a great option
Press "Build your Website"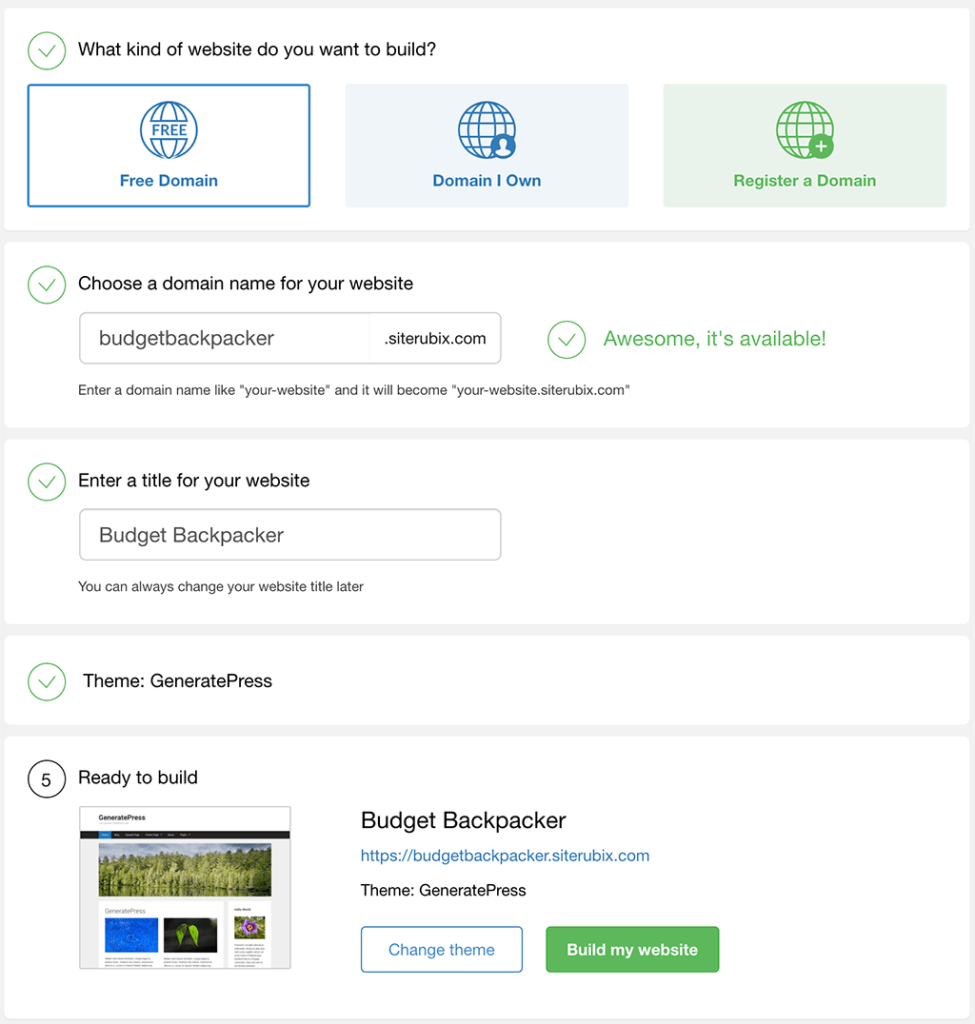 Once you have clicked that button, you will have your own travel blog up and running, ready for you to work on your content strategy.  If you want to see if your idea for a domain name is available, then you can use the free tool below…
Once you have your travel blog up and running, it's time to work on your content strategy.   What types of content are you going to create to get people to your blog.
If you aren't getting traffic to your blog, then you have no hope of monetising it…
Building a Content Strategy & Keyword Research
With our niche and target audience in mind, we can start thinking about the type of content we could create.  I've come up with a few ideas…
Here are some content ideas for a travel blogger writing with "backpacking for budget-conscious travellers" in mind:
Destination Guides: Write detailed guides for popular backpacking destinations, with a focus on affordable accommodations, free or low-cost activities, and budget-friendly dining options.

Budget Travel Tips: Provide tips and tricks for travelling on a budget, such as finding cheap flights, getting the best hostel deals, and saving money on transportation.

Packing Lists: Create packing lists for backpackers that emphasise packing light and bringing versatile clothing and gear that can be used in a variety of situations.

Food and Drink Guides: Highlight affordable dining options in popular backpacking destinations, such as street food stalls, local markets, and grocery stores.

Travel Hacks: Offer creative solutions for saving money on travel, such as using rewards points for flights and accommodations, and taking advantage of free walking tours and city passes.

Personal Experiences: Share your own stories of budget backpacking trips, including challenges you faced and lessons you learned.

Travel Itineraries: Create sample itineraries for backpackers visiting a specific destination, with a focus on maximising the experience while minimising costs.

Budget Accommodation Reviews: Review and compare different types of budget accommodation options, such as hostels, camping, and Couchsurfing.

Travel Safety: Offer tips and advice for staying safe while backpacking on a budget, including advice on avoiding scams, navigating unfamiliar areas, and protecting your belongings.

Sustainability: Discuss ways that budget backpackers can travel sustainably, such as reducing waste, using eco-friendly transportation options, and supporting local communities.
But if you want to get your content ranked in the search engines and get free traffic, then you need to understand keyword research.
Each time you create content you need to use a keyword research tool to understand how many people are searching for that term and how much competition you have.  The idea is to go after low-hanging fruit keywords.  These are keywords that people are typing into search engines.  But have lower levels of competition.
For a new blog, you want to continue to target these keywords until you grow your authority.  Then you'll be able to compete for more competitive keywords.
The tool I use is Jaaxy, which is another tool included in the Wealthy Affiliate membership.  This tool gives you insights into keywords you can use.
Before you use Jaaxy or any other keyword, you want to check out Google first.  They give you suggestions when you start typing things in.  It's called "Google Instant".  Once you have a few of their suggestions written down, you can then type them into Jaaxy and see what comes up.
Let's see what Google comes up with with our niche in mind… I've used "Backpacking on a budget".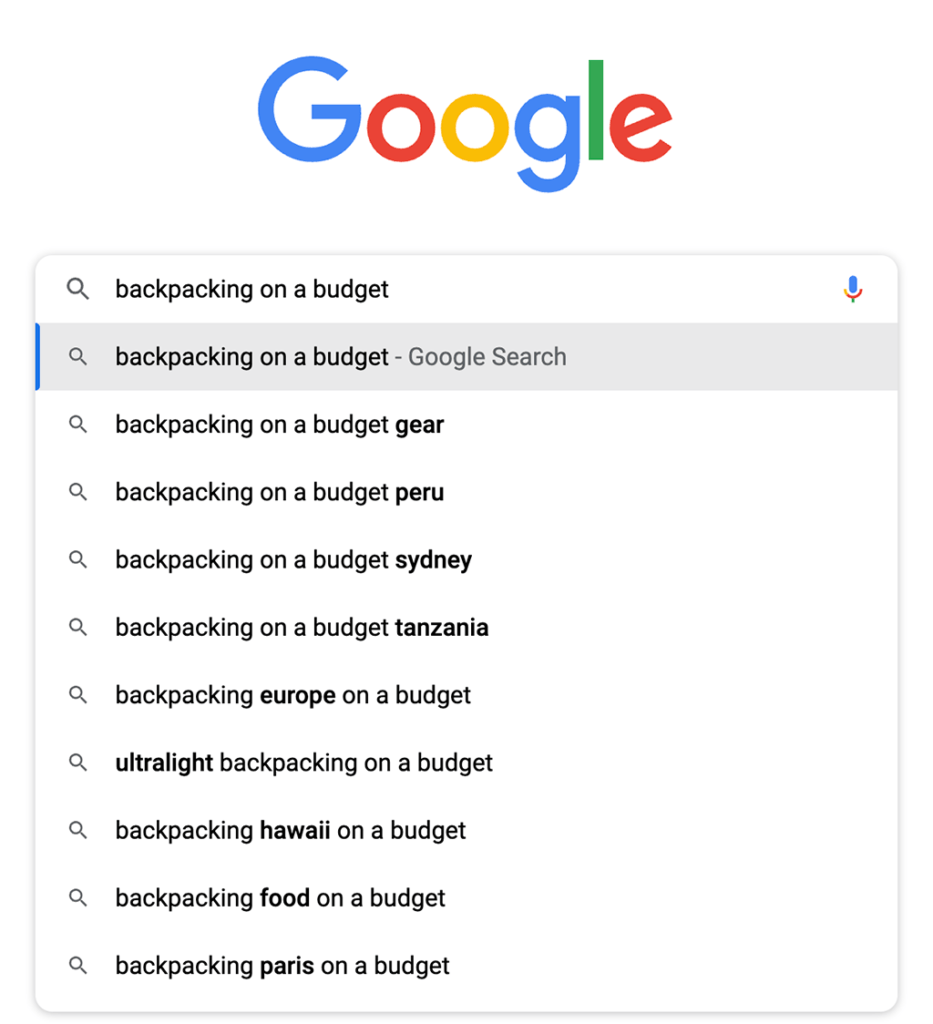 So, this has given us a few examples to work with…  These include some destinations and even an "ultralight backpacking on a budget".  This could be a good option, but let's see what Jaaxy comes up with for it.  Remember, we are looking for a keyword that gets some traffic (AVG) and has low competition (QSR)…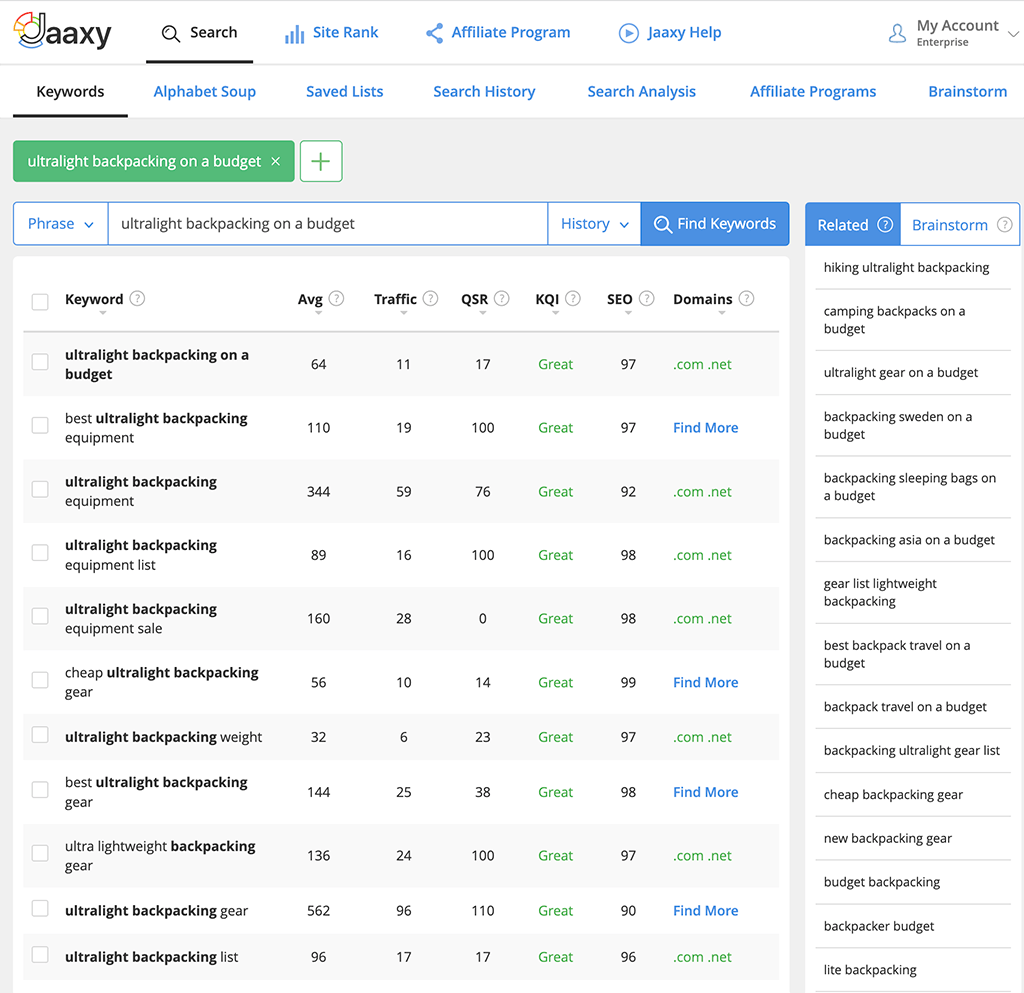 So, Jaaxy is a research tool that allows you to check the level of traffic you will get if you get your content to rank at the top of the search engines.
That is the ultimate goal of a blogger, as it gives you tons of free traffic.
For the keyword we selected, "ultralight backpacking on a budget", it came back as a good keyword.  When starting out, you ideally want keywords that have an average monthly search of more than 50 (AVG) and less that 50 competing blogs for that keyword (QSR).
With 64 (AVG) and 17 (QSR).  It's a good one for us to write a blog post about.  But Jaaxy allows you to expand on that subject with other examples that are similar keywords.
If you take the examples on the right, there are other options you could work with, i.e. camping backpacks on a budget, backpacking sleeping bags on a budget.
Click them and Jaaxy will give you the details for those and now you are starting to build up a list of blog posts you could write.
Making Sure Your Content is High-Quality...
Picking a great keyword is only the start though…  You need to ensure your content is top-notch.  This starts with your content being exactly what the target audience for that niche is after.
If they are looking for help with a topic.  Make sure you understand the intent behind the search and then ensure your content is perfect for them.  
If they don't like it or it's not what they were after, they will move on to the next blog to see if they can…
If you want to understand how to ensure your write the perfect blog post, check out this guide.
Building a community through social media and email marketing
Here are some content ideas for building a community through social media and email marketing for a travel blog:
Social Media Challenges: Create a social media challenge to encourage followers to share photos or videos related to travel. This can help build engagement and foster a sense of community among your audience.

Guest Posts: Invite readers to submit guest posts on your blog or social media channels, which can help build a sense of community and give your audience a chance to share their travel experiences.

Social Media Q&A: Host a Q&A session on social media where you answer travel-related questions from your audience. This can help foster a sense of community and provide value to your audience.

Online Travel Events: Host an online event, such as a webinar or virtual travel experience, and promote it through your social media channels and email list. This can help build a sense of community and provide valuable travel information to your audience.

Contests and Giveaways: Host a contest or giveaway on social media or through email marketing, which can help build engagement and loyalty among your audience.

Online Travel Groups: Create a Facebook group or other online community where like-minded travellers can connect and share tips and advice. This can help build a sense of community and foster ongoing engagement with your audience.

Newsletter: Create a regular newsletter that provides updates on your blog, travel tips, and other relevant content. This can help build loyalty and keep your audience engaged with your brand.

Social Media Ads: Use social media advertising to reach new audiences and promote your content to people who are interested in travel. This can help expand your reach and build your community.

Influencer Partnerships: Partner with other travel influencers to cross-promote each other's content and build a sense of community among your respective audiences.

Social Media Polls: Create polls on social media to get feedback from your audience on travel-related topics. This can help build engagement and foster a sense of community among your followers.
The biggest impact of a travel blog will be engaging with your audience.  Whether that is by replying to comments on your blog or your social media platforms.
Monetising Your Travel Blog
One thing you might have noticed is that the monetisation of your travel blog is last in our list of steps.  That is purely down to it being the reality.
Any type of blog can make money and there are many different ways of doing it.  But, it all depends on getting traffic to your website and then your content being exactly what the reader wants.
With free traffic methods like SEO, that is going to take time.  It takes time for the search engines to start ranking you well.  It then takes time for people to start trusting you and coming back to your site regularly.
If you go with paid traffic methods, you can speed the process up.  But without doing free traffic first, you are going to have to rely on trial and error to see what works.
But once you have a steady flow of traffic coming to your blog, that is the time to start looking at the different ways of monetising your blog…
The Different Ways of Monetising Your Travel Blog
Advertising: Displaying advertisements on your blog, such as banner ads or Google AdSense, can generate revenue based on clicks or impressions.

Affiliate Marketing: Promoting affiliate products or services, such as travel gear or booking websites, can earn you a commission on sales made through your unique affiliate link.  Here is a guide on affiliate marketing, to learn more…

Sponsored Content: Creating sponsored content for brands, such as sponsored blog posts or social media posts, can generate revenue in exchange for promoting the brand's products or services.

Product Sales: Selling your own products, such as eBooks, travel guides, or merchandise, can generate revenue from your audience.

Consulting or Coaching: Offering consulting or coaching services related to travel or blogging can generate revenue based on your expertise and experience.

Speaking Engagements: Speaking at travel or blogging events, or hosting your workshops or retreats, can generate revenue through ticket sales or sponsorship.

Freelance Writing: Writing for other travel publications or websites can generate revenue through freelance writing gigs.

Brand Partnerships: Partnering with travel brands to promote their products or services on your blog or social media channels can generate revenue in exchange for exposure to your audience.

YouTube Ad Revenue: Creating a YouTube channel and monetising it through ad revenue can generate revenue based on views and engagement.

Patreon or Crowdfunding: Setting up a Patreon or crowdfunding campaign can allow your audience to support your blog financially on a recurring or one-time basis.
Increasing Your Income Through Your Blog
Here are three strategies for increasing your income through your blog:
Diversify Your Income Streams: Rather than relying on just one method of monetisation, explore different options and diversify your income streams. For example, you could combine advertising revenue with affiliate marketing, sponsored content, and product sales to increase your overall income.

Grow Your Audience: The more people who read your blog and engage with your content, the more opportunities you have to monetise. Focus on growing your audience through social media, email marketing, and SEO to increase your blog's reach and visibility.

Build Relationships with Brands: Developing relationships with brands in your niche can lead to more opportunities for sponsored content, affiliate marketing, and other partnerships. Reach out to brands you admire and offer to collaborate on a campaign or project that aligns with your blog's mission and values. By building strong relationships with brands, you can increase your income and add value to your audience by promoting high-quality products and services.
Build & Monetise a Travel Blog - Conclusion
Congratulations! You've made it to the end of The Ultimate Blueprint to Build and Monetize Your Travel Blog. We hope this comprehensive guide has provided valuable insights and strategies to help you build a successful and profitable travel blog. Remember, the key to success is to stay passionate, and consistent, and always put your readers first.
If you want more tips and strategies on building and monetising your travel blog, sign up for our mailing list. By joining our community, you'll gain access to exclusive content, resources, and opportunities to connect with fellow bloggers. So, what are you waiting for? Sign up today and take your travel blog to the next level!
The Ultimate Affiliate Marketing Guide: Sign Up Now for Exclusive Tips and Strategies!
Unlock the secrets of affiliate marketing and boost your earnings today! Join our mailing list now and receive a FREE guide that reveals the most effective strategies for success. Don't miss out on this exclusive opportunity to gain insider knowledge and access to top resources. Sign up now to start receiving valuable tips and insights straight to your inbox!