Are you not getting your content ranked?  Are you guilty of making any of these common SEO mistakes?  Did you know they can hurt your website's rankings?
Hi, I'm John and I want to help you ensure you are getting the best advice when it comes to ensuring your site is search engine friendly.   SEO is so important to get right and it isn't overly complicated.  If you get the right advice…
I've come up with the 10 most common SEO mistakes that can easily hurt your rankings.  There are so many outdated materials out there about SEO and most of them, I'm afraid to say, are in the Make Money Online sector.
So-called Gurus claiming to give you a magic strategy, which is SEO, and yet they are talking about things that worked 20 years ago.
The Search Engines are clever.  They spend billions on ensuring they provide high-quality content to their users.  That's where you come in.  Make sure your content is HQ and then follow the advice in this blog post about optimising your content and website and you will do well with your SEO!!
Why Is SEO Important for Website Ranking?
SEO is short for Search Engine Optimisation.  It is the process of ensuring your website is as search-engine friendly as it can be.  If you are optimising your website properly and providing excellent content.  You will have a fantastic relationship with the search engines.
Google, Bing, and Yahoo are all in the business of providing answers and solutions to their users.  When you type in a search in Google, what are you after?
You're after the best answer to your question.  But they are only the middleman.  They rely on the hundreds of thousands of blog posts or articles that are on the internet to provide that answer.
They want your content.  But if you make it hard for them to find by not doing SEO properly.  Then you will find they will have someone else who has to provide it.
So, SEO is really important for website rankings.  Without it, you will not appear there unless you pay for ads.  That is the choice.  
SEO is free, which is the main reason why so many people ensure their SEO campaigns are optimised properly.  There is no better feeling than when your blog post is appearing in the top spot of Google.  Or in a featured snippet, etc.
Why Do People Get SEO Wrong?
Look, it's really easy to get a website online.  Find a website builder and build it.  Great!!  But if you don't get the right training or are relying on a $7 course you found online that was written in the dark ages, then you will not have the right advice to follow.
I have seen low-quality courses that promise to have you earning thousands of dollars by the end of the day.  They claim to use SEO to help you do the same.
So, you believe them…  But the reality is that they aren't being honest.  Or are talking about strategies that might have worked in the early days?
I learned SEO from a proper learning provider called Wealthy Affiliate.  They only teach you what works well and they keep their training up-to-date.
Did you know that search engines do updates regularly to ensure they only show the best content?  To be considered you need to ensure your website and content are optimised for SEO.
As we go through the 10 common SEO mistakes, you will see there is a regular theme…  Intent, Relevancy, and the User Experience.
Keep those in mind and you should be onto a winner with your SEO campaigns.
10 Common SEO Mistakes That Can Hurt Your Website's Rankings
Let's get into our list of the 10 common SEO mistakes that some are making that can affect where you rank in the search engines.  If you've been following an outdated training, which there are plenty of them around, then these might seem to contradict what you've been told.
But know that I want to help you and ensure you have the right advice.  If you feel that we have missed any others that are important to point out.  Then please write them in the comment section below.  I'd love to hear what you have to say.
#1 Not Doing Proper Keyword Research
If you haven't a sound keyword research strategy, you have a huge problem…  You will not get seen on search engines without targeting the right keywords.
Search engines exist because of content.  Anytime that we type a search into Google or ask Alexa a question.  The answer comes from the content.
By doing proper keyword research, you can help search engines understand what your content is all about. So proper keyword research is important…
Think about anything that you've recently typed into Google or the keyword you typed into a search engine to see this post.  That would have been a keyword that would have helped the search engines find relevant content related to helping you.
Keyword Research helps you understand what people are searching for and how many people are searching for that keyword.  But it can also highlight how competitive those keywords are.
If you're new or struggling with getting noticed by the search engines, then continuing to target competitive keywords or irrelevant keywords will not help your cause.
If you take a look at the screenshot below, you will see results from a keyword research tool called Jaaxy (I one I use). It gives you lots of information you can use for your keyword research and content creation plans.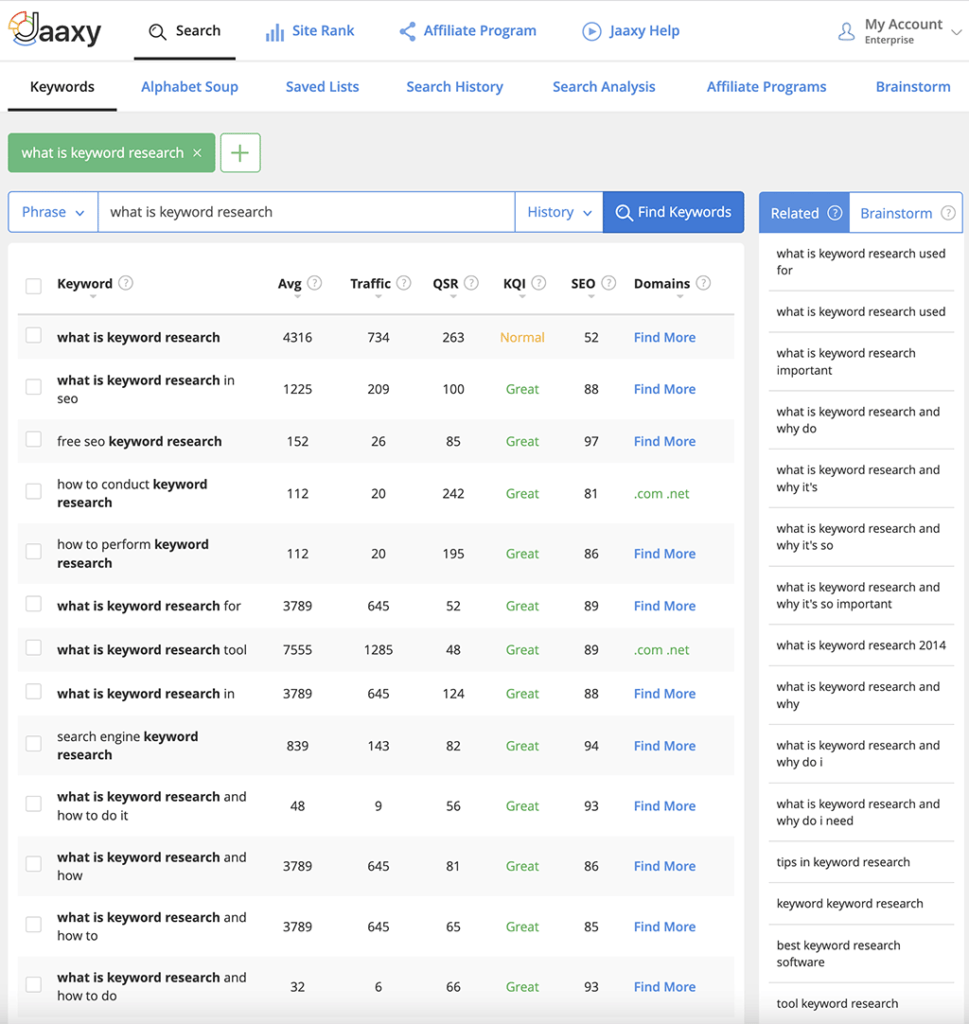 So, in the screenshot you can see the results of what are the most common results that the search engines produce when some types in "What is Keyword Research"
There are then some bits of information you can use to see which is the best keyword to target with your piece of content.
It would be easy to assume that the main keyword would be to good to go with.  It has an average of over 4,000 people regularly typing that into Google every month.
If you were at position one in the SERPS (Search Engine Results), you would typically get over 700 clicks a month.
So, why not target that keyword…
It's not as easy as that…  And that is why the other metrics are just as important.  You see the QSR score tells you how many other content creators, you are competing against.
For that specific keyword, you would be up against 263 other blogs/websites.
Now that doesn't mean you haven't got a chance.  But if your content is not SEO optimised for the right keyword.  Then it doesn't matter whether it's the most competitive or there is no competition at all.  
You will not appear in the SERPS.  
But done correctly, you could end up with 100 keywords.  This could relate to 100 optimised blog posts.  That is 100 chances to rank in the search engines…
Why Is Keyword Research Important?
Keyword Research is essential to your content creation plan.   It is the initial phase before you decide what your content plans are going to be about.
You will need to pick a relevant search term related to your niche or target audience.  You will then need to do some keyword research to determine a good keyword on which to base your article or blog post on.
Then you will need to ensure you optimise that article to fit that keyword.
Remember, search engines want to produce the best piece of content that answers specifically the question or solves the problem that was the basis for the search in the first place.
If I want to find out "How to bake a cake", I want a guide or video that will help me bake a cake.  What I don't want to do is scroll through the results to find what I want.
But the other side to keyword research is to ensure that the content idea you have is worthwhile too…  You might have a great idea for a blog post.  But when you do the research, you find no one is searching for that term.
Then it isn't worthwhile investing the time into it.
When it comes to keyword research, it's all about relevancy.  That includes the content you create for that keyword.
If the search engines don't think it's relevant or that your content matches your keyword, then it will not show up in the search results.
What Are The Consequences of Not Doing Keyword Research?
Imagine writing hundreds of blog posts or articles without a proper keyword research strategy… 
The hours (or days) that it would take to create that content.
Only to find that no one is visiting your website…
That is the consequence of not doing proper keyword research.  You need to know that you are investing your time wisely.
Keyword Research allows you to decide on which keyword to target.  If you're new, you can then go with keywords that are lower competition (low-hanging fruit).
Once you become more established, you can then start going with the more competitive keywords.
But you need to know what is the ideal keyword to go with.  As it will be the basis for optimising your article or blog posts to ensure that the person who types in that keyword and then clicks on your site will get the answers they are looking for.
Don't do keyword research, then you are only relying on blind luck for them to find you…
#2 Ignoring On-Page Optimisation
Having the right keyword to get started with is important.  But if you don't optimise your website and the article or blog post you are writing, then it's another common mistake that can hurt your SEO.
That is why you need to understand what on-page optimisation is and how to ensure your blog posts are right before you publish them.
what is on-page optimisation and why it's important
First, you need to know that there are several things you want to ensure you do and then there are others you don't want to do…  There will be plenty of SEO tips, but that doesn't mean they all will benefit your rankings.
Some of the techniques you will find are called Black-Hat SEO.  These are things that might have worked in the past, but can now actually mean you will get a lower ranking in the search results.  Or get blocked together…
So, you must follow the advice we lay out below as we want to help you, not hinder you.
On-page SEO optimisation refers to the things you do on your blog post or website to help the search engines find your content.  When you see off-page SEO optimisation, it means the stuff you do not do on your website.
A perfect example would be sharing your content on social media.  It helps your SEO but isn't completed on your website.
There are several things you want to ensure you have "optimised" your blog post.  This can help Google or the other search engines understand your content and ensure they can find it and then decide where it ranks in the results.
It's important, as it is a factor in whether they decide to rank you or not.
How Do I Ensure My Blog Post On-Page Optimisation is Right?
I tend to work to a list of 8 elements to on-page SEO optimisation.  I include it in my SEO for Bloggers guide.  
But these are essential if you want to ensure you are SEO-ready when you hit the publish button.  
Here's my 8 steps… The first of which you have already done…
Effective Keyword Research for the Blog Post
Understand Your Target Audience (Relevancy)
Post Title, Headings, Right Place for Keyword
Optimise your URL
Add Visuals to your content – Optimise the Alt Tag
Have the Right Internal Linking Strategy
Ensure your Blog is Mobile-Friendly
Encourage Engagement
I try to keep things simple and that is why I stick to this checklist when deciding if my blog posts are ready to go out…
But let's give you some notes on each of those to make sure you understand the importance of these steps…
Effective Keyword Research for the Blog Post
I'm not going to go on too much about this one, as we've just covered it.  But if you are not creating content with a specific keyword in mind, how are you going to ensure it is optimised for SEO?
Truely understand the intent behind someone typing in that keyword and then ensure you are creating content that is better than anything else that is there for that keyword.
Understand your Target Audience (Relevancy)
A ranking factor within the search engines is whether someone who clicks on your blog post sticks around to read it.  If you are missing the point behind why someone is searching for that keyword, they are going to leave quite quickly.
Whilst it isn't technical on-page SEO.  It is just as important to remember you aren't just writing for the search engines.
When we search for something on Google, we are looking for the best result to answer our question or solve a problem.
Your job is to convince Google you can do that.  But the person that will read it will be the ultimate decider on whether it's right or not.
You don't just want to rank at the top… You want to stay ranked at the top…
Post Title, Headings, Right Place for Keyword
In the early days of search engines, you could place your keyword everywhere on a blog post and it would rank well…
Now, it is considered bad practice to put your keyword all over the place.  It is referred to as "Keyword Stuffing".
There is a need to put your keyword into the right places, so Google can know what your article is about.  But you need to be strategic.  I suggest you put it in the following places…
In the Title
In the URL
In the Meta Description
Throughout your Sub Headings (Not all of them)
As an Alt Tag in certain images
Within the first paragraph (make it natural)
Place it in your conclusion (again, make it natural)
Just remember you are writing for humans.  Your Post title needs to include the keyword but in a way that gets someone to click it.
Just in case you're brand new…  The URL is what will appear in the search bar at the top…  You will notice that my post title is…
"10 Common SEO Mistakes That Can Hurt Your Website's Ranking"
But the keyword I am targeting is…
"Common SEO Mistakes"
So when you look at my URL at the top, you can see the URL for this blog post is…
https://smartpassiveincomesuccess.com/common-seo-mistakes
If I just went with that in the title, nobody would understand the intention behind my blog post.  If I just list them or offer advice?  
Keep that in mind when you are doing your on-page optimisation.
The meta description refers to the short text that would appear in the search results.
Include your keyword naturally there to enhance your SEO.
You are best to break up your content through sub-headings.  Usually H2 or H3 tags.  As your post title is usually an H1 tag.  That is why you want to include your keyword in your post title, as the H1 tag is telling Google what your post is about.
But remember to include your keyword in a sub-heading too.
Don't go mad and include it everywhere. 
Including images within your content is not only help to explain something.  But it helps engage the audience.  Nobody wants to just see a wall of text.
But how would the search engines know what the images are describing or about?  I mean, they are getting better and better at it.  But including an Alt Tag is important to help describe what the image is.
If it is relevant to your keyword, include it in your alt tag.
This also has the added benefit of being an opportunity for you to get ranked in the image search in the search results.
Then there is your content itself.  You want to include your keyword in the first paragraph.  Remember that this is your opportunity to keep the reader on your blog post.  You have about 3 seconds to do this, which is why your first paragraph needs to be relevant and engaging, and ideally, include your keyword.
Then it would be natural to include it in the last paragraph.
As for the rest of the content… Only when relevant.  People are scrollers, so there will be natural points where you can include the keyword.  Like I did for the examples I used before.
But if you use it too many times, it might get considered too much.
Write naturally.   Remember to think about the intent behind the blog post and keeping it relevant to your readers and you will be fine.
If you missed it in the last section, don't worry.  But you want to ensure you optimise your URL around your chosen keyword.
Depending on your website settings, you can end up with a variety of ways of cataloguing your blog posts.  But if you have it set up for a date, then how does your URL tell the search engines what your article is about?
I've seen examples such as https://example.com/2023/post347e7a349f6
It serves a purpose but doesn't help your on-page SEO.  As I said before, this blog post's URL is…
https://smartpassiveincomesuccess.com/common-seo-mistakes
and is relevant to the keyword I am targeting.  
Just by looking at the URL, someone should be able to determine what your blog post is about.
If you want to ensure your URL's are proper in WordPress, you can log into your WordPress dashboard, and click on Settings >> Permalinks.  Then ensure that "Post Name" is selected, as per the screenshot below: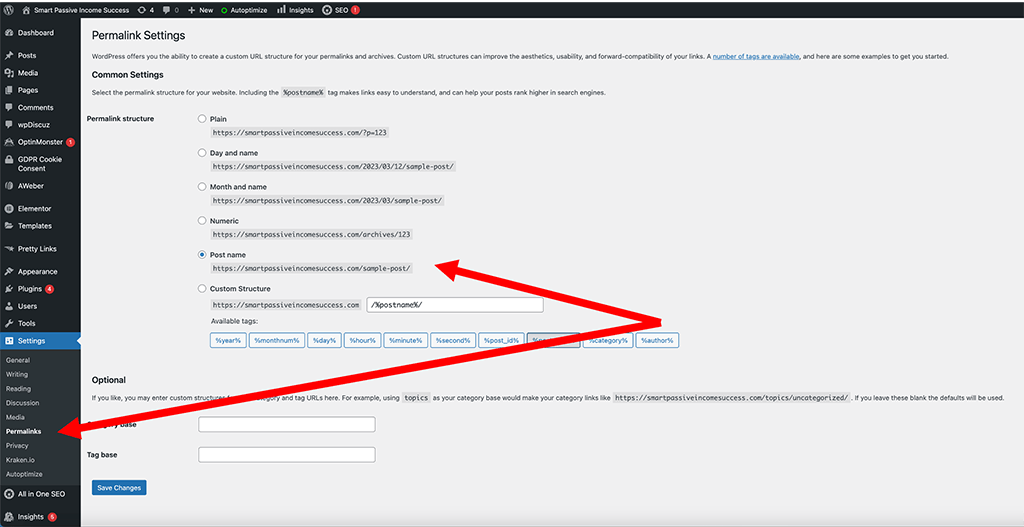 Within your WordPress blog post editor, you can manually edit the blog post URL.  It will usually default to your Post Title if you have changed the settings above.  But if you click on it, you can then type what you want and then save it.
See the screenshot below…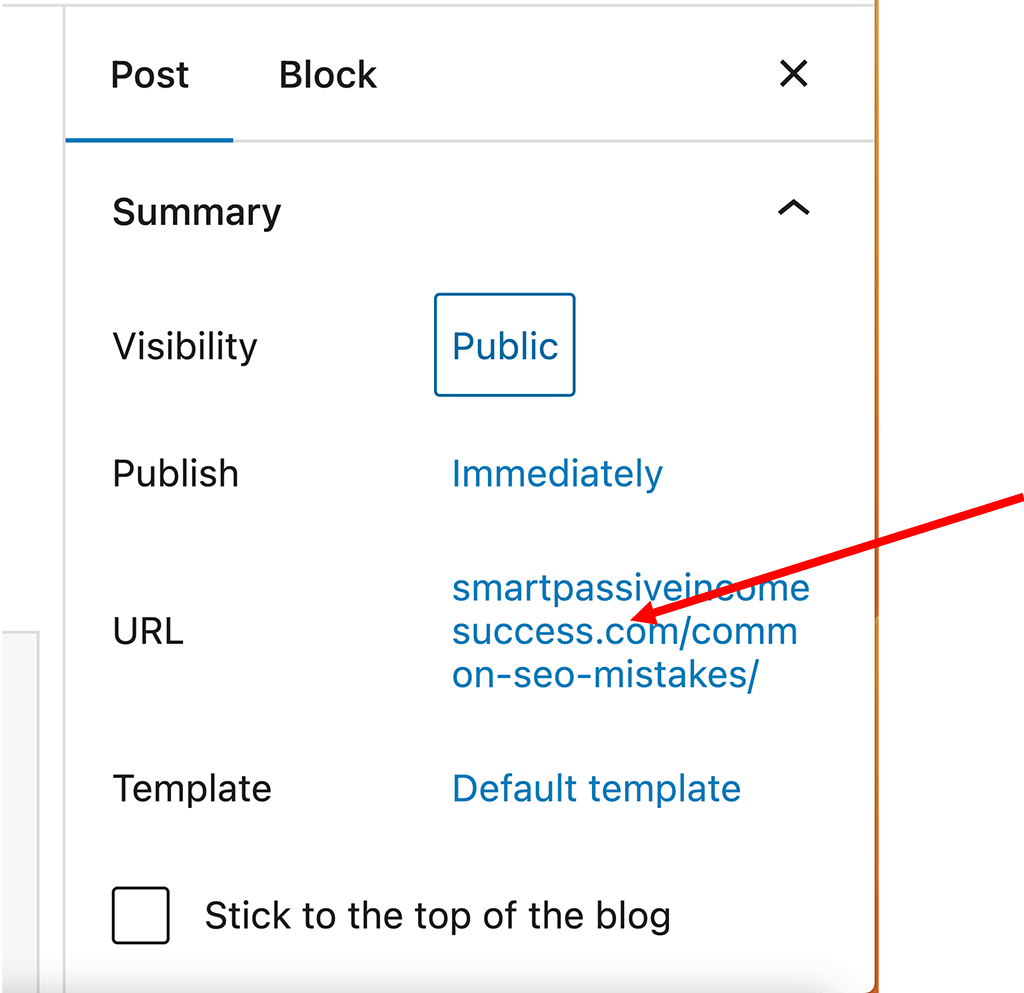 It helps avoid another common SEO mistake and helps the search engines know exactly what your blog post is going to be about.  
This will help them as they evaluate the remainder of your blog post against the criteria.
Add Visual Elements to Your Post - Remember the Alt Tag
Adding images and visual elements like infographics, etc. are great for helping put your point across.  Helping the reader to understand the pros and cons to something.  Or whatever reason you might need to add an image.
Visuals are important to the engagement of your reader.  But it can also help you with your SEO.  This requires you to add an alt tag to the image.
It's a little different to a description, as you can edit both.  But the alt-tag is the description you are giving to the search engines.  It will also appear if someone has their settings done in a way that images will not automatically show.
But if you think about the images you might have on your phone.  I bet the file name isn't going to tell you what it's about.
In some instances, you just see a long file name or even a date that you took it.
So, I actually tend to edit an image file name before I import it for use on my website.  I then ensure the alt tag tells the reader and Google what the image is about.  It is also useful to include your keyword into it.
Below is an example of where you type in the alt tag and description from the image screen in WordPress.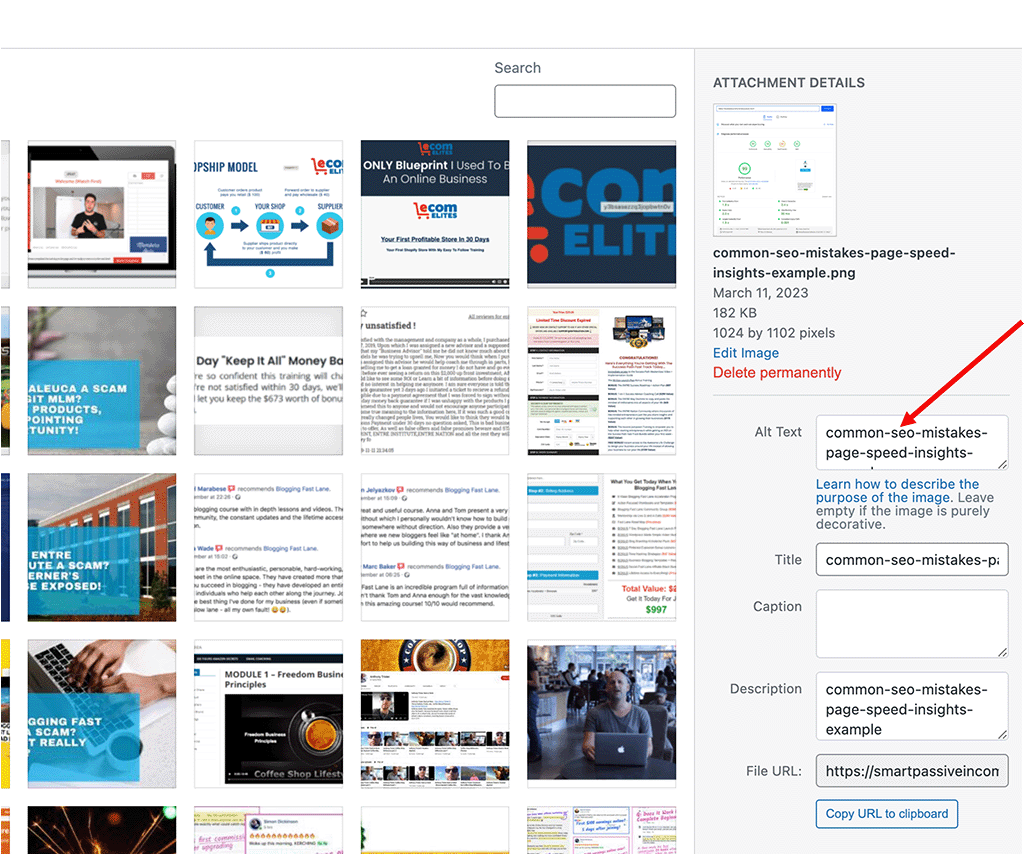 Think about the screenshot above.  It helps shows where to type in your alt tag and description in WordPress for an image.
But if the alt tag was the file name only (I took a screenshot on Mac and it gave it a long numbers-based filename), would it help the search engines understand what is shown in the image?
Nope…
So, remember to optimise your image alt tags and ideally include your keyword in an image within your blog post.
I tend to include it in the featured image.  But there will be other opportunities too.
Another element you need to think about with your images is to ensure they are optimised in another way.
Page speed is another important factor for SEO.  So, if you are trying to use loads of High-Quality images that are big filesizes, then you will need to do something about them.
As most people are reading blog posts on their phones.  There is no need to have a 2MB size picture, which is big enough for a canvas.
Keep the file size down and then you will be good to share it on your blog post.
The Right Linking Strategy
There is a need to build the right linking strategy within your website.  As you build up your content catalogue, this will become easier as you will have more content to link to.
But just remember to include some internal links.  You will also need an external link too.
Internal links is where you link one blog post to another, or even several.    It needs to be relevant, but if it makes sense to link two blog posts, please do.
Think of it as a spiders web…  They have a web of silk that cross over each other.  Your website needs to do the same.
As for external links, don't be put off by that.  Yes, it does mean that you are encouraging someone to go off of your website.
But it can really have a boost on your rankings.  It shows that you are willing to help that reader get more detailed knowledge by sending them to an authority website elsewhere.
The search engines would see favourably on this.  Don't just share to anywhere.  Use an authority site like WikiPedia.  Or any of the sites with .edu
Optimising for Mobile Devices
Most bloggers are creating content on their laptops.  It makes sense, it's an ideal place to write tons of content.  However, it can also make you forget about what it looks like to the majority of people who are reading it on their phones.
If your website design isn't mobile-friendly, then it won't matter how SEO-optimised it is.
Have you checked out what your website looks like on a mobile device?  
If it doesn't look right, or the writing is too small to read.
Then you have a problem you need to fix.
WordPress is mobile-friendly.  But some themes aren't.  Make sure you are ensuring your blog posts are fit for mobile.
This is especially important as Google has moved over to focusing on its mobile search.  So, if your design doesn't fit onto a small screen well.
Your rankings will take a hit.
I use Elementor for my site design and it has a Responsive Mode.  This means that before I publish, I can see what it would look like on a mobile site and I can tweak it.
An example would be…
My featured image shows on a laptop screen but is switched off on a mobile site.   This helps with the speed elements and doesn't make the blog post look too cluttered when someone clicks on it from a mobile device.
When you click on Google Search Console, you can see how your website fairs as regards mobile-friendly.  They will also give you suggestions on what you can do to improve it too.
Naturally within your content
Then there is your content.  Including your keyword within the first paragraph is a good way of ensuring your readers are on the right page.  But it also reinforces your intention to the search engines.
It might also be useful to include your keyword in your conclusion at the bottom of your blog post.
Including it naturally within your post is fine.  Just don't go too mad and include it everywhere.  That would end up being seen as keyword stuffing.
On-Page optimisation needs to be part of your plan for when you are creating content.  You will spend a lot of time creating content, so you want to ensure the search engines see the value in it.
When they see that your content is great and optimised in a way that tells them what it's about and how it can offer help or value.  Then you will be seen as favourable by the search engines.
It takes time to build up trust with the search engines and the readers who click on your content.  But if you don't do the optimisation, you won't see either party.
#3 Content Quality - Focusing on Quantity over Quality
This follows from the last point.  Another common SEO mistake is focusing on the quantity of content and not the quality of it.
When you get started, there is an understanding that you need to build trust with Google, so they start ranking your content well.  Then you will read that someone has said you should be blogging daily.
So, you start blogging daily…
I do get it…  But there is a huge difference between blogging high-quality content every day to blogging something every day.
When you factor in the research you need to take, break down what you want to cover and how then write it.
Then there is the review and editing process, and finally ensuring it is optimised.
Hey, if you can do that and produce content every day like that.  Then please do.
But only if you think it is going to be the best version of the content to share.
If you can confidently say it is the right article that helps the target audience solve a problem or answer a question.  Without them having to carry on their search after your blog post.  Then you know your content is ready to be published.
But when I started, I was doing it alongside a full-time job.  So, I might research one evening.  Writing it another.  Then review it another time.
And I look back at some of my early writing and say…  Yeh, I'm not happy with it.  But the hind side is a brilliant thing.
But all I'll say is to take your time with your writing.  I've spent 3 hours on this one and it's nowhere near ready to publish at this point…  It's got to be right.
Google is looking for the best answers or solutions to the keywords people type into their search.  If your blog posts are short and sweet, then they will not be good enough for them and their readers.
Ideally, your content wants to be above the 1,000-word mark.  But that needs to be quality content and relevant to the keyword you are aiming for…
Here's a guide I wrote about How to Write a Perfect Blog Post.  It gives you a good idea of what you want to ensure is within your blog post before you hit that publish button.  Hopefully, you will get a good feel of why quality is more important than quality.
40 High-Quality Blog Posts are going to benefit your search engine rankings over 400 ok blog posts…
This will show in another key metric Google will use.  Your bounce rate and engagement scores.  
Ever clicked on a link to a post that you thought was going to help you answer a question… and then you clicked the back button as it wasn't any good?
That is what we are trying to avoid with your content.  If someone clicks on your site but backpedals quickly, it tells you your content didn't hit the mark.  Or it didn't engage the reader quickly enough to get them to continue to scroll.
Your opening paragraph needs to hook them in…  and then as your content expands, it needs to get them to continue and want more from you.
So, it is much more than just words…  Be yourself and make it personable.  Have you created a target persona?  The ideal person who is going to find your content useful?  Is it written for them?  Or are you too general?
These are all factors in considering whether the quality of your content is good enough or not.
I personally write my content and then leave it for a day or two.  Then I go back and re-read it and think about the intent behind the keyword and my target audience/persona.
Are they going to find it useful?  Are they going to be left with unanswered questions?
That will decide whether I need to tweak or publish.  Sometimes it leads me to create an additional blog post that deep-dives one of the elements which would help me with my linking strategy…  Speaking of which…
#4 Neglecting Link Building
If you aren't building up a web of links within your website, then you are missing a key ingredient for your SEO.
Both internal and external links are useful for this.  But not just any link.
It needs to be relevant.  In the text links, it helps to also tell the reader what they will get when they click on the link.
An example would be the one I just did…  If I just wrote "click here" to find some useful information.  Does that encourage people to click it?  Or I describe what the link is about and what information it offers.  They are more likely to trust the link and consider clicking it.
So, as you are building up your content ideas.  You will know which ones are relevant to others.  That is your opportunity to naturally include links to other blog posts on your website.
You want at least one internal link on your blog post.  To start with, it might be to your about page. 
As for the external link, don't be afraid to use them…  Too many people are put off by the idea of suggesting someone go elsewhere.  But it can help with your SEO. 
It might be a link to Wikipedia as a knowledge share.  Or, to an authority website within your niche.  You ideally want to include one within your blog post.
If it's relevant and helps build the knowledge of the reader, then it's a benefit.  You can also benefit from the link back.
It allows you to reach out to the authority site and state that you linked to them…  Would they consider linking back to you?
If the quality of the content is right and it's relevant to their target audience, they might do it.  This can also have a helping hand in your SEO.
But the mistake is that people don't do effective internal linking and they don't link to external links.   This is a big mistake when it comes to your SEO strategies.
You want to build up your domain authority (DA).  You will only do this with a proper linking strategy.
I would suggest you check out the video below.  It's from Ahrefs, who knows a thing or two about SEO…  They are experts, right, so definitely know the benefit of a proper linking strategy.  The video below will give you a solid grounding on link building…
#5 Not Optimising for Mobile Devices
More than half of the searches done online are from a mobile device.  So, if you don't want to get ranked lower, you want to ensure you are ready for your site to be showing correctly on mobile devices.
Just because a theme is a responsive one is not enough.  Especially if you aren't checking all the elements that could affect how your site is seen on mobiles.
A prime example is using the wrong image.  An image that is a huge file size that slows down your site could be enough to rank you lower.
It's one of the reasons why I use the Elementor Pro page builder as it gives me the option of checking what my sites looks like on any device.
By doing that, you can switch off some elements for the mobile site and leave them on the desktop site.
Here are some elements you want to ensure are right for the mobile experience on your website:
Ensure you are using a responsive WordPress theme
Enable mobile caching
Optimise all images
Compress all images
Lazy Loading your images – this will only load images as your reader will scroll down your page.  Rather than loading everything and slowing your site down
The video below gives you a great insight into ensure your website is mobile friendly…  You want to ensure you have a truly responsive web site…
The consequences of not ensuring your site are mobile friendly is huge…  Google has made its search engine primarily looking at sites that are mobile-friendly and designed for mobile displays.  
If you're not even considering this as part of your web design, you are not going to show anywhere near the top of the search results…
Yet it is still a common SEO mistake people are making.  Hopefully, you're not making it.  Or at least you can ensure you get it right going forward.
#6 Not Doing Proper Technical SEO
This might sound really complicated, but trust me… It's nowhere near as complicated as it might sound.
There are several factors to consider with the technical SEO side.  There are a few plugins that will also make it much easier too (and they're free).  But here is what we will get into within this Technical SEO brief…
The page speed of your website
Your linking strategy (we've already touched on this one)
Ensuring you have no dead links (404 errors)
Do not use Duplicate Content
Make sure your website is secure (HTTPS)
Have an XML Sitemap
We'll give you some information about each of these.  As they can have a huge benefit if you're using them and are going to get in the way if you don't…
Aside from ensuring your content is high-quality for the search engines to want to showcase your content.  The user experience is just as important.  Having a slow website that has loads of dead end links that confuse anyone who visits your site is not going to be giving a great user experience.
So, as we go through these, you will first find out they are not that difficult to implement.  You'll also understand why it would annoy a potential reader.
Let's start off with something that annoys people the most… The loading speed of a website!
You ever clicked on a link and as it doesn't appear to be loading very quickly, decide to go elsewhere?  No think about the consequences if your site is really slow and people are clicking on your links.  
That is where metrics like bounce rate tell you there is an issue and if it isn't the quality of the content.  Then I would suggest it is down to a slow loading time.
There are numerous things that can affect the speed of a page loading quickly (or not quickly enough).  Examples include:
Your website hosting
Your images are not optimised or compressed enough
Graphical elements of your site are heavy
The site is loading too much javascript
I could go on, but you would need to investigate what is causing the issues and work on it.  Google provides fantastic tools to help you diagnose any issues with page loading, etc.  It's called Page Speed Insights.
Use it on any page on your website and get a detailed analysis of what the issues are.  They also provide you with guides on how to fix the issues.  It will default to mobile, which is what you want to factor in.
No website is perfect, but you want to get a high enough score to not affect the user experience.  
People lack patience, so if your site is taking 5-10 seconds to load…  That's an issue.  Here's what you would see.  I used my homepage as an example…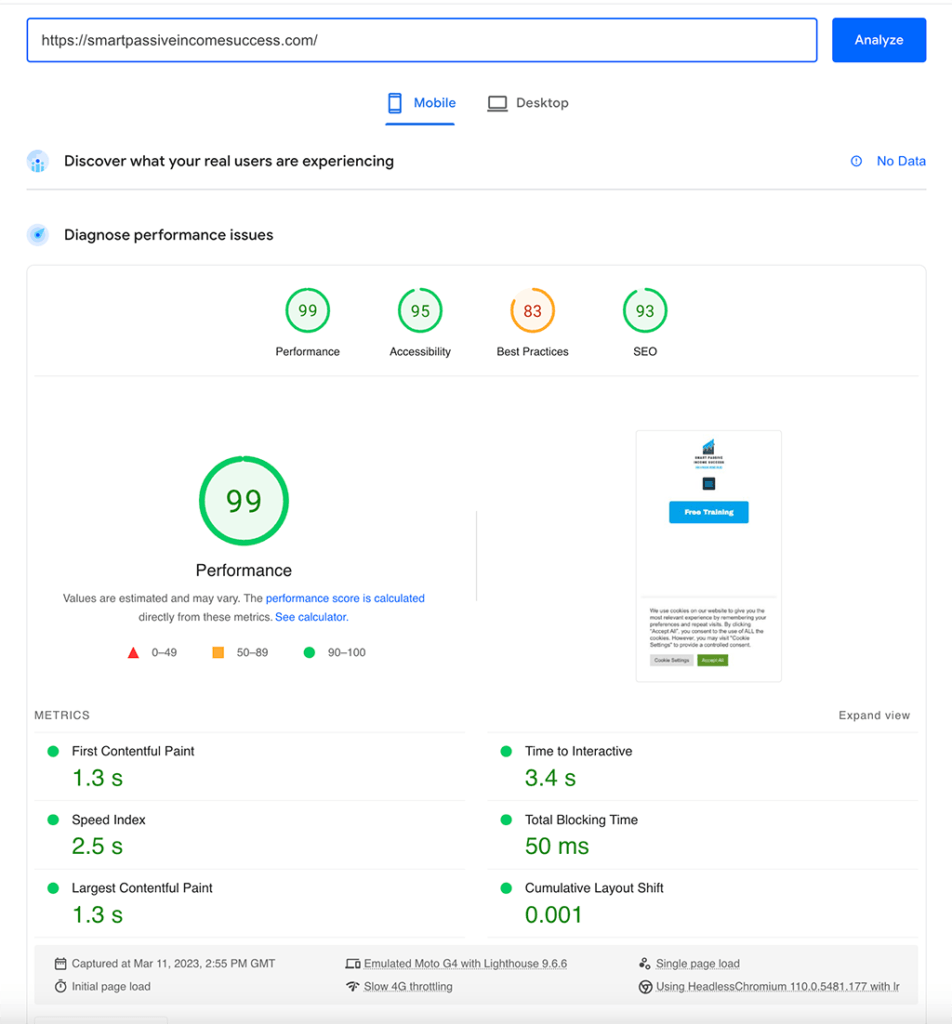 Use this tool to review your scores for individual pages or posts on your site and see how you compare.
There are many plugins you could consider for image optimisation, like TinyPNG or Kraken Image Optimiser.  Tools like these will help ensure your images are always optimised.  But always consider the starting size.  You only need it to fit on a laptop screen or a mobile phone, you don't need an image size that you could have a full-size poster created from it.
But the biggest factor you would need to consider is your web hosting.
If it's slow, to begin with, you will struggle to compete with others…
Linking Strategies and Fixing Dead Ends
We've already touched on the importance of ensuring you add internal and external links to your blog posts or articles.  But there is another thing you need to consider.  
Especially when you start getting hundreds of blog posts on your website…  And that is ensuring they all still work.
The search engines use crawl bots to follow through all the links you have on your website to understand what is on your site and how it links.
So, if you start moving articles without doing a proper redirect.  Or you are linking to external links and they have removed or closed the link.  This will affect your SEO strategy.
Regular reviews of the webmaster tools like Google Search Console can help you identify any broken links so that you can fix them.
Then there is the fact that you will, at some point, go in and edit or update a blog post.  Don't go change the URL, unless you intend to do a proper redirect.  
There should be no links on your site that end up with the dreaded 404 error screen.  As it just tells the search engines, there is an issue and the site owner hasn't resolved it.
See how the user experience is just as important as your other SEO stuff?
Don't Use Duplicate Content
I'll go into more detail in the next section, but duplicate content for the use of SEO strategy is a one-way ticket to getting low rankings.
The search engines are not interested in duplicate content, only unique and helpful content.  As they crawl your site, if they find content that has been used elsewhere, they will not rank whom they deem the duplicate content user.
With the GDPR laws coming in and other data protection laws coming in, there was a need to start being serious about how website owners use and protect the data they process of users.
As a result, the search engines started saying that secure sites will rank higher than those that aren't.
So, if your site isn't HTTPS with the little padlock, your rankings could be affected adversely.
Hosting sites like SiteRubix, hosted by Wealthy Affiliate, offer HTTPS as per standard to their members.  Others do still charge for it.
But if your site isn't secure, it is something you should be considering doing.
A sitemap is a way of you telling the search engines what is actually on your website.  There are free SEO plugins like Yoast or All-in-One SEO where they include a tool that generates you an XML sitemap.  
Then you can go into Google Search Console or Bing Webmasters and tell them the location of your sitemap (It is usually your URL with /sitemap.xml at the end).
They will then periodically crawl your website to see what's new. I've shown you an example of mine below and you can see that they crawled 166 URLS the last time they crawled…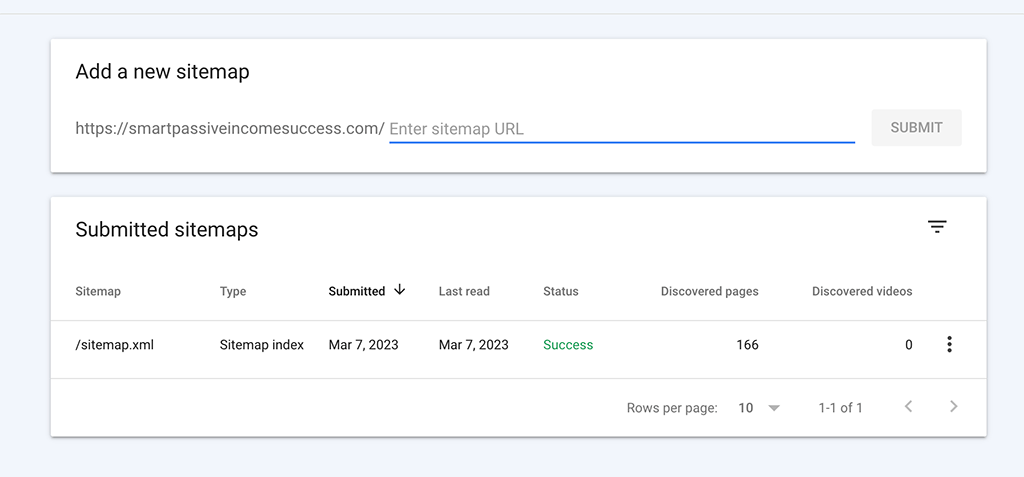 It's an important step in your SEO strategy to ensure you have submitted one to Google and one to Bing.
#7 Having Duplicate Content on you Website
Duplicate content is a major factor in whether you rank or not…  And not in a good way.  Unfortunately, it is still a common SEO mistake.  Why?
Because people are still following old strategies from so-called gurus who claim it is the easiest way to rank well and make money.
Since I've been online, duplicate content has been a big no-no.  But there are still people selling courses and guides that still claim it is a good SEO strategy.
It is not!!
It is also wrong to be using someone else's content.  You will find that if you are told that it's fine, then you know they are only interested in taking your money and not helping you.
Search engines are only interested in unique and quality content that helps their users.
I think this video is great at sharing why you should avoid duplicate content at all costs…
If you are found to have duplicate content on your website, it can take a lot for you to turn the opinions around and get the search engines to start trusting your site again.
Nobody wants to be blacklisted, right?
Keyword Stuffing is exactly how it sounds…  Trying to force your chosen keyword into every opportunity on your site.
When the internet first got going, it did work and they will admit that.
But it doesn't work any more.  If you leave this blog post with anything.  I hope it is these two words…
Intent & Relevancy
If your content gets the intent behind the person's chosen search and provides them with relevant information that helps them solve a problem or answer a question, you've done your job!!
You can't do that if you are writing your keyword in every paragraph, heading, image, and anywhere else you think you can get it in.
The search engines are looking at your entire blog post or article to decide on what keywords it ranks against.  As you will find that you might rank for different keywords you weren't expecting.  Which is great.
But keyword stuffing is a technique that belongs in the past and you would do well to avoid it entirely and focus on the person who will be reading your content.
If they will find it useful, great.  If they think it is crap, they will leave and Google will think, your content isn't worth ranking…
This video gives you a great insight into what keyword stuffing is and why it's bad for SEO…
This doesn't mean that you can't repeat yourself though.  There will be natural points where your keyword does fit in…  I've used my keyword a couple of times at the right points.
Remember, when you are blogging, you are writing as though you were talking to a friend.
There will be times when you repeat a phrase.  But you wouldn't repeat it every minute.  It's a good rule of thumb.  If my friend would get annoyed with me repeating it there, then it's too often for the blog post.
Bonus Tip - Another Consideration
I don't think this one is considered keyword stuffing.  But it can still affect your rankings, so wanted to discuss it with you.
It involves the topics of your blog posts and any possible repetitiveness within it.  What I mean is where you constantly go after the same keyword or a very similar one constantly.
If you are writing lots of content about a similar keyword, it could affect your rankings.
As it would be seen as you are talking about the same thing too often.  Exploring a topic with several similar themes is fine.  But if you are constantly writing about the same thing, it can get a bit annoying for the user too.
Just one to think about as you research your topics to write about.
#9 Not Using Analytics to Track Progress
Google and Bing give you some amazing tools to help you analyse what is working well on your site and where there are opportunities.  But too many people are making the mistake of not checking it.
Think about what we've discussed that is important.  Things like mobile-friendliness and page speed.  If you're not checking whether your site is doing what it should.  Then you can't argue when you don't get the rankings you want.
If your bounce rate is high.  This is telling you the user experience of your site is not great.  Or that the content isn't relevant to the people who are clicking on it.
All the different reports within Google Analytics and Google Search Console/Bing Webmaster Tools are there to help you improve the stuff that needs improving.
It also helps you understand what is working and that is where you need to focus more on.
If someone loves a piece of content of yours and the analytics are glowing.  Then work out why and replicate it elsewhere.
Search Console will notify you if they find any broken links or issues that you can address.  If you're not checking these reports, you are not going to know what is going on.
There are so many factors to consider when checking your analytics for SEO, so I thought it would do you better to watch a video that breaks down how you can use Google Search Console to improve your SEO.  It's from Ahrefs again and will help you understand what you should be looking for as you analyse your site's data…
#10 Not Updating Content Regularly
The last common SEO mistake on our list is not keeping your content up to date.  How often do things change and update?  If your content isn't relevant to what is happening, then your content will lose rankings.
Keeping a track of your blog posts and articles and then remembering to go back and update is a drag if I'm honest.
But you need to do it if you want to ensure your content ranks the best it can in the search engines.
When first starting you focus on creating content and then creating more content.  You need a lot of content right?  
But you will also find that your writing will improve over the years.  Your experience will too.  This will give you the advantage of when you do go back and update a post, you will have more insights to over. 
There will also be the opportunity to check the analytics to see what your post is ranking for.  You might rank better for a different keyword than the one you were targeting.  
Once you think about the intention and relevancy of the new keyword, you can start adding relevant content to a blog post that is already ranking.  With the hope that it improves its ranking.
There is also the added benefit of your readers seeing that you regularly update your content and they can see it might have been a blog post from 5 years ago, but you last edited it in January to ensure it is fit for the year you are in.
Content is one of the most important aspects of your rankings in search engines.  You can do all of the techniques in this post to help you, but if your content isn't relevant and up-to-date then you are going to struggle to convince Google to show it.
Common SEO Mistakes - Conclusion
There you go…  If you can avoid these common SEO mistakes and follow the advice I've set out.  You should be onto a good strategy for your website.
I will leave you with one last thing…  Remember the user experience.  Remember that you are writing your content for the person reading it.  I'm writing this for you.  
If you focus too much on the search engines only, people will not engage with you and your content.  It's a balancing act of ensuring search engines like it and then the person who reads it likes it and engages with you and your brand.
To be successful you need both…
Thanks for taking the time to read this, if you're still with me know that I value your time.  If you still have any questions or want to share any experiences, please write them in the comment section below.  I would love to hear what you think about this post…  If you liked it, please share it… 😉