If you're looking for the best SEO tools to help with generating some traffic to your WordPress blog, then you've come to the right place!  SEO or Search Engine Optimisation is an important step to getting your blog posts out into the wider world and getting people to read them.
But if you don't optimise your blog properly, then all of your hard work will be for nothing.  That is why you need the right SEO tools to help make the whole process of SEO much easier.
There are many different SEO tools on the market, to help you dominate the search results and get jaw-dropping traffic levels.  But that doesn't mean that all of them are the best options.  We've come up with a list of the 11 best SEO tools that will help you.  I know, it was supposed to be ten, but I couldn't drop any off the list.
In this blog post, I'll share with you some of the best SEO tools for jaw-dropping blog traffic!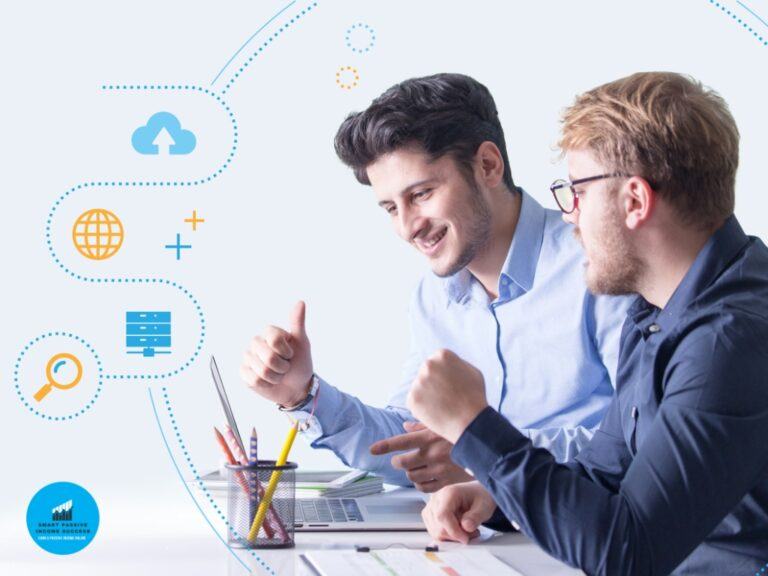 The simple answer is that SEO tools help save you loads of time.  Whether you own a small business or are starting a blog, you need to understand that anything that helps you save time is a must. 
SEO tools come in a form of different forms, but they are all beneficial to help you save time with keyword research and analysing the information you need to know how your website is performing.
By using these tools you can see what is working well for you, and what you need to work on or tweak to improve your rankings within the search results.  There are also reports you can see that tell you how you compare to your competitors too.  Other information you will need to know like where your audience is from, in-country or region, or even your language will also benefit you in your campaigns.
The benefits don't stop here either…  If you're managing multiple websites, SEO tools can help you assess the performance of each website.  Many entrepreneurs who have multiple websites end up lost with data in spreadsheets that make it harder to analyse, as it's all manual.
That is why SEO tools are essential for small business owners, bloggers, and entrepreneurs.  They make most of these tasks much simpler and save them hours of effort.  These SEO tools will generate a report at a click of a button and give you the detail you need.
As for the right SEO tool for you, it will depend on a couple of factors like budget, etc.  So, our list includes those that are free and also those that are ready for when you have a budget too.
Best SEO Tools That Are Free
Are you looking for an SEO tool on a budget?  If you're just getting started with a blog, then a free tool might be all that you need.  So, here are 5 of my favourites to help you out…
MonsterInsights is a great plugin for seeing actionable reports directly in your WordPress dashboard.    It shows you reports like traffic sources, reports, stats, and more without having to go to Google Analytics.  I personally find it easier to understand and navigate than Google Analytics, due to the tips and prompts it provides you.
MonsterInsights is easy to connect with WordPress, and there is no need to add any code.  By using this plugin, you can see which way is the best to boost your blog traffic.
The following video gives you a great insight into the MonsterInsights plugin and it also compares it to the Google Analytics dashboard you get.
Check out these key features of the MonsterInsights WordPress Google Analytics plugin:
Quick and easy setup
Real time statistics
Events, forms, ads, and file download tracking
eCommerce tracking to monitor visits on product pages
Device specific monitoring
Easy to create custom dimensions
Performance controls for Google Analytics processing limits
There is a free and paid version of MonsterInsights, with benefits for both versions.  If you're just starting with a blog and you'll be fine with the free version.  If you have an eCommerce site and want to get a more detailed analysis of who is visiting your site and why then you may want to consider upgrading to the pro version.
But what you will see on your WordPress dashboard is an insight into how many people are visiting your blog.  This blog is pretty new, but you will see something like this in your dashboard: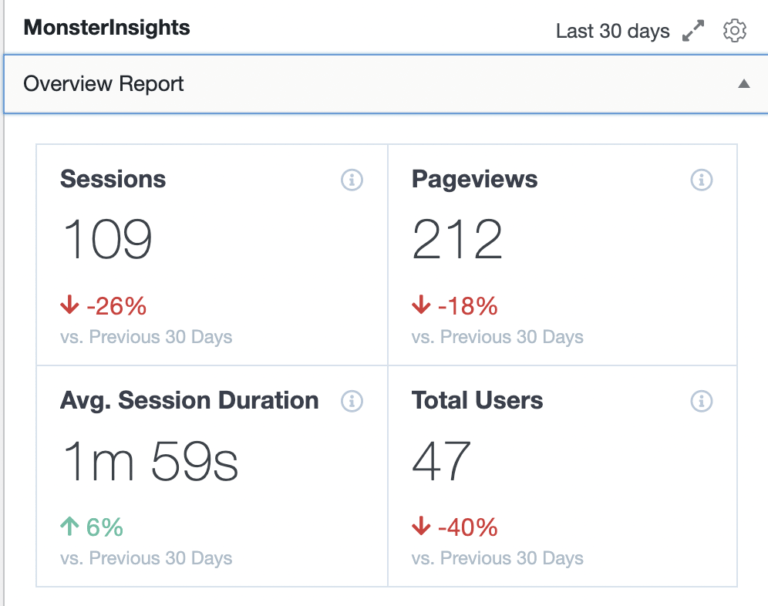 Getting started with MonsterInsights is really easy.  After you install and activate the plugin, it'll walk you through the process of connecting it to Google Analytics.  Just note that if your site is new to Google Analytics, it may take up to 24 hours to get all of the analytics data in your WordPress dashboard.
Don't sit there thinking it isn't working, it just takes to time to sync up sometimes.
Once you've linked it up to Google Analytics and the data starts flowing through.  You can then start looking at what actions you need to take.
Here are some tips on how to use MonsterInsights to boost your WordPress blog traffic…
Visit the link and button click tracking report to see which links and buttons are getting the most clicks.  You can then consider improving the look or style to increase user engagement
Look at the insights for your posts and pages to make your high ranking articles more interactive
See the search console report to find out which keywords are getting more traffic, so you can write new content with these keywords or improve your existing blog content to take your blog traffic up a level
Use the top landing pages report to see which of your landing pages are the most popular.  You can then add better content and images to attract even more users
I think that one of my favourite features about MonsterInsights is their headline analyser tool.  Getting your SEO right is all well and good.  But if you don't have a great headline to draw people to want to click it.  Then there is little point in doing SEO.
A powerful headline that draws curiosity in a reader will help explode your traffic levels.  Definitely worth a try.  You can try it here without downloading the plugin…
The AIO SEO plugin is a great tool for helping you make sure each post is optimised and ready for the search engines.
The All in One SEO (AIO SEO) plugin is the best SEO plugin to help you get a boost to your blog traffic.   If you follow the guidance they layout for you when you're writing your blog posts, then you have a great chance of giving your blog traffic a boost.
The AIO SEO plugin allows you to add a meta title, URL, and meta description for each of your blog posts or pages.  It also gives you the option to type your focus keyword into the tool, so it will let you know how your SEO is rated for that keyword.
The whole toolset they provide allows you to ensure you are writing SEO-friendly content that is also good for your readers.
The video below gives you a great insight into the power of the AIO SEO plugin, and also how easy it is to setup on your WordPress blog.
Here are some of the key features of the All in One SEO plugin…
An easy to setup installation wizard
On-page SEO optimisation
Tru-SEO score with actionable insights
Unlimited SEO keywords
Snippet preview – see how your post will look in the search results
Social Media Integration – ensure it looks how you want it to on social media when you share
Powerful XML sitemaps
Local Business SEO
The All in One SEO plugin is the ideal WordPress SEO plugin for ensuring your posts are optimised correctly for the search engines.  With the other scores also helping you ensure it is great for your readers too. 
For each blog post, you will receive a checklist for each blog post.  It'll give you recommendations on what to do, based on your focus keyword, to ensure it is right before you publish.
It will give you both a score out of 100 for your blog post based on the focus keyword and tips on how to improve.  See the example below:

By following this guidance, you can strive to get to as close to 100 as you can…  Although, my only piece of advice around that is to not spend too much time trying to get a super high score.  Your reader is more important.  If you constantly keep tweaking to get it high, you may never publish it.
But here are some tips to help you optimise your blog posts to get more traffic:
Add your focus keyword in the AIO SEO tool.  That way, it can start analysing your blog post against it.  (Not sure which keyword to target?  See this guide to keyword research)
Add an SEO title, URL, and meta description – You want your focus keyword to be included in these three fields.  Then you want to ideally place it in your content, in a natural way.
Optimise your post until your score improves.  Ideally, you want to be aiming for at least 80 in your scores.
If you want reliable data on where your content is ranking, then you need Google Search Console.
Google Search Console is one of the best SEO tools to help improve your performance within Google's search.  The reports will help you see insights and reports to measure your blog's performance, traffic, and other stats.
It also helps you fix some of the basic issues that your blog may have and enhance the search results.
This great video will help you understand the power of Google Search Console.  It'll also help you with how to give your blog traffic a huge boost.
Here are some of the great features of Google Search Console:
URL inspection tool to see crawl information
sends alerts on issues that are affecting your blog traffic
the ability to submit a sitemap and individual URLs for crawling
Optimise your content based on search analytics
Monitor, test, and track your pages
Find keywords you are ranking for, and then create content to focus on it
Ubersuggest is a great keyword tool that is free to use.  Brought to you by Neil Patel, an expert in internet marketing.  It's a great tool to help understand your niche and keywords to create content on.
My personal favourite tool is competition analysis.  You can see what your competitor's authority is like and how they rate their SEO.
Here is Neil introducing Ubersuggest and how it can benefit you by boosting your blog traffic…
Here's some of the key features of Ubersuggest:
It uses location-based data which is very easy for SEO to search accordingly.
It provides you fast results and simplified metrics.
Delivers you quite useful insights on top of the basic information as it uses Google suggest.
It runs very fast and generates new keywords ideas for your site.
It is a very user-friendly tool which after a quick test gives you nice value without too much effort.
Data on each keyword also includes charts and stats.
Siteliner is a great little SEO tool that helps you find any duplicate content on your website.  Google can penalise your website if you have duplicate content, so this is helpful to understand if your blog has any on it.
There are also some other bits that make Siteliner a great SEO tool, like if you have any:
broken links
average page size and speed
number of internal links per page
etc.
This is a tool that I found whilst doing research for this blog post and I have to say, it's definitely one I'll be using going forward.  Broken links are a huge problem for your SEO strategies, so Siteliner is worth it just for that.  Let alone the benefits of looking for duplicate content.  
If you think about it.  You're aiming to become an authority, so it can be a great way of understanding if others are raiding your blog for content.  That way you can spot it quickly as it might harm your rankings.  Even though you're not doing it.
Best SEO Tools for Rankings
If you are wanting a tool that helps you come up with topics and ideas that people are searching for within Google, then you need an SEO tool like these.  By knowing which topics are popular, and then which keywords are getting more searches, you can look to rank higher in Google.
Jaaxy is an all-in-one Niche and Keyword research tool.  It is the tool we use every time we have a blog post to create.  
When deciding on whether to use a keyword or not, you need to understand how many searches the term gets each month.  You then need to know how many other blogs are competing for the same keyword.  This is the information that a tool like Jaaxy gives you.
It also has several other benefits like being able to keep track of your rankings for certain keyword terms.    The alphabet soup tool also gives you tons of ideas for you to create content, quickly.
You can see a full walkthrough of Jaaxy in the video below…
Jaaxy provides you with great insights that will help you pick low competition keywords that get high levels of traffic.  Creating great content that ranks well for low competition keywords is the key to giving your traffic levels a boost.
Here are the key benefits of Jaaxy…
Alphabet Soup Technique – quick and easy way of getting Google instant results
Provides valuable information about keywords
SiteRank allows you to keep track of your posts that are ranking well, to ensure you see if it dips to check out the blog post to keep ranking at the top
Check out the competition for your niche and keywords on one dashboard
Get suggestions of similar keyword terms to boost your rankings
Want to know what the most popular topics are within your niche?
BuzzSumo is a content analysing tool.  You can use it to analyse your blog posts and it will also keep an eye on your competitors rankings.
It helps you find key influencers to help promote your content.  You can visit their website and type in a topic or a domain name of your competitor to see a complete report.  The tool can also be used to create actionable headlines for your blog posts.
BuzzSumo considers the number of social shares as the criteria for popular blog posts or articles.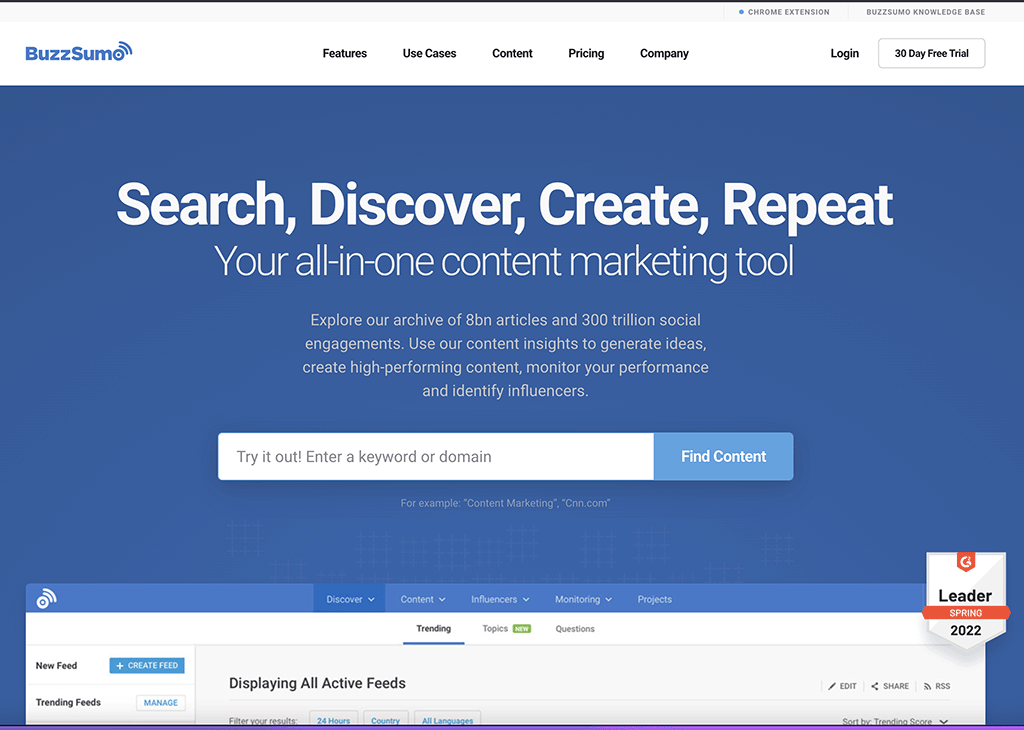 Check out the important features of BuzzSumo – A content analysis tool
Alerts for keywords related to your blog

Trending content ideas to stay in the competition

Robust solutions for content discovery and curation

Helps in content research and planning

Brand monitoring and competitor research
If you want to know what your audience is searching for on Google?  Then this is the tool for you…
Answer the Public is a clever tool for finding out the questions that people are searching for on Google and Bing.  By understanding what questions people are asking in your niche, you can then create content that answers those questions.
By creating great blog posts that answer these questions thoroughly, will often result in high rankings and bring you loads of traffic.  It's a great tool for brainstorming ideas for future blog posts.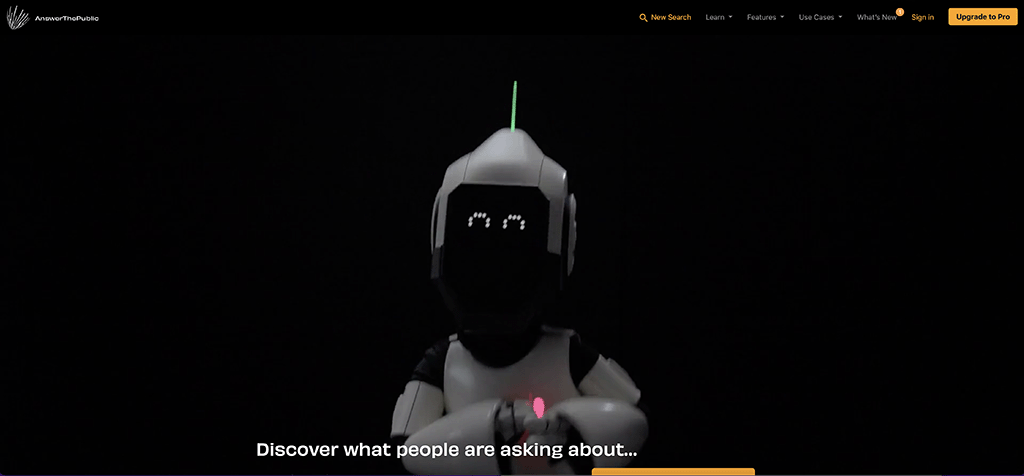 Here are the key elements of Answer the Public…
An aggregated view of questions

Content ideas based on keywords you type in

Simple visualisation of the data

Questions displayed are related to your blog niche
Best SEO Tools for Auditing
Need to keep a track of your rankings over a period of time and do in-depth analysis of your site's optimisation?  Then you might need to invest in one of these powerful SEO audit tools…
SEMrush is a popular SEO auditing tool.  It also provides you with the ability to do keyword research and also provides you information on your online visibility.
It includes eCommerce and enterprise solutions to enhance your marketing strategies and grow your business.
There are many features that make SEMrush a solid choice, but understand it is a paid platform and you will require the budget to use it…  But it provides you tools that will help you find the best keywords to grow your traffic.  All-in-one traffic analytics to monitor your competition.  It can also help you discover new markets, understand user behaviour, and research new opportunities.
I found this great video that takes you through how SEMrush works and what it offers you…
Here are some of the important features you get with SEMrush:
A complete SEO audit of your WordPress blog

Suggests ideas to increase organic traffic

Backlinks audit and analytics

Content optimisation for search engines

Post scheduler for social networks

Built-in image editor and URL shortener for social channels

Improves your PPC results
Depending on your budget, would determine whether SEMrush is right for you at this point.  It's $119/month but does provide some solid options.  Having said that, if you're on more of a budget, you can get the majority of these features with Jaaxy, which we talked about earlier.  The bonus is that it is only $49/month to get the same features too.
Looking for a powerful tool to help you track and optimise your rankings?
Ahrefs is another solid option for bloggers looking to grow their traffic.  It offers SEO tools and resources aimed at exploding your traffic.  
They have tools like site explorer, keywords explorer, content explorer, blog auditor, SEO toolbar, etc.
Ahrefs gives you the ability to research your competitors.  You can know what their traffic sources are, so you can work on outranking them.  It can also monitor your business niche to find new opportunities for content creation ideas to help bring more traffic to your blog.
Here's a video that will show you around Ahrefs and what it has to offer…
Here's what is on offer at Ahrefs:
Analyse competitors' search traffic

Identify keywords on which your competitors' rank

Find websites that send the most traffic to your competitors' blog

Suggests keyword ideas

Powerful backlink checker tool

Advanced backlink reports for any blog

Sends email notifications on competitors' activities
Ahrefs is another great option and depending on your budget is something that you will need to consider.  The basic plan starts at $99/month but it does give you some solid information to help grow your traffic.
Want an all-in-one tool for managing your SEO?
Moz Pro is a great SEO software tool.  It'll help you increase your blog traffic, search engine rankings, and visibility within the search results.  
They also have an online learning centre that offers you information on the best SEO practices based on the current guidelines.
The 5-minute video below shows you how to use Moz Pro to get the most out of your SEO campaigns…
A list of the top features that Moz Pro offers you:
Complete blog audits to uncover SEO issues

Recommends improvements and fixes

Track ranking of traffic driving keywords

Powerful backlink analysis

Shows metrics to any site, anchor text, and domain authority

Keywords and competitor research
Moz Pro is a paid platform, which will set you back $99/month but it does offer a free trial.
A bonus tip to add to the list is around using incognito mode (if you're using chrome) or private browsing, etc.  This will give you a clean view of what your readers will be seeing when they are searching on Google.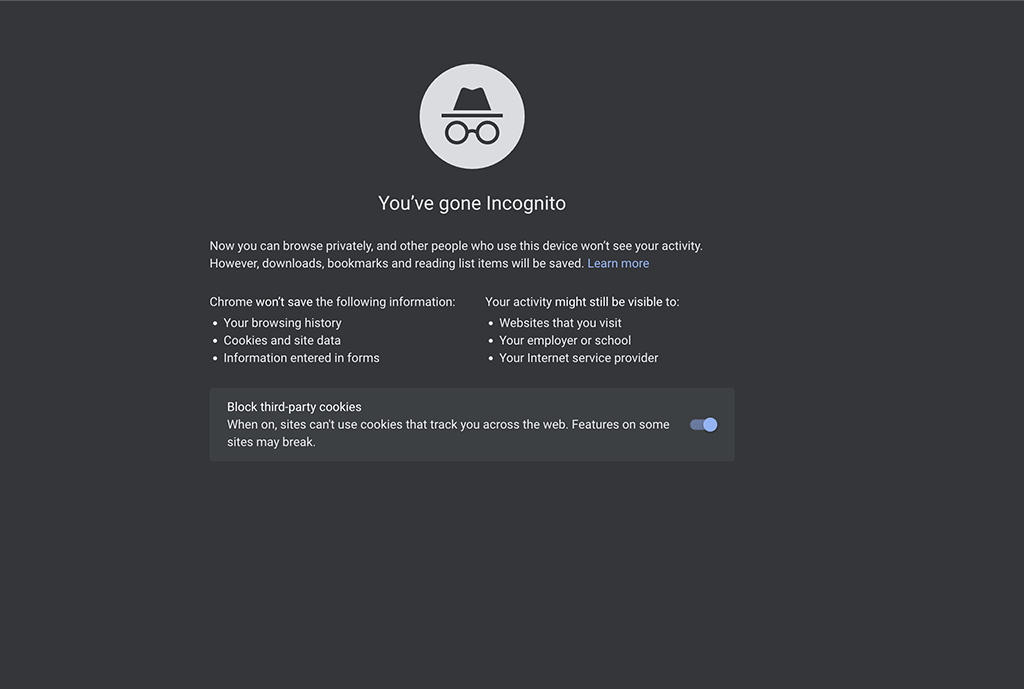 Google personalises the experience when you're using search.  So, it will know what you're searching for and could give you results specific to you.  But that doesn't necessarily help when you're a blogger trying to get a fresh perspective.
Google searches will give you unbiased, 'clean' searches to understand what your user sees and the results they get when searching for keywords. Using the autofill options will give you suggestions of semantic keywords to use.
What's so great about it is that it's easy to do and also free.
Best SEO Tools Conclusion
There you have it, the top 10 best SEO tools for getting jaw-dropping blog traffic to your site.
I definitely use all of the free ones I've mentioned on the list.  As for the paid ones, you need to further research and find which one is the best for you.  I personally use Jaaxy for all of my keyword research and niche research but can see the benefits from some of the more advanced tools like SEMrush, Ahrefs, or Moz Pro. 
But if you're just starting out or not getting much traffic at the moment, then you might not have the budget for it and I would recommend you take a closer look at Jaaxy…
I hope you found this blog post useful, and I would love to hear your thoughts about the SEO tools you currently use.  You may also want to check out our guide on how to start a blog and make money, SEO tips for bloggers, or my ultimate blog post checklist…