According to a 2020 survey, 91% of 18-34-year-olds trust online reviews as much as personal recommendations.  So, our product review template for affiliate marketers is going to help you ensure your product reviews are ideally placed to increase your conversion rates.
These insights will show you proven techniques that will help you, whether your an affiliate marketer, editorial reviewer, or just writing a sales page for your own product.
We'll also show you real-world product review examples from affiliate sites and top publishers where you can see how effective these techniques are.
By the end of this guide, you'll understand how to improve the conversion rate of your product reviews…
What to Include in A Product Review Template
Here's an outline of our product review template, which will work for products on Amazon or any other merchant.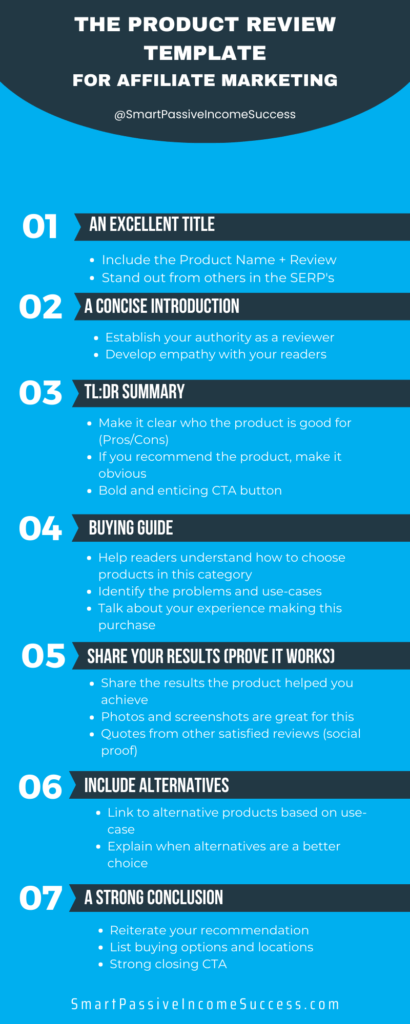 You'll be surprised at how simple the copywriting, design, and images can be in a really good product review that will reliably convert.  We'll also cover each aspect off step by step…  Let's get started, shall we?
Turn Your Passion into Profits
Want Help Getting Started? Sign Up For Our 7-Day Online Passive Income Bootcamp & Learn The Skills You Need!
#1 Craft a Title For Your Review That Stands Out
It can be easy of falling into the trap of focusing too much on your target keyword when creating your title and forgetting that you need to get people to click on your product review out of all of the other results that will be on the net.
If you're targeting competitive buyer intent keywords with your product review, you want to ensure you have a title that helps you rank in Google and that also helps you resonate with your target audience.
That might mean that the best thing to do is not always write your title first.  It might be something you work on later down the road.  I always find that writing your introduction last can sometimes help too.  Once you've written most of your review, you know what your actual opinion is, so can write a better introduction and post a title to get people interested and want to click…
But regarding the post title, how are you going to encourage people to click on your site?  Well, there are lots of ways you can do this…
There are techniques like resorting to ALL CAPS, or including the current year (2022) in every single title.  But the most effective technique for a product review title is to combine both of these methods with something that sparks interest.
Here's an example to help show you what I mean…  This review on Lucie's List ranks in the top 5 results for one of the best baby strollers, UPPAbaby Vista – it's a pram that will set you back $928!!
But the reason that their review stands out from the rest is by declaring the V2 version of the stroller is "Better than Ever".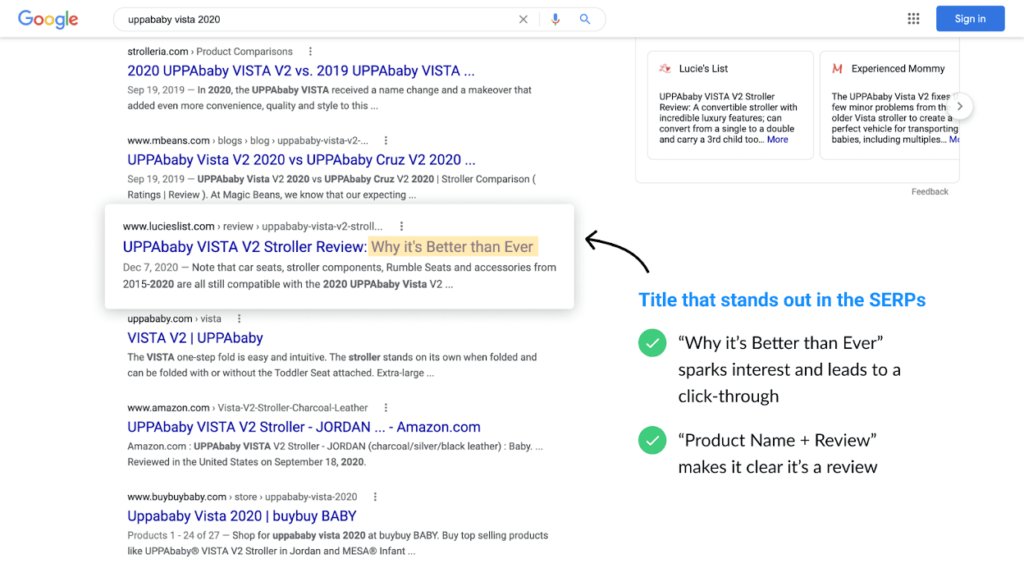 An important tip to remember is that your post title and your H1 tag don't always have to match perfectly.  This allows you to write a more enticing headline for the SERPs, and then a more precise one for your on-page SEO (and vice versa).
With the example of Lucie's List.  They opt for a shorter, simpler on-page headline…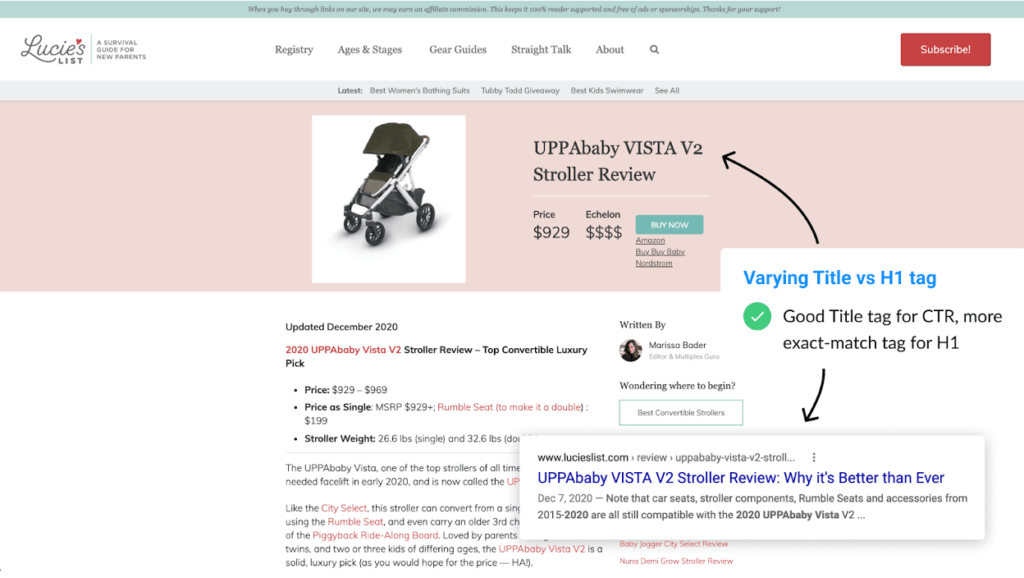 If the majority of your traffic for your product reviews is coming from organic search (Google), don't forget the importance of having a strong title and headline.  Here are a few product review titles you could consider for your next review:
"[Product Name] Review: Why It's Better Than Ever"
"[Product Name] Review: Still Worth It in 2022?"
"[Product Name] Review: An Honest Look"
"[Product Name] Review: The Best [Product Category] for [Persona]"
Don't be afraid to experiment and see what works.  Check out what the others are writing and then see what you can do to be different and enticing.
Pro Tip – If you are using the year in your SERP headline, there are ways of automatically updating it for you every year, so you don't need to keep going and changing the year every time.  See here to learn more.
#2 Establish Your Authority as a Reviewer
Right, you've managed to get someone to click on your website.  Now it's time for you to convince them to carry on reading.  Why should they listen to you?  This is where you need to establish your authority as a reviewer.
If you sound like a content robot or bring no personality to your content, then it can put people off.  People aren't looking for that.  
They want to feel that you know what you're talking about.  You may not feel that you're an expert, especially when starting, but that also doesn't matter as much as you might think.  If you're an enthusiast of the topic and can share your experiences, then that can be more powerful.
This also stays in line with the guidelines from Google's Product Review update…
"The overall focus is on providing users with content that provides insightful analysis and original research, and is written by experts or enthusiasts who know the topic well"
You can see this in action with the example below from The Points Guy.  They establish their authority early on in their review of the Amex Centurion (Black) card…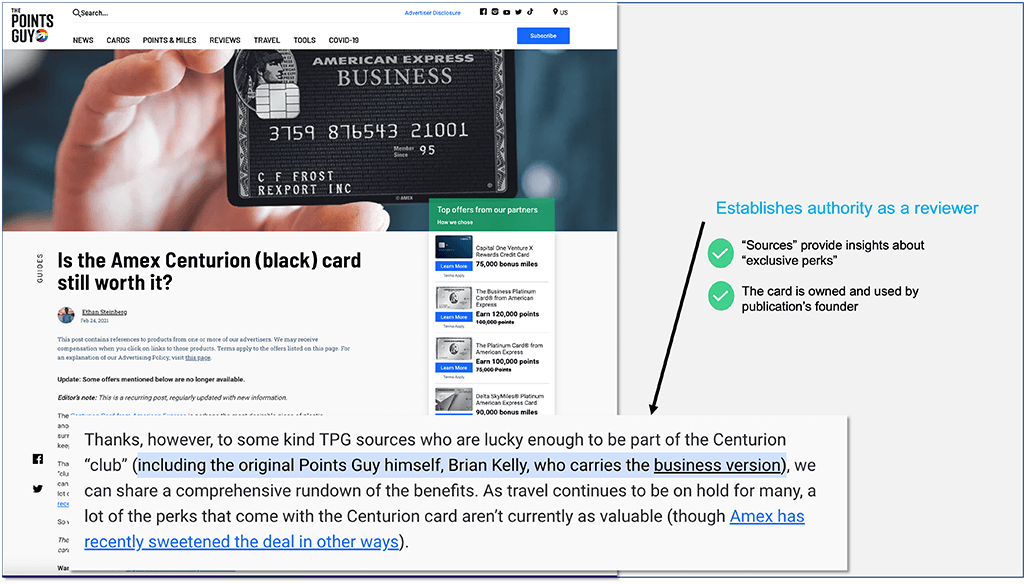 The author of this review uses their own photo and then points to exclusive "sources" on the benefits of this credit card.  They also review the founder has a similar card himself.  This gives the impression that if The Points Guy uses it, it must be a great card, right?
Whilst showcasing this authority, it's important to also be relatable to the reader.  That might be, showing you've been on the same buying journey as them before, you've tried loads of products in the category to find your perfect match, or being a subject matter expert who can share knowledge or break down confusing jargon for them.
They will want to know about your journey, and where you are now and can empathise with their situation.  An affiliate marketer's job is to bring solutions to problems, and empathy in this situation can so powerful…
Wirecutter is a site with a great example of this function.  They include a section called "Why you should trust me".  This was taken from a guide about the first canon lenses to buy…  They have shown their experience with the first paragraph…  then taken the time to discuss that they have considered more than 30 lenses before showcasing 12 in this guide…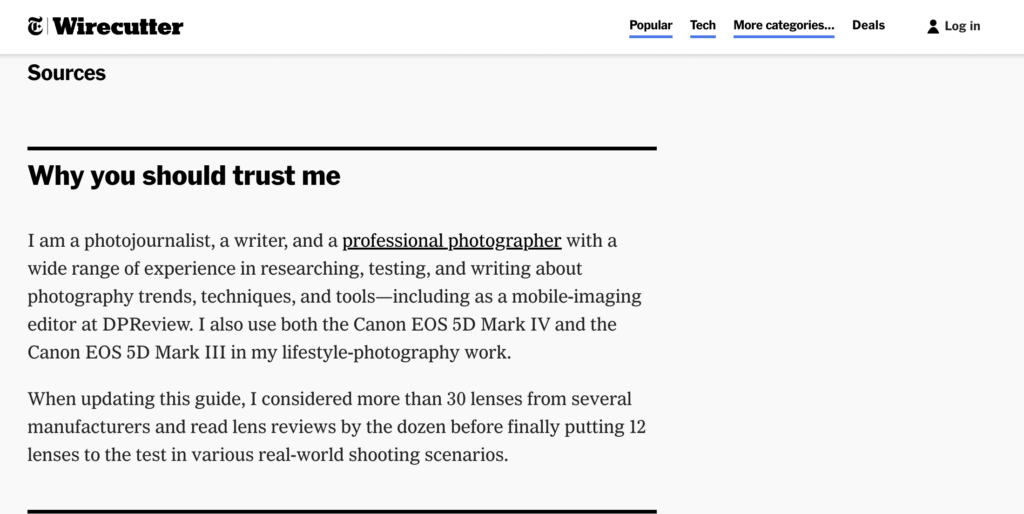 It has achieved its goal of showing the authority of the author.  But it also has the added benefit of telling the reader they don't need to go anywhere else…
As we'll see in the next section, Wirecutter both establishes trust early on by introducing their expert reviewers and talking about their review and testing process.
But not far into the piece, they also allude to the professional qualifications of the authors.
The important part is the reader needs to trust you.   This is especially important if people are landing on your website for the first time, and don't have a history with your brand, or with the product itself.
Here are some key ways to establish your authority within a product review:
Identify yourself as the author early on in the review
Use an image of yourself, ideally with you using or holding the product (or for screenshots)
Be yourself, don't be afraid to make jokes, write like you speak, ensure the readers get you!
Explain why you're an expert on the topic and qualified to offer an opinion
Empathise with the pain points readers are probably coming to you with
Make sure you address those concerns directly, without being overly positive or anything that comes across too salesy
Have a clean website design and easy-to-remember branding
This then allows you to get on with your review…
#3 Include a Product Review Summary
Product summaries are super important for your product review.  Readers aren't exactly going to read your article word for word.  This article is over 3,000 words, but the reality is that you'll only read a few hundred of it.  That's just typical of the internet, people want to just get the general idea of what you're saying.
They will typically want to see the fewest facts needed to buy or skip on the product.
You can optimise your click-through rate (and ultimately conversions) by including a summary of the product early on in the review for those readers who are "skimmers".
Your product review summary should clearly answer these key questions…
Do you personally recommend the product?
Who the product is best for (i.e. travellers, new parents, tall people, etc.)?
Where they can purchase the product? At the best price?
If we go back to Wirecutter again, you'll see they use these summaries to great effect in their product reviews or product roundup posts…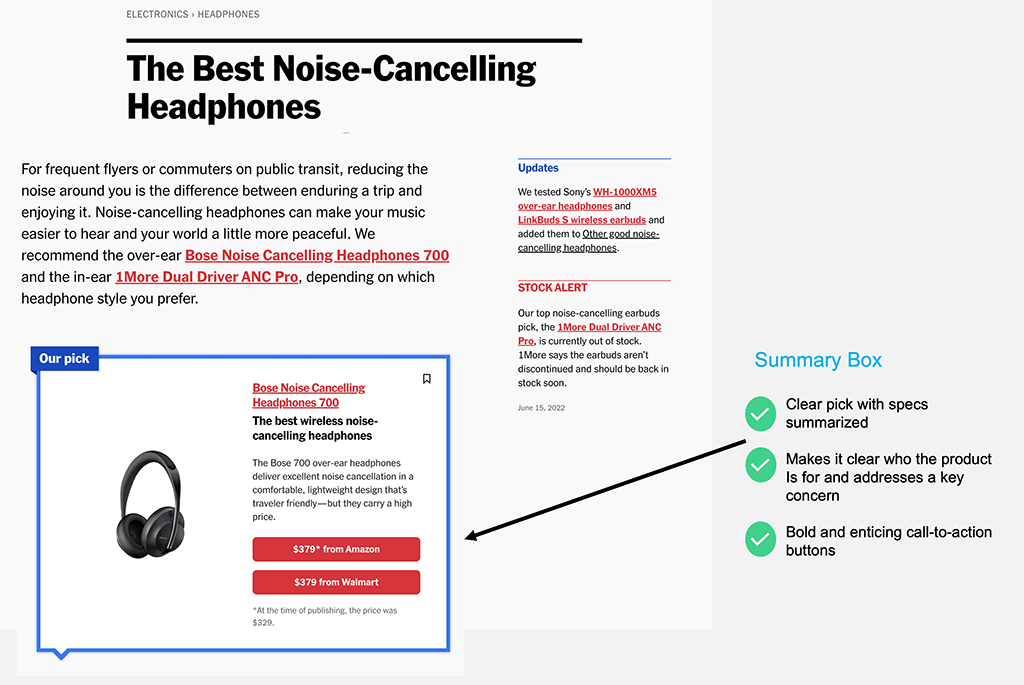 They quickly establish their authority and give you a quick look at the product.  They tell you the good and bad, and where they can buy the products if they're convinced to.
This will work well for both the people that will want to spend longer on the post to get to know the details and the skimmers who were just looking for confirmation on whether it was a good deal or not.
Most importantly, they address the key concerns: does the reviewer like the product, is it a product fit for me, and where am I going to get the best deal?
Product summaries are a good place to help with conversions.  Trust building content, followed by a single well-placed button, and the right copy converts really well!
Here are some examples of the most popular and effective CTAs…
Check availability
Check current prices
See the latest deals
See it
Research shows that your first links are usually the most lucrative as long as it is combined with a trust-building copy.  But there will also be people who need more information.  This is where the rest of your review and a buying guide will come into play.
#4 Include a Buying Guide For The Product (And It's Category)
This is now the space for your product review.  You'll want to make sure you include all of the information the reader will expect to find to help make their purchasing decision.  Things like:
Materials
Technical Specs
Quality
Durability
Value for Money
Anything else that matters to a consumer
This will ultimately be determined by the product category, and whether your reader is likely to be a first-time buyer, you may also want to include a buying guide.
Here are hints and tips on how to write both…
What to Put In a Product Review
Your job as a product reviewer is to provide all of the information that would be important to a reader.  Here are some of the most important aspects to include in your review…
Who the product is for – These could be personas, market segments, demographics, etc.  You want to make it easy for people to identify if the product is right for them or not.
Include relevant specs – Include which specs are relevant for the product category.  For example, technical specs on a gaming laptop, the waterproof rating on a hiking coat, what ingredients are included in makeup, etc.
Talk about solutions that you've tried before – If you have previously tried alternative products, talk about them in your review and whether they worked or not. Showcase your experiences within the product category
Talk about the problems it solves – What problems does this product overcome and how long have you been using it?
Address the shortcomings – Don't overdo the positive side.  Be honest about any tradeoffs the reader may have to make, or whether they pose a real problem
Include a FAQ section – There will be many related questions, which you can answer within your review.  This also has the added benefit of being picked out as a featured snippet on Google.  Check out "People also ask" on Google to find a list of questions to answer.
But if you want further suggestions, here are some other questions to consider in terms of product reviews.  Do your reviews:
Express expert knowledge about the products, where appropriate?
Show what the product is like physically, how the product is to be used, what is included in the box, with unique content beyond what the manufacturer provides?
Provide quantitative measurements about how a product compares in various categories of performance? (i.e. compare different laptops and tasks you're able to perform)
Include an explanation of why this product is set apart from its competitors?
Cover off comparable products to consider, or explain which product might be best?
Discuss the benefits and concerns of a particular product, based on research?
Describe the improvements that have been made from the previous version?  How has the product evolved and is it worth upgrading?

Identify key

decision-making factors

for the product's category and how the product performs in those areas? For example, a car review might determine that fuel economy, safety, and handling are key decision-making factors and rate performance in those areas.

Describe

key choices in how a product has been designed

and their effect on the users beyond what the manufacturer says?
Let's now look at some examples…
FAQ's are a great addition to the end of an article.  These FAQ's can help answer any last objections or concerns that the reader may still have.  They are also great for getting included in featured snippets by the search engines.
A great example is Her Packing List.  It's a huge review site for female travel gear.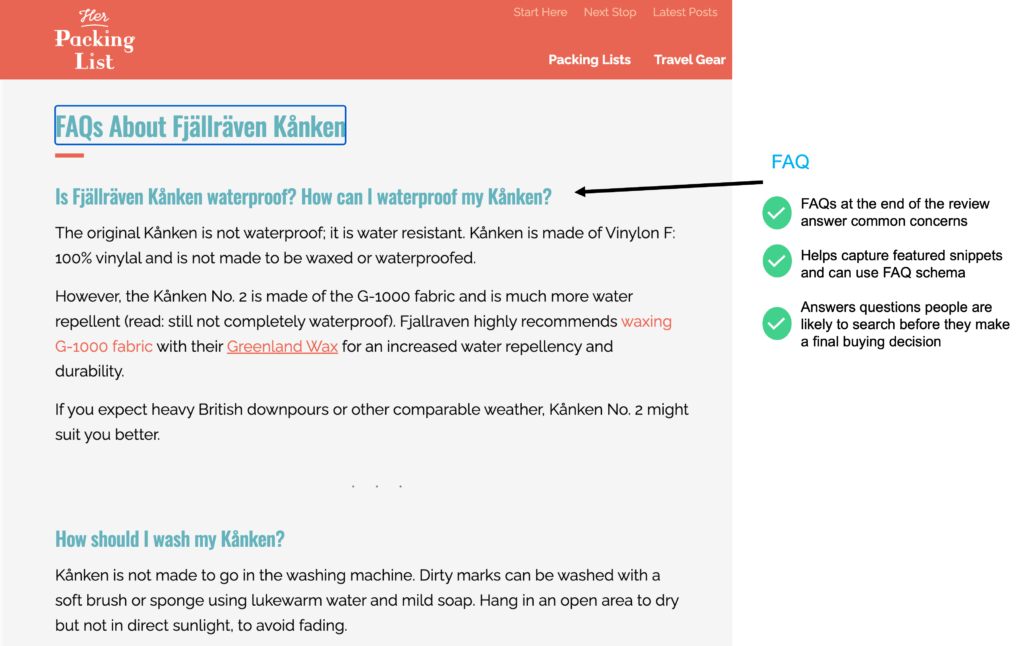 Generally speaking, the easiest way to figure out what's important to a reader is to look at the Amazon Sale Page and compare it to your product review.  This will help you spot the key elements you need to include, or which questions you want to make sure you answer in your review.
Here's an example to show you, here's the Amazon sales page for the Kindle Paperwhite: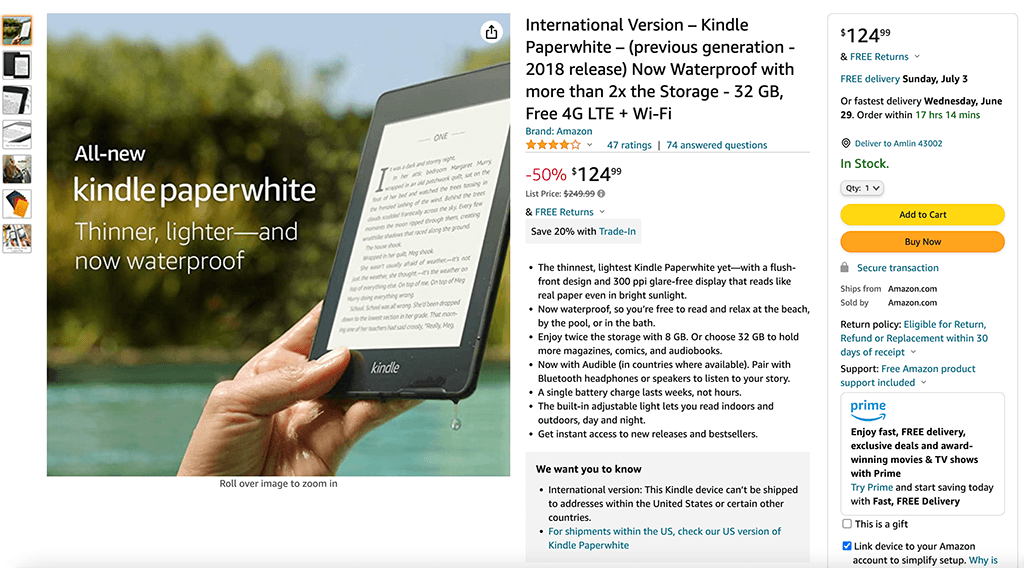 You can immediately see which key points Amazon wants to drive home: no glare, storage space, battery life, and ability to read outdoors.
These are all important aspects you want to include in your product review.  The same can be said if you're doing a product roundup review, where you can get inspiration from Amazon's feature of comparison tables: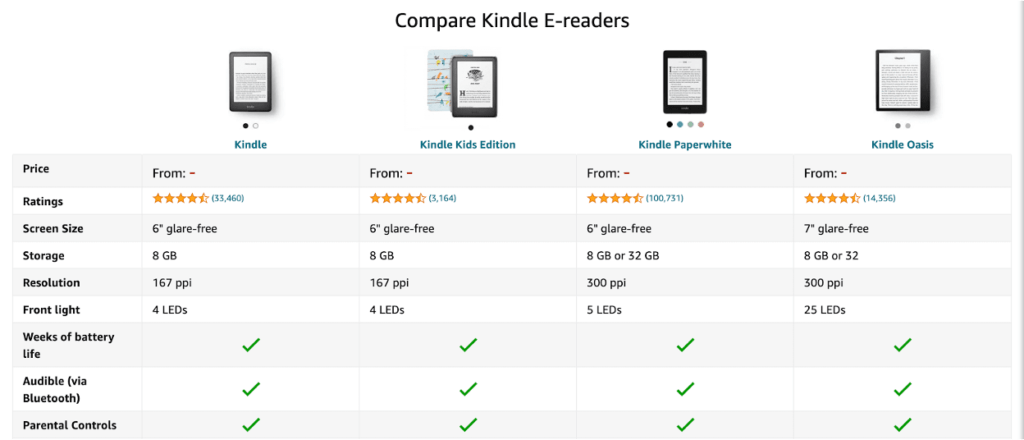 They easily showcase the differences between the models to help the consumer make a decision.
Now, don't just look at Amazon…  There are plenty of examples of great-looking sales pages for you to get inspiration for your product reviews.  Check out what other merchants are doing.  
You also want to be unique and stand out, otherwise, there is little point in them coming to your review if you are regurgitating what Amazon is saying.
Besides the product itself, you might be writing for potential first-time buyers who are new to the product category or considering getting into it.
That is why you might consider adding an essential buying guide to help them…
A buying guide is a way of helping prospective customers understand the features and specifications that are relevant to a specific product category.  It can help them understand why they matter, and what factors to consider when buying stuff.
You don't need to place it early in your post, and it doesn't have to be very long.
A buying guide has the double benefit of showcasing your knowledge (building your authority) and helping clear up some questions for newbies too.  This way you can prime the reader to confidently make a decision, once you reiterate your top picks.
I found a great example of several buying guides on the Wired website.  But the guide below is aimed at those buying cameras for within the home.  It sounds easy, just buy a camera and stick it up.  But with them also being an opportunity for hackers, there are several things a first timer, might not have considered…  Check out the screenshot of the advice they offer: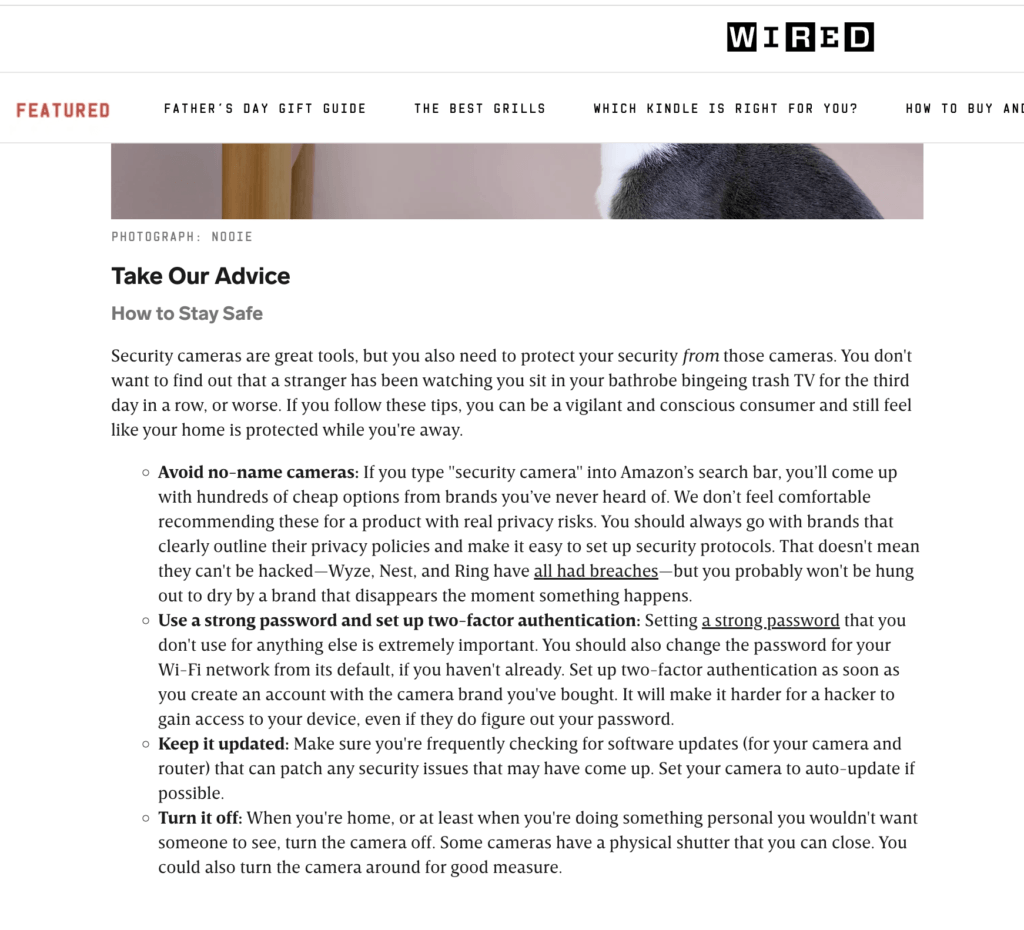 Depending on the niche, your buying guide should include:
The features and benefits of your recommended product
How products by this brand are named and distinguished from each other
What to look for in a product within the category or brand
Any warning signs that the product isn't for you
Cheaper or more budget-friendly alternatives by the same brand
Beyond helping readers make a decision, it's also a way to pick up more keywords for your article — especially keywords where it doesn't make sense to write a dedicated article.
#5 Share Your Results (Images, Social Proof)
This is where I feel most affiliate marketers get it wrong with their product reviews.  They forget to show the results.
If you're offering nothing different from the merchant's sales page, why are they going to trust you enough to get their credit card out?  They don't buy a laptop just because it looks great.  They also don't start an exercise program just because the person in the front looks like their having fun.
They want real images and not just the same images they can find on the internet.  If you are using the images that the product creator is using, then that won't help you…
This becomes more important since Google's Product Review update.  If you are using the standard product photos, it can harm your rankings:
[Your Reviews should]… show what the product is like physically, or how it is used, with unique content beyond what's provided by the manufacturer…
That means you need to consider how you are going to include images and the types of images you are going to include in your product reviews.  Your images should give the reader a look at the results that the product could help them achieve.
If we go back to that Amex credit card again, instead of just including images of the card.  They showcase images from the exclusive hotels that you can stay in as a cardholder…
Here are some ideas for how you could demonstrate the features of the product, etc.
Idea #1 - Before & After Photos
Before and after photos can actually be a great tool to showcase features.  An example that springs to mind is with camera lenses or filters for lenses.  They are a way of showing an exact, tangible benefit of the product you're reviewing.
Photography Life uses it to great effect in showing the difference between with and without a polarising filter: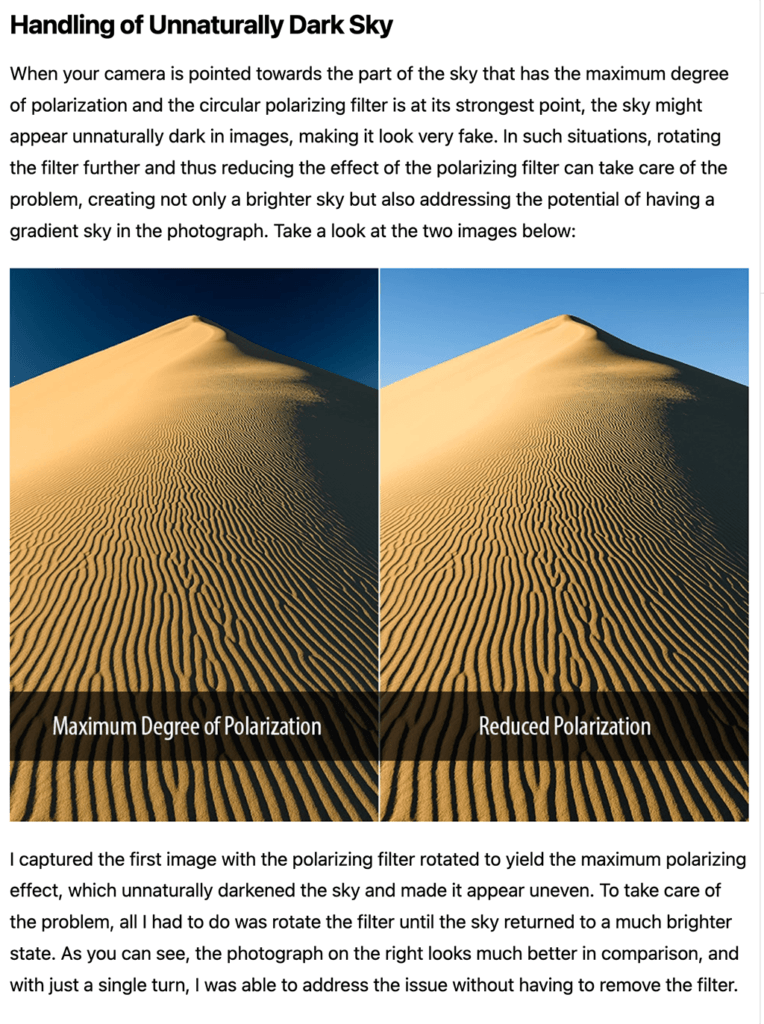 They use the image to describe the difference between the polarising effect.  This would help someone interested in photography learn more about the benefits, and they can consider whether a polarising filter is worthwhile.  (it is, btw)
Idea #2 - Run & Share Test Results
Run tests with the product and show how it stacks up to its claims, its limits, and where it shines.
Examples that I can think of are, gaming laptops which describe the performance rating on games that matter to consumers.  I.e. you can run Fortnite at a high rate with this PC…  
Or another example would be stain removers where you can demonstrate the effectiveness of it on different stains, etc.
You could use the same principle for many different product categories…
Idea #3 - Share Comparison Photos
Help readers pick between similar products with results from other products. Think about the role of paint swatches or different coloured lipsticks displayed on a model's arm.
For many products, it's not possible to pick what you want without comparing them side-by-side with others. This is especially true when it comes to sizes, colours, and capacity!
Idea #4 - Social Proofs & Reviews from other Sources
Of course, the ideal is that you use your own images.  But there are other forms of social proof and also the option of using reviews from other sources.
For example, use screenshots of reviews from other websites, snippets and quotes from other reviews.  Just be mindful of the copyright rules in regards to reproducing small bits of copy.
An example of social proof in action is Themeisle's review of Elementor…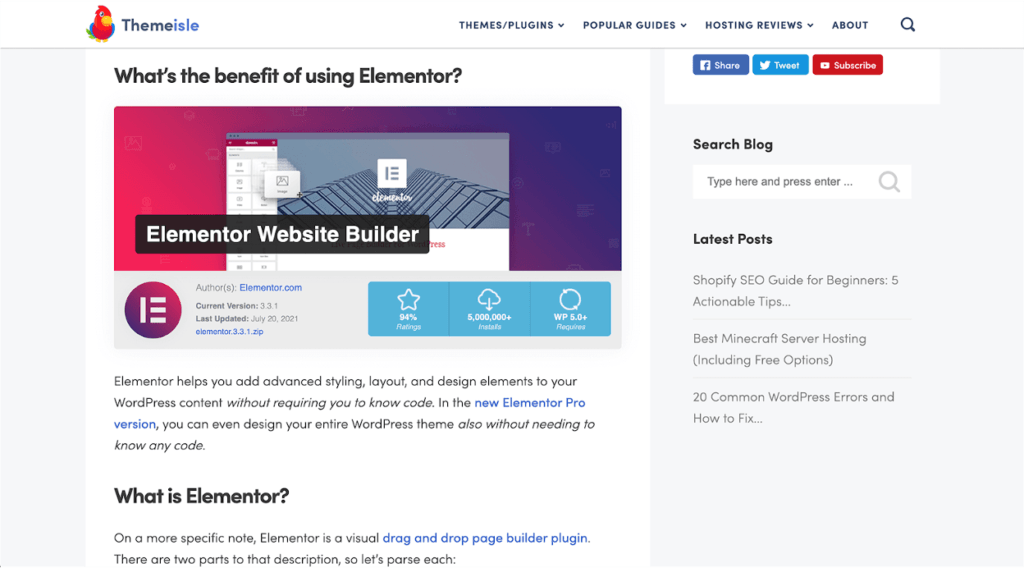 They provide social proof of the popularity of Elementor to help the reader.  "5,000,000 installs" and "94% rating" are both effective ways of indicating to others that it's a good option.
There may also be celebrities or influencers (both in the "real world" and in your niche) who use the product. That's an opportunity to embed photos from Instagram or YouTube videos, which lend further credibility to your opinion.
Videos are one of the best forms of affiliate marketing at the moment.  They are especially effective within your product reviews.  YouTube is the second largest search engine (second to Google, who own YouTube).   By recording your own video, sharing it on YouTube and then embedding it within your product review is ideal.
But if you don't feel that comfortable in front of the camera, there are a couple of options.  
You could include other people's videos within your review.  They might be opening the product and showcasing the product, and then you could elaborate below the video.
Or, for digital products, you could record a video without showing your face.
Makeup is a perfect example of where video has huge benefits.  People want to see the look that it provides, which you can achieve in images.  But a video showing the best application of it, and then seeing the results is much better.
Here's an example from IPSY…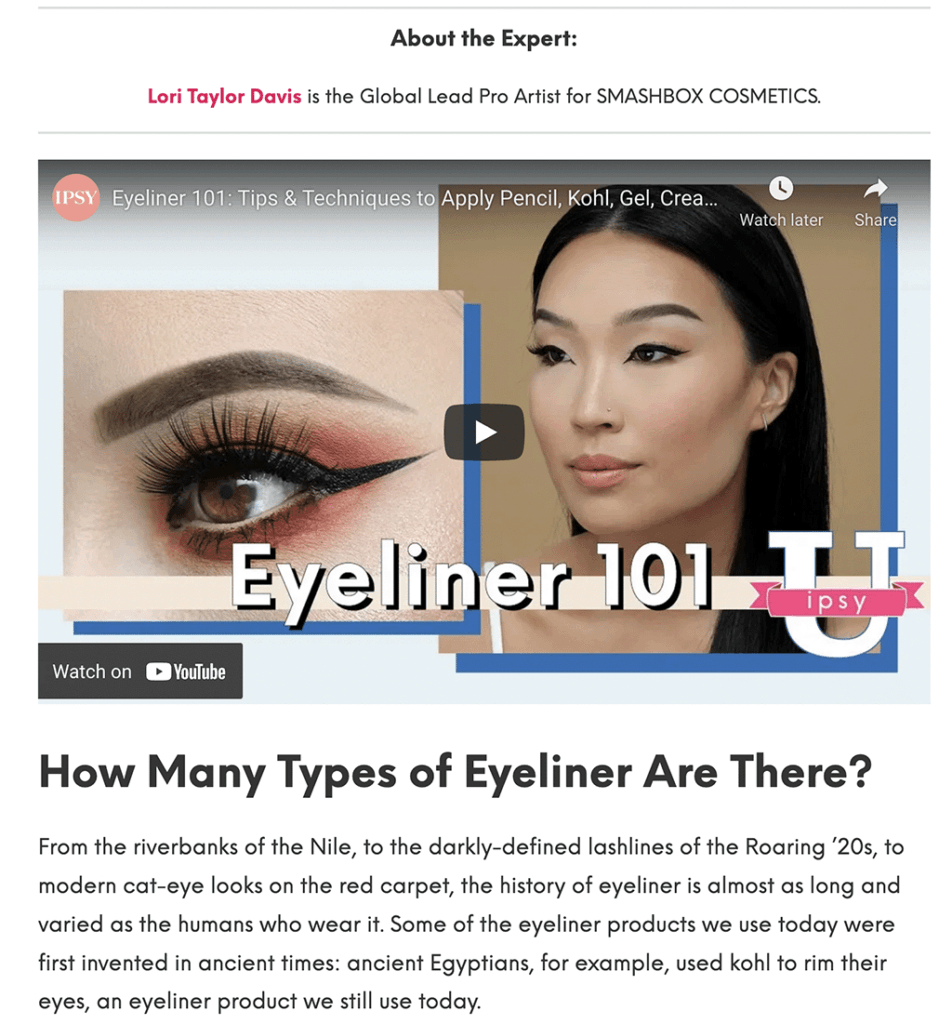 #6 List Product Alternatives
Your role as an affiliate marketer is to provide help and solutions to your reader's problems.  So if you constantly push one product, it can appear a little salesy and not helpful…  It can also lead to the consumer returning the product meaning you make no money from the sale.
This isn't good for you and it isn't great for the customers too…
Buyers with a good experience will typically come back for more.  Returning customers convert at a rate of 60-70%, whilst new buyers are only at 5-20%.
You can apply this mindset to both your website (visitors who've trusted your recommendations in the past), the brands you're promoting and the keywords you target (are people searching this term likely to be repeat buyers).
All this aside, what if the product you're reviewing genuinely might not be a fit for the person reading it? Offer alternatives.
Identify and segment different categories of readers, and help them match themselves to alternative products.  The obvious category is the price.  Everyone's budget will be different.  So if you're pushing only the high-end laptops or credit cards (like that Amex Black card), then you are limiting the people who will be eligible for it.
If we go with gaming laptops as an example, you will have to cater for those on a budget looking for a decent gaming device.  But then you should also cater for the gamer where budget isn't really an issue and so they want the latest tech.
I know I love looking at high-end gaming laptops, but might not have the budget for it.  Seeing decent alternatives for a lesser budget would relate.
Financial service sites are another example.  There will be those with a smaller budget looking for credit building credit cards and then those people who want to earn Air miles with their card.
The more you understand your product category, the more you will understand how you can segment the market and ensure your product reviews match as many of them as you can, without being too much.
You can offer multiple alternatives if it makes sense. Or end with a roundup of all the products mentioned in your review.
Again, this falls in line with Google's recommendation in their most recent Product Review update:
[Your Reviews should]… cover comparable products to consider, or explain which products might be best for certain uses or circumstances…
#7 Conclude with a Strong Call to Action
If you're genuinely a fan of the product, then it's time to make the recommendation again.  Take the time to reiterate why you like it.  Then list the best places to buy the item online.
In the main, very few readers will make it to this part of your article, but those that do deserve to see a solid summary of everything they've just read.
Some will read your summary at the top, and scroll to the bottom to see any additional info you might have added to help make their decision.
Ready to Apply Some of These Techniques?
Product reviews and product roundup posts are something that any affiliate marketer should make use of.  They are some of the best converting content that you should be spending your time on creating, as a publisher, blogger, or affiliate marketer.
It does take some practice to get it right, and it can sometimes be trial and error to work out what is converting better than others.
But hopefully this product review template for affiliate marketers should give you a solid start at creating a product review that converts well.  Remember to try and be unique against others that are reviewing products in the same niche as you too.
It needs to be also be different to what they would see on Amazon.  They are looking for opinions from real users to help make a decision.  Amazon has a great sales page anyway, so stand out from the crowd and get noticed if you want to convert visitors into sales.
Thanks for checking out my product review template post, if you have any questions or anything you would like to add (anything that has worked well for you), then please write them in the comments section below. 😉
Want help getting started with your affiliate marketing campaigns?  Want to get started, but not sure how?  Then you might want to consider signing up for my 7-day Passive Income Bootcamp…  Get started the right way, with my personal guidance…