Welcome to my Blogging Fast Lane Review!
Blogging is an awesome way of making money online.  Naturally, people are looking for how to get started with blogging. 
I'm guessing that is how you came across Blogging Fast Lane and are now wondering Is Blogging Fast Lane a Scam?  Or is it a great option to learn what you need to know…
Well, to put your mind at ease…  Blogging Fast Lane is a legit course that teaches you all about blogging.  The only issue is that it isn't always available.  But if you do find it open and want to know whether it is worth you joining their queue for their free webinar.  Keep reading my review to find out.
Are you ready to get started?
Disclaimer: This Blogging Fast Lane review has been thoroughly researched with information and testimonials that are available online to anyone in the public.  Any conclusions drawn from that information are my own opinions.
Blogging Fast Lane Review Overview
Product Name: Blogging Fast Lane
Owner: Tom and Anna
Product Type: Blogging/Affiliate Marketing
Price: $997 one-time fee
Best For: Those looking to get started with blogging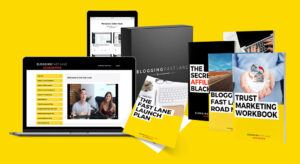 Step-by-step training on Blogging
A free webinar to give you an idea of what it's about
Private Facebook Group access for support
A 90-day money-back guarantee
People are getting results from the training
Limited availability – Not always open
The price of the course is expensive
No tools or hosting – you'll need an additional budget
Blogging Fast Lane is a platform that teaches you how to get started with your own blog.  It also offers training on topics like Pinterest, Affiliate Marketing, etc.
They have an eight-week training course that teaches you everything you need to know.  They also offer a free webinar that gives you information on their Fast Lane Accelerator Course.
The official website claims that the course is a tested and proven 8-week online program that teaches you exactly how to build, grow, and earn from your blog.
According to its creators, the Blogging Fast Lane course provides step-by-step training, and you don't have any tech skills or any previous experience.
The course has videos showing you how to set everything up, tons of happy users, positive reviews, a refund policy, and more.
I do feel that Blogging Fast Lane is a great course to learn all about blogging.  My biggest issue is that it only has limited availability.  It's currently not available and I'm not sure when it will next be open.
You can join the waiting list for their webinar.  But if you want to get started now, you will find out top recommendation here.
Recommended? Yes... When Available
Best Alternative: My #1 Recommendation is the leader in affiliate marketing training!  This platform has enabled me to go from earning $0 to $100's per day with affiliate marketing and blogging!  It includes all of the tools and training you require… Learn more here…
What is Blogging Fast Lane?
Blogging Fast Lane is a training course created by Tom and Anna.  They offer a blog, where you can learn from them.  As well as an 8-week online training program that teaches you how to start an online business through blogging.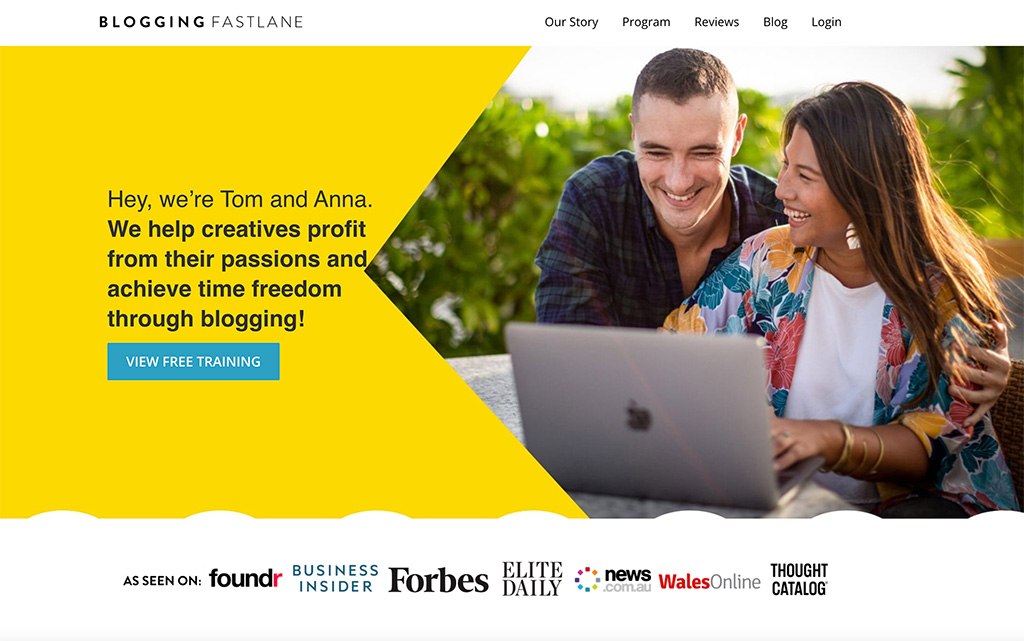 The free training they offer is a webinar where they talk you through the processes.  Which then leads to the 8-week training program.
The lessons within this course are about setting up your website, ranking your website in Google using SEO, increasing traffic, and more.
All lessons come with visible action points to help you to implement what you learn.
In addition to the 8-week training course, Blogging Fast Lane includes written transcripts of each lesson, action-based workbooks, community, goals checklists, etc.
The training isn't geared towards one particular niche.  You can use the training to start a blog with any interest, including a hobby or passion.  This is where most bloggers start and have some huge benefits.
The reason is that blogging requires a lot of time and effort to see the results, so picking something you already love will help you stay motivated.
It is true that blogging can be a very long process and takes a lot of time to make your first money online.
But, once you have established your blog itself in the industry, you will have the potential to make a lot of money.
Tom and Ana have already learned this. Therefore, good to see that they are not promising fast results with their course. Instead, they are focused on long-term success.
Let's learn more about the guys behind Blogging Fast Lane.
Who's Behind Blogging Fast Lane?
Tom Rogers and Anna Faustino are both successful bloggers, and they have built a successful blog in the travel niche.
The blog is called Adventure In You and it's a very well-designed and obviously profitable blog.
Tom and Anna started their business from the bottom as they had to go through some trials and errors, and after a long year of hard work, they are making over 6 figures all while travelling the world.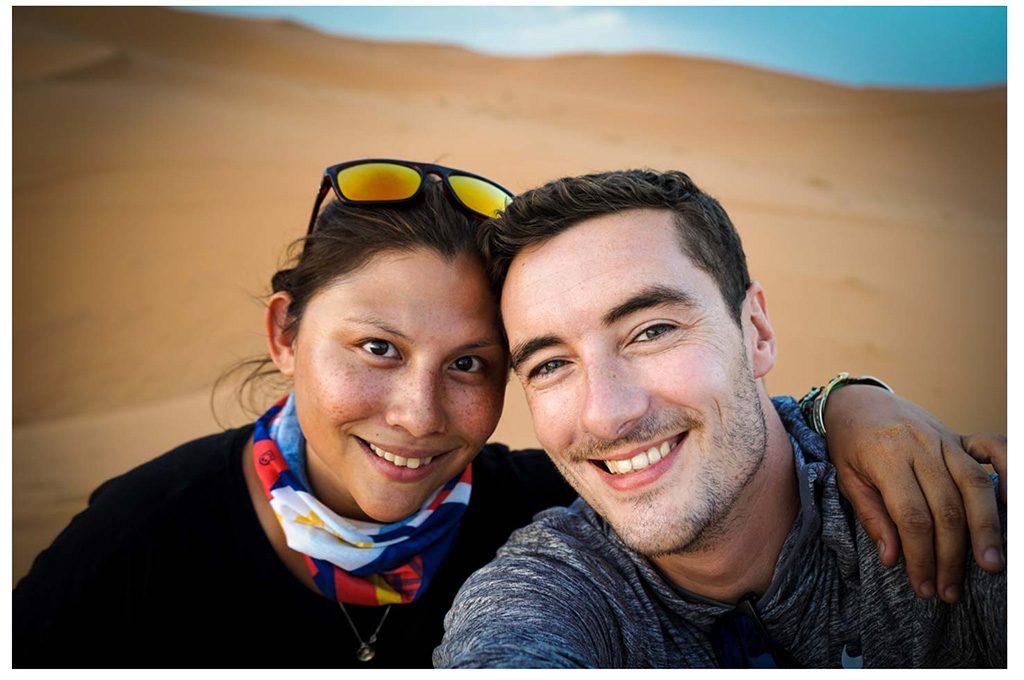 Since then, both of them have become experts in the world of blogging, affiliate marketing, SEO optimisation, sales funnels, and making deals with big brands all around the world.
Tom and Anna are definitely the real deal and are the right type of people for you to follow and learn from.  Let's discuss how Blogging Fast Lane works in the next section of the review.
Related Post: Affiliate Lab Review
How Does Blogging Fast Lane Work?
Blogging Fast Lane is focused on how to start a successful blog from scratch.  You will be taken through how to get started with a blog based on your hobby or passion.
Furthermore, the creators of this course will show you how you can leverage this passion to get free traffic to your posts by ranking them in search engines.
And as a cherry on top, they show how to monetise the blog with affiliate marketing and ads.
Take a look at the video below, you'll learn a little more about Tom and Anna and what they are about…
Inside Blogging Fast Lane
Blogging Fast Lane contains 11 topics that will guide you through your blogging business journey.
The topics are…
Blogging business mindset

Finding a niche, choosing a name, and creating a brand

How to set up a blog and get the foundations in place

Getting to grips with using WordPress

How to master affiliate marketing

Monetising a blog through adverts

Search engine optimisation and content planning

Growing blog traffic from Pinterest

Building an email list and creating powerful automation

Resources and tools to make blogging easier

Time management and productivity
It's delivered over eight weeks, with each module focused on one element… Here's how each week looks…
Week 1 – Transform Your Mindset to a #FastLaneBlogger and Discover How to Profit from your Passions
Week 2 – Learn The Principles Behind Successful Affiliate Marketing
Week 3 – Become an Affiliate Master and Generate Passive Income
Week 4 – Learn How to Build an Authority Fortress and Create Incredible Content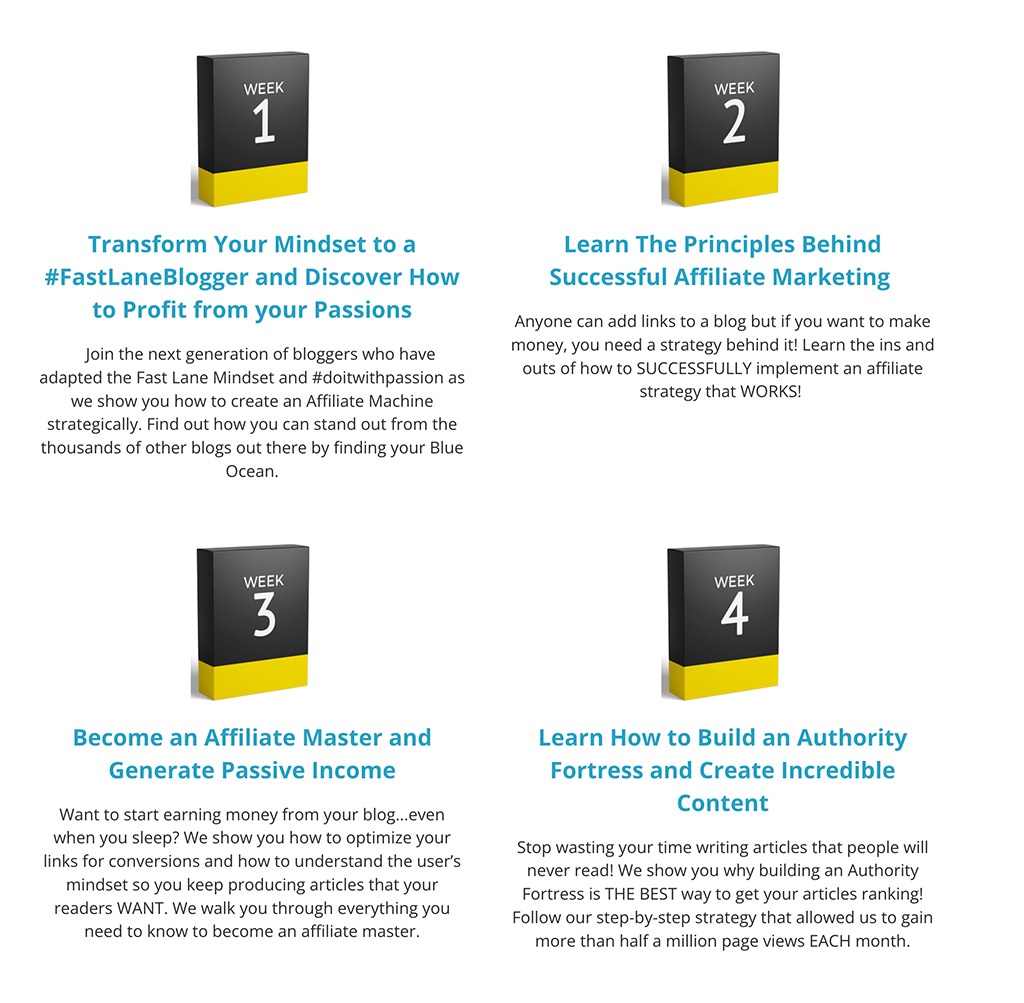 Week 5 – Take a Deep Dive into SEO and Learn to Optimise Like a Pro
Week 6 – Fuel Your SEO Strategy and Skyrocket Your Traffic
Week 7 – Learn How to Build an Engaged Community Using Trust Marketing
Week 8 – Automating and Launching Your Affiliate Machine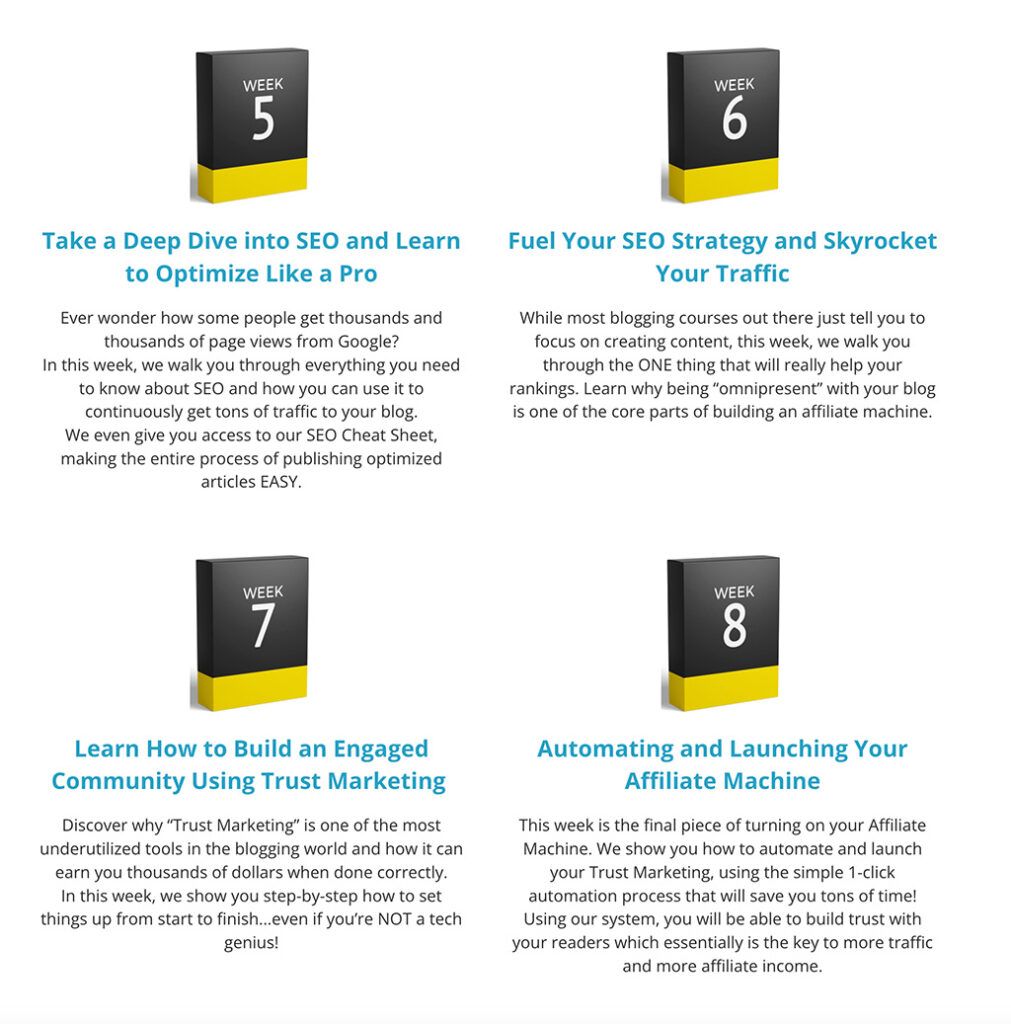 The modules cover the elements you need to start a blog and then monetise that blog.  Topics like…
Choosing Your Niche & Setting Up A Blog
The first module focuses on ensuring you understand the right mindset you need to make this business model successful.  From then, it goes into how you can choose a niche and get your website or blog set up.
Affiliate Marketing & Monetisation
Now we get into how you can make money from your blog, with affiliate marketing.  
If you're not too sure what affiliate marketing is, you can check out my complete guide.
But the basic premise is that you make money from promoting other people's products.  Say you create a travel blog, like Tom and Anna.  You would promote services like Trivago and other travel-related products and services.  When someone clicks on your affiliate link, you earn a commission.
It's a little more complicated than just picking some products and running with it.  But the training within covers all of the stuff you need to know.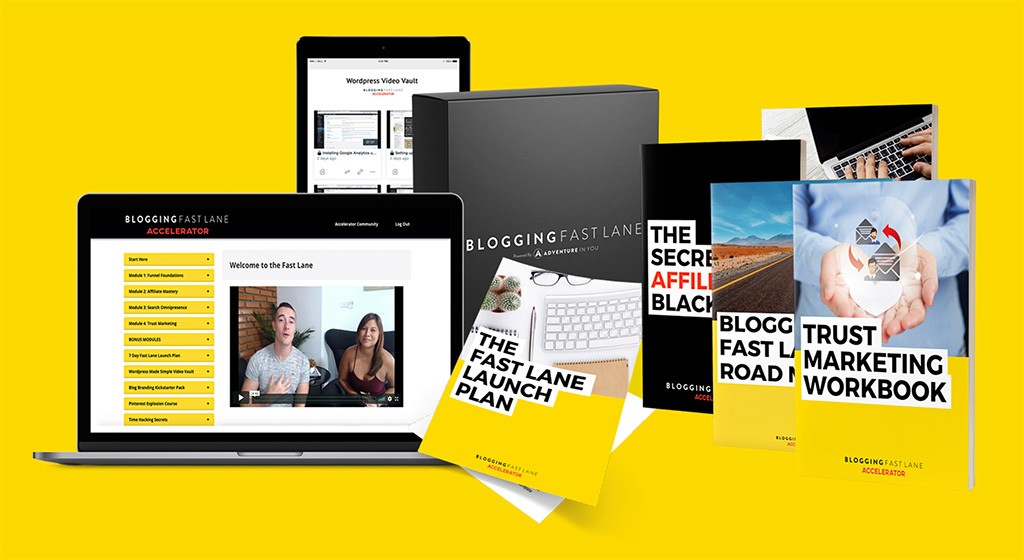 They also touch on other elements on monetising your blog, such as display ads too.  But to get people to your new blog, you will need to understand how the search engines work.  That is when the next stage of the training kicks in…
SEO or search engine optimisation is all about ensuring your blog is found by Google and the like.  Then you will need to understand how to create content that ranks for specific keywords related to your niche.   By doing this effectively, you will get traffic from search engines.
Without this, you have little chance of making money through affiliate marketing. You need to place the right products towards your target audience that is interested in that product, for you to make sales.
I find the best way is to find things that solve problems your audience has.  If it resolves an issue or problem they are having, then they are more likely to follow your affiliate links and buy them.
In Blogging Fast Lane, you'll also find bonus modules designed to help you increase your income.
You'll get modules that will help you with a seven-day launch to get the readers you need to make money.
The other modules teach you how to use WordPress, modules to help your brand on Pinterest and Kickstarter, and more.
The good thing about this course is that it was delivered over video with digital document support.
Tom and Anna will help you throughout each lesson.
You also get access to their Facebook group to ask them for help if you have any problems.
Overall, I think there is a lot of value in this course.  For starters, you can check out their blog on the website to learn a little more about what they are about.
How to Sign Up For Blogging Fast Lane?
The course isn't always available, so you would need to keep an eye on the availability.  Alternatively, you can join the waiting list for their free webinar.  But this doesn't reveal the price for you.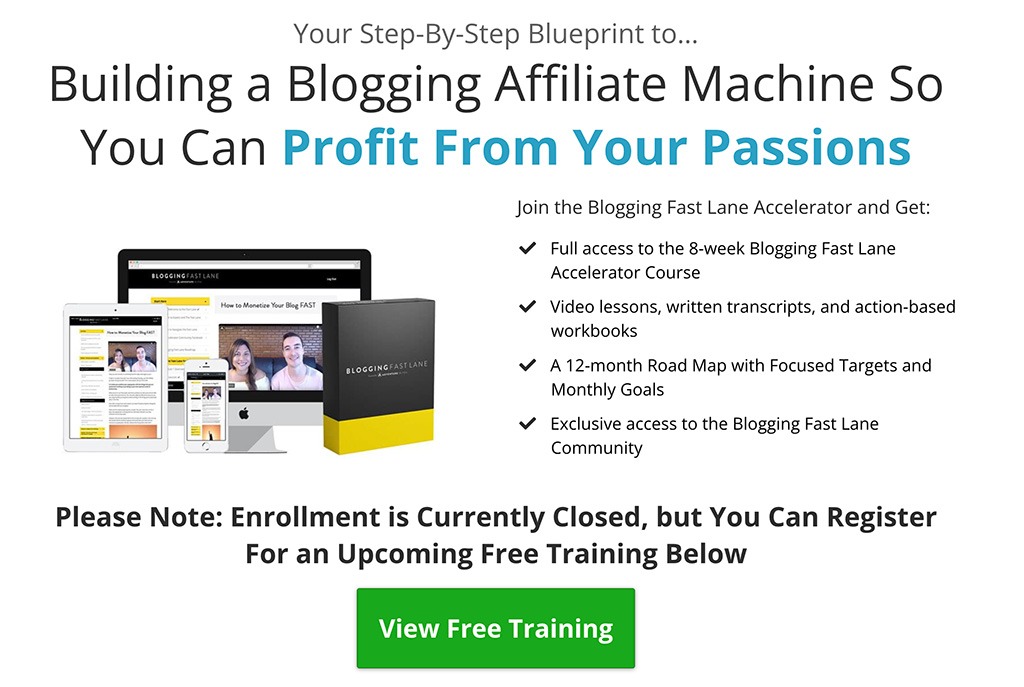 The Free Training is worthwhile checking out, but you may need to wait some time to get the information or ability to sign up for the main course.
Related Post: Legendary Marketer Review
How Much Does Blogging Fast Lane Cost?
Blogging Fast Lane course costs $997 one-time although the price seems to vary. 
This is because Tom and Anna tend to offer discounts.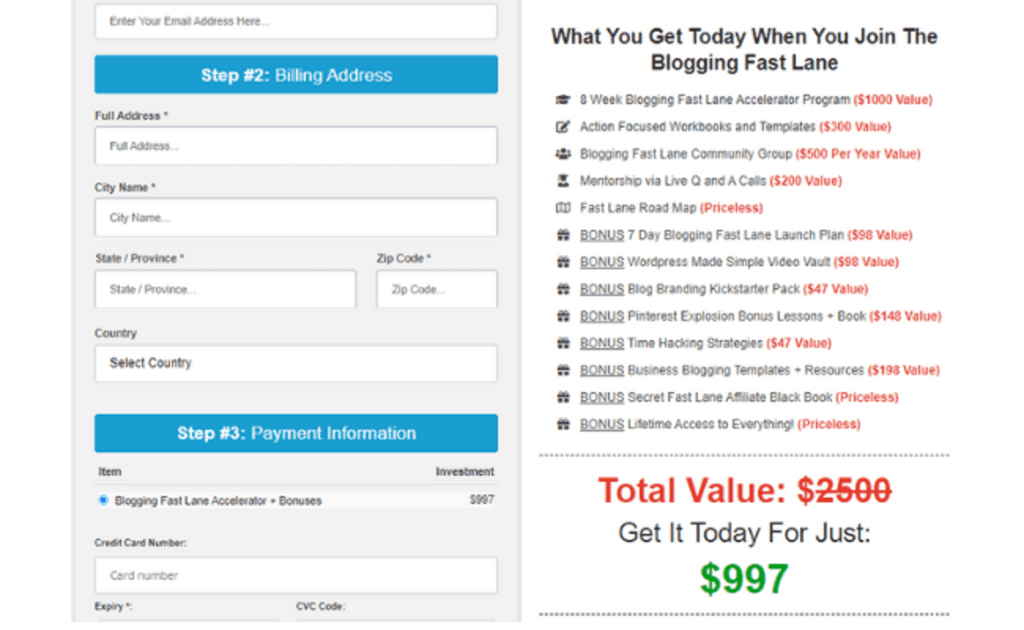 In one way, it can be considered an expensive course.  However, when you consider the value within the course, it actually rates really well.
If you can take action from the training within and put it into practice, then you will earn a lot more than this course costs.
If you take action with the content and manage to get results, the ROI could be 100x greater in the long run.
However, if you feel $997 is too much for a blogging course, make sure to check out my #1 recommendation at the end of this Blogging Fast Lane review.
Do They Offer a Money-Back Guarantee?
The good thing about this course is that it comes with a full 90-day money-back guarantee.
If you didn't like the course you can ask for a refund and make sure that you ask them before 90 days.
Related Post:  Passive Income Geek Review
Who Is Blogging Fast Lane For?
The Blogging Fast Lane course is aimed at those who have no knowledge about blogging and want to learn how to get started.
Ideally, a person who joins Blogging Fast Lane should have a passion for writing articles and helping people.
A successful blogger is a person who has a passion for a niche, likes to write about the topic, and enjoys sharing his or her knowledge with other people.
Blogging requires a lot of hard work and time.  So, you need to be ready to put hours into researching topics and then creating high-quality content on them to see success.
As a beginner to blogging, you need a course that will show you all the baby steps first. However, I have a better recommendation for beginners at the end of this review!
Blogging Fast Lane is a legitimate and good option for a beginner.  The only downside is that it's not instantly available.
Related Post: My Online Startup Review
Blogging Fast Lane Online Reviews
To see whether Blogging Fast Lane is a scam or a legitimate course, you need to check some online reviews and see what people are saying.  
From what I have seen online, the news is positive.  There are numerous positive reviews online, albeit they are quite generic.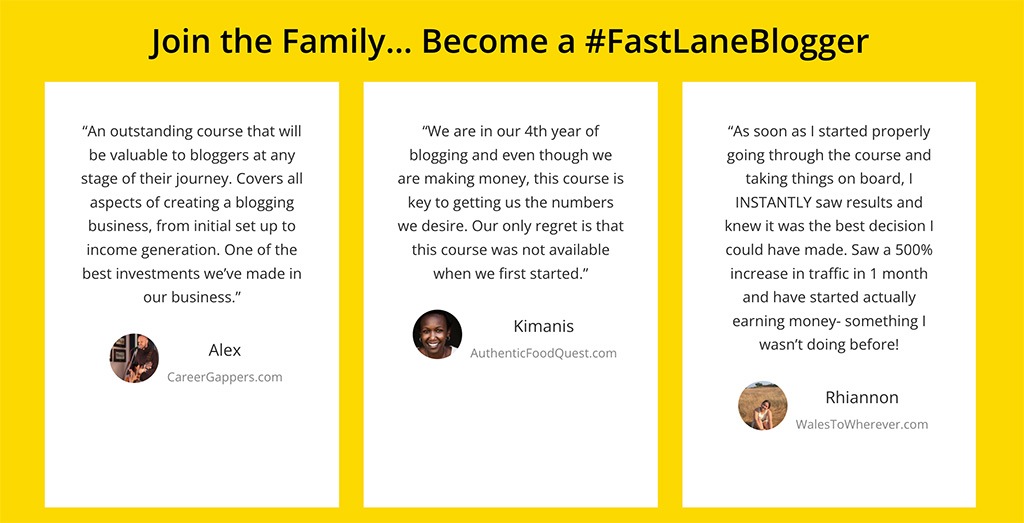 I'm not saying there is anything untoward with these reviews.  You can also see that people are getting results from the training within…
Below are some of the reviews from users…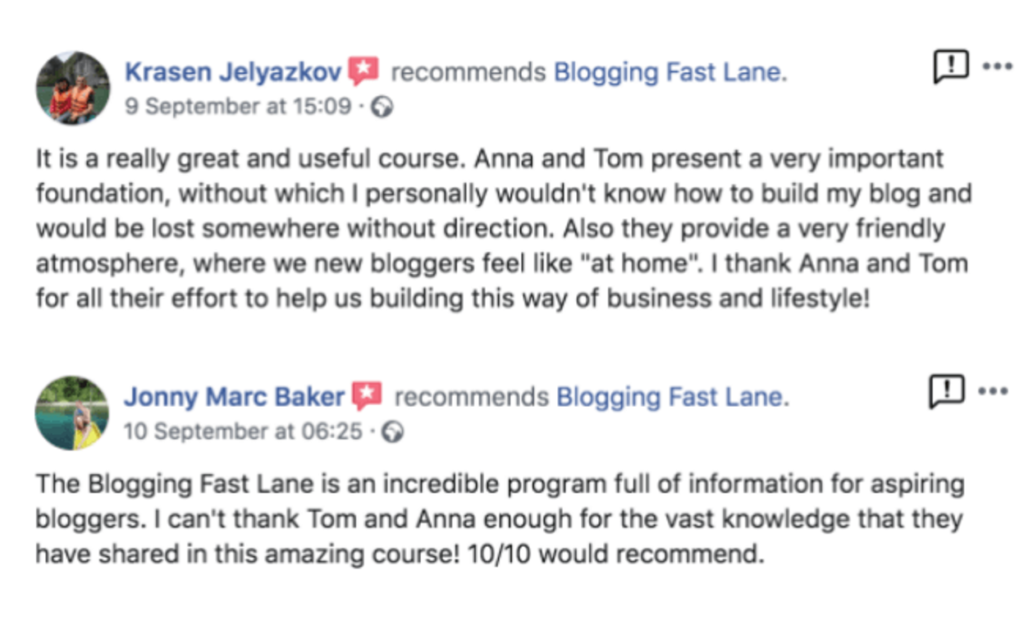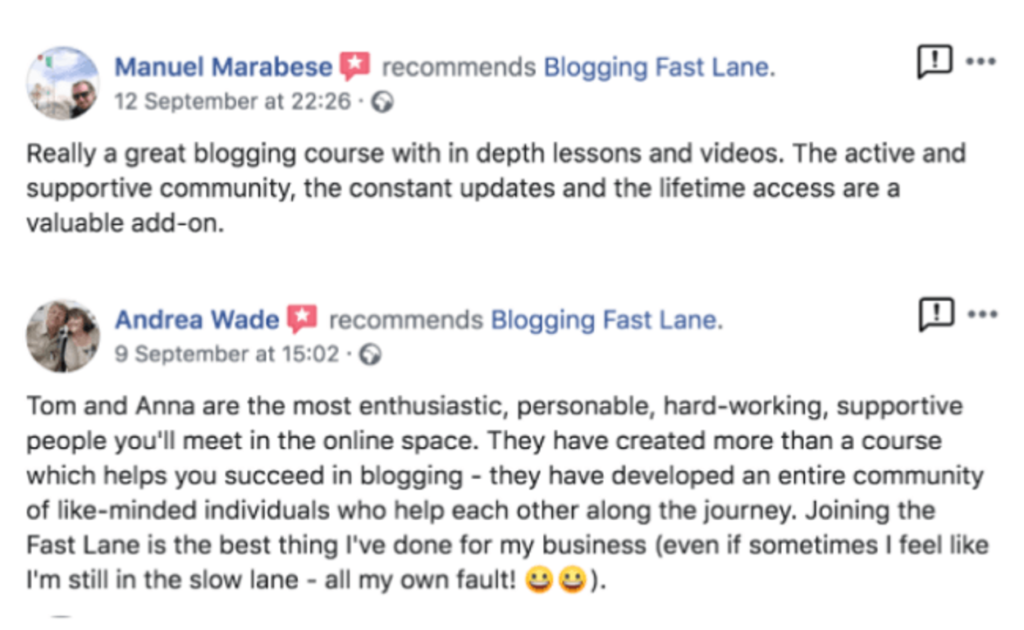 Is Blogging Fast Lane a Scam?
I think I can safely say that Blogging Fast Lane isn't a scam.  There are many positive comments about this course online.    Tom and Anna are definitely legit and have loads to offer.
I think it can be too easy to label training courses as legit, especially those that teach blogging and affiliate marketing.  The reason I say this is that it takes time and effort to see results.
Too many training programs out there claim it is much easier than it really is.  Some claim you can get rich overnight.  Which isn't possible.  But these scam or low-quality programs harm legitimate courses like Blogging Fast Lane.
Blogging and Affiliate Marketing are awesome ways to make money online.  We earn money from the same business model.
But the reality is that you will need to invest a lot of time and effort if you want to be earning a full-time income from blogging.
It took Tom and Anna six years to find their dream.  They can give you hints and tips from their experience to try and reduce that timeframe.
But my honest opinion is that you need to invest at least a year to getting started and not put an end date on when to expect an income.
Blogging Fast Lane is definitely legitimate and is a great option (when available).  But don't go into it with the wrong mindset.
Too many people fail as they give up too quickly.  Anyone who says "If it doesn't earn me money within x months" is already on the path to fail.  You need to just focus on helping others with great content and the money will surely follow.
Alternative: On the other hand, if you're looking to learn the best business model to earn passive income online as a beginner, there are other, more suitable, and cost-effective alternatives elsewhere…
My #1 recommended course has helped me go from earning $0 to $100's per day!
Do I Recommend Blogging Fast Lane?
I would recommend Blogging Fast Lane!  There is a lot of value within the course and Tom and Anna have credentials showing they know how it all works.
At a minimum, you could check out their free webinar to understand more about how they made their money and from blogging in general.
But one thing I would caution against, other than it not being always available, is that you will require an additional budget to follow their direction.
You see, with Blogging Fast Lane, you only get training.  To build your website, do keyword research, and other elements of blogging/affiliate marketing.  You will need to spend money on top of the $997 training fee.
This isn't unique to Blogging Fast Lane.  Other training courses, like Affiliate Lab or The Authority Site System, do the same.  Whereas, Wealthy Affiliate includes the tools you need to get started and the price tag is much lower.  Learn more here.
The training within is good, but I don't think it is clear enough that you will require an additional budget to follow their methods.
It provides training videos and video transcripts

A step-by-step training program that teaches you how to build a profitable blog

It offers a free training program

Access to Blogging Fast Lane private Facebook group

It offers a 90-day money-back guarantee

People are getting results with Blogging Fast Lane
Price seems to be changing all the time

At the moment, it is a bit too expensive

This course is not always available for sale, and the webinars do not run seven days a week

No tools, hosting – this means it comes with extra costs
Blogging Fast Lane Review: Conclusion
Overall, I think Blogging Fast Lane is a great course for a beginner looking to get started with their blog and earn a living.  Tom and Anna have designed a decent course to help someone achieve their goals.
The biggest issue I have currently is that it's not always available.  Although it does show that when the course is on, they only take limited numbers meaning you get more help and support from Tom and Anna.
If it was available all the time, the support element would get watered down.  
But if you are convinced this is the right course, you can sign up for their next free webinar… although there is no timeline on how long you'll need to wait.
You will need to have the money to sign up for the 8-week course and then be ready to spend more on the necessary tools too.
If you don't want to wait until this course is next available, keep on reading for a much better alternative that is available now…
How Do I Make Money Online?
My #1 recommendation is a platform that offers everything a budding affiliate marketer would need.  It offers a step-by-step beginner-friendly training course that will take you through all the steps you need to build your own profitable online business.  It has helped me go from $0 to earning $100's a day with affiliate marketing.
The reason why I recommend it over all of the other courses is that they are the leader in the affiliate marketing training industry.
Not only do they offer world-class training, but they also offer all of the tools you need too.  Including web hosting, website builder, keyword research tool, etc.
The success rate speaks for itself, with thousands of users earning good incomes from following their methods.
Then there is the fact that my top-rated course is the largest online community of marketers you will find, of all levels.
This means that you can get help 24/7 and get answers from thousands of expert coaches, including me!
Best of all, I used this exact system to go from $0 to $1000's per month in passive income!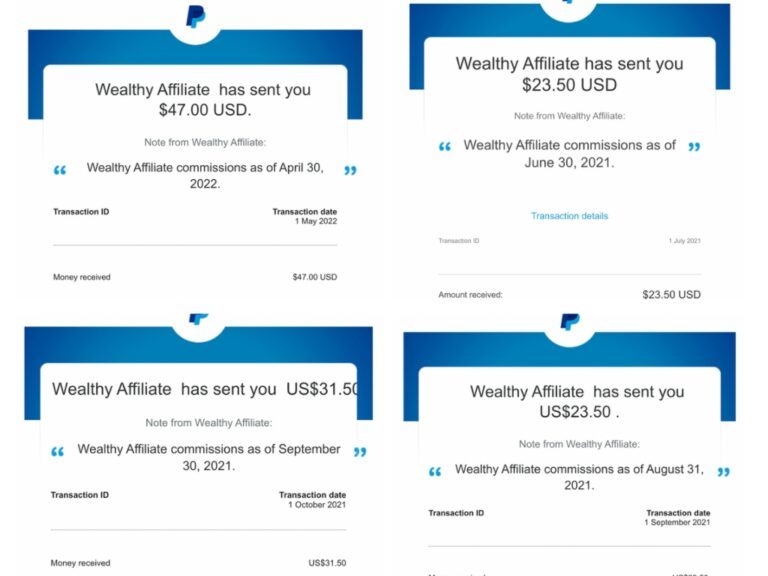 Amongst the best features of my #1 ranked course is that you can take it for a test drive (just a $49 Premium subscription).
You will get one complimentary site and access to the very first ten lessons from the course to try things out.
Wealthy Affiliate is the best course online for learning effective strategies to make money online with affiliate marketing!
If you're looking to do the same, then click the button below:
Thanks for reading my Blogging Fast Lane Review!  If you have any questions or experiences to share, please write them in the comments below. ;).