Affiliate Marketing is one of the most popular ways of making money online.  But to be successful with it, you need to know how to find awesome affiliate products to promote in your niche!
One of the great things about affiliate marketing is the huge potential within any niche.  Meaning that you can make money doing something you love.  It presents an incredible opportunity for anyone willing to learn and take consistent action.
Becoming a successful affiliate does involve learning how to find the right affiliate products for your target audience, that are worth promoting.  Promoting the wrong product can lead to zero sales and frustration from feeling like you've been wasting your time.
This guide aims to help you out.  The concepts within it could mean the difference between struggling to make a few bucks and making a sustainable profit every single month…
For the same amount of effort.
What Is An Affiliate Product?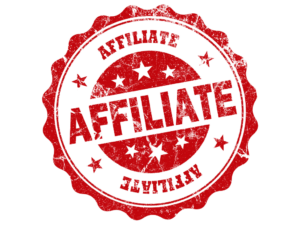 An affiliate product is a product (or service) that you promote and earn commissions on.  It doesn't necessarily mean it's a product.  For example, promoting a training platform isn't a physical product or promoting a service is another example.  But the majority of this post, we will refer to it as an affiliate product for ease.
The advantage of promoting affiliate products is that you don't have to buy or hold any inventory.  You also don't need to sell anything yourself.  You act as a middleman and just promote the product, and let the vendor do the rest.
Simply put, when someone buys on your affiliate link you make money… It's that simple…
Ok, it's not really as easy as that.  But with the right strategy, it can become that simple.
But just because someone clicks on your affiliate link doesn't guarantee that they are going to actually go and buy it.
But vendors do make the process easy for affiliates…  The process is tracked automatically with "cookies" that are placed on a person's web browser after they click on your affiliate link.
Depending on the affiliate program, these cookies can last 24 hours, or even unlimited…
Turn Your Passion into Profits
Want Help Getting Started? Sign Up For Our 7-Day Online Passive Income Bootcamp & Learn The Skills You Need!
How to Find Awesome Affiliate Products to Promote
Most beginners get this bit wrong.  They often choose products to promote based on what they think will make them money and then they try to figure out how to attract visitors (or get traffic).
This is the worst strategy you can choose… It's also why so many fail!
Finding and making a decision on which products you are going to spend time and money promoting is actually the last step in the process… Really? Yes!
Here's the right approach for you to take…
Step 1: Brainstorm Niche Ideas
The first step in the process of creating a profitable affiliate marketing business is to brainstorm some niche ideas.
Before even considering products to promote, you need to be finding a niche that is both ideal for building a business around and for you.  Choosing the wrong niche means that you will probably not understand your visitors.
If you don't understand them, how can you hope to make sales by promoting affiliate products?  You need to put the ideal product in front of the ideal customer to make this work.
To do this you need to choose a niche that you are passionate about, know something about it, and therefore know what products are right when people find your affiliate links.
Too many people choose the products, usually high ticket prices, thinking this will bring them easy and quick sales.  But they don't know much about why people buy these products, so their marketing funnels are all wrong.
I'm a huge believer in choosing a niche that you're either passionate about, or are at least interested in (and are willing to learn more about).
Why?  Well, there are two main reasons for this…  Value and persistence.
To make affiliate marketing work, you are going to need to help people.  Usually, this involves helping them solve problems.  This naturally can lead you to promote products that make this solution easier. 
I.e. someone looking to lose weight through exercise would be more interested in purchasing exercise equipment you promote if they know it works and you prove that through the content you create to show them this.
You need to be interested or passionate about the subject (niche) you choose, as you are going to need to put a lot of time and effort into learning more about that niche.  Creating content about that niche and helping people learn more about that niche.  They need to see you as an authority in that niche.
Someone who only chooses products because of the commission rate will not come across as an authority.  Especially if they know nothing about the niche and don't want to learn more about it.
But you can, if you choose the right niche for you and create content that offers your readers value and solutions to their problems.
This will naturally lead to you being able to include relevant product promotions from an informed position.
The more value you add, you more traffic will come your way increasing your opportunities for affiliate sales.
The other factor in choosing your niche is persistence.  This isn't a quick and easy business opportunity.  
If you choose the right niche and have a keen interest in that area, you are much more likely to stay committed to keep on working until you are making consistent sales.
Too many people believe that affiliate marketing is a quick way of making money online.  But that isn't the reality.  The opportunities are endless…  If you can stay persistent and motivated into creating more and more value for your audience.
Believe it or not, the single most important factor in getting results is persistence. When you are interested in something, it's not a chore to do research, write content, launch campaigns, analyse data and work to improve your business.
A good starting point for finding a niche is to think about your hobbies or at least something you are knowledgeable about.  There are opportunities in (almost) all niches.  But there is a quick and easy way of finding out if there are products you could promote within it.  That is through Amazon.
Think about it, Amazon sells (pretty much) everything.  So, their category listings are a good way of understanding the potential for your niche.    Note this isn't about finding specific products, just noting that they are ones you can consider later down the line.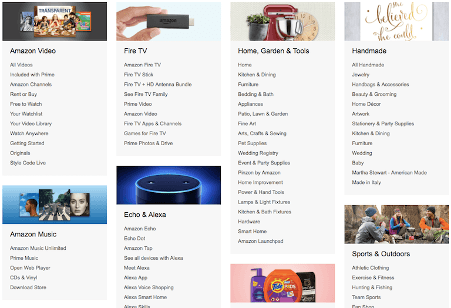 Take some time to go through their products and categories to try and come up with a good niche idea that fits your interests or hobbies.
Think about products that you've bought yourself or have considered buying related to that hobby/interest.
Can you come up with some problems that you've had or know people regularly have, and what products solved them?
This will help you understand whether that niche (idea) is worth pursuing.  But it's still the unknown a little…
Whilst brainstorming niche ideas, you have to align your passion/interests with a real opportunity.  Otherwise, all of your hard work will be pointless.  You can be passionate about that niche, and even have a list of awesome products.
But if you want to earn profits, you need to follow the next step very closely…
Step 2: Research Your Niche
The next step is to ensure your product ideas are worth pursuing.  This involves you doing some research…
Skipping this step to try to speed up the "money-making" process is going to have a very long and frustrating road ahead.  I promise you this!
The foundation for any affiliate marketing business is good research on your niche.  It can be easy to think that it's just about the product you promote or getting lots of traffic.  But having lots of traffic doesn't guarantee anything.  If it's not an engaged audience visiting your site, they will never click on your affiliate links.
It's more important for you to attract an audience who is interested in what you have to say and what you have to offer.  
This is about building an audience, and ideally, an audience that will keep on coming back.  Trust is such an important factor when talking about an online business.  Why are they going to click on your links?  Because they trust your opinions and value your advice.
This won't always happen on the first visit to your affiliate marketing blog. 
To ensure you are offering exactly what your audience is after, you need to research your niche properly.
Offer them lots of helpful guides, solutions to problems, and product reviews.  Become an authority within your niche so that they can see you know what you're talking about.  This will help you get that trust factor you need.
That is why picking the right niche is such an important step.  If you pick something you have no interest in, you will find it hard to offer content that builds that trust.
I've found that with affiliate marketing, helping is more powerful than just selling…
If you still need some help choosing the right niche for yourself, you can check out my guide that walks you through the whole process…
Top Tip: Check out Facebook groups, forums your niche participates in, comments they leave on other blogs in that niche, find successful niche websites that already target the audience and see what they're doing.  See what you could offer that is better or more in-depth.  The more you learn about the niche, the better…
Step 3: Find The Right Product For Your Business
There are thousands of products out there for a lot of niches.  But the key is to decide on the right product for both you (as the affiliate) and (more importantly) your audience.
If it helps them find a solution to a problem or makes their life easier then it is the right product to promote.  If you choose a product based solely on the commission rate and no research, you will find it never makes a sale.
It has to make sense.  There is a process…  Someone finds your blog (looking for help with something).  They find a really helpful guide that talks about several solutions to their problem.  They also find a natural link to a product they can consider to help solve their problem.
That is how you "help" them with your affiliate products.
But if you just say "buy this as it will solve your problem".  They will just leave your site and go elsewhere.
The biggest problem with finding the right product is that there is no secret formula to finding one.
But my advice stands, it needs to be natural within your blog and not forced.
But what I can offer you is some principles and guidelines to help you choose the right product.
The key is finding a product or service that solves your audience's unique problem and is something they are willing to buy, and a product you will make a consistent income promoting.
You need to find a product that genuinely solves the needs of your audience, while also solving your need. In this case, making money and growing your business.
Some choose a hobby as a starting point for their niche, and it makes sense.  As they already know something about the subject matter.  They know what they would consider buying to help them enjoy that hobby more, which helps with choosing the right products to promote to others that enjoy your hobby.
It's a good starting point if you're a complete beginner.
Right, let's get into talking about the different types of products you can promote.  There are millions of options, but there is also a difference between the types of products too.  This can make a huge difference to your bottom line…
Recommended: Go Here to see my #1 recommendation for making money online
Types of Affiliate Products
It's not always the best strategy to just go with the top-selling affiliate products or the best converting affiliate products.  It really pays to understand the real differences between the types of affiliate products.
You can promote the highest converting product all of the time, but if you don't understand the following differences you could still be making just a few dollars.  You want to ensure it leads to sustainable and realistic income potential.
Lower priced products are typically easier to market to a larger audience.  People are also more likely to buy them, as the risk factor is also much lower.
In theory, you could sell many lower-priced products, and make a good income by doing this.  But you do have to consider that you will need to put just as much effort into promoting low ticket products online as it would promote higher-priced products.
The argument then goes… Why sell 100 low-ticket items for $5 a time and make $500, when you could sell 10 higher-priced products at $50 and end up with the same overall commissions?
The clue is in the name…  High ticket commissions are much higher.  But that means your audience is much smaller, and they consider the level of risk to be higher too when they are considering making the purchase.
People are not willing to jump onto your website and fork out $5,000 just because you published a great review!
I hope that makes sense?
This goes back to ensuring you build a close relationship with your audience.  If they trust and respect your opinions, they are more likely to follow through your sales funnel (more on that later).
In summary of low-ticket and high-ticket products…  It's important to consider the relationship between the commission itself, and the volume of sales you can make overall.
One Sale Vs Recurring Commissions
Promoting products that bring you a single commission can work to great effect. Many affiliates make a good income from doing this.
Whether that's with low-ticket or high-ticket products, if you have a great sales funnel and enough sales, you can find yourself with a consistent income from it.
But there is something to be said for earning recurring commissions.  They're awesome!
The reason is that you're putting in the same amount of time and effort to sell something once, but you will continue to earn commissions over and over again.  This could potentially mean you are earning income from a single action for years on time.
It would depend on the niche you're in.  But here are a couple of examples that show you the earning potential…
Aweber is an example of a recurring commission product to promote.  It's a great tool, something that almost all internet marketers would need, and the payouts are good.  
You can earn 30% commissions on what your referral spends in a given month.  If you take the basic membership as a starting point, it starts at $19 per month.  This means a recurring income of $5.70 per month, as long as they stay a member.
But as they get more successful and their email list grows, they will need to increase the amount they spend.  Meaning a bigger income for you.
Another example is the product I promote, which is called Wealthy Affiliate.  They pay me $8 upfront for each Premium referral and $23.50 recurring commissions for anyone who stays on past the first month.  
It's an amazing platform to help people learn affiliate marketing and build an online business, but it also has the advantage of having a lucrative affiliate program.
But it goes back to ensure you are promoting things that would benefit your target audience.  Think about your goals and your audience.  If it makes sense and offers them a solution or an easier life, then earning a recurring commission is a good way to go.
Digital Products Vs Physical Products
Something else to consider is whether you want to promote physical products or digital products.
Physical products do tend to have a lower commission rate, with them typically being lower than 15%.  Digital products, however, have commission rates that can range up to 75% or even higher depending on the product and the affiliate network.
As for which is better, it's hard to say.  You can also make great money from either direction.  There is also the opportunity to go with both as you expand your business.
Depending on the product, niche, and audience, you may find refunds are higher for digital info products.  This is something that you should keep in mind.
There are also a lot of low-quality digital info products out there.  This makes it so much easier for people to ask for a refund, as it didn't offer them what they wanted or needed.  They also don't need to repackage the product and ship it back to the merchant.  They just hit "request a refund". 
This is why you will find that any commissions earned for a digital product will be held for so long before you receive it, due to the high refund rate.
The best solution for trying to avoid this refund saga is to promote good quality products that you've used yourself first.  That way you know you are only offering real value to your readers.
Why Having a "Sales Funnel" Matters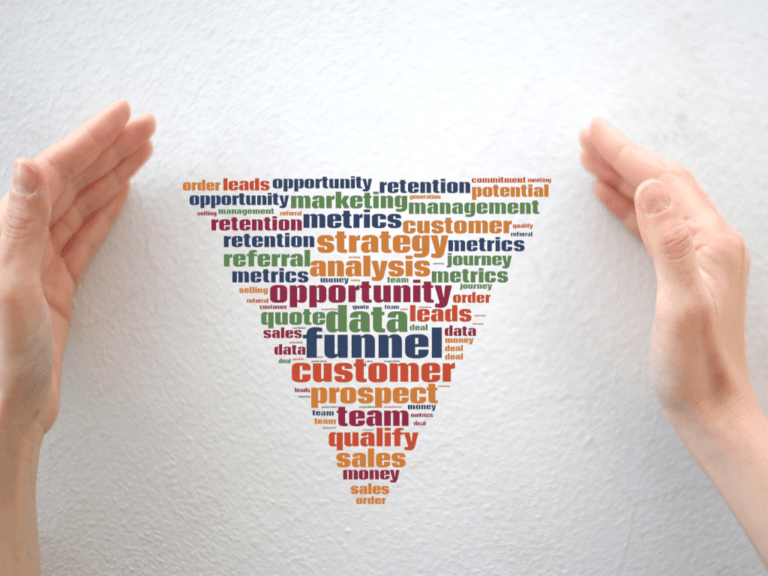 Many beginner affiliates send cold traffic (people that you haven't built a relationship with) straight to a sales page in the hope that they end up clicking on the "buy it" button.
Yeh, good luck with that.
There's a reason why vendors on affiliate networks such as WarriorPlus are offering 100% commissions to affiliates on the $5-$20 products they are promoting.  The reason is that they aren't making their money from this initial sale.  The real money is made from their upsells and future promotions they send via their email list.
These guys are marketing experts and they know what they are doing, which means they know the importance of having a sales funnel.
You need a sales funnel, even a very basic one like this:
Website Traffic => Relevant Content => Detailed Review => Sales Page
Sending people straight to a sales page without it leading them naturally won't have the desired effect.  By creating a sales funnel, you can work on building up trust, credibility and "warming" traffic to the sale.
Note: It's also a good idea to include an email opt-in as part of your sales funnel.  People aren't necessarily ready to buy on the first visit.  But capturing an email and building up that relationship another way, can lead to future sales
When it comes to high-ticket affiliate products, the need for a well-planned sales funnel is so important.
If you're attempting to sell a $5,000 product to a website visitor is going to be extremely difficult.  This is why successful marketers promote a low-ticket "front end" product first.  To make a series of progressively higher commissions over time.
An example would be that the first product costs $49.  The second might then be $500, then $3,500, etc.  It's not uncommon for some high ticket products to sell for between $10,000 to $30,000.
If you search online, you'll find loads of "ready-made" systems that have this kind of sales funnel in place.  Some are legit, but you have to be mindful as others are not so legit.
I won't name any at this point, but it comes down to whether these products are good value for money, and how ethical the marketing is when considering its legitimacy of it.
There are lots of examples of "low-ticket" products aiming to help people make money online that end up being clever sales funnels where the visitor could end up paying out thousands without knowing much about it in the first place.
Promoting the wrong product can affect your authority and your reputation.  Both are important factors in whether people choose to trust your opinions.
Either way, the concept of a high ticket sales funnel works and it can be used ethically to promote good products. Even without joining a 'system' yourself. The concept is to give people as much value as possible across multiple tiers of pricing.
It works because it's WAY easier to generate sales from customers you have already had a positive experience with, rather than constantly looking for new customers.
It's a clever model.  But it's not the only way to create a full-time income either.
How Many Products Should You Promote?
There's no right or wrong answer here…  It also depends on your niche.  But if you are promoting the right products to the right audience, then the number doesn't matter.
There are many examples of people who are successful at promoting just one product, whilst other affiliates are successful at running multiple campaigns with a variety of products.
But when you're getting started, my opinion is that you should focus and master just ONE thing first.  Then you can scale it out.
This "one thing" might mean focusing on just one product to promote, one niche, or one style of marketing.
Some focus on one marketing style, i.e. content marketing with a website. But they promote every product they review naturally. For example, it could be an Amazon review site comparing gaming chairs with each review offering value, and a 'non-sales link to where they can buy from Amazon. This can work without you looking or being spammy.
Other affiliates might focus on having one website and promoting one product they genuinely believe in. But they may promote a handful of other products they know are worthwhile on the same site.
There is no hard and fast rule.  But focus on working on one aspect and then when you know it's working, you can expand your strategies.  This will also give you time to work out what is best for your audience and relevant to the niche you're in.
If someone lands on your blog and it comes across that you're only interested in promoting anything and everything just to make a sale.  Then this isn't going to help you build a profitable long-term income.  But offering different options for people that are relevant and helpful, can work too.
Is the Competition Something To Worry About?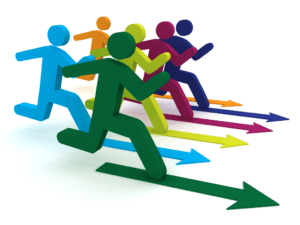 This is again something that has several opinions about the best-case scenario.  You'll find some marketers suggesting that you avoid competition at all costs by only choosing untapped niches.  But then others say the exact opposite by recommending having a "small slice of a large pie" approach.
I feel there is merit in either approach.
On one hand, it can be well worth going after low competition niches since there are practically limitless opportunities to make money when you have the right strategy. Finding a low competition niche, capitalise on it, and repeat. This can be a good option, but it also requires you to run (potentially) several websites or campaigns to earn a substantial amount of money.
On the other hand, it is possible to tap into some of the absolute highest of high competition niches successful. The good thing about this approach is you can focus on one main niche or even one website to generate a full-time income.
Just because it houses a lot of competition, that still doesn't mean that you cannot find the untapped potential within it.
The drawback to this is, that it can take a mammoth effort and a good amount of time to get anywhere when you are first starting.
The way to think about it is that competition means that there is money to be made within the niche.  Competition is healthy, and just because there are loads of other blogs within that niche.  Doesn't mean that you cannot go and offer better content and better options to help people solve their problems.
Good Affiliate Programs To Consider Joining
When you start looking for affiliate programs, you will find there are hundreds, if not thousands of options for you to join.  Some are better than others and there are pros and cons to consider.
Individual affiliate programs aside, here are five affiliate networks for you to consider joining…
Amazon Associates is a solid option for beginners.  It's great for promoting physical products, it's easy for affiliates to get accepted, and people already have trust in buying from Amazon.  The commission rates aren't that high though, so it's more about selling high volumes than individual sales.
The tracking code only lasts 24 hours too, which is actually a really short period.  There is also the fact that you can earn commissions on anything that person buys, and not just the product you're promoting.
So, if you are promoting a low-ticket product and they click your link, and then buy something else or maybe a high-ticket product you will earn the commissions for it.  
Like I said, a good option for newbies…
ShareASale is another good affiliate network connecting affiliates to many companies that people know and trust.  You can find many affiliate products to promote with one platform here.  This includes both physical and digital products.
This is probably the most respected affiliate network online, they work with many big-name companies. This allows you to get paid for generating leads as well as making product sales across a range of verticals. It can be difficult to get accepted into a particular affiliate program though given the level of quality they expect.  (Learn more about CJ Affiliate here)
ClickBank is good for promoting digital information products in any niche.  It's easy to get accepted and their commission rates are high.  You can find many as high as 75% commission rates.  
The biggest drawback to ClickBank is their lack of checks on what is accepted there.  Some vendors will be promoting low-quality products there.  You need to do your research to ensure it's a product worth promoting to your audience.
Choosing the wrong product can affect the trust levels of your audience.
JV Zoo is similar to ClickBank, but it focuses on the Make Money Online niche.  Getting accepted into the platform is easy, although you need to be accepted by individual vendors to be able to promote the products.  This can be difficult for a newbie.  Despite them having some low-quality products on their platform, it's of a higher quality and offers higher ticket products than WarriorPlus.  WarriorPlus, in my opinion, is a platform that is full of overhyped junk.
Independent Affiliate PROGRAMS
Depending on your niche, you might find that none of these affiliate networks is a great fit for your audience.  In that case, you can find many independent affiliate programs that you can apply for individuals to be able to promote their products.
You can find relevant affiliate programs in your niche using Google.  Just type "Niche" + Affiliate Program or "Product X" + Affiliate Program.
Just ensure you again do your research when signing up for an independent affiliate program.  You want to ensure you are getting paid properly and have the ability to track your leads or sales properly too.  
There are so many affiliate programs and networks for you to consider, depending on your niche.  For example, here you can find great affiliate programs for health or skin care.  I'll be adding more guides to affiliate programs in different sectors shortly…
Ideas for Finding Good Product Opportunities
If you're struggling to come up with ideas for products to promote as an affiliate, and there's nothing you are interested in other than 'marketing' in general, it's worth knowing how to spot the trends.
If you want to get ahead of the competition in any given niche, you just need to know how to find it.  Some niches will require you to get involved in popular forums, do a regular reading of company blogs, and check out industry news or events.
The more you know about your niche, the more you will know what is going on, and what's about to happen.  Using this information effectively will help you when brainstorming affiliate product ideas.
One of the ways I gauge the popularity of a product, niche, or topic in general, is with Google Trends. This gives you a free and easy way to see what people are searching for, in what countries and what trends are coming and going.
Marketplaces like Amazon can give you great insights into how well products are selling in specific niches.  You can do this by checking out how many product reviews a product is receiving.  By checking out the product ratings on their website, and looking through the reviews to uncover opportunities and see what is worth selling.
Another effective way to check whether your ideas are worth pursuing is by doing proper keyword research.
By doing this kind of research you can consider whether a niche or even a product is worth spending your time promoting.  Affiliate marketing doesn't give you instant results, so the more research you do at the start.  The better your long-term results can be.
But if you just choose a product on a whim, without research and then spend 6 months creating content, etc. It could lead to nothing to show for it after that.
Do the relevant research at the beginning and it will be worthwhile down the road.
If you're still with me at this point, well done!  But hopefully, you can see how important it is to do thorough research before getting started with promoting affiliate products.  Many affiliate marketers fail as they give up too soon.  But when you speak to them and try and understand how to help them, it comes back to them picking the wrong niche or the wrong products.
Making sales is the last step, but the more time you spend on the foundations, the better your long term potential income.
Is there a secret to finding the "perfect affiliate products" to promote?  Unfortunately no…
But there are some fundamental concepts that you need to understand, that can help you choose the right products to promote for your business.
But the end goal should always be to give your audience the best value possible, whilst maximising your profits.  Keep your readers in mind, offer them help and the sales will happen naturally.  Not the other way around.
Thanks for reading my guide.  If you still have any questions, please write them in the comments section below and I'll be happy to help get you an answer… 😉